August 18, 2020
One last look at this seemingly massive wardrobe. It's funny how gigantic this seems when I'm trying to squeeze everything onto a page! In reality, most of the world would be thrilled to have this much clothing, but I suspect many of us have a lot more than this!
Bring out the magnifying glasses, everyone!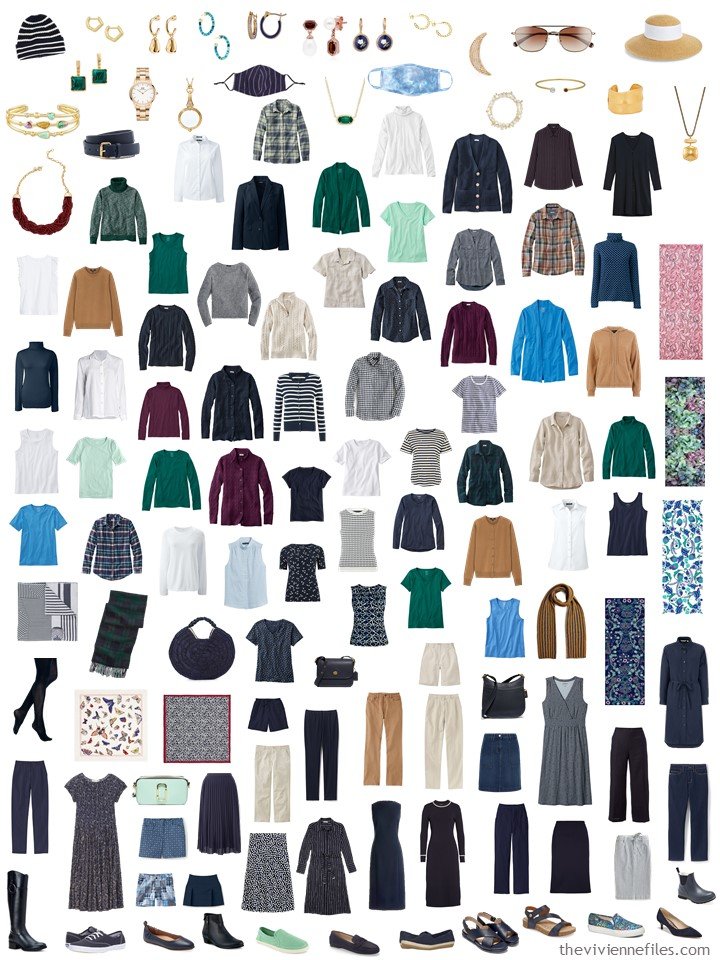 As I sorted through this mass of goodies, my thinking was "what would I take with me if I got to go to ____ for a year?"
My blank is probably going to be filled in by Ireland, or Paris, as I'm sure you're shocked to hear. But I think that many of us might be able to test-drive this kind of possibility. Maybe it's just a chance to live someplace where COVID-19 restrictions aren't quite as erratic and pointless as they are in the US. Maybe you've got a year-long fellowship at a university in some attractive place. Maybe it's 12 months for a house-swap. There are possibilities…
As much as I think that this wardrobe is a good starting point, I (of course) believe that each of us would need to make some adjustments to this, in order to satisfy our personal preferences, as well as the demands of the particular destination we're visiting.
First off, I lumped ALL of the 2nd layer type garments into 1 big category. When you remember that you can wear a button-front shirt over another top, you suddenly have a LOT of 2nd layers…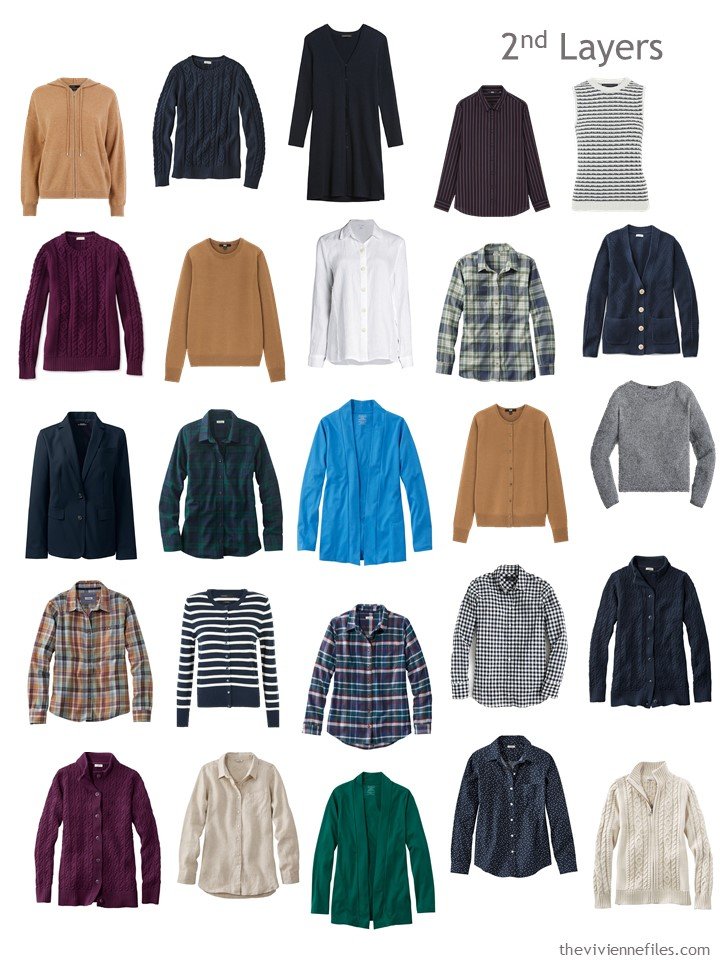 I don't think I can make any changes to this, because it's sort of difficult to really put into a context of day-to-day dressing… Let's press on; it might get easier!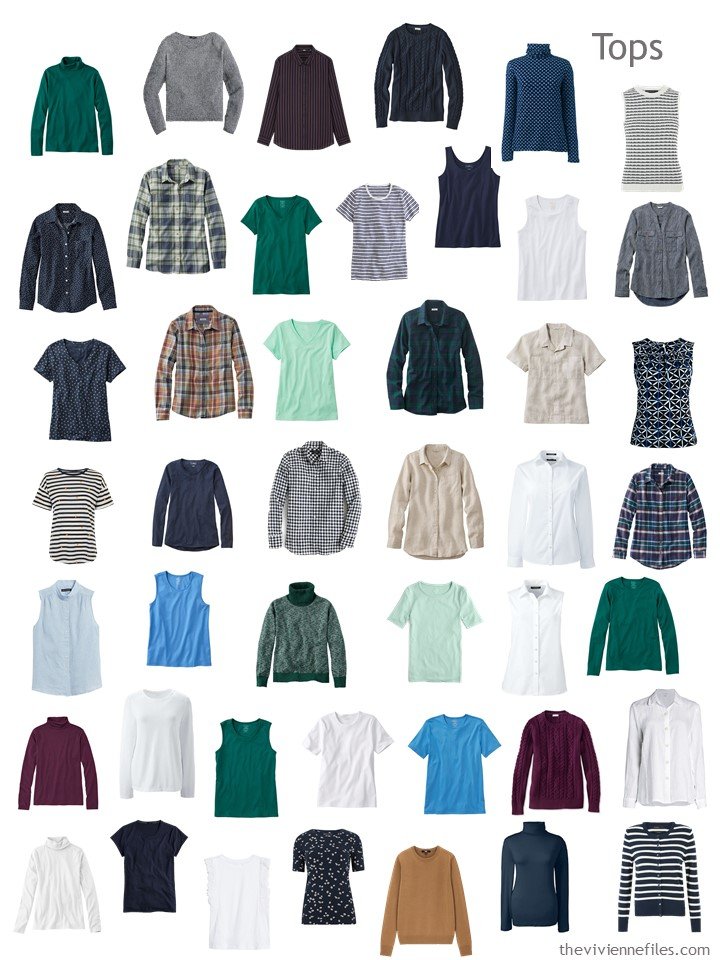 Oh my! THAT'S a LOT of tops…. But of course, some of them are specifically for warm weather or cold weather. But even here, I can see that I might want to make a change or two. Still, I would want a lot of tee shirts… And a lot of cotton turtlenecks, if I'm going someplace cold! Oh dear….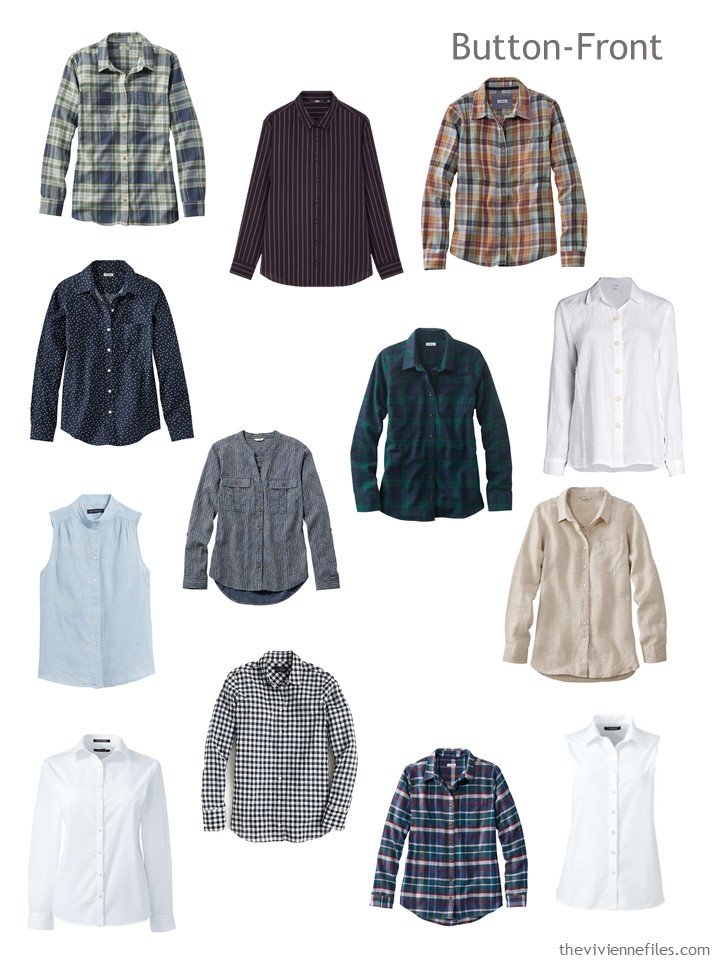 Okay, FINALLY! I would swap out 1 of the white long-sleeved button-front shirts for something else… And possibly 1 of the plaid shirts. That would depend on how many accent colors I wanted with me, and how I was planning to integrate those accents into the core neutral wardrobe. But you can clearly see that I like a plaid shirt…
And HOLY HANDBAGS, this poor heroine doesn't have a denim shirt with her! That's just wrong.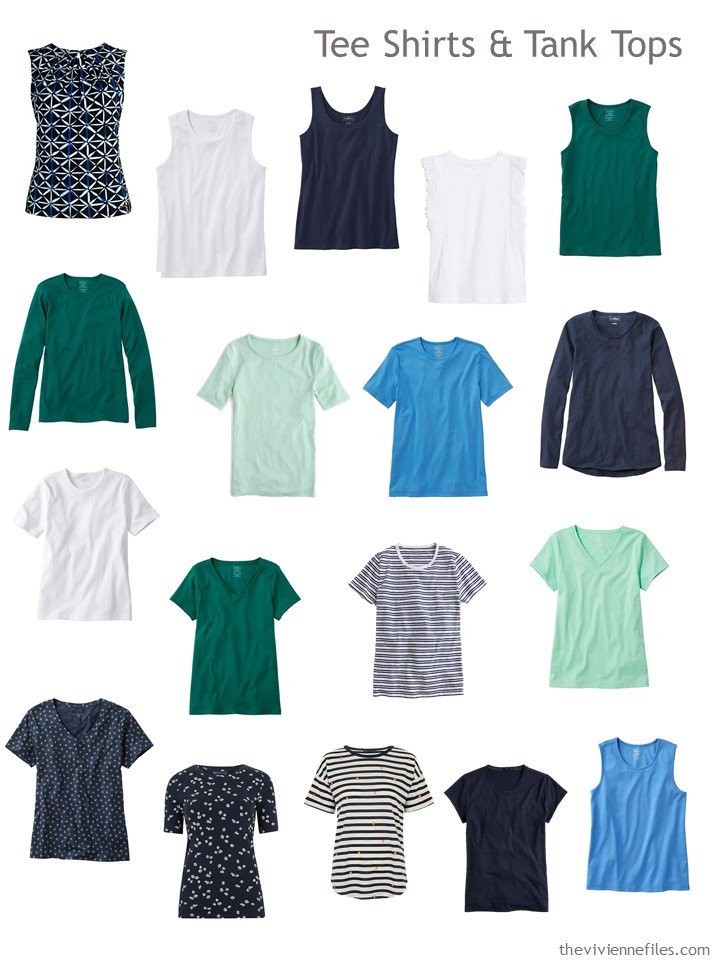 I'm very okay with these tee shirts and tank tops – partly because they need to be laundered often, and partly because they pack really light and small. The biggest thing I would want to bear in mind through my year away is that I can layer tank tops and short-sleeved tops under other things in colder weather. I forget that, at home…
Now HERE is where I fall apart – SIX SWEATERS! HAVE YOU EVER BEEN TO CHICAGO IN THE WINTER?
This feels… inadequate. At a minimum, I need a dark neutral cashmere turtleneck (well, okay, maybe merino wool) to wear with jeans and a scarf. It's a uniform for me.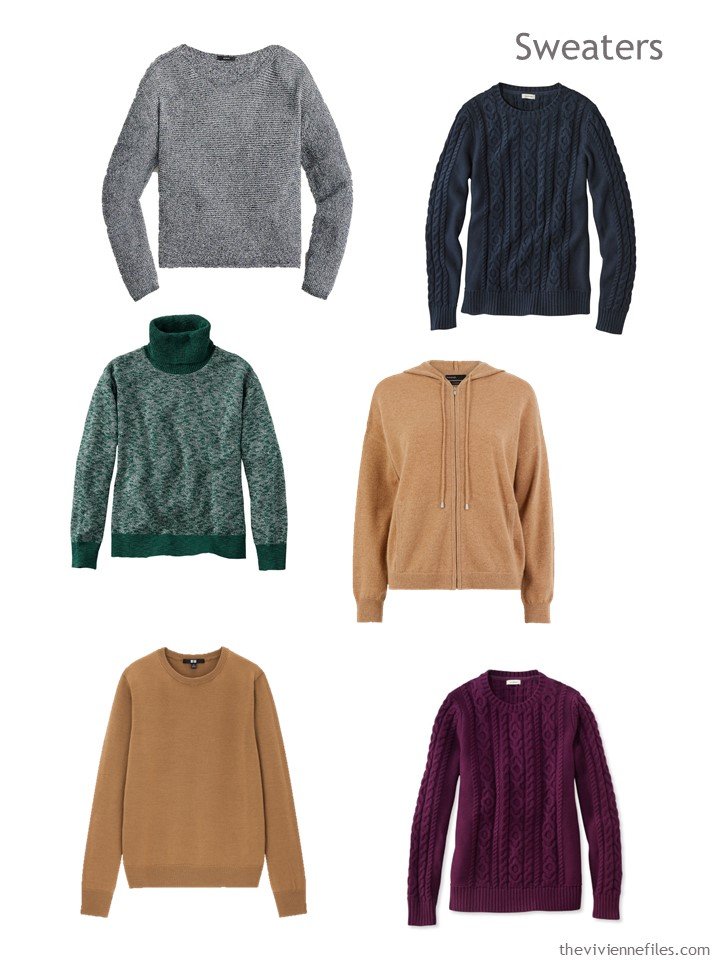 Here's another category that feels too skimpy for me – no velvet jeans! No corduroy! But as I said, we have to each make accommodations for our preferences and needs….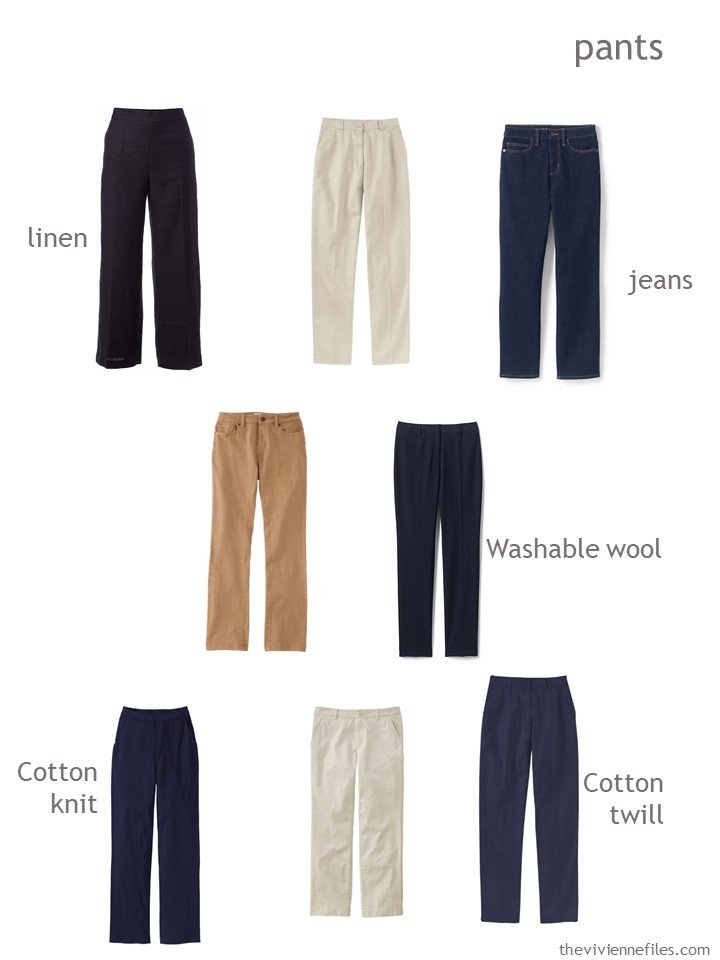 Shorts! I don't need FOUR pairs of shorts. I have friends who need 6 pairs, so this is a very personal category…
Of course, this doesn't count gym clothes, thank heavens!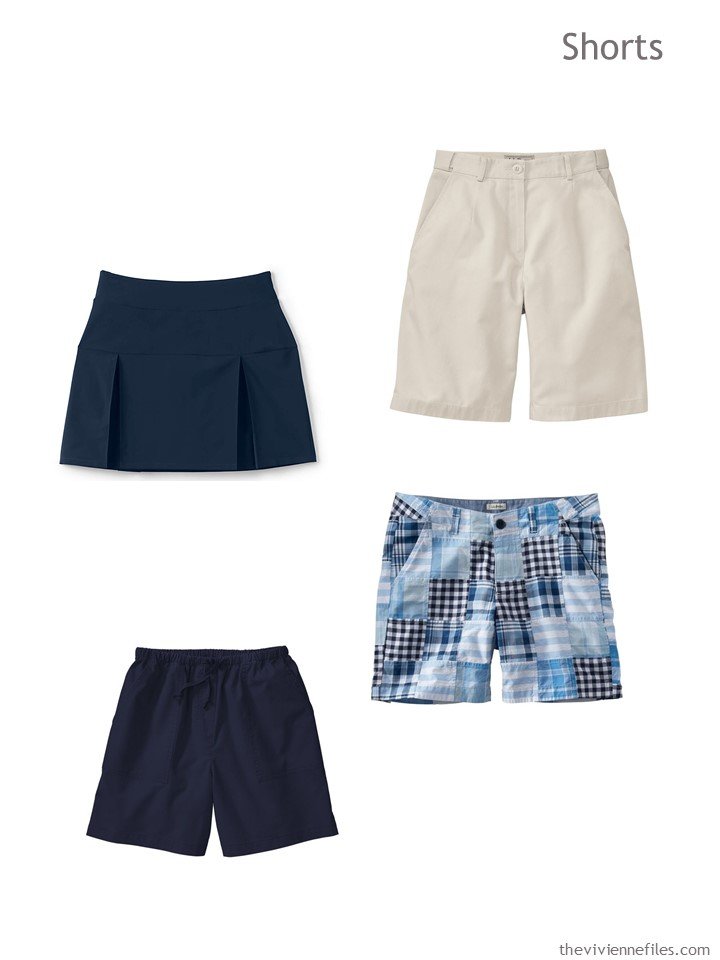 I would get rid of 3 pairs of shorts and plug in 3 dresses. Something sleeveless, that could be used all year, with layers underneath or over in cooler weather. And probably a legitimately warm, wintery sweater dress…
Here's where I found a mistake that I made – I included my sheer pleated skirt TWICE… That's how much I love my pleated skirt, eh?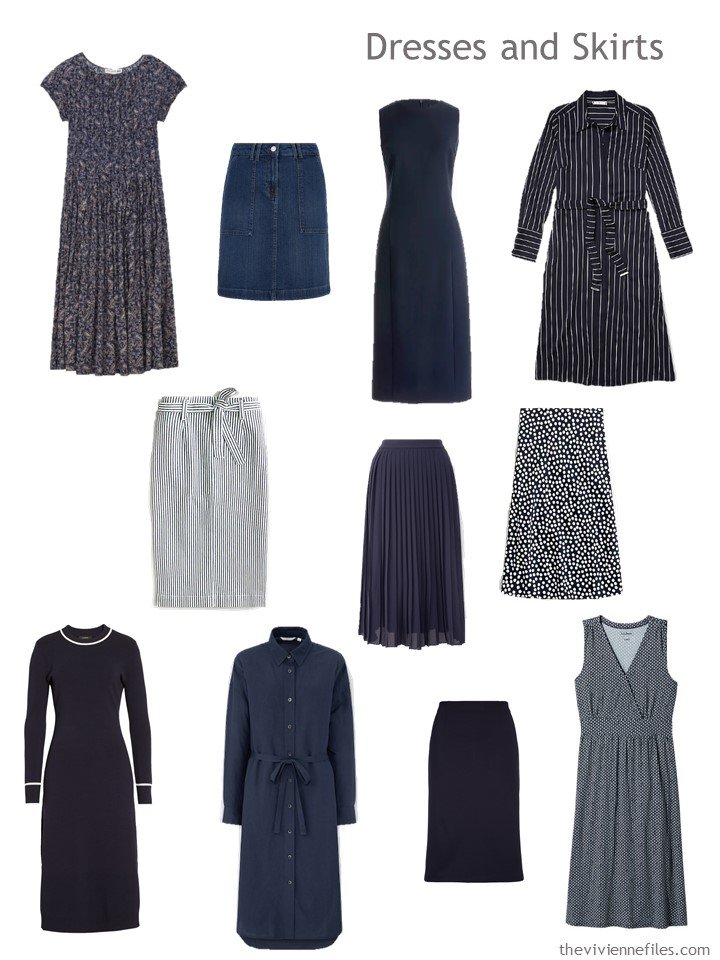 Okay, given that your 80 garments are going to be some adjusted version of the wardrobe shown here, what about ACCESSORIES? This is, for me, what makes or breaks a limited, mostly neutral wardrobe…
A dozen pairs of shoes should do almost anybody, right? I don't know that I would have 3 pairs of canvas shoes, or just 1 pair of loafers. But overall, this would work pretty well for me: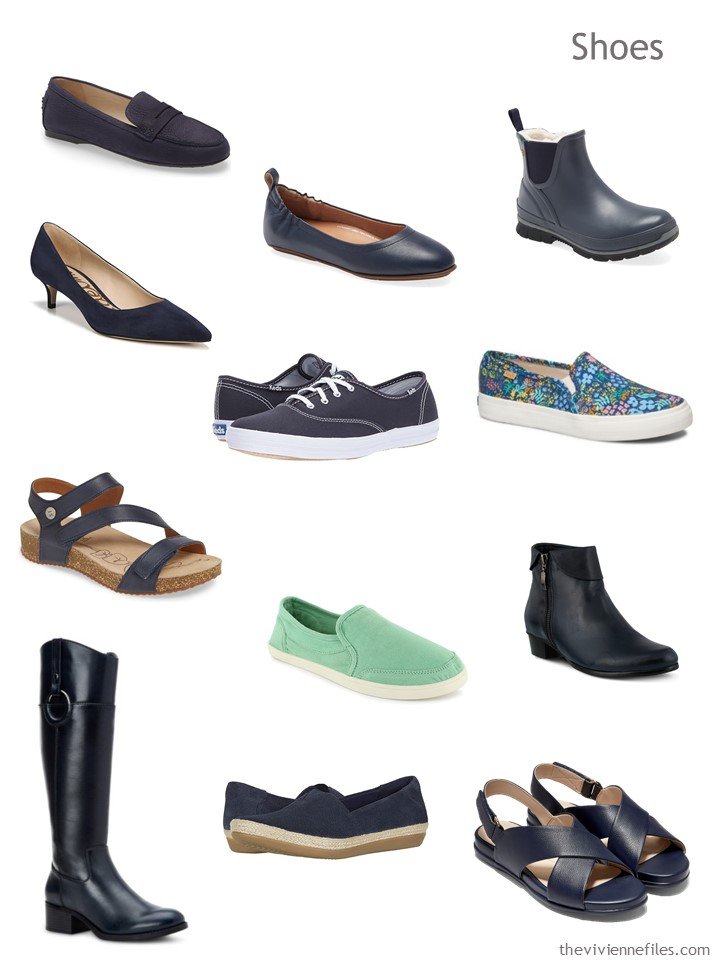 NINE SCARVES? For TWELVE MONTHS? No chance in the land of happy Janice… But I know lots of women who would only want a few winter scarves, and nothing in silk, cotton or modal.
And yes, it's perfectly acceptable to have lots of scarves from the same company. If you share an aesthetic sensibility with the designer(s) there, take advantage of that! It saves searching all over the retail world….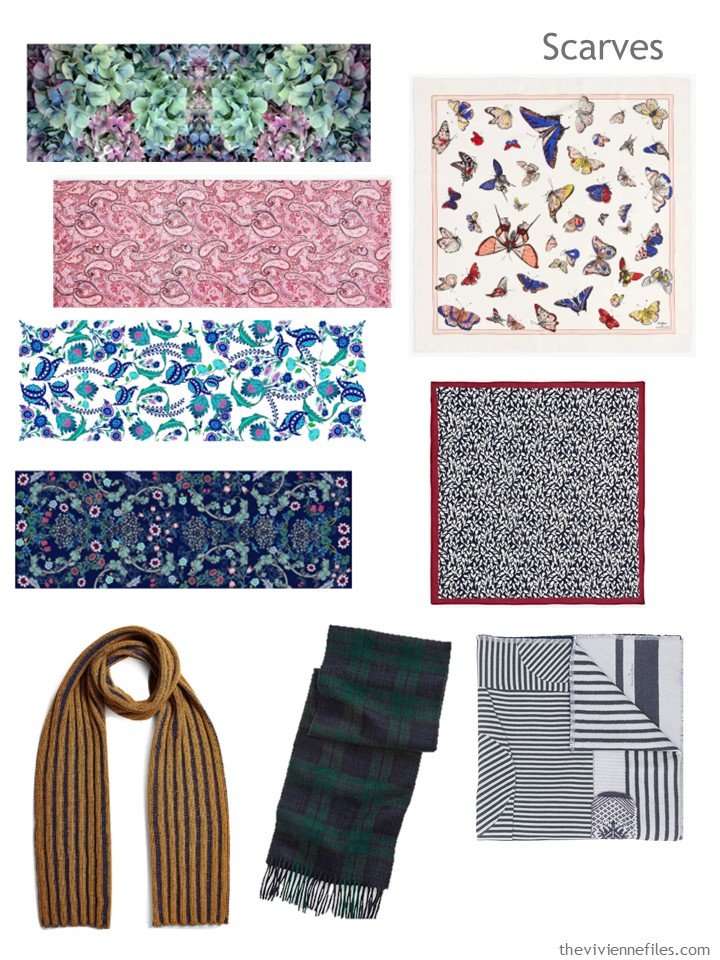 Unlike quite a few of my friends, I could manage VERY well with 9 pairs of earrings. I tend to wear the same earrings for days at a time (yes, I take them out at night, but then put the same ones on the next day!). And I have 4 holes in my ears (3 left, 1 right) so I technically wear 2 pairs of earrings at a time…
These are pretty together, aren't they?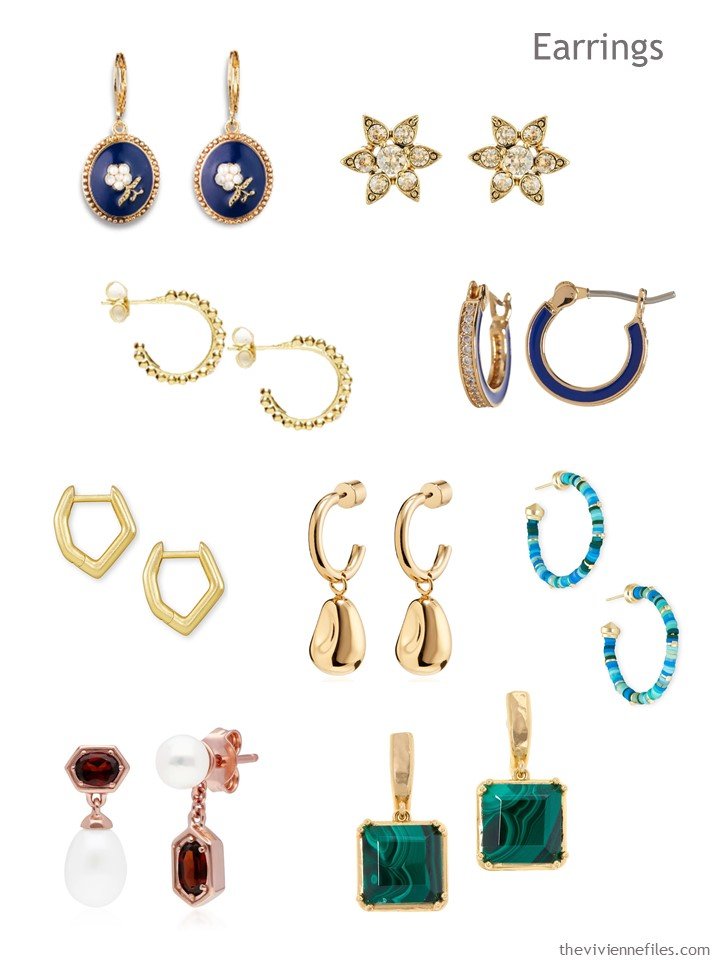 Here's another category that I might expand a bit – I love a good bracelet, and I would want more than 1 brooch!
Before I went nuts with necklaces, though, I would want to start looking at outfits, and see where I already have a scarf that I want to wear. It's possible to wear both a necklace and a scarf, but it's not something I much do…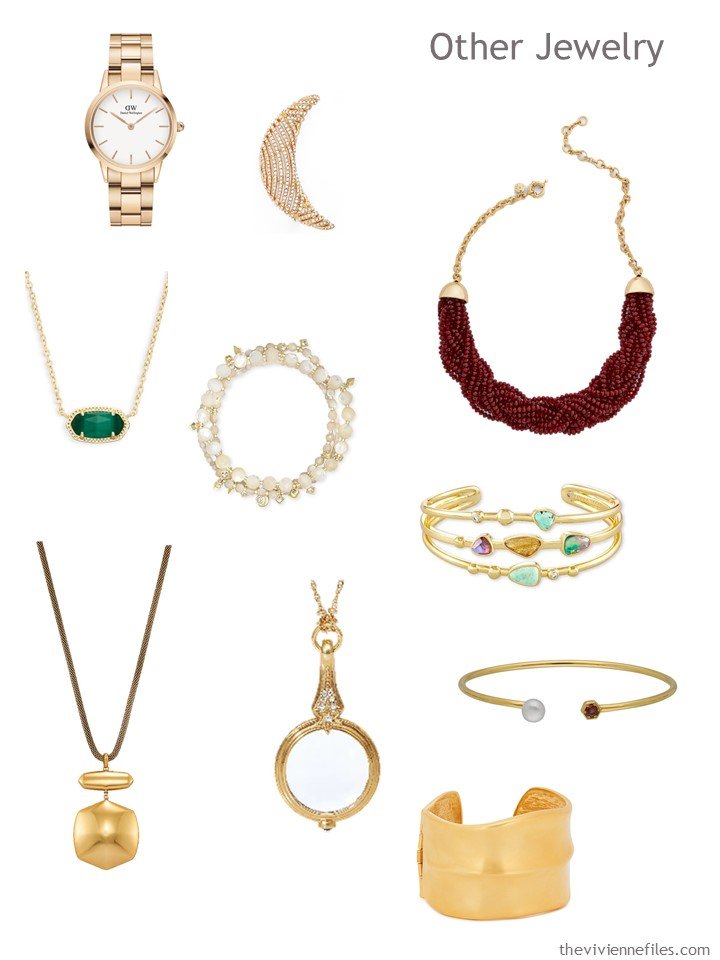 And finally, four handbags. I would probably be right on target with this – 2 leather bags (one crossbody, 1 shoulder bag) 1 evening bag, and my laptop briefcase. Other women will want 12 bags, and at least 1 of my friends will only want 2 – her Tumi handbag, and a camera bag!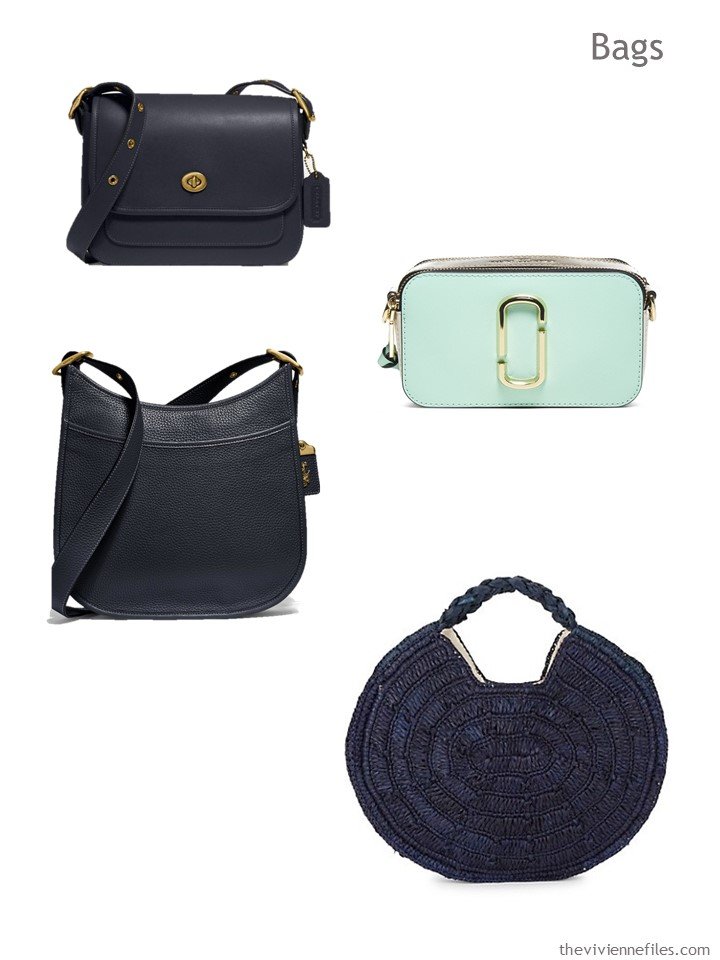 If I learn anything from all of this, it's where my preferences and passions can be found!
Could you live for a year with this? I know that those of you who love lots and lots of color would NOT be happy… but depending on why I was doing this, I think I could love it!
love,
Janice
p.s. Four years ago, I managed to conjure 14 different ways to wear a YELLOW dress! I'm still fascinated by the idea of wearing a dress in a ton of different ways….