August 17, 2020
For some reason, I would have thought that I would be getting more read during the great plague of 2020… but I'm still doing quite a bit of reading!
And I've got a STACK of things waiting for me…
Let's talk about what we're reading, what we've got on our lists, shall we?
At the beginning of the pandemic, I for some odd reason decided to re-read BOTH Dorothy Dunnett series – The Lymond Chronicles and The House of Niccolo. The Lymond Chronicles come first – not chronologically, but logically. It makes very little sense, since Lymond is supposed to be an ancestor of Niccolo, but I'm not going to argue with anybody who can write novels like this!
The Lymond Chronicles are SIX novels, and House of Niccolo is EIGHT. And these aren't just easy-reading leisure romance novels – they're both historically set, the main characters do a TON of traveling, and they're very politically involved. Frankly, I have to recommend the research companion books that help you understand the history, the odd Latin phrase, and other difficult oddities that crop up.
Despite all of that, I enjoyed these the first time I read them (when we lived in Ireland) and I'm enjoying them even more now. My ONLY criticism has to be that both of these men are a disaster with women; their relationships with their wives is fraught with stupid behavior and misunderstandings…
And oh yes, both heroes are quite a bit larger than life!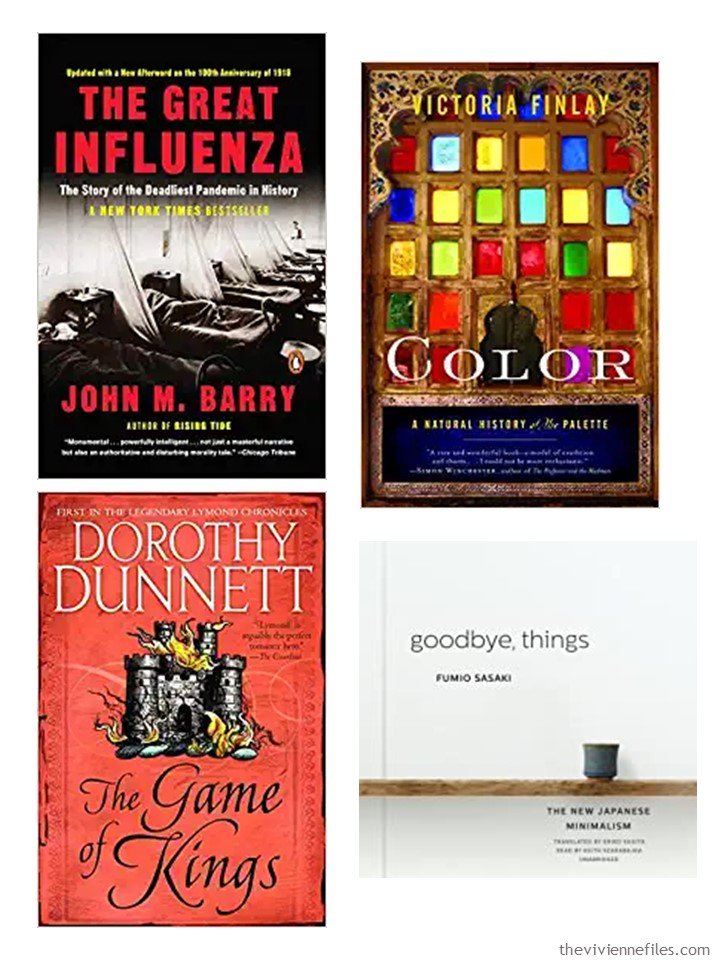 I'm not quite sure what I'm going to read after I've finished off Mr. Niccolo… Probably The New Paris, by Lindsey Tramuta. I've already dipped into this at great length, and I'm loving it.
For those of us who love Paris, there's often an ongoing conflict between the traditional old-school Paris of our dreams and the more updated, constantly changing and improving city of young people who are innovating in the areas of food, beverage, and design. Ms. Tramuta addresses this conflict beautifully, and brings us into the lives and work of a lot of these young people, with the result that we understand the changes that we're seeing, and enjoy and appreciate them.
It's delightful to note that Belovedest and I have been to a lot of the restaurants and bars that she recommends; I don't know if this is because my sweetheart is just naturally in tune to the innovations of the young, or because he was born hip!
The photographs alone are enough to make you weep with homesickness for Paris…
I also have her newest book, The New Parisienne, on my stack. I think it's the same general idea, only focusing on women in Paris. I expect to love it!
It might be smart of me to read The Great Influenza, if only to see if I can glean some insights into our current situation, and perhaps find some encouragement or lessons. At a minimum, it will remind me that this has happened before, and will happen again…
I'm also pretty excited about Color by Victoria Finlay. I enjoyed The Secret Lives of Color by Kassia St. Clair, (which I bought in Paris, read in 2 days, and then gave to Susan at Une Femme…)and I suspect that this book is going to be somewhat similar. Color is such an interesting and elusive part of our lives; learning more about their history and the way in which they've been perceived through time is great fun for those of us who spend a LOT of time looking at teeny little color variations!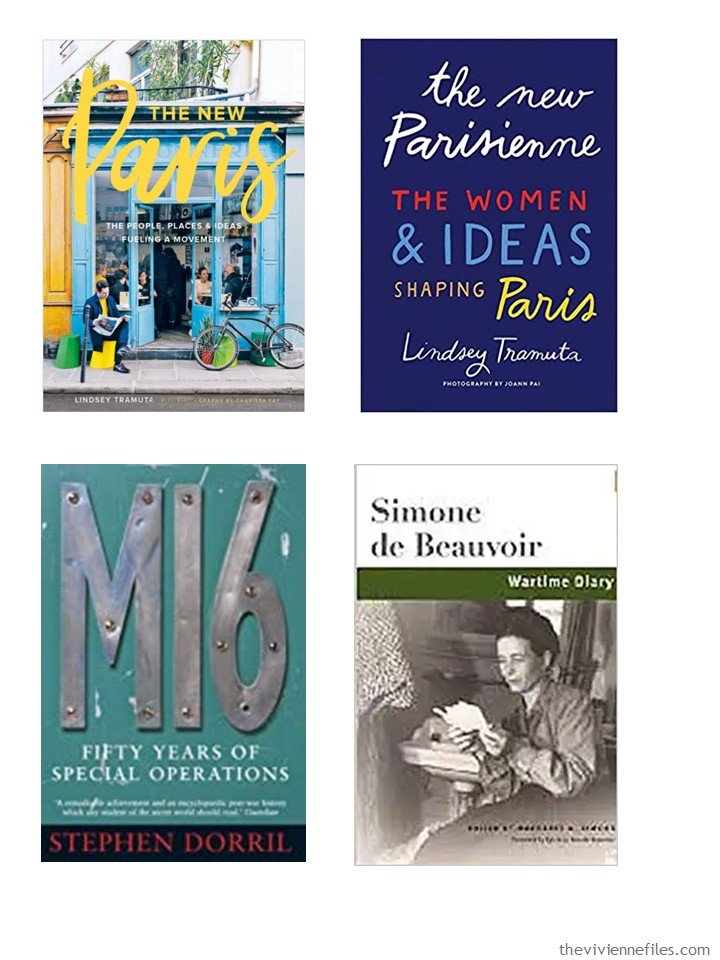 Oh, so MUCH to read! I'm a sucker for anything about spies, so MI6 by Stephen Dorril is going to be a happy romp of super-secret spy stuff… I will love every word, I'm already quite confident!
And I'm a mad fan of Simone de Beauvoir; I don't know how I've never read Wartime Diary? I thought I'd read everything she wrote! If this is a repeat, I won't mind; I seldom re-read things, but anything by her is a good candidate, if only to see what nuances and subtleties I missed the first time through…
And one book that I do dip into from time to time is Goodbye, Things by Fumio Sasaki. It is, indeed, about getting rid of stuff. But this isn't your mother's "does it spark joy" kind of decluttering book – this guy means GOODBYE THINGS! Some of the people in this book get rid of nearly everything that they own. Not my current goal, but it's still fascinating (and edifying) to see how simply some people can live…
Oh yeah – I still have my Michael Collins biography by Tim Pat Coogan to read!  Holy moly….
So what are you reading, during these long days with lots of spare time?
love,
Janice
p.s. Seven years ago, I was working my way through what I thought of as The ABC's of The Vivienne Files – it was a way for me to focus on what I thought I was trying to accomplish. They've stood the test of time pretty well!