July 10, 2020
Yesterday, our heroine was getting ready to head to the lake, with a packet of relatives, for the rest of the summer!
For her packing inspiration, she started with this painting: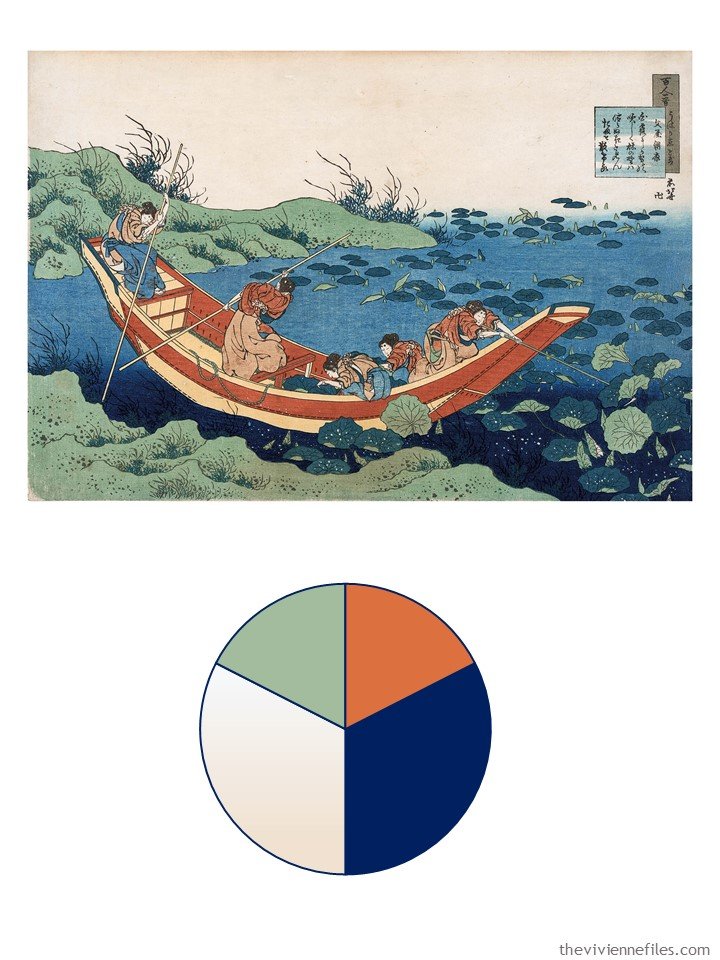 She has her clothes all ready to go!
But she doesn't have… well… shoes? earrings? a bag or two?
Let's do this!
She really likes her square earrings because they're called Lily Pad earrings! Although she's never seen a square lily pad…
She knows that she needs rubber flip flops – her feet will be wet fairly often! And sunglasses – you ALWAYS need sunglasses…
Next, she grabs her sunhat, and her Keds. Even if the Keds get wet, they'll be fine within a day… And even though she's not quite sure how it will work out, she grabs a lightweight scarf; maybe she'll tie it around her hat!
Oh my! She knows that she will have to dress like an adult at least once, to go into town and take care of some banking and other "real" business:
Now she starts to get nervous – she's great for accessories as long as she's wearing her usual navy-based outfits. But she's not sure what to do with her newer addition, in warmer colors….
And then she remembers – GOLD! Metallic accessories are often the answer when you're at a loss as to what to do. (the other good option is "your" nude – i.e. a color as close to your skin tone as you can find)
She has a sunhat already, but as the evening wears on, she really only needs something to shade her eyes against the sunset. So she tosses her baseball cap into her bag too!
And she pulls on her watch; she's NOT going to keep her phone with her at the lake, and she just might need to time something in the kitchen, or make certain that they don't all linger outdoors until it's absurdly past a normal dinner hour. Although that's not all bad…
Tell me, when you look at this headband below, do you want to draw a face in the middle of the oval? To my eyes, the fabric looks like someone's hair, and the elastic part outlines the bottom of her face… I've been indoors too long…
She realizes that her favorite bracelet matches her beige top! Excellent!
She knows that there will be a couple of grocery runs into town; she's going to be a good citizen and bring her own bag! (plus she can fill it with all of the food she wants to take with her on the outbound side of her trip…)
It's QUITE the pile of accessories! But they're driving up, and so space isn't quite the issue. By the time she adds in swimwear, towels, sheets, blankets, charging cords for everything… Sigh…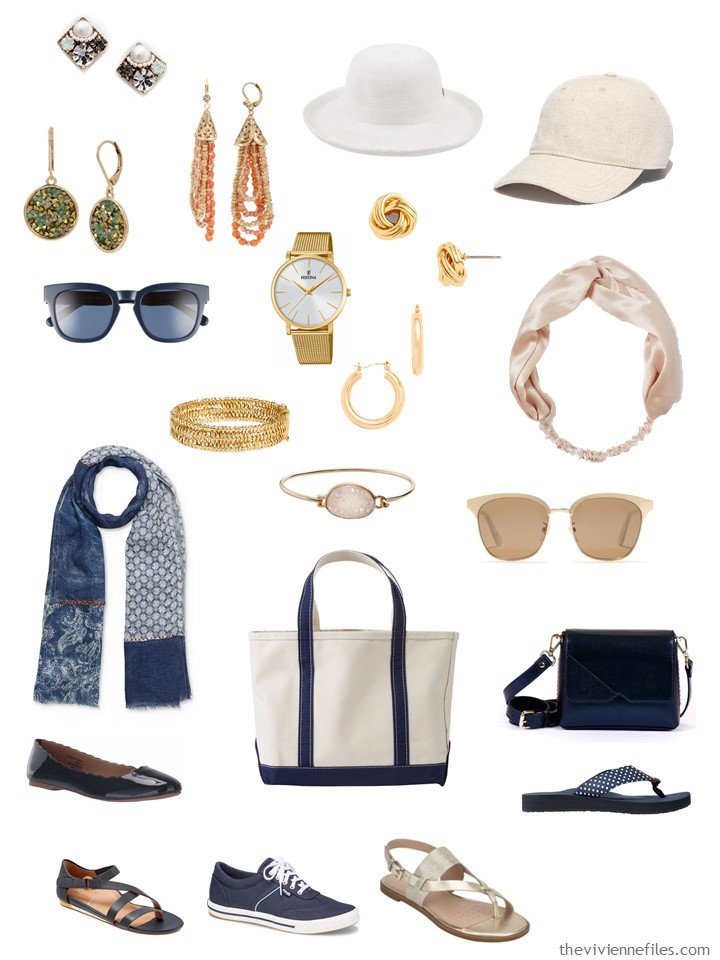 So many people from Chicago are out of town right now – Wisconsin, Michigan, Indiana, rural Illinois. I remain, in the bedroom, with a brand new air conditioner!
Such luxury, eh?
love,
Janice
p.s. Eight years ago, I was singing the praises of wearing multiples of accessories!