July 13, 2020
Can this month be almost half over? Are US Income Taxes due on Wednesday? Yes and yes…
Let's look at finding something nice to wear over our summer outfits when we venture into air conditioning, or to grab when we're sitting outdoors until the wee hours…
This is a pretty easy item to add to your wardrobe – you're looking for something lightweight, but still enough to feel covered when you need a little bit more than a tank top or sundress during warm weather: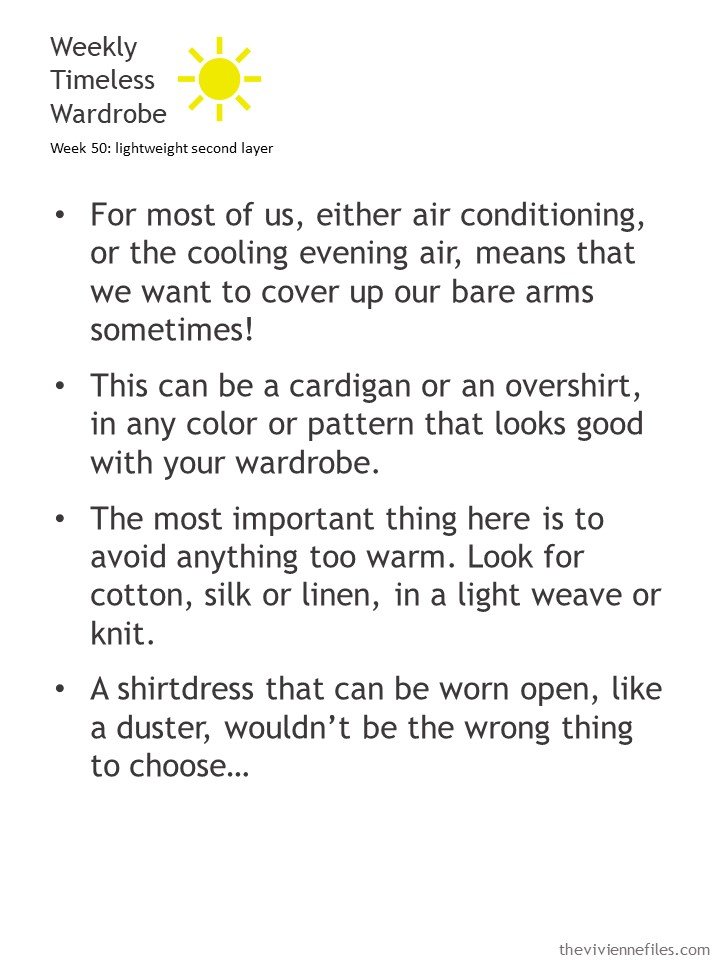 If you're mentally assembling a wardrobe to go with one of our six "Six Scarves, 12 Months" scarves, there are still good options available.
And for what it's worth, these scarves cycle in and out of being on sale; keep your eyes open!
I love these long cardigans… imagine cold legs from air conditioning, and being able to pull one of these sweaters around your legs just a bit…
If you struggle with finding warm colors to wear together, don't discount the usefulness of a natural linen-colored shirt – this is the kind of garment that you can, literally, wear all 12 months! And linen is tough – my linen shirts aren't ever going to wear out…
Of course I'm loving pink and black! This tunic might peek out under the gorgeous pink shirt, but that's the way the young people layer things these days… (I'm told!)
Once you have a white cardigan and white pants, you can add almost any summer top and be set!
If you're madly in love with this shade of green, you can break the bank and buy the bag AND the shoes… but I love picking up a different color from this tee shirt…
I love the juxtaposition of the stripes on this blue and white top with the pattern of the bag…
Why yes, I personally think that you can carry a tweed handbag in warm weather! Especially when it's the perfect shade of blue…
For our ever-evolving 13-piece wardrobe, I substituted a tie-dye tee shirt for the striped top that was here last week. The striped top sold out last Tuesday!
And a white linen cardigan – I can't imagine my summer wardrobe without my white cardigan:
For those of you playing along at home, here's the master clothing list. And if you click here you will be taken to where you can buy the individual worksheets for all 4 seasons!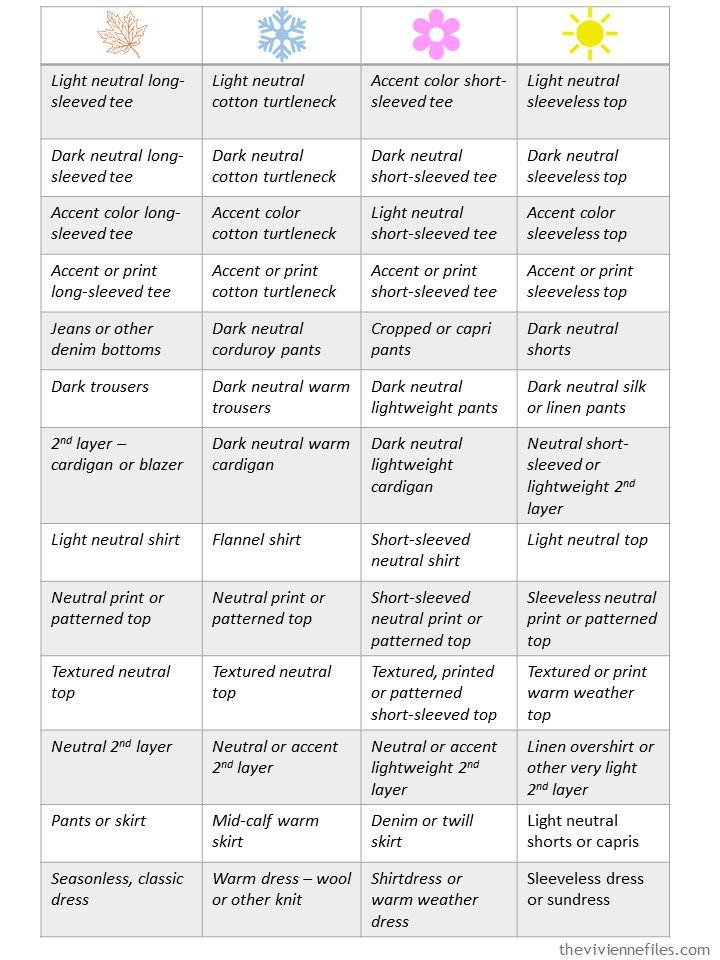 Quick question: where do you stand on clothing designed for 1 specific day? I'm becoming positively irate at the THOUSANDS of tops that I see that are literally made to be worn once a year. I kind of sucked it up when we had hundreds of tee shirts for St. Patrick's Day, but now there are tee shirts for "May the Forth" (as in "may the force be with you"), Mother's Day, Father's Day, the 4th of July, Halloween, Thanksgiving etc etc.
Do people really have a stack of tops that they only wear once a year?
I can't imagine, but maybe I'm missing something.
love,
Janice
p.s. Three years ago, our heroine was taking a bunch of people up to the mountain, with many plans for cooking…