July 30, 2020
If you're tasked with finding a winter wardrobe right now, I wish you all KINDS of luck. This is not a year during which all of the retailers have rushed to thrill us with cashmere, velvet, tweed, and lots of boots…
Nevertheless, we persist…
Remember this wardrobe from week 26 of The Weekly Timeless Wardrobe? I love this one…
So what IS a cluster, anyway? To me, a cluster is a group of clothes – 4, 5 or 6 at the most – that all go together, that give you a range of ensembles, and that are built around 1 or 2 "bottoms."
My logic is that if you have a couple of spare tops to wear with a pair of pants,
you aren't stuck when you're traveling and someone spills coffee on your shirt;
if the weather changes, you have options;
if you find that you're doing something more dressy or casual than you expected, you have options;
if you travel for a while, you can re-wear your pants or skirt, but change up the clothes that more likely need to be laundered;
and your will look and feel like you're wearing something different when you can change the clothing nearest your face.
If I take the descriptions of each garment and arrange them in Clusters, it looks kind of like this: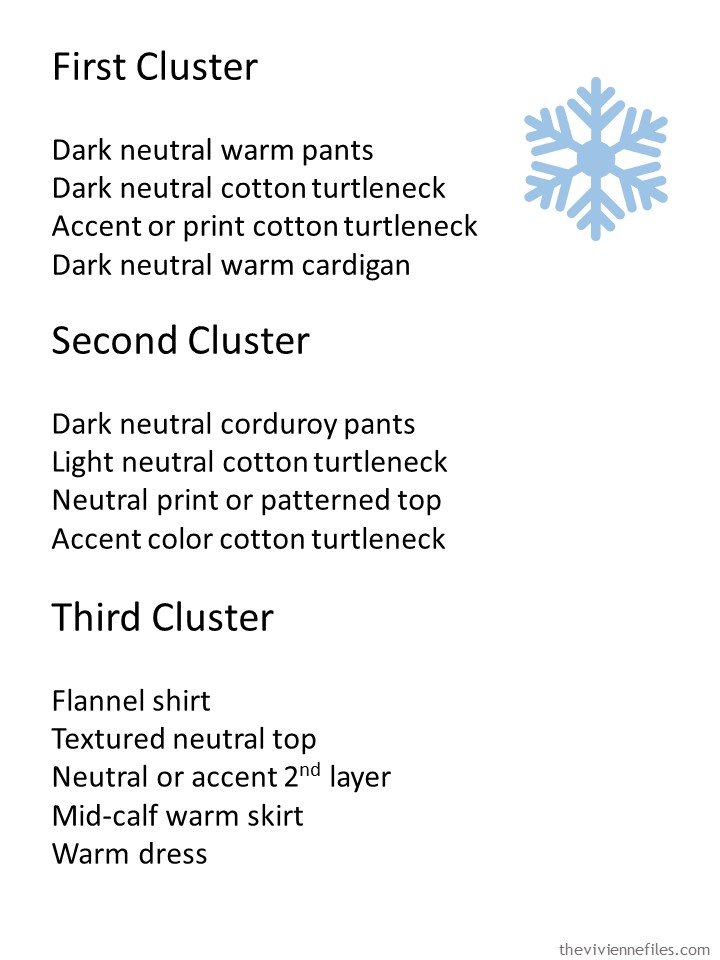 By this logic, my wardrobe from 6 months ago divided up like this:
Okay! Let's see if, in our current retail… slowdown… I can find clothes to compose 3 similar clusters in our palette of navy, beige, green and white.
First, I've included a navy suit! Depending on what you do with your time, this could be either insanely useful, or completely nuts…
This wardrobe already has a ton of navy pants, so our heroine is long overdue for some beige pants. And she also already has a green cotton turtleneck, so a print one makes sense to me. And the plaid shirt combines navy, green and beige, which makes it a winner!
I've taken some liberties here, which is what one does with all good wardrobe guidelines! (these aren't laws, these are suggestions…)
I don't think our heroine needs another navy skirt, and a beige skirt in cold weather felt… odd to me. If I could find one in corduroy, or velvet, or something warmer it might work. But I thought that a denim skirt might be useful here….
This heroine has had a flannel shirt since early days, so I'm giving her an always-useful classic white shirt. And her textured neutral top is NOT neutral – it's green! And it's a turtleneck that's hard to resist:
Here's her winter wardrobe; imagine this combined with the Autumn wardrobe, with all of the long-sleeved tee shirts, the beige cardigan, the plaid flannel shirt…
Of course, you wouldn't need more than these 13 garments…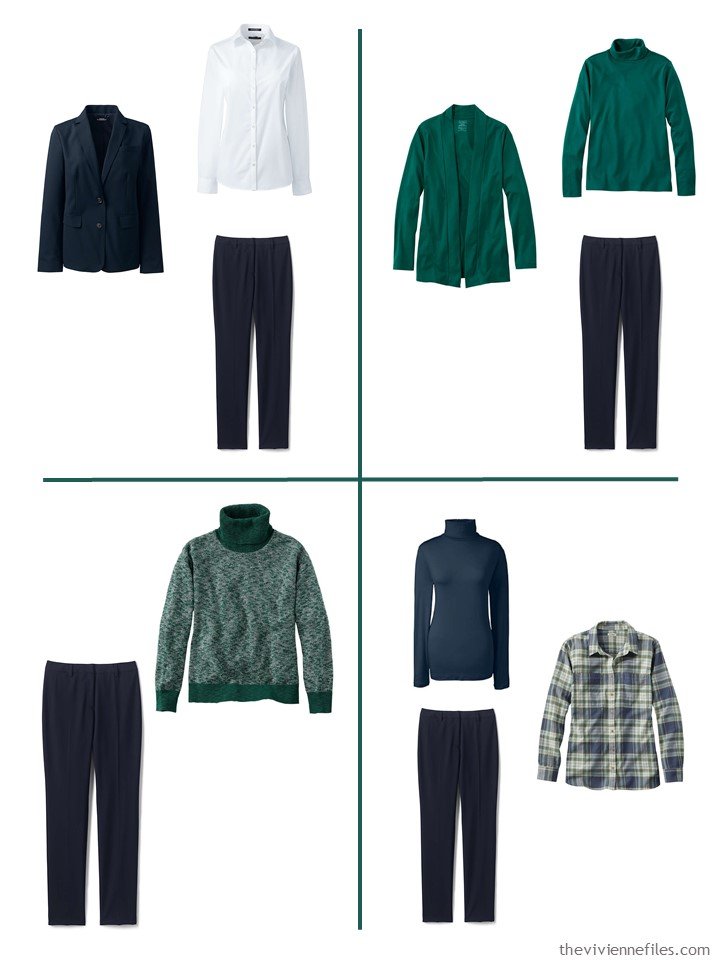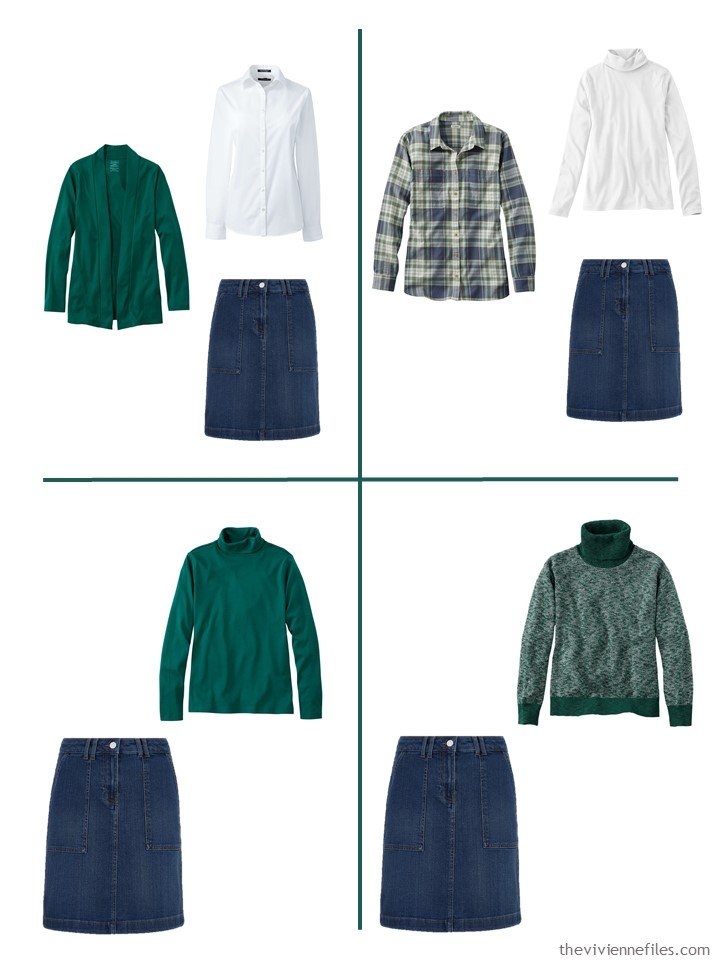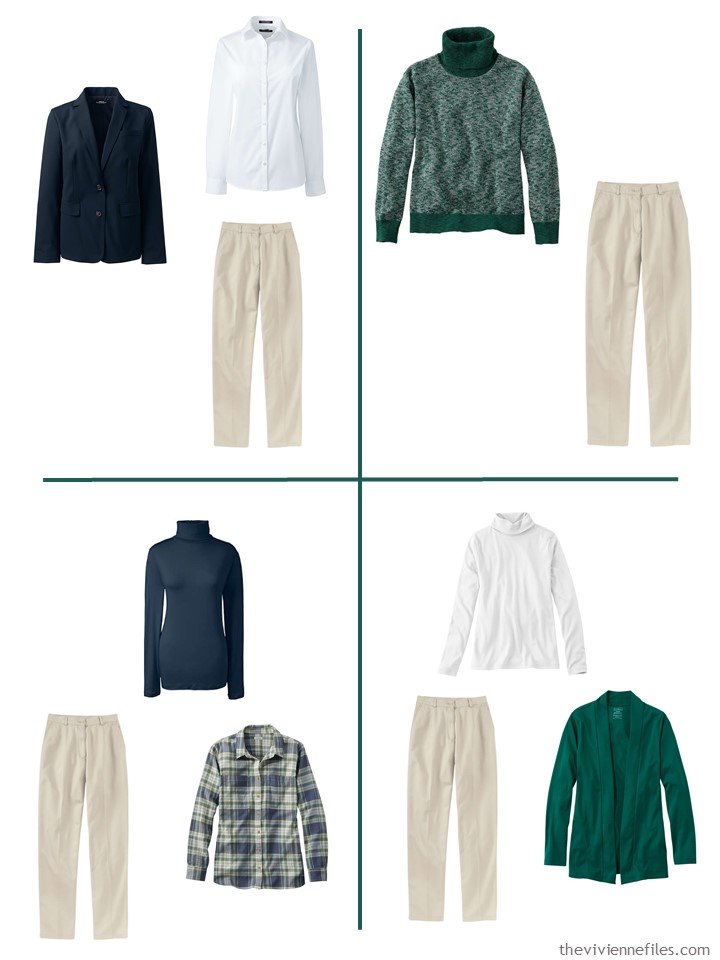 Monday I'm going to put ALL four of the seasonal Weekly Timeless Wardrobes together, to see what kind of synergies and fun we can find. Remember, these are the 2 seasons we've finished so far:
I always find it fascinating that when I see these wardrobes with 39 or 52 garments, they seem HUGE. But then I look into my own closet and see so much more…
Ah, there is no perfect wardrobe. The pursuit of a better wardrobe is a life-long project!
love,
Janice
p.s. Just last year, our heroine traveled with a 2 Cluster Travel Capsule Wardrobe; she was inspired by one of my favorite paintings!