June 9, 2020
Watching lots of people wandering about with backpacks, this last weekend, I was wondering what everybody was carrying! I know, water bottles, spare phone batteries etc. but I wondered if they had any clothes with them…
And that got me to thinking about what you want to have handy if you're going to be out for a LONG day. Say you start out with breakfast and sight seeing early in the morning. You're going into areas that are air conditioned, and the weather might turn flat-out cool later in the evening. What to do?
This is something that I've tried to remember to do, when packing, for years – make certain that I've got at least 3 tops with me that can ALL be worn together, or in any various combination of 2, or of course each top alone: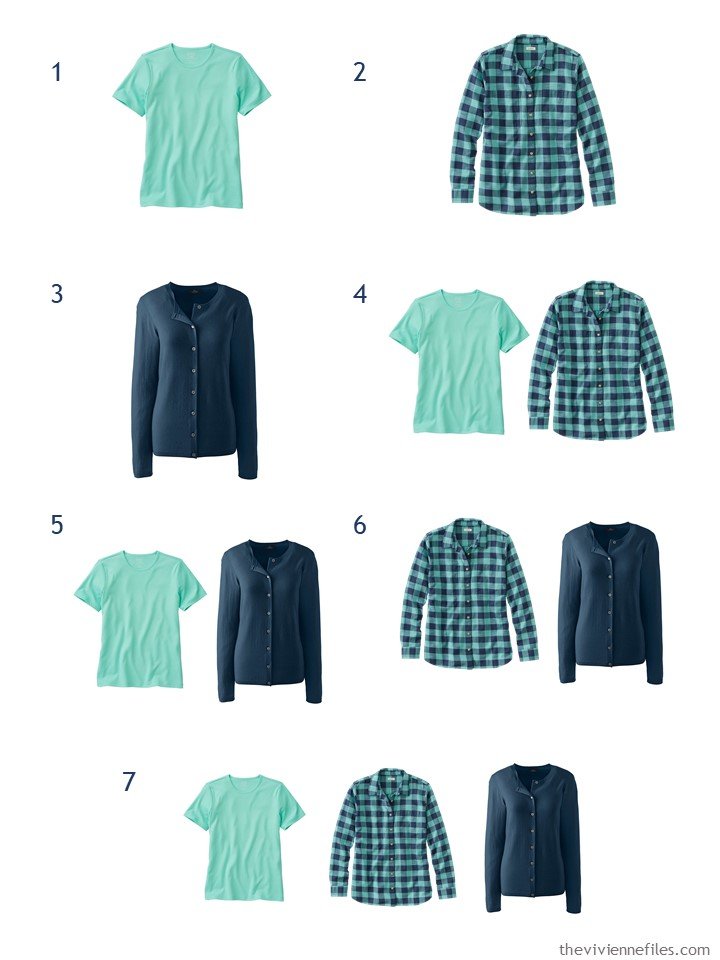 This is NOT to be confused with a week's worth of tops! (unless you can get laundry done really quickly…) But what it provides is a range of options for those situations with the weather is either completely unpredictable, or very changeable.
This is the kind of idea that might apply to a range of situations; what if you know you're going out for a couple of "nice" events, but you're not sure what you're going to want to wear? Imagine these 3 tops, along with a nice pair of black pants, and a black skirt. You've got so many options…
To me, even if you're backpacking across Europe, (heck, ESPECIALLY if you're backpacking across Europe) this idea still works. These next 3 are the core of a million possible outfits:
If you're preparing for colder weather, having the option of layer up, or just wearing a simple top, can make all of the difference between being constantly cold or being comfortable:
But this idea works just as well if you're preparing for warm-weather activities!
When I travel, I'm particularly fond of being prepared with a flannel shirt and a warm sweater, along with a tank top that functions rather like long underwear. If you have these things with you, you might survive without the world's heaviest parka!
It's not necessary to include a printed or patterned shirt to make this work – this idea will be just fine with solid colors pieces:
Speaking of laundry, wearing a tee shirt under you silk blouse the first time you wear it means that it hasn't been up against your skin much at all, and isn't at all too soiled to wear again. And then the sweater, which had something worn under it, is ALSO clean enough to wear on its own…
Even if the weather seems far too warm for this little trick to be necessary, keeping this in mind can help you assemble a nicely coordinated family of garments. And if, for example, you're stuck overnight in the world's coldest airport (Norfolk Virginia), you can put on ALL your clothes, and have a fighting chance of getting some rest…
Are you daring enough to include 2 printed garments in your Triple Top Secret?
Of course, the logic of having these 3 pieces in your closet isn't necessarily related to travel; you could certainly use all of these ideas in the comfort of your own home….
love,
Janice
p.s. Nine years ago, I advised you to take a few photographs. I'm STILL advising you to take those photographs…
p.p.s. The Triple Top Secret for work, or for dress, was a topic for us back in 2013; as well as for casual packing….