July 29, 2019
I think it's about time we found something to wear below the waist, don't you think? For most of us, jeans or something similar seems the most logical place to start. When I was young, jeans were mostly for the young, and even up until about 5 years ago, when I traveled to Paris I seldom saw anybody over the age of 30 wearing jeans. But now? Jeans, in good condition – no holes, clean but not crispy pressed (no creases!) are seen on almost anybody…
As always, I have some thoughts about what to look for…. And as always, these are GUIDELINES, not hard-and fast rules. Nobody is entitled to tell you what to wear unless you're somewhere that requires a uniform. Otherwise, we're all on our own! (which makes building a wardrobe challenging, but ultimately so rewarding!)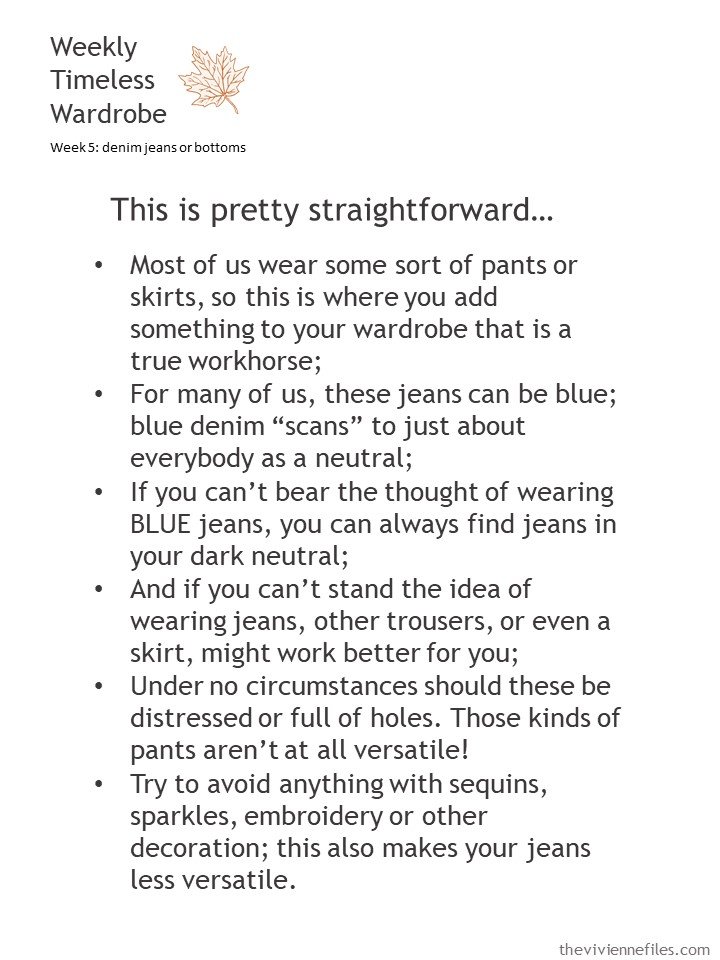 I admit that I'm a big fan of jeans from Lands' End; they don't cost a million dollars, they come in a range of fits and sizes (order a few and try them on at home!), and they print the style and size that you're wearing inside the waistband, in nice big letters so that you can find the same fit in the future! When you find jeans that you like, make a note somewhere (like on your clothing shopping list?) of what size and "fit" they are, so you don't have to go through the "fitting" process again…
If I needed a necklace, I'd be all over this one! And the sweater too, come to think of it….
Most of us can wear blue denim – it's the new neutral!
If grey is your neutral, grey jeans just seem logical, don't they?
Olive just feels like autumn… Doesn't this outfit feel like leaves changing color, and students playing sports?
Maybe your favorite "neutral" color is something off the beaten path, like berry… I've been told that this is getting to be a very visible color in downtown Chicago. Must keep my eye on that…
If you prefer soft colors, that's no reason that you can't have a pair of jeans that are perfect for you! In a sea of darker colors, you will stand out like a flower in an outfit like this:
The nice thing about jeans is that you don't need 10 pairs of them; in fact, there's a group of people who don't wash their jeans, but rather store them in the freezer to kill odors! I'm not sure about that; I'd love to cut back on the amount of laundry that I do. How often do garments truly need to be laundered? Hmm….
love,
Janice
p.s. Back in 2016, I built a lovely black, red, and white cold-weather travel wardrobe. I'd love to toss is all into a suitcase right now and head someplace cool…