July 26, 2019
If not, why not?
To me, clothing is an essential item in life, and as such, should be purchased with care, and with a plan. In order to have a plan, I think that a shopping list is important, if not essential.
For example, you wouldn't buy any sort of furnishing for your home without thinking about it and having a plan. The clothes that you wear can be thought of as furnishings for your body. You can live in a completely empty home, and you can live without clothing, but neither of these options is great!
So I'm pondering the most obvious things that I might purchase for the upcoming cool weather….
I'm heartened to see a number of lovely garments in warm, "autumn or spring" colors, and I've chosen to share quite a few of them with you!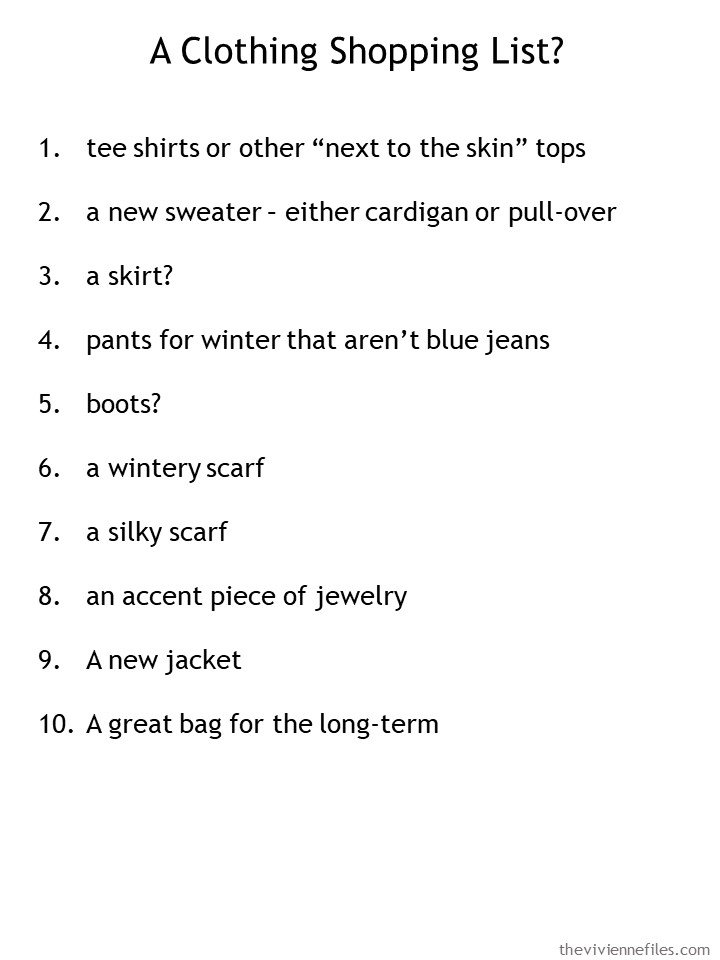 (of course, you need to pass a careful eye over your socks, your other hosiery (in my case, opaque tights), and your undergarments. If they need to be replaced, everything else should wait!)
The thing that probably most needs to be replaced in my wardrobe are the shirts and other tops that I wear next to my skin; tee shirts, and button-front shirts tend to be laundered most often and wear out most quickly…
I always want a new sweater in the autumn. Who am I kidding – I want TEN new sweaters! But I can only wear 1 at a time, and it's much wiser for me to buy one really GOOD sweater and wear it constantly… After 10 years of buying nice sweaters, I will have a wardrobe of 10 great sweaters…
Because cold weather tends to throw me into pants for at least 6 months, even though the weather isn't always that cold, I try to remember to make sure that I have a nice, versatile skirt…
Possibly the most important thing for many of us to find is a pair of pants that aren't blue jeans, and aren't some sort of leggings… We deserve the resources to look nicer than that! And leggings are NOT pants; revealing that much of your anatomy to the general public may not be wise…
You can find nice jeans that aren't black… The idea of ponte jeans really interests me!
I'm pretty well set for boots this winter – I have both the Minnetonka Moccasins and the Blondo boots shown below, which are lovely! But a pair of tall boots with low heels might be a good idea with skirts…
Do you have a really nice, "go-to" warm scarf? Your new winter jacket (or the one you're going to wear again this year) might suggest that you find one that you love:
An accent scarf in a soft fabric is always a good idea! They tend to never wear out, and they serve much the same function as a piece of jewelry…
Do you need a new coat or jacket? Yes, the weather is ghastly warm in much of the world, but it's also the very best time to find your wardrobe's best jacket… Have them sent to your home and try them on in the comfort of your home's air conditioning!
You can buy a bag at any time (oh, don't we all know that?), but this might be the right time to choose one. It can be chosen for both function and for how well it works with your outerwear…
And if you want a really pretty bag to use for evening and dressy wear, keep your eyes peeled. These will become more and more available as we near the winter holidays…
The best part of having a plan (except for really getting your money's worth from your purchases) is that you can really take your time and focus on what you want, and what's available. Don't be swayed by what's on sale, or the newest, flashiest thing on the market. Remember how hard you work for your money, and be wise…. You will actually look better, and feel better about your appearance too!
love,
Janice
p.s. 3 years ago, we started with a Gustav Klimt painting to build a lovely grey and pastel wardrobe for a heroine who was headed off for a restful break spent in nature…