February 27, 2019
I am often asked if it's possible to have a wardrobe that's TOO neutral…
Hmmm. My first thought is that if someone is concerned about feeling this way, maybe their wardrobe is too neutral for them. Conversely, maybe these questioners are perfectly happy with their wardrobe, but they get critical feedback from others. (how often do those of us who love wearing black get criticized for being Goth, as if that made any sense…)
The answer, I think you already know, is NO, no wardrobe is too bright, nor too neutral, nor too pastel, unless it doesn't suit you, and doesn't make you feel beautiful and happy and free to do your important things.
But in the interest of investigating a wardrobe that's 75% neutral, let's experiment…
First up, I really love this scarf. At first glance it feels kind of bright, but when you study it for a minute, you see that it's mostly black, white, and denim blue. I've pulled out 3 accent colors, but I suspect that you could easily make a good case for both brown and grey in this palette too!
These colors should be great for spring and summer!
So let's start with black – my favorite. These are relatively expensive clothes, because these, jeans and a denim jacket should be the garments that last the longest in your wardrobe. Your mileage may vary, and you should only pay what's comfortable and appropriate for you. Nobody should be paying attention to what your clothing costs – if they care, they can pay for things for you, right?
I could go a long way with these garments, a couple of scarves and a few pieces of jewelry…
Next up, let's get some denim! I have a denim shirt that I've had for a long time, which I purchased as a replacement for an earlier shirt that didn't last very long at all. You just never know, eh?
I own this very same denim jacket, and I quite like it. It's not at ALL tight – I think the description actually uses the word baggy – which is how I like it!
Other kinds of things to consider here would of course include a denim skirt, denim dress, or chambray shorts. (I like chambray better for shorts because it's lighter weight – if I'm wearing shorts, it's warm enough that I don't need a heavy fabric!)
Now let's get some white things. I personally would be reluctant to invest a ton of money in white garments, although I've had the same white cardigan for at least 10 years… Still, it would be a pity to spend a lot of money on a white tee shirt that was worn and sad looking by the end of the summer…
And now for the fun! 3 very different solid-colored tops, and a quite distinctive tunic:
I've put all of these pieces into the 4 by 4 grid, which I've slightly relabeled to reflect the predominance of neutrals we're using.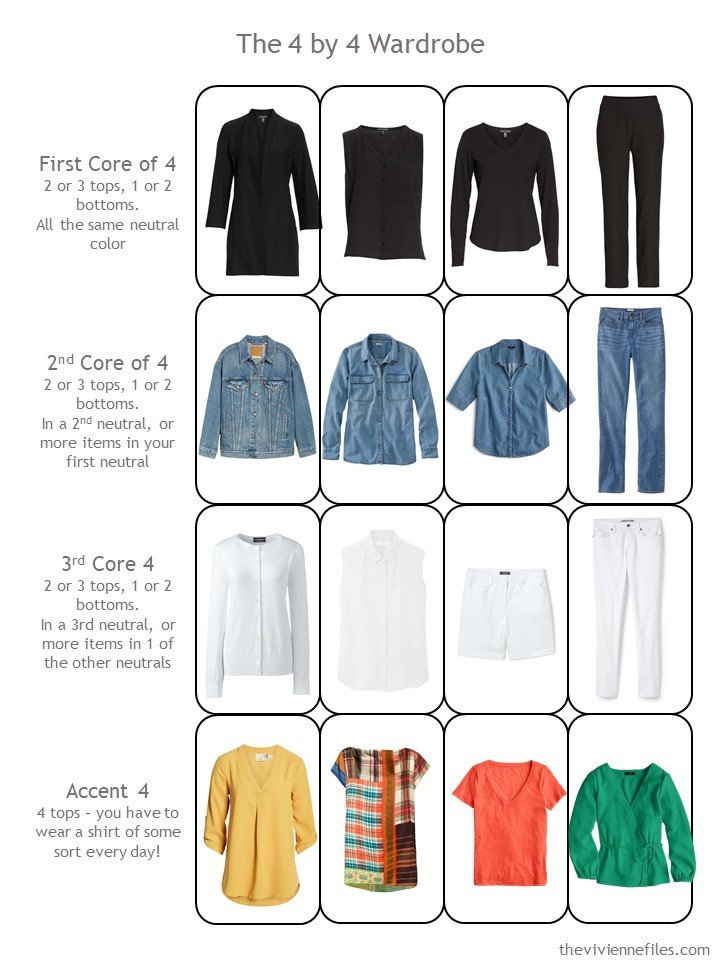 Frankly, I'd toss in a pair of denim shorts, probably a pair of black shorts, and this would be an all-summer wardrobe! (okay, maybe a black and a white tank top, too…)
How far can you go with these pieces? I made a point, when building outfits from this wardrobe, of alternating "all-neutral" outfits with "bright accented" outfits. I'm pretty certain that there are more outfits possible using just neutrals, but the 4 accent tops definitely pull their own weight!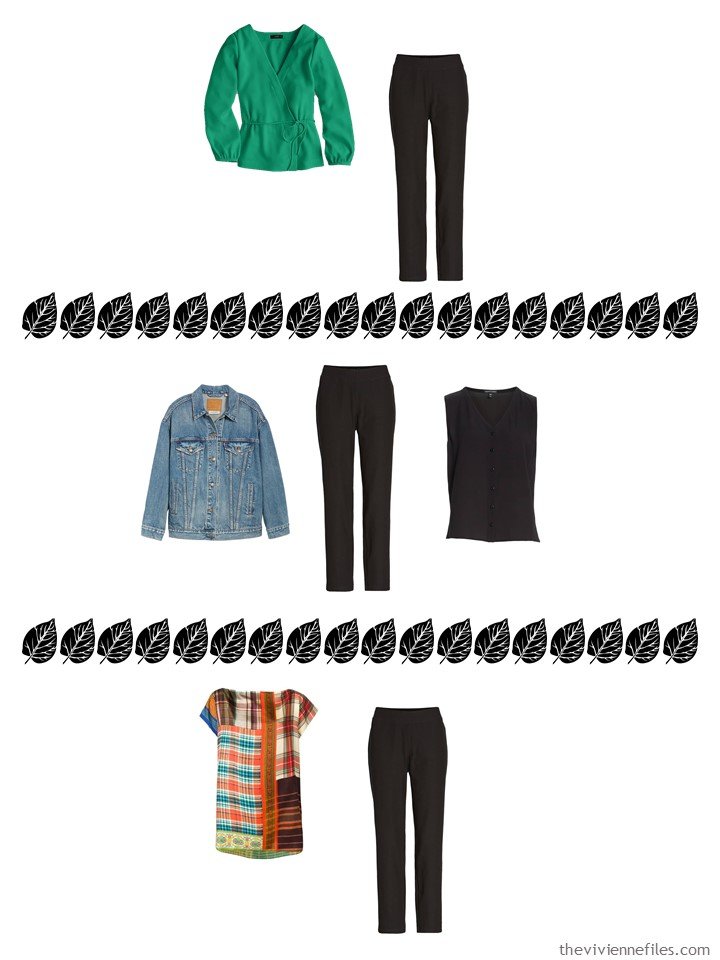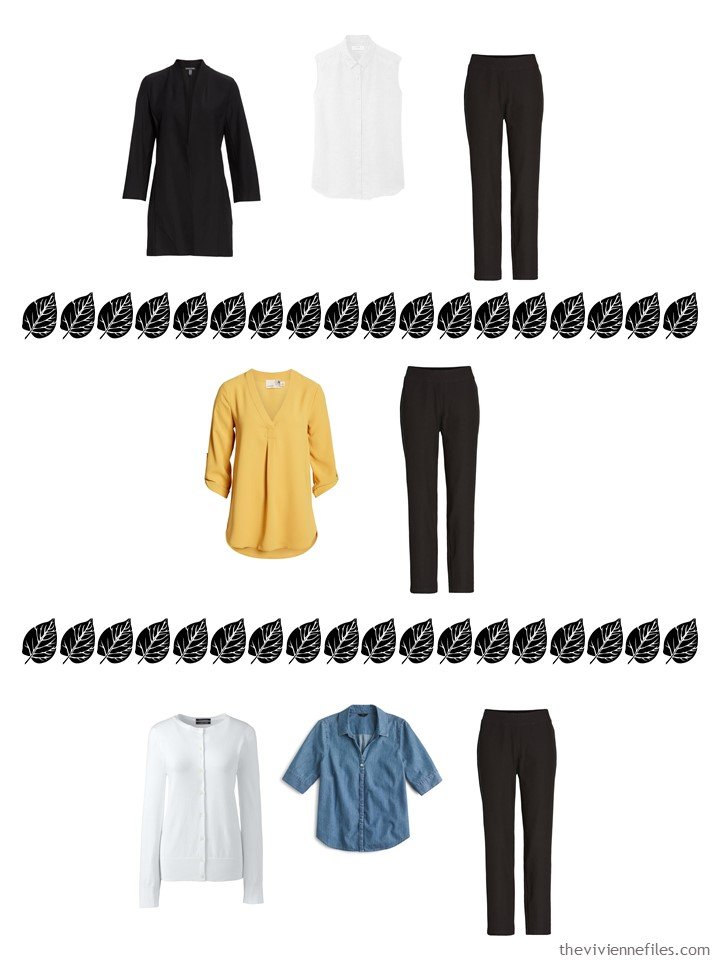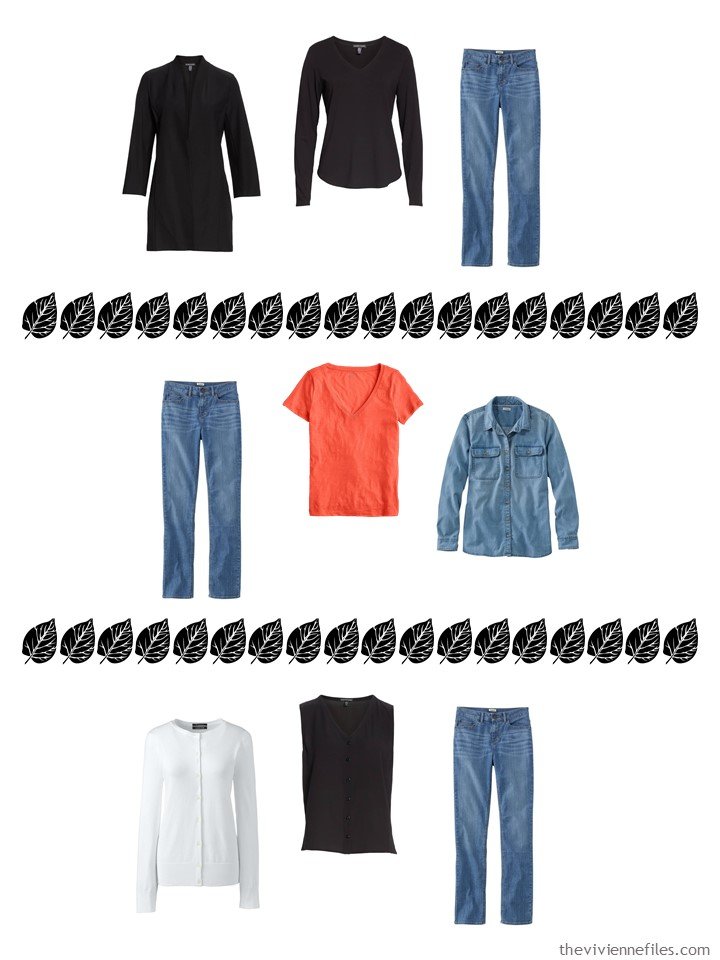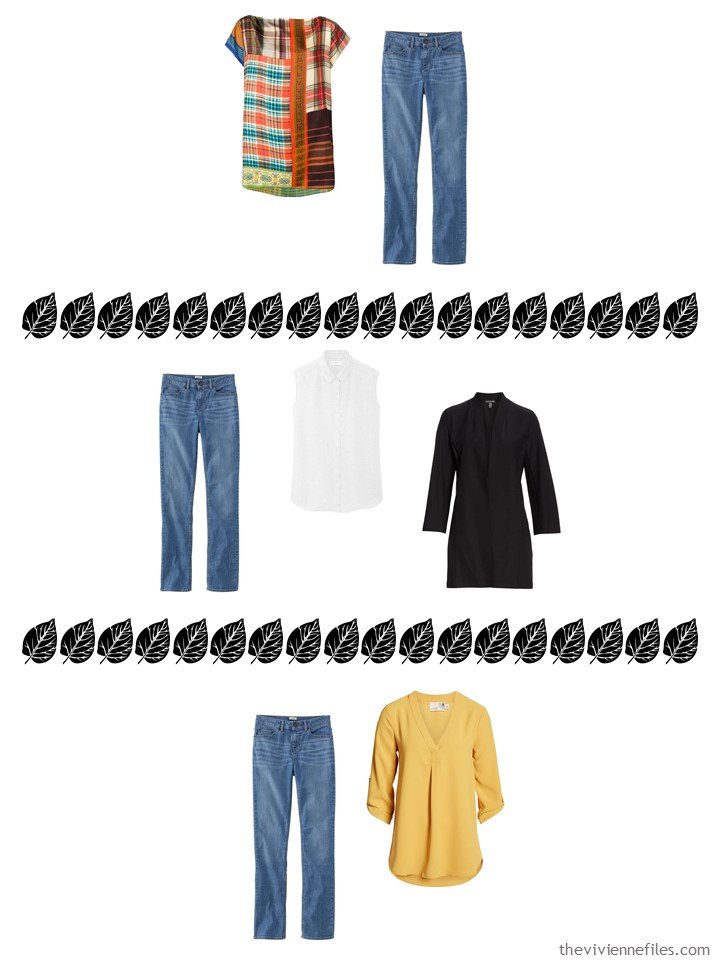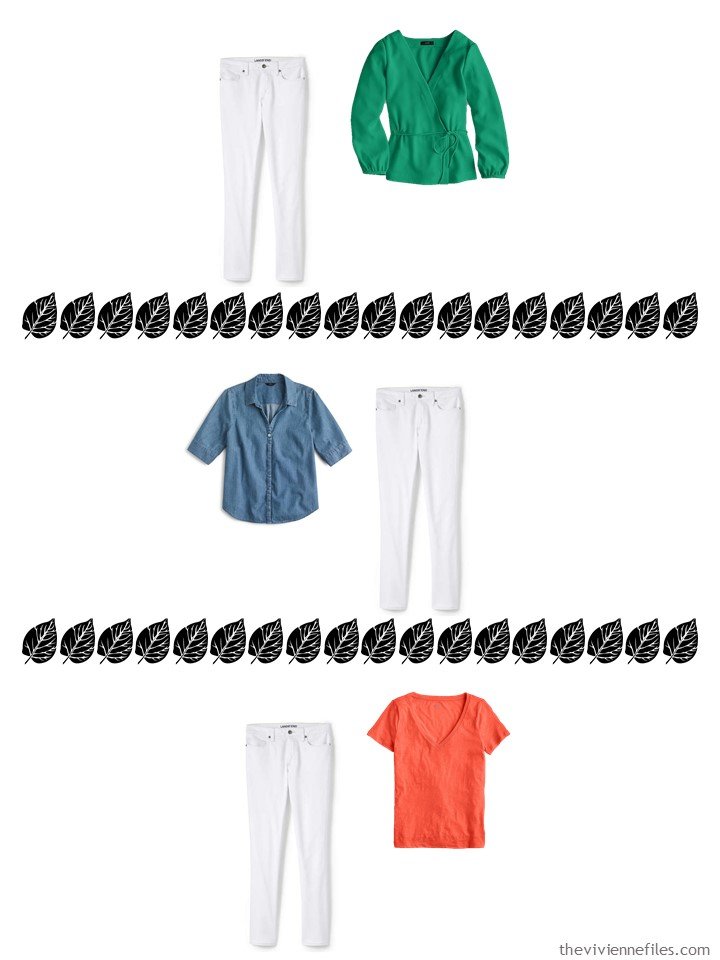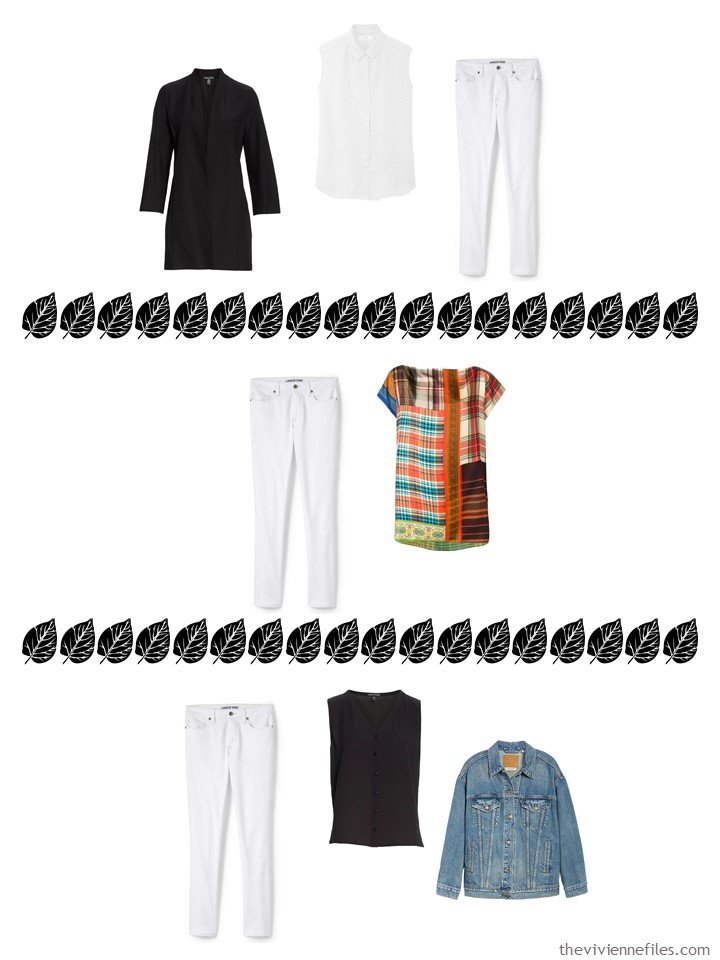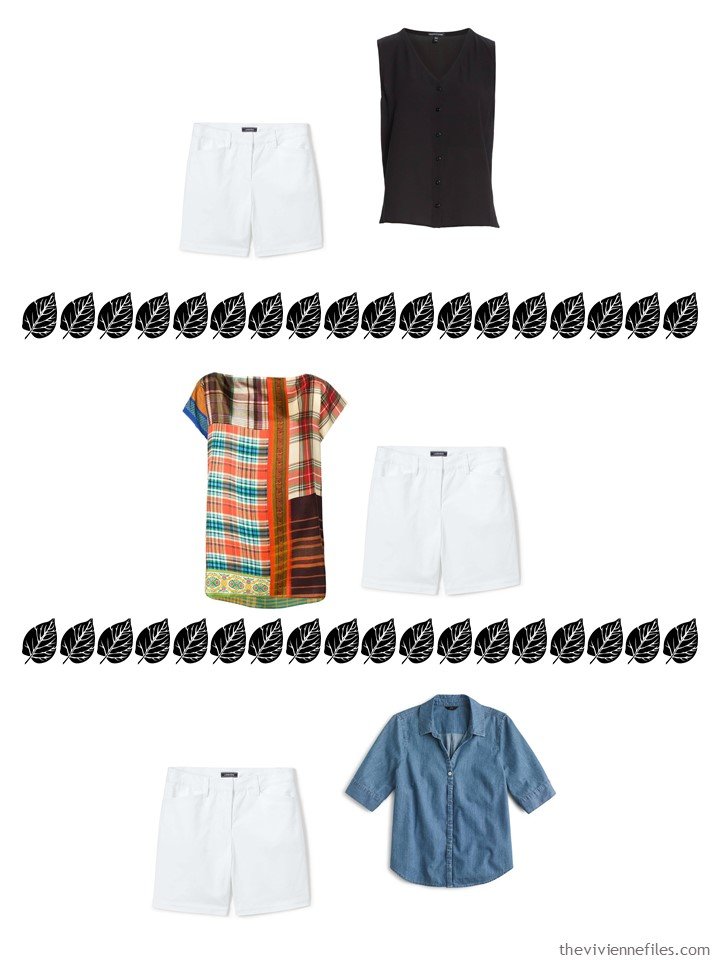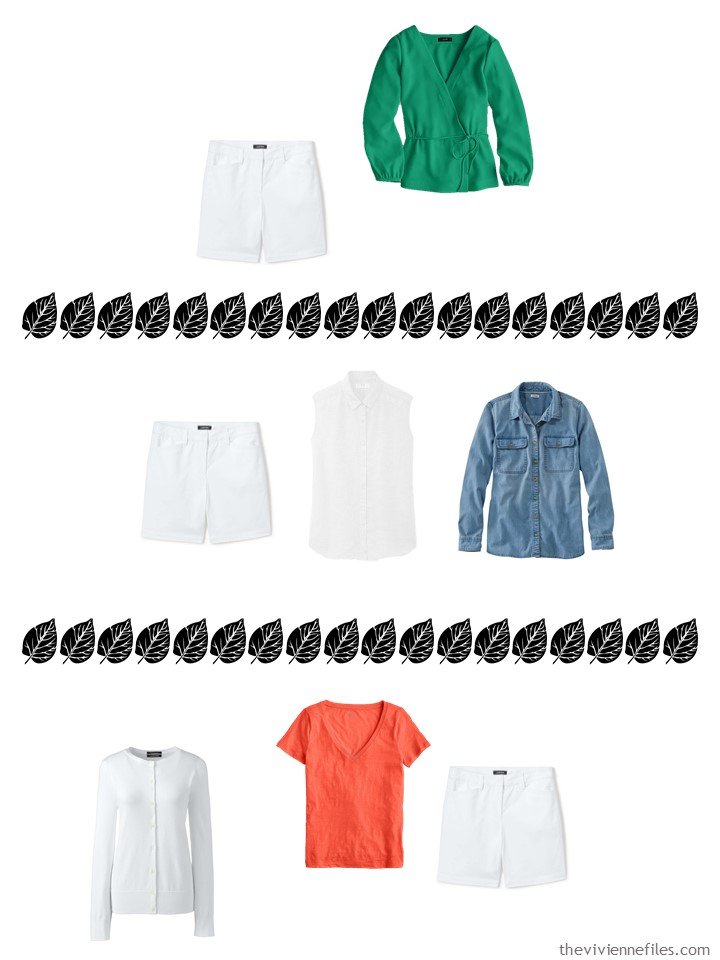 With different accent colors, this wardrobe could last me all summer…
2 quick questions:
Would you like to see accessories for this wardrobe? and
Would you like to see this with different accent colors?
love,
Janice