February 25, 2019
Honestly, if I could tell you with any degree of certainty what the weather is going to be in May in Ireland, I would be doing something to make a fortune, like buying penny stocks and selling them for millions of dollars. The weather requires that level of omniscient genius!
But you can be strategic, right? Let's start with a beautiful photograph of an Ireland shore, to help define a color palette: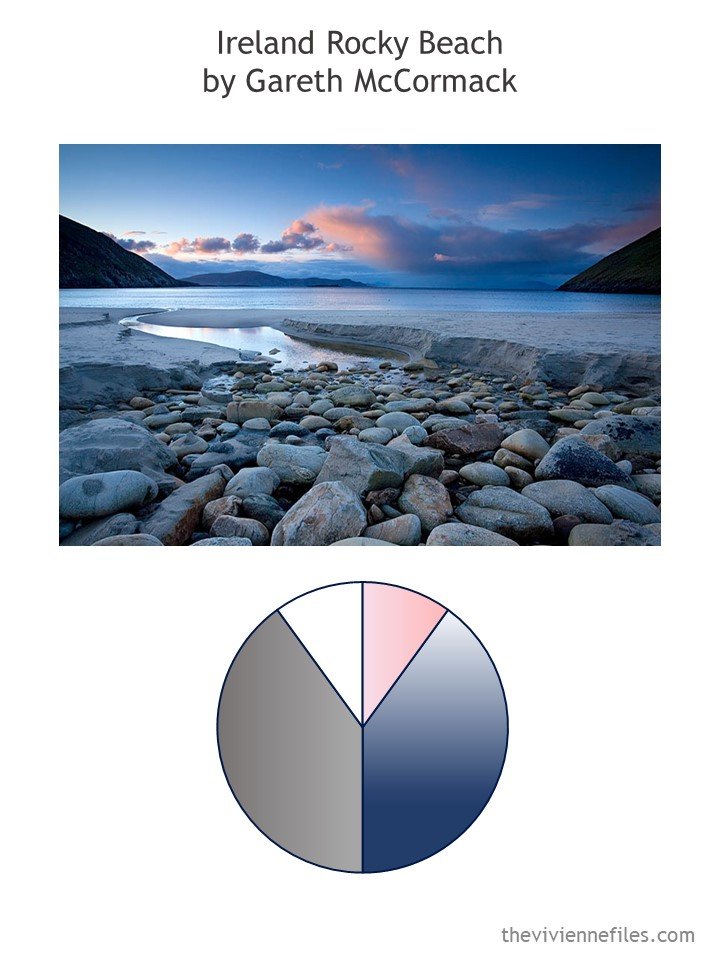 Okay, time for strategy. First, you can't take ALL of your wardrobe with you, so you have to make some smart choices. If we accept that it's not possible to pack for every possible kind of weather, I submit that it's smarter (in the spring and summer) to carry with you clothes for cooler weather, working with the assumption that if the weather gets unexpectedly warm, you can easily buy tee shirts and shorts. (I have a tee shirt that I bought at Marks & Spencer on Grafton Street in Dublin 13 years ago…) Conversely, if the weather turns cold, you could be pressed to find warmer clothes, except for lovely Irish sweaters! So that's how I'm going to proceed…
First, a cluster based around jeans and a cozy cardigan. If I was traveling around Ireland with this cardigan, I would probably have to buy a really nice brooch…
Even though I'm going to focus mostly on warmer clothing, you definitely want to consider taking a pair of shorts in May.
The variety of tops keep you covered – literally – from a warm day to quite a cold one. Worst case scenario would be a tee shirt, plaid shirt, AND fleece top with the grey jeans above. Add a rain layer and you should be able to survive the coldest May day Ireland has ever seen…
Next, I'm building around a pair of pants that have a built-in function to roll to capri length and be fastened. Also, here's where I include really important piece to remember – you've GOT to have something water-proof! Of course, if you pack a jacket like this, the sun will shine every day, and you won't see a drop of rain…
The pink tops are ideal for layering with the grey pieces from the first cluster, or to be worn on their own. I'm starting to really love pink!
At this point, you could easily just pack 12 of these pieces, and wear 3 on the trip, and be finished!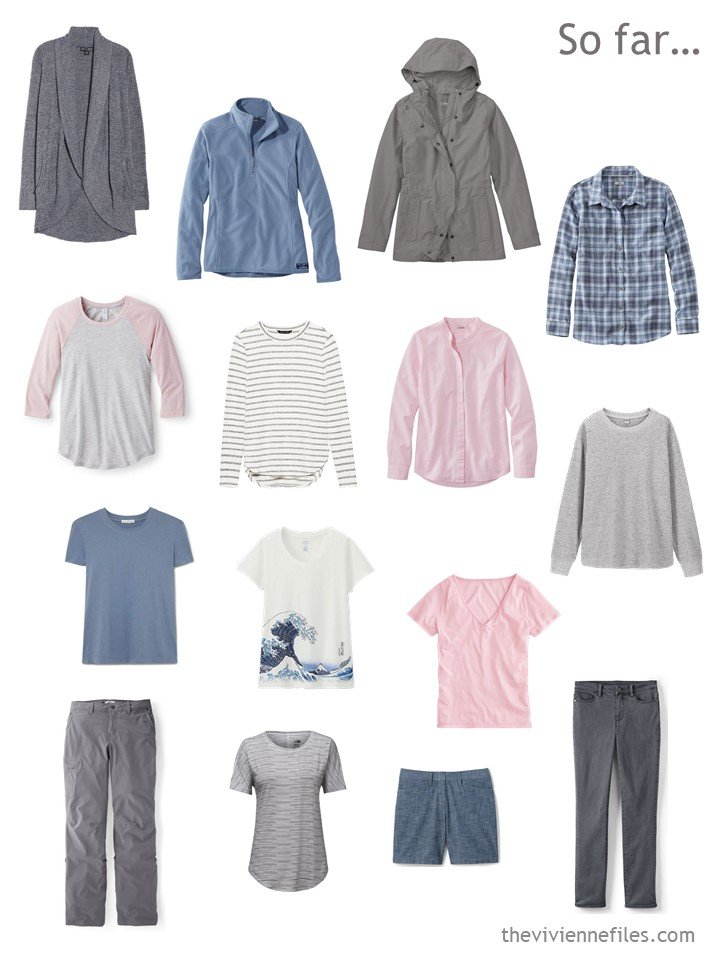 But maybe your agenda is more dressy – you might plan to spend a lot of time in Dublin or another city. Maybe a business meeting with a genealogy researcher? Some lovely dinners? You might want to pack dresses…
If you made that choice, you would need a bit larger suitcase, but you'd have this as your travel capsule wardrobe: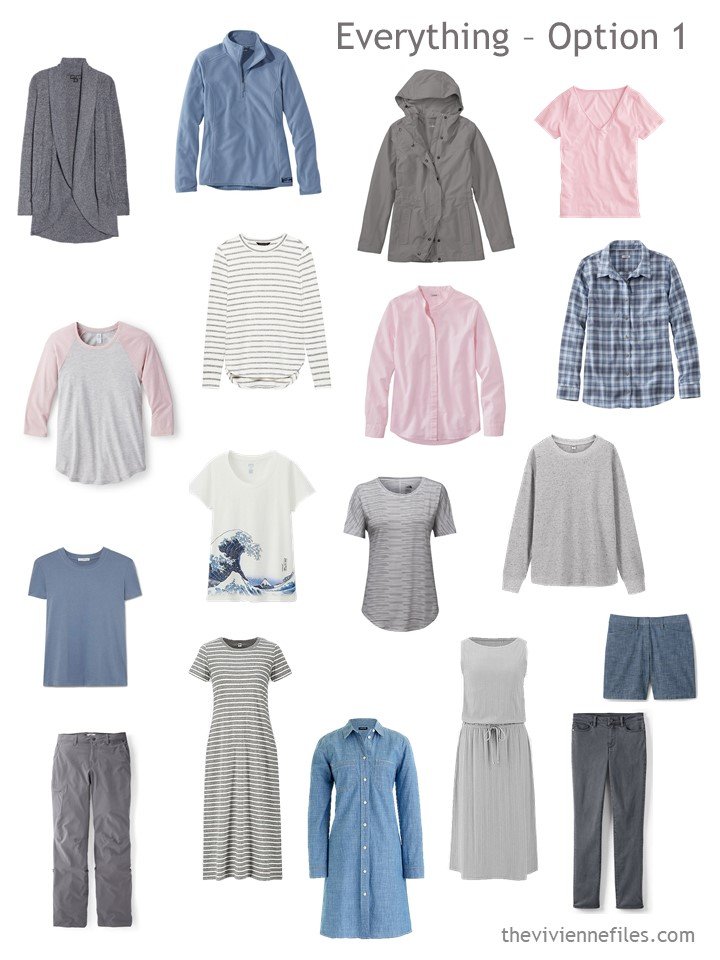 On the other hand, maybe you're planning to do a LOT of hiking. My personal experience is that I do okay with shorts even in cool-ish weather, so long as I'm active, and the top half of my body is warmly covered. (my thighs work hard!) In that case, you might want to include a few more outdoorsy garments, like these:
Yes, I'm a firm believer in the power of a fleece top!
Your hiking-focused wardrobe looks like this: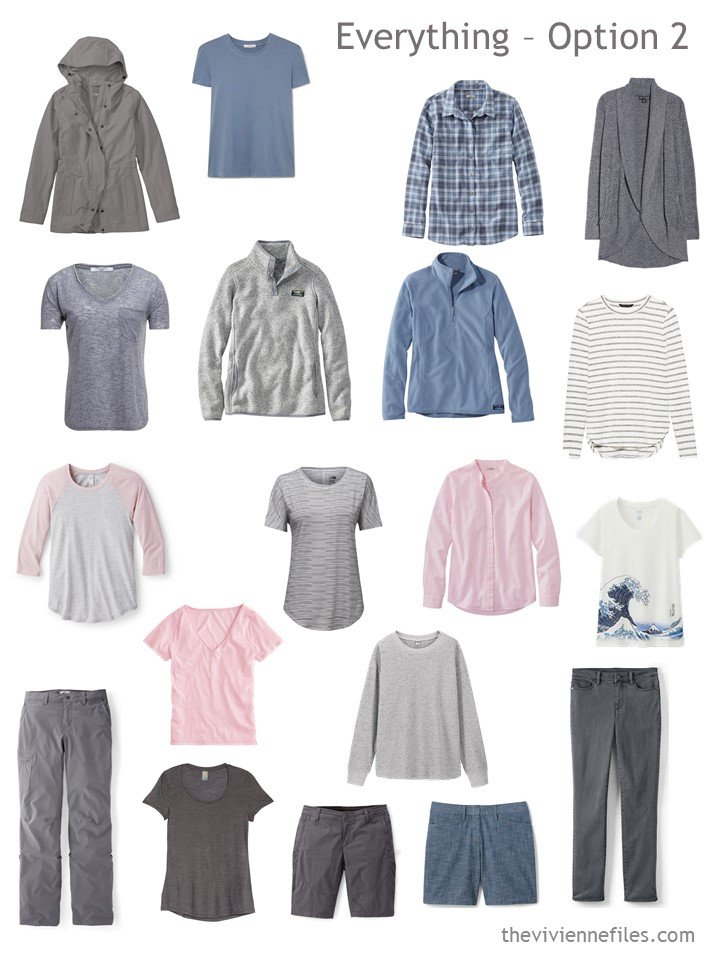 Or MAYBE… You're going to pack a big suitcase, and take everything! I'm not telling you not to – you know your plans and your preferences. This might be just right for you…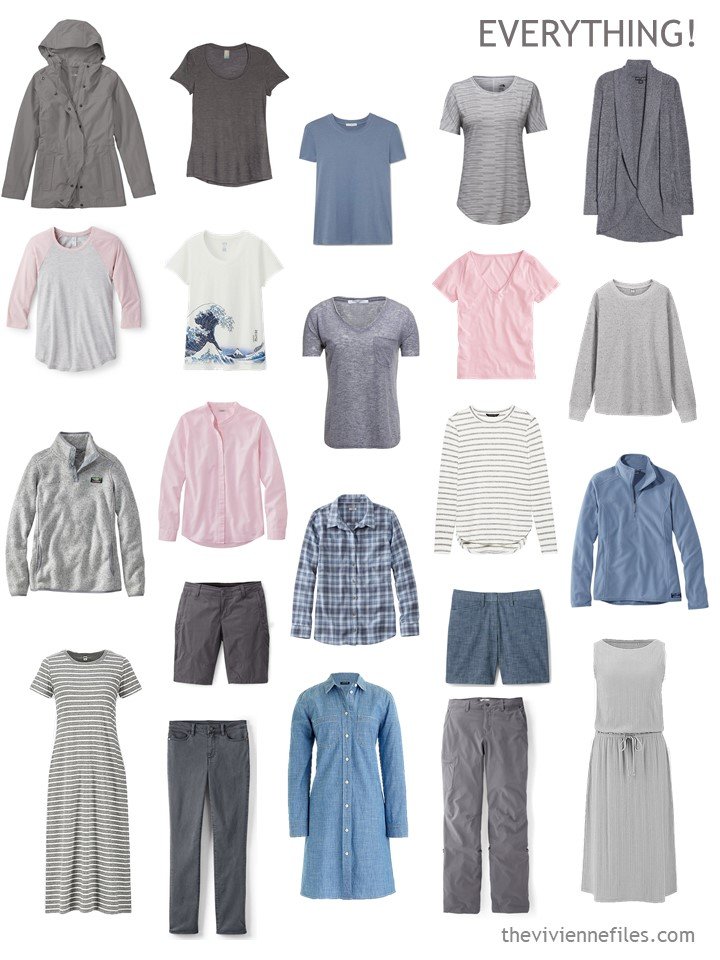 Of course the limited color palette is key to getting all of these pieces to play nicely together. But it's important to remember to give yourself options – both long-sleeved and short-sleeved tee shirts, 1 or 2 shirts that button up, a nice warm cardigan…
Let's see how our outfit possibilities work!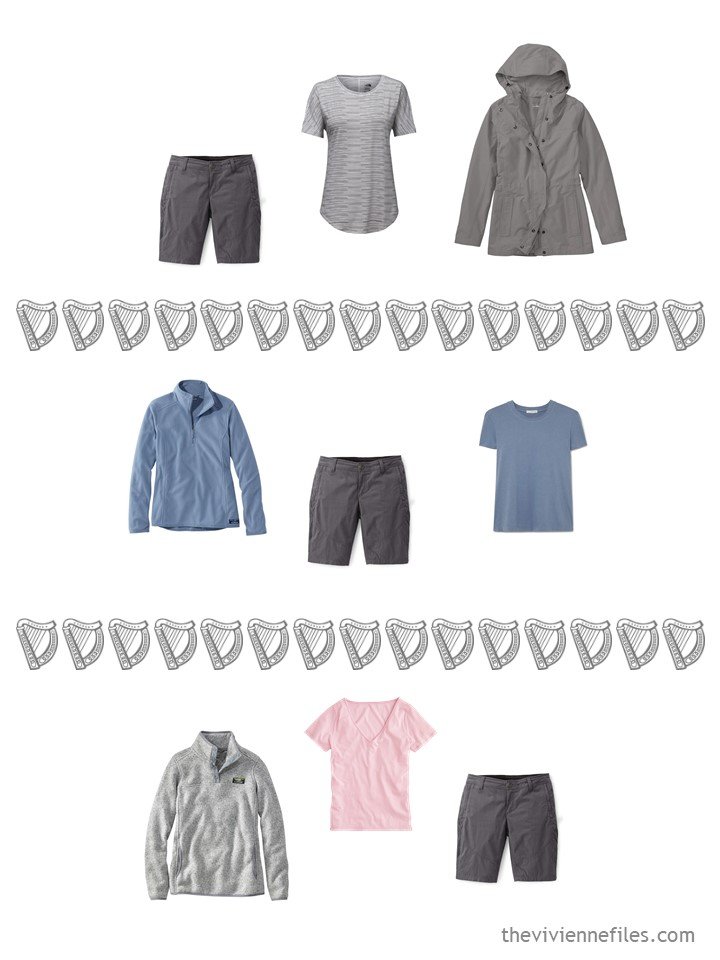 Don't forget that you can wear a sweater or other top over a dress, and treat it like a skirt and tee shirt…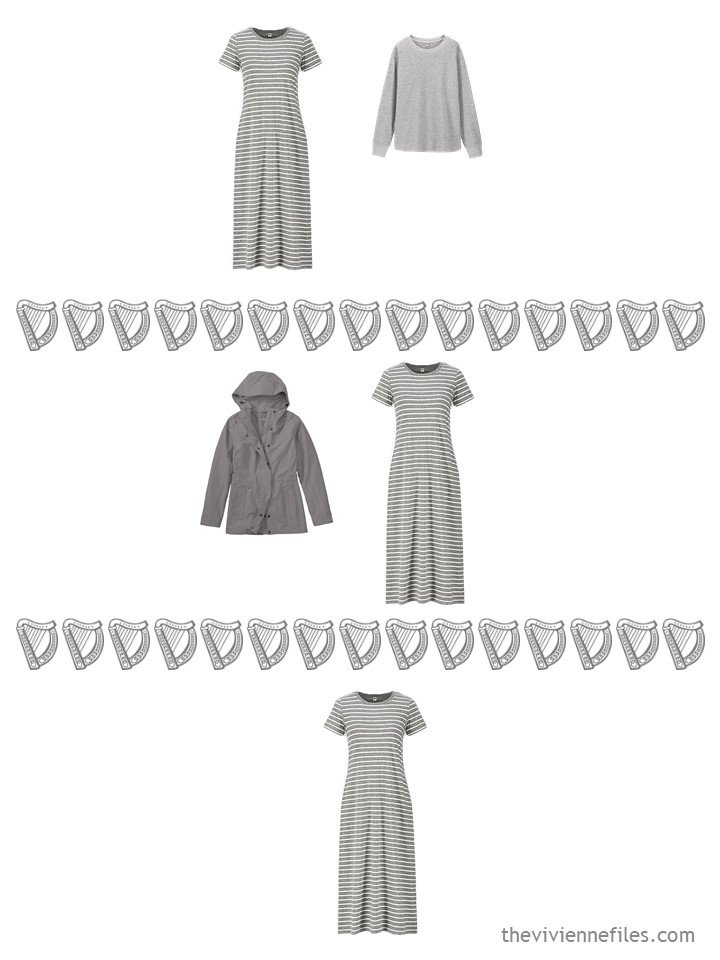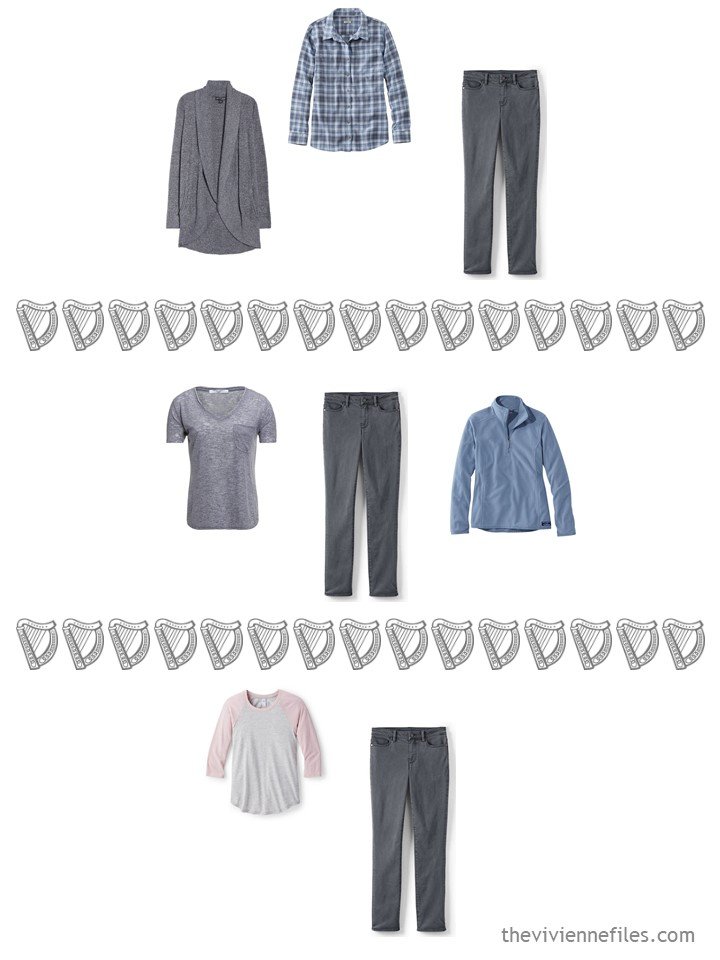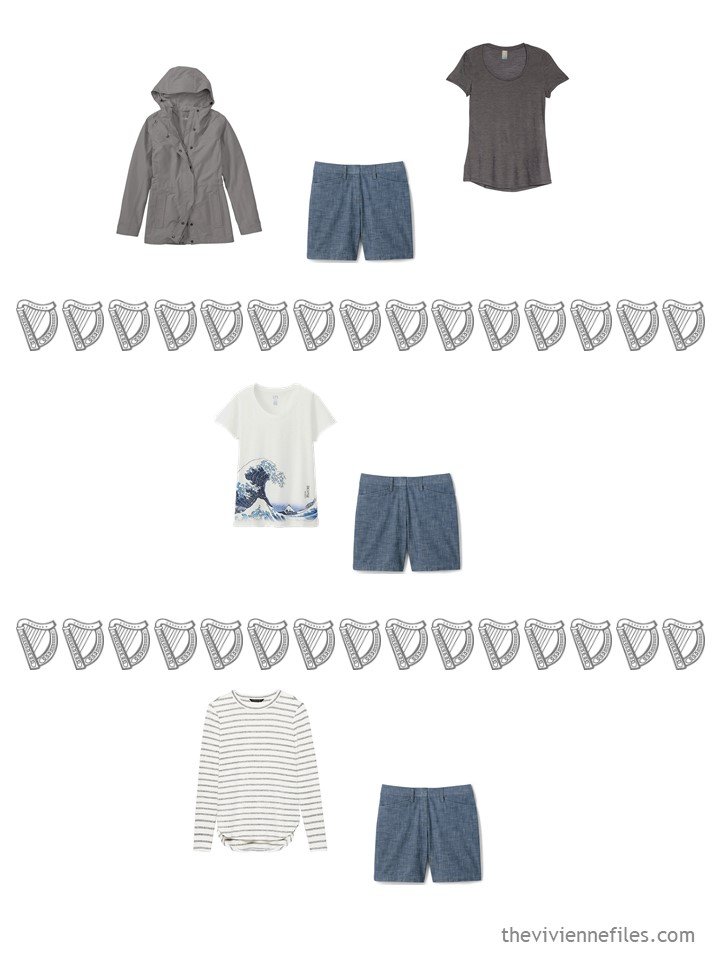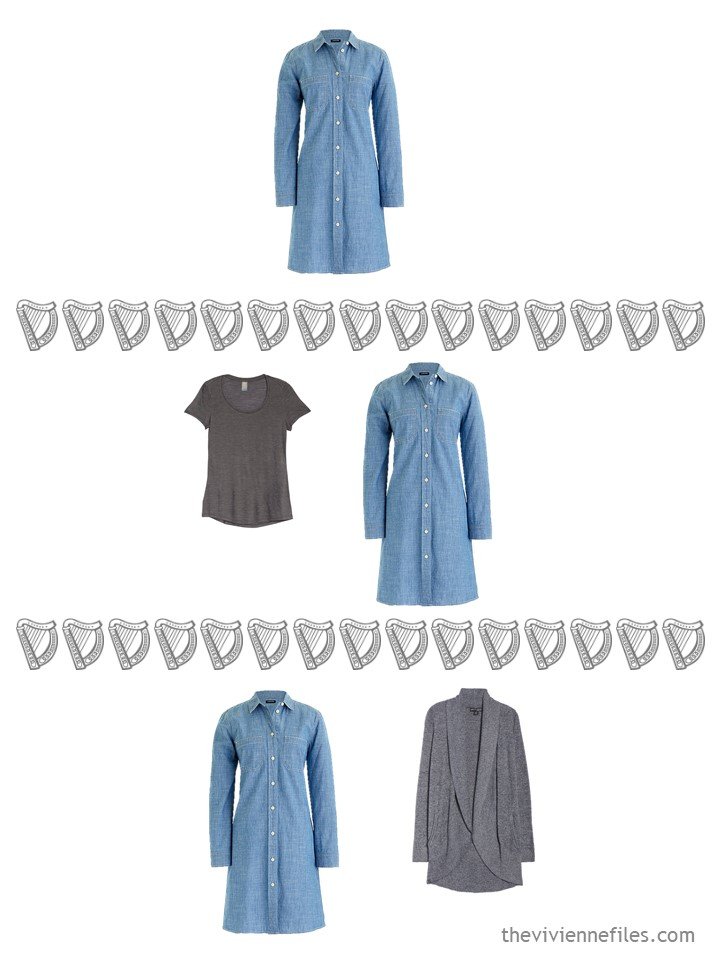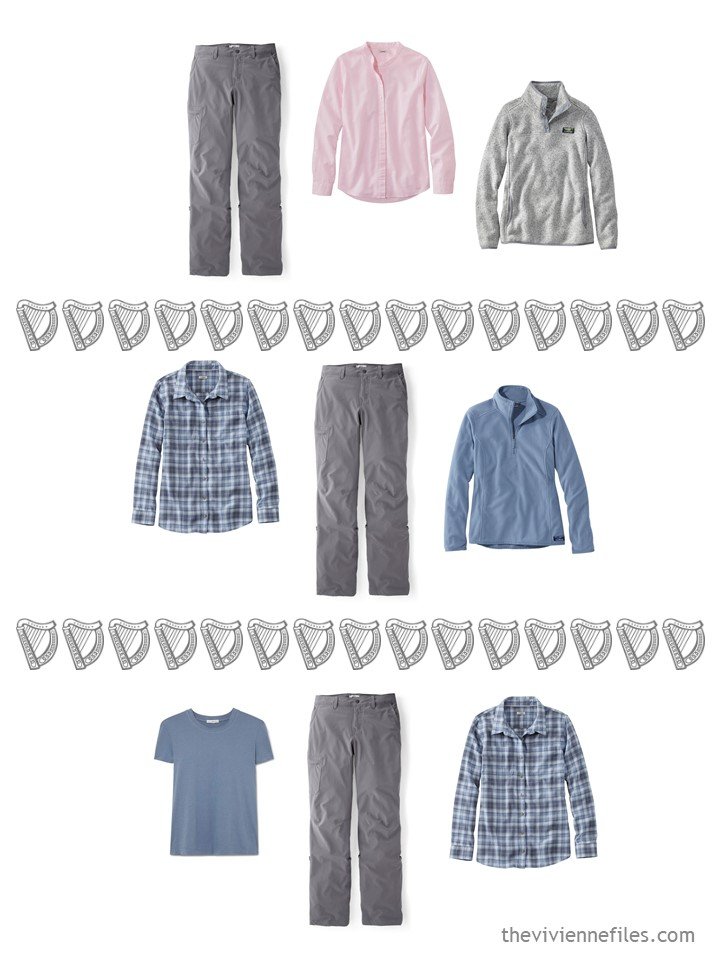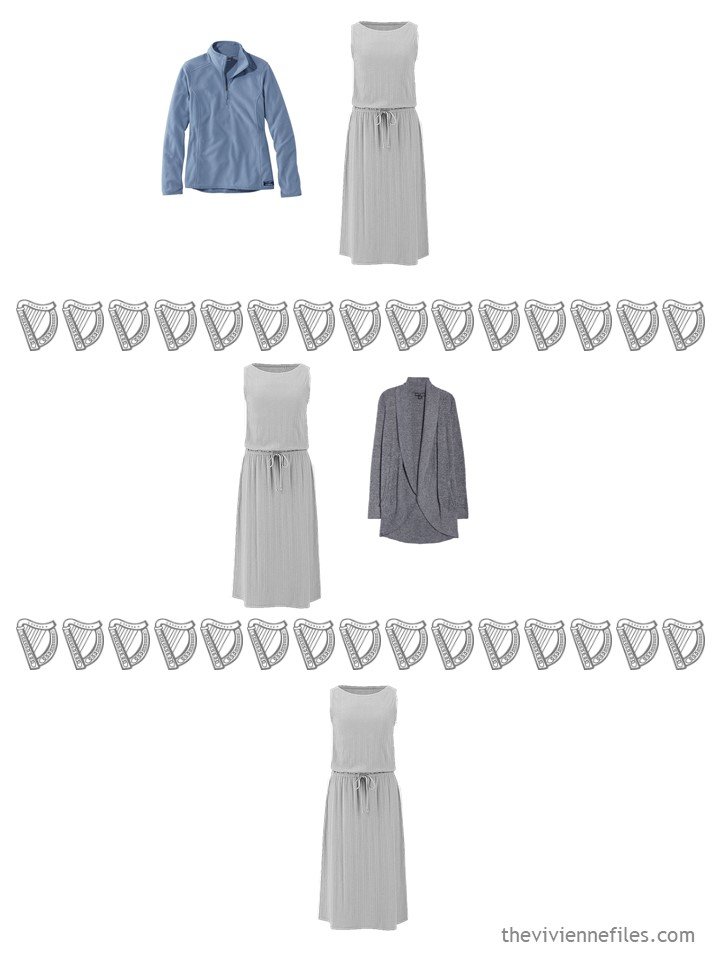 I personally might include all of the hiking gear, and just 1 of the dresses. Which one? Oh dear…
love,
Janice
p.s. Do you want to see accessories for this trip? I would be happy to do so, if there's interest…