February 8, 2018
Some people just don't wear a lot of jewelry; they don't want to collect handbags, nor shoes, and they find one scarf suits them quite well…(okay, they're nuts…)
Actually, that's their right. Of course it is! But it does suggest that they're going to want to plan a bit to make certain that they have what they want and need when they get dressed.
Let's start where we were yesterday, with this nicely tidied leisure wardrobe: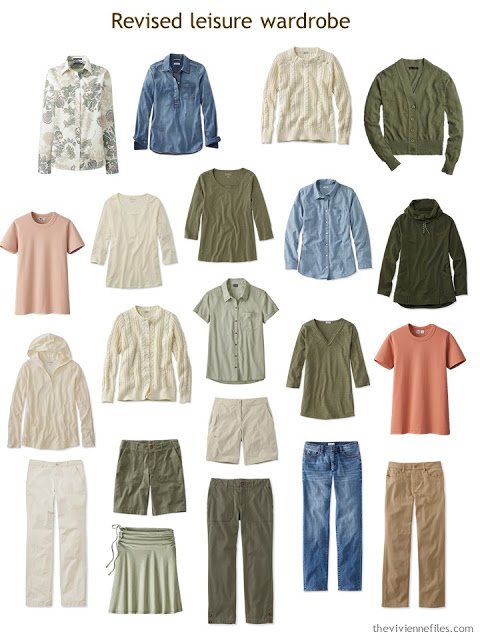 When we finished this wardrobe yesterday, we had a lovely color palette for our heroine's clothing. Working from that, we can easily devise a corresponding palette for her accessories – add a choice of metal (if you're not going to have a lot of jewelry, what you do have can easily be either all-gold or all-silver) as well as a color for leather goods. The 2nd color palette is clearly going to work well with all of the clothes assembled with the first colors in mind.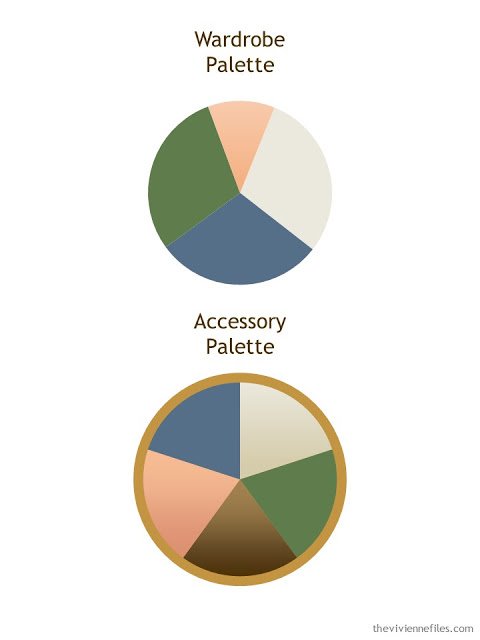 Planning is essential – if you're only going to have 3 or 4 pairs of shoes, they've got to do yeoman work! Same with bags and jewelry…
So here's where some thought is required – what pieces are necessary, and in what colors should they be? There's a lot of room for variation here, but I think that at a minimum, boots and loafers should be in either the darkest neutral or the leather color. Sandals and lighter-weight flats can be in the lighter neutral or an accent color. Jewelry is obviously going to be in the metallic, as well as an accent or a neutral. What's available to purchase (or what's already in our heroine's closet!) will make a lot of difference here.
And a scarf? That's tough to predict – it should certainly include a neutral or 2, and at least 1 accent color. This is a case in which our heroine just has to look until she has serious whappage for something… (whappage is my household's term for that quality of being so completely overwhelmed with desire for an object that it feels like being whapped…)
Tentatively, this is what our plan might be… It can take a long time to find everything, so patience and focus are key!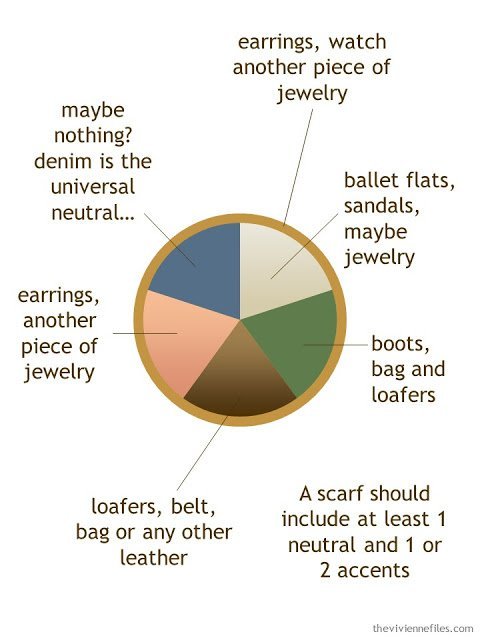 After a bit of shopping about, this is what our heroine found. She wasn't really planning on denim accessories, but a denim and olive tote bag, with brown leather, seemed impossible to resist!
The best way to make certain that she has everything that she needs is to assemble some outfits – from cold weather to warm – using all of her "bottoms," and accessorize each of them…
So you don't have to shop the house down to have the right accessories – just a bit of a plan and some shopping discipline! And I'm not pointing out that this might be a great way to plan accessories for travel….
love,
Janice