February 9, 2018
You might remember that I was supposed to go to Paris back in December, when a sudden fibromyalgia "interlude" caused me to cancel; I was literally IN THE BAGGAGE CLAIM AREA OF THE AIRPORT when I realized that I wasn't strong enough to make it up the escalator to check in, let alone fly all the way to Paris…
But this is better because (a) Belovedest is going with me! and (b) we'll be there for Valentine's Day! Sweet, eh?
As much as it's fun to be in Paris for a romantic holiday, we have to bear in mind that the weather will be cold, and quite wet – and as much as I'd love to travel without a big heavy coat, it might be plain stupid to try to get by without it – nothing is more miserable than being cold every day. So this wardrobe is casual, since it won't be seen by all that many people, hidden under my parka…
Layering for flying – a cashmere cardigan makes everything seem nicer…
And I've got a new backpack! The lovely people at Standard luggage gave me this beautiful bag; it's very sleek, and designed in such a way that the primary zipper are on the back edge of the bag, so that it's harder for miscreants to get into! I'll let you know how it works out, but I'm already quite smitten with the looks of it…
please note that my parka is about 53 times bigger than this one; it's from Lands' End, it's 10 years old, and you could literally stretch out in a snowdrift and sleep safely in it – it's THAT warm…
We have a few activities planned – a dinner for Valentine's Day, some pub hanging to watch 6 Nations Rugby, attending a rugby match at the new stadium on the western edge of Paris, and running (or in my case walking) a 5K as part of the Parkrun program.
Parkrun is a group that organizes free, timed 5K runs every weekend (normally Saturday, but there are a few Sunday groups) in a ton of cities all over the place – mostly Europe. We have already participated in Parkruns in Florida, Wales, and Ireland, so we're eager to add a Paris run to our list…
But this means that I'm going to need warm athletic pants, as well as some layers (including my Parkrun shirt, of course!) to wear for the 5K. Happily, if the weather is dry, I will be able to wear my New Balance shoes with jeans during the week, now that athletic shoes are completely acceptable in Paris. And if we get some warmer weather, that down vest might be handy, right?
The theme for this trip – if there is a theme – is stripes! Why the heck not? We're staying close to a 5 a Sec laundry and dry cleaner, so we'll be able to have same-day laundry done if we need or want…
So this is everything that I'll have with me for day-to-day wear. Frankly, the only reason that I included the velvet pants and the ruffled shirt was for Valentine's Day! We've agreed that this is going to be a very casual trip, with no fancy meals (even our romantic dinner is in a simple bistro…), so I don't need a dress, nor dressy shoes…
And I think I'm just going to wear my pearl earrings the entire time. I was recently in Florida for over 2 weeks, and I never once changed my earrings. Pearls go with everything, in my world!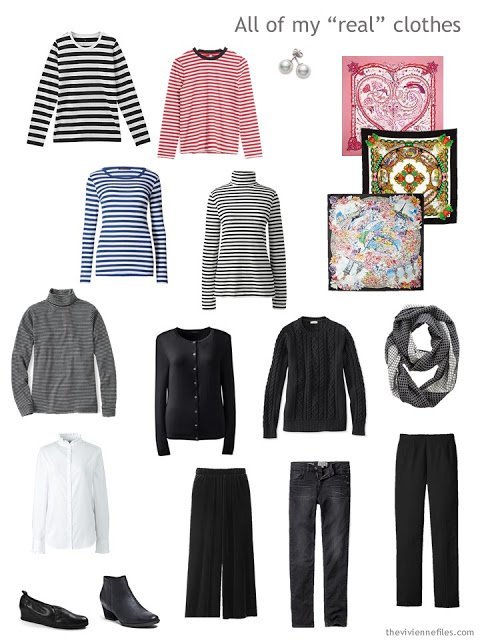 Just to make sure that I'm going to be fine, I'm walking through a hypothetical array of outfits for our trip…
Always bear in mind that if you're traveling from the US to Europe, you will very probably spend much of your 1st day at your destination wearing the same clothes in which you traveled. It's always a bit bemusing to see people wandering around Paris in pajamas, but it happens every day!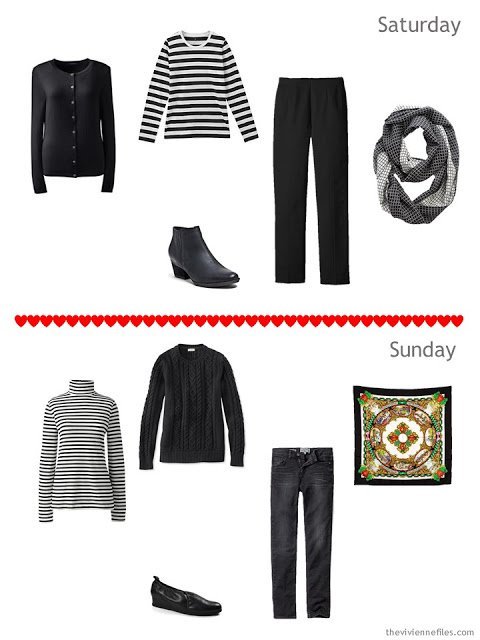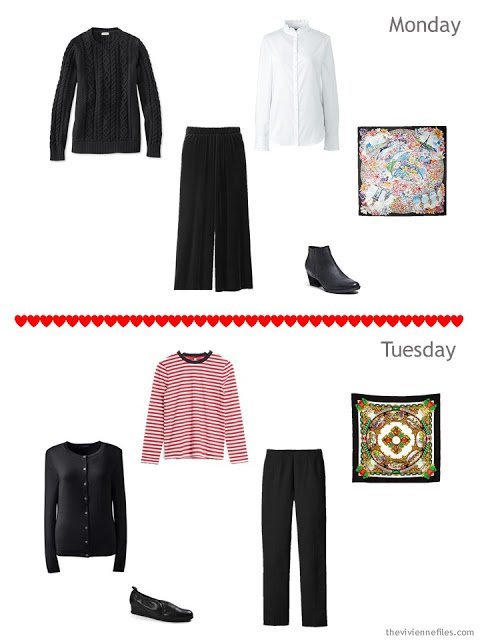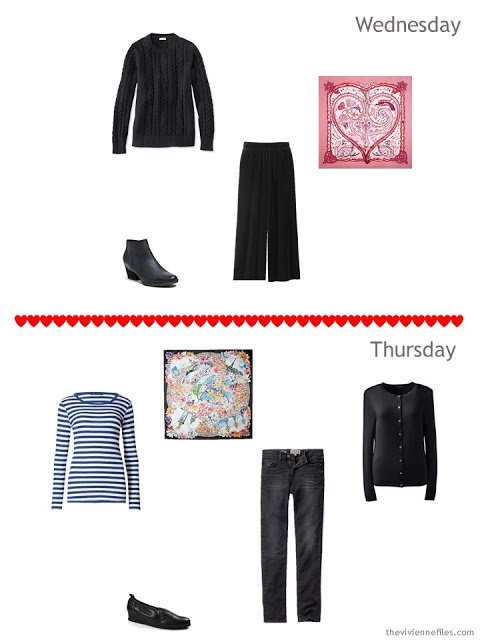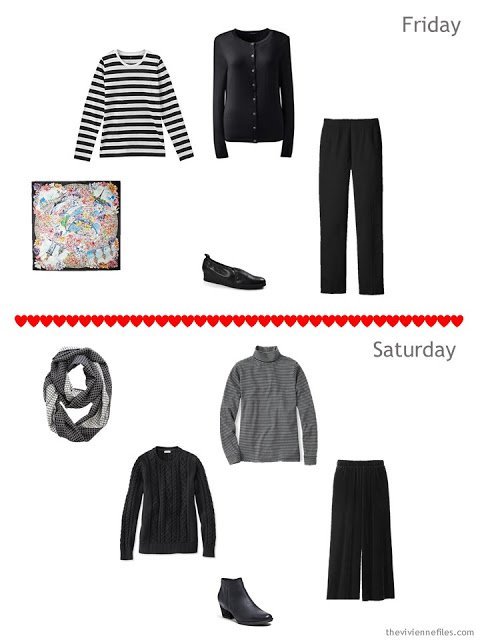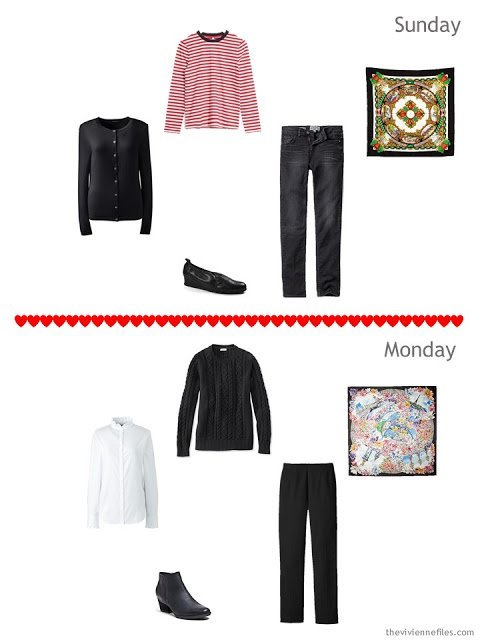 I'm going to be fine; worst-case scenario would be shopping in Paris!
love,
Janice