She got really sick of the struggle – it wasn't like climbing Mount Everest, or building your own home by hand, but it was still a bother…
She has some things that she really likes, but just can't seem to get dressed for evenings or weekends…
This is approximately what she has right now:
What to do? Is the problem that she doesn't have enough of a particular "category" of clothes – not enough tee shirts? or sweaters?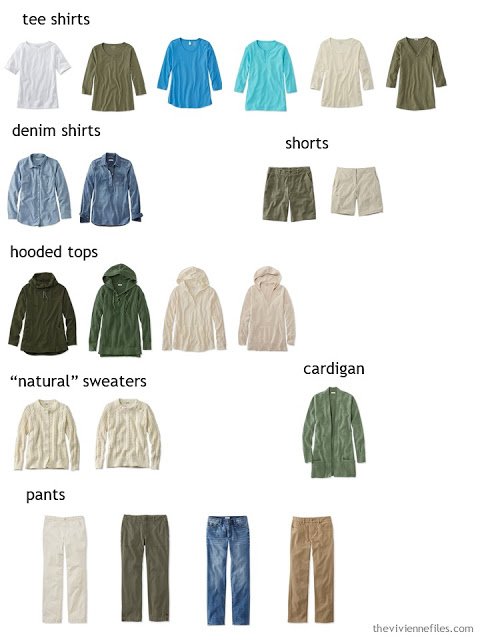 Nope – her ratios are pretty good, and there are no glaring omissions. Is it a question of color?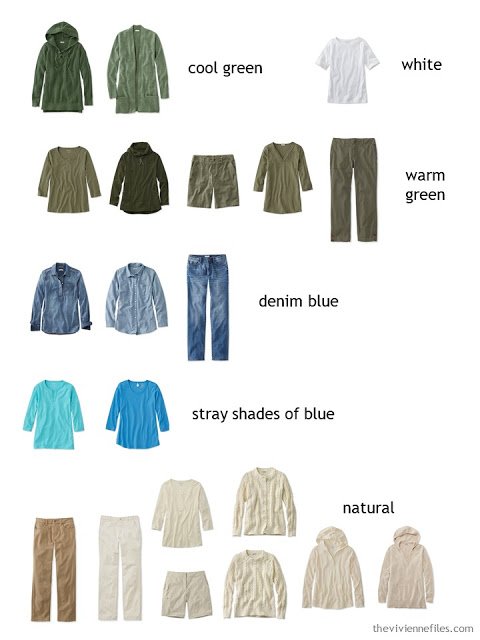 Immediately, when we see that mass of warm green with some "outliers" of cool green that just don't blend in, we can start to see the issue…
And here's the gut-check moment – does she really prefer warmer colors? In fact, she's got reddish hair, and lots of freckles, and she looks marvelous in true olive, or beige, and would really like to use those colors – as well as denim – for her wardrobe.
Her problem has been that she buys things that are green, without really checking carefully that they're "her" green – pine or evergreen shades don't work nearly as well as olive, sage or other warmer hues…
So to start, this is the color scheme: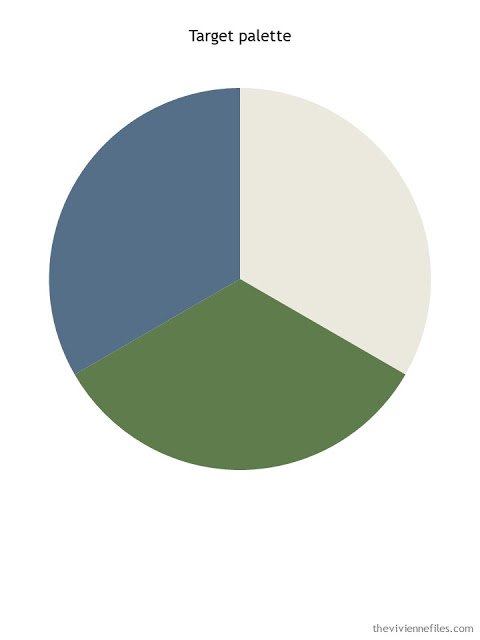 Maybe if she had blue eyes, this would all be very different, but her eyes are warm golden brown… Normally I'm not convinced that a wardrobe works best with all-warm or all-cool colors, but in her case it might make sense…
So away with the bright blues, the cool greens, the stray pure white tee shirt that makes her look sallow and slightly ill, as well as the duplicate beige hoodie that has a strange pinkish cast to it…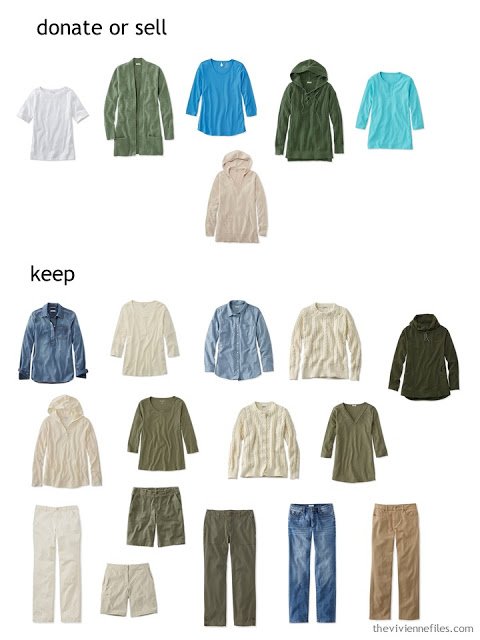 So what might be useful to her, in order to leverage the usefulness of the clothes that she currently has?
First thing I notice is that she has a couple of lovely sweaters that match both a pair of her pants and a pair of shorts, but nothing to wear under them… She also has both olive shorts and pants, but no cardigan or jacket to wear with them to imitate to function of a suit. And since she's donating those 2 bright tee shirts, a couple of new tee shirts in "her" colors might be necessary. To finish up, let's find her a new outfit for spring…
This might seem like overdoing the planning thing, but you wouldn't go to the grocery store without at least a hint of a clue of a plan of a direction for what you want, would you? (well, maybe you would… I know I've done it!)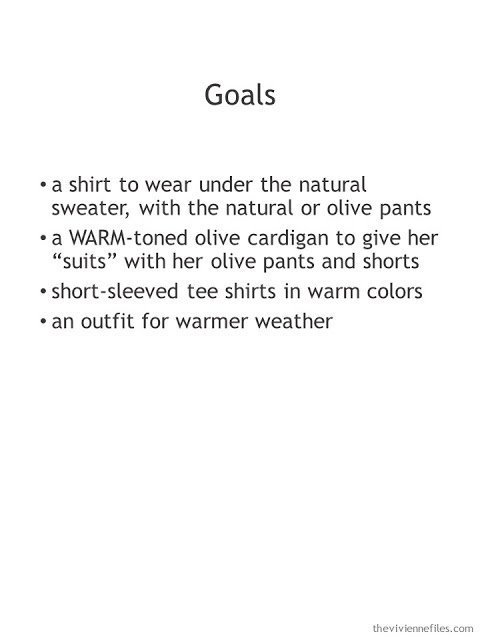 She could have chosen warm turquoise as her accent, or cognac brown, or… (what would you suggest?), but we're working with shades of rust to apricot, for now.
This gives her an updated color palette like this: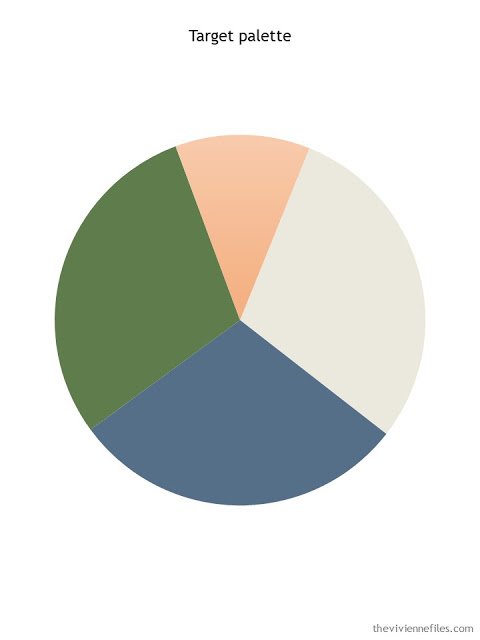 With a bit of persistence, she found everything exactly as she wanted! It's worth noting that if you're looking for "earthy" colors, outdoor activity companies often do a better job of manufacturing clothes that suit.
This is what her wardrobe looks like now – it just feels more harmonious…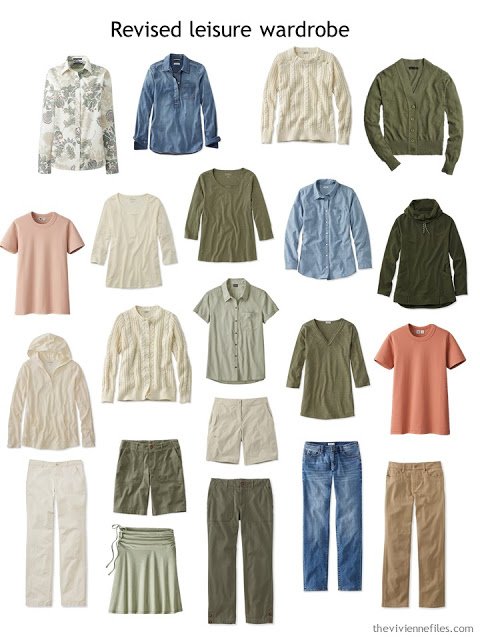 Her new garments give her literally dozens of new ensembles:
Tomorrow I'm going to review her accessories…
love,
Janice