I am asked this question more frequently than I might have expected – it goes kind of like this: "I really like my wardrobe, for the most part, but I feel like I don't really have a good focus or defined style…."That's tough to address, but I'm going to give it a try!
Let's start with this wardrobe; frankly, it looks pretty nice just like this!
My first thought is to sort all of the clothes by function, to see if maybe our heroine doesn't have enough pants, or needs a couple of tee shirts – that sort of solution would be pretty straightforward! But this wardrobe seems pretty well-balanced for functionality…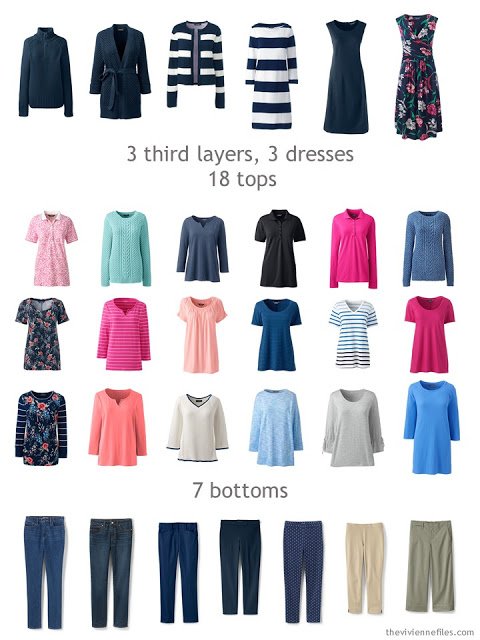 My next thought is to see if we can gain some insights into our heroine's preferences by sorting her wardrobe by color… HERE'S where I find that it gets interesting….
(yes, I try to choose these wardrobes are randomly as possible so that I don't go into the analysis with a preconceived answer to the situation…)
I think it's clear that this woman likes navy. LOVES navy, maybe. And that she's comfortable with cool-toned accent colors, including a range of shades of blue and nice accents of hot pink.
When I saw that this heroine owned a handful of warmer-toned pieces, along with a stray grey garment, I could see a path. First step is going to be to consign or donate those six garments, to leave her with a smaller but much more clearly-focused wardrobe for spring.
But realistically, this is a time for our heroine to pause and reflect about how she got her wardrobe to this point. Does she REALLY love navy? Or was she told by a significant other that she looks good in it? Did she wear it as a child and just finds it comfortable? Is this a heart-felt preference, or externally-imposed? This makes all of the difference…
That color step is really important, because it's an error that so many of us can make so easily – what's more obvious than a pair of khakis? And what's more appealing than mint green, or pretty shades of coral and apricot? But just because something's pretty, or considered to be a "must-have" item, doesn't mean that you should have it in YOUR wardrobe…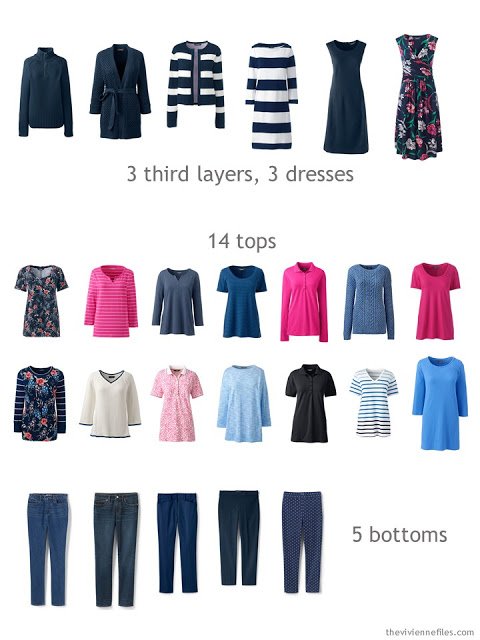 Now that the wardrobe is more focused, I'm going to build some clusters, so that we can begin to group pieces into outfits. This first cluster is the first one that I saw – that dress with the cardigan over her shoulders, or the capris and striped tee with the cardigan – both perfect outfits!
Next, I wanted to look at 3 tops, with a pair of pants to wear with them. This would be really nice to pack for a quick overnight trip…
Now we want to make sure that her jeans can get worn effectively – a couple of tee shirts, and a sweater to wear with them…
She has 2 pairs of jeans, so I'm giving her 2 clusters built around her jeans. And yes, if she really loves this floral print, having both a long-sleeved and a short-sleeved top is fine…
So far, so good! We now have 9 short-term "orphans." Fear not, they're going to get some care… It's important to note that no dress is ever really orphaned, because they are worn alone, and don't need much wardrobe support…
You know my long-standing belief that a few neutral pieces can do a TON of work in a wardrobe…
These 2 tops give us some mileage for those great dotted pants, and worn with navy pants, they're going to look wonderful with that striped cardigan!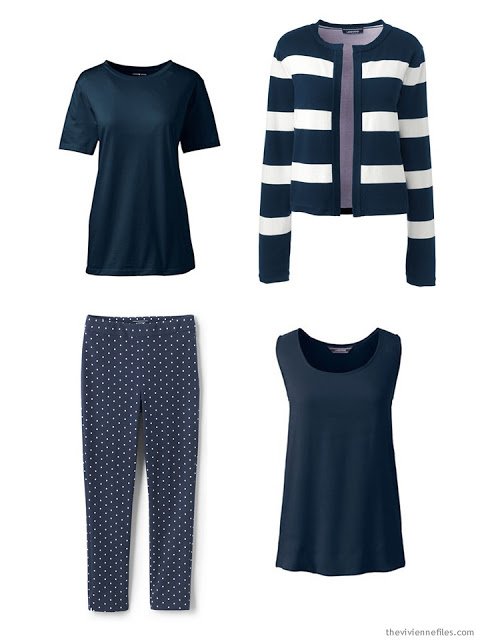 So let's see what we can do with these last pieces… I'm seeing tunics, I'm thinking LEGGINGS. I abhor seeing leggings worn as pants, but when worn with a top that comes down to hip-level, they're perfect.
Maybe 2 pairs of leggings? With 4 tunics, it could make sense…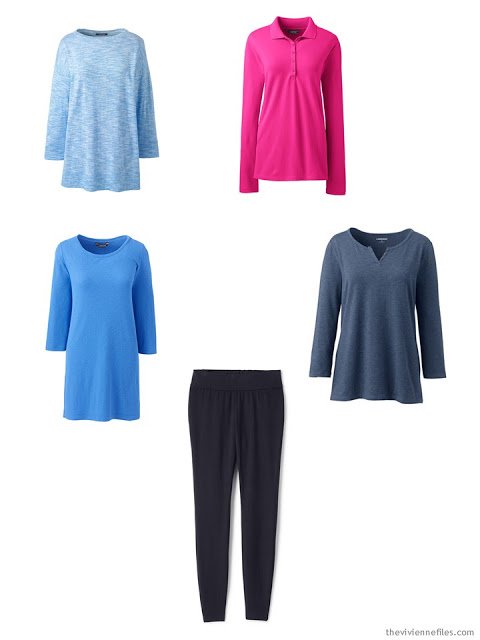 Now that we've got all of these garments into useful clusters, I'm going to indulge this heroine's love for hot pink and get her another "2nd layer" in a great accent…
This is how her wardrobe looks now – not a lot of big changes, but it all "hangs together" just a little bit more. If you love navy, wear navy. Yes, all of her pants are navy, but there's nothing to apologize for if that's what you like!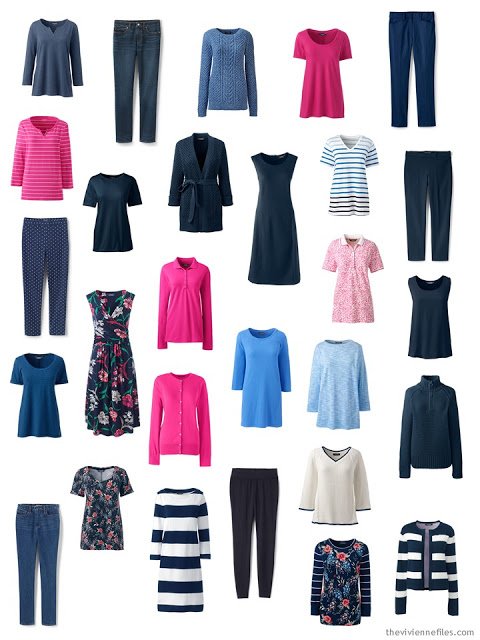 In the interest of helping our heroine plan for the future, it's worth taking some time to put together a color palette for her wardrobe. Everything here (except maybe that ivory top with blue piping?) looks just right with this color wheel…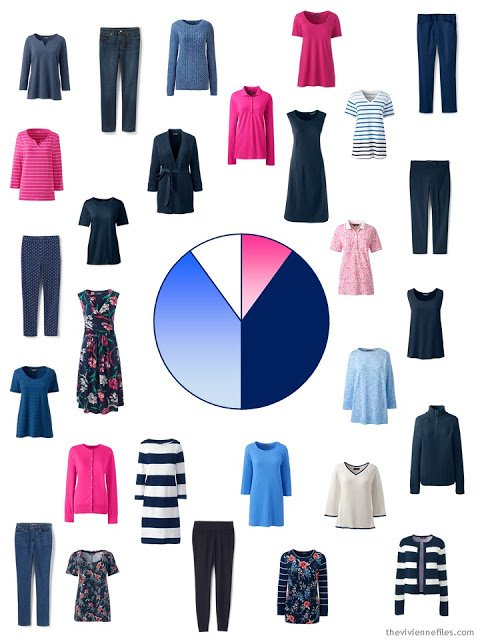 If you've gone through the exercise of figuring out how many garments you would ideally have, it can be challenging to get to that number. This is one way to take a pretty good wardrobe and polish it up just a bit!
love,
Janice