December 13, 2017
Update – I did NOT go to Paris – a very last-minute fibromyalgia "interlude" suggested that the wiser course was to stay home and try to reschedule. Happily, I have a bunch of blog posts ready for you, so I can still rest for a few days! hugs – Janice When I left this wardrobe last week, the clothing portion was pretty well-organized, with lots of possible combinations, so let's choose some accessories for this heroine!
It seems that the first outfit is always a very simple one that kind of cries out for a necklace or something at the neck…
As far as a woman can get with a good briefcase, at some stage she's going to want a handbag instead…
I'm not even going to try to resist adding floral boots to this wardrobe – if they could be worn with a business wardrobe, they CERTAINLY can be worn here!
This might seems like she's buying shoes in a flurry, but sometimes when you really feel in the mood to re-do your shoe wardrobe, you might as well act on that feeling. Energy like that exists for a reason…
When you base a wardrobe on a scarf, it can be difficult to accept that you eventually are going to need ANOTHER scarf. You could wear the same one any time that you wear a scarf, and make it a signature, but for most of us, 2 or 3 scarves in a wardrobe give a better variety.
Earrings make a lot of difference in an outfit; it's easy to forget how much impact they have. See if you notice earrings on other people, and then translate that impression into how you choose your own accessories!
I guess this heroine likes shoes… but she can really use something special to wear with these velvet pants, right?
Here's another one of those outfits with a very unadorned neckline – a perfect backdrop for a necklace if you're in the mood!
This outfit sort seemed to call for a lighter-feeling scarf; not necessarily something in some airy fabric, but something with softer colors…. does that make sense?
More shoes???? Well, she doesn't have a pair of black loafers. EVERYBODY needs black loafers, right?
Rings are a sort of unsung possibility in a wardrobe – you don't have to wear the same rings every day. In fact, if you change them up from time to time, you'll notice them more!
And don't forget sunglasses; NEVER forget sunglasses…
Something about the inherent dressiness of this outfit made me want to find our heroine a really festive pair of earrings for her…
I always like to see how different these wardrobes look when the accessories are added. They drive me CRAZY getting everything arranged on the page, but I always love them, when they're finished!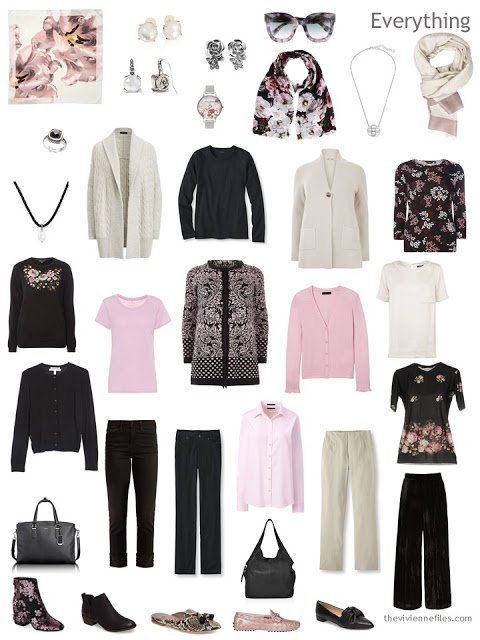 Just to make sure that things are working properly, I like to build a few outfits using all of the pieces… It would be a great thing to do if this was your wardrobe – you'd have a plan for all kinds of occasions!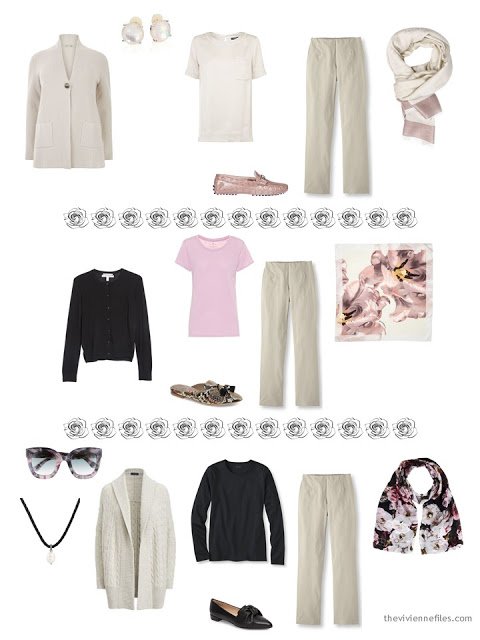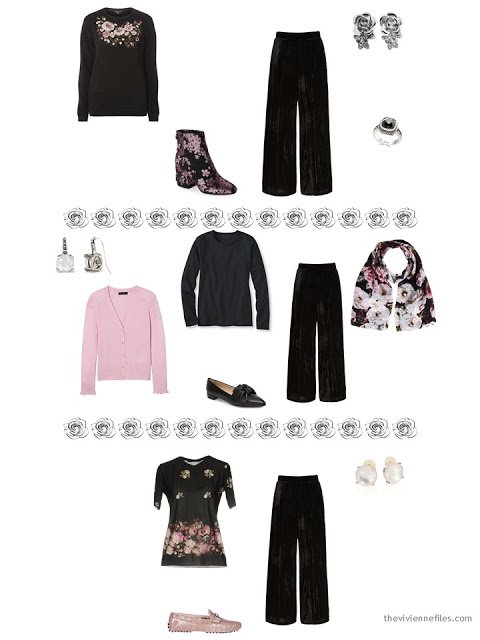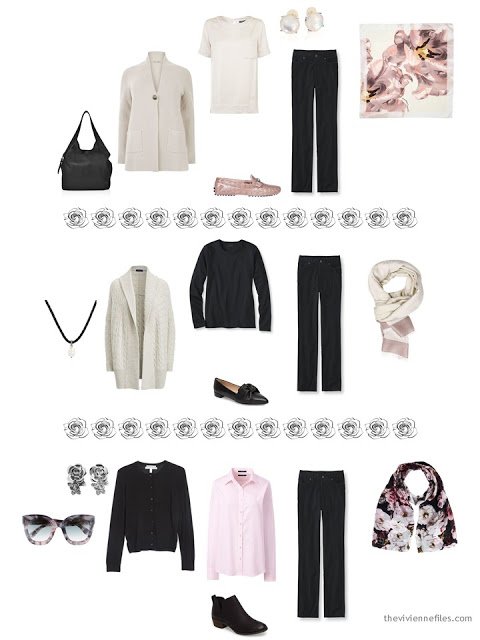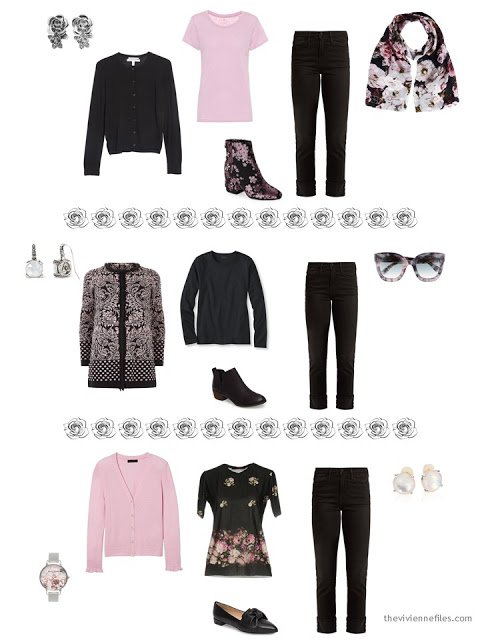 Just for reference purposes, this is where we started…
Imagine if you owned BOTH of the wardrobes based on this scarf – the dressy wardrobe and this one. There'd be little in life that you wouldn't be dressed to handle!love,
Janice