She was really thrilled with
what she packed for the Holiday Party in New York
; she had planned everything using her pocket square as the defining inspiration:
Her sweetheart told her that another, longer trip to New York would be in their near future – probably mid-February. So she thought that it would be wise to expand her current travel wardrobe…
She was going to try to balance clothes appropriate for those "business dinners" with things suitable for the sightseeing that she intended to do, so she needed to be very organized! If she puts together a 4 by 4 Wardrobe, and wears 3 pieces on the plane, she will have 13 garments to pack – she felt that this was a reasonable goal.First, to "plug in" her existing wardrobe: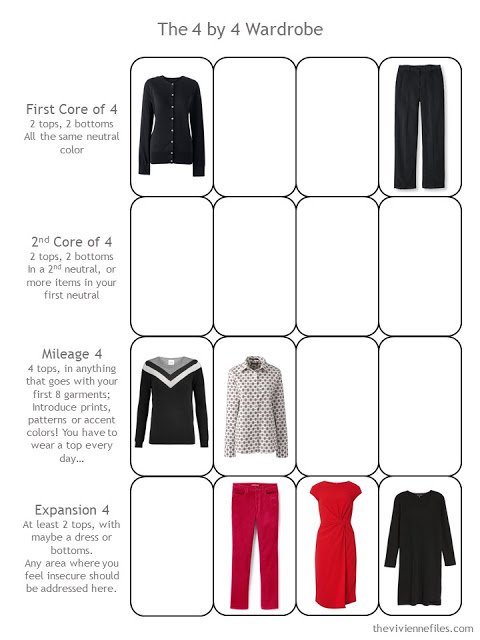 The first thing that she realizes is that she has a black "suit" of sorts, but could certainly use a couple of dressy garments in black. A bow always makes a blouse look like it's dressed-up, and a lace skirt will elevate anything with which it's worn. But both of these pieces can be mixed in with other, less formal, items so that she'll be ready for those "kind of nice, but not dressy" events that are the bane of business events…
It's kind of somber, but very efficient…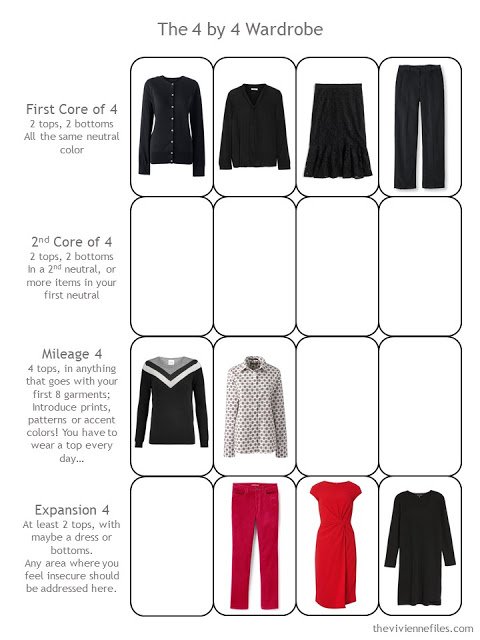 Next up, she's really excited to add grey as her second neutral. She goes "all out" and invests in 3 pieces from Eileen Fisher that can be worn together or separated and worn with everything else… And WHAT THE HECK – she gets a dressy, somewhat "over the top" tweed skirt, too!
Now, when she looks at what she has in her 4 by 4 Wardrobe, she realizes that she only has "room" for 3 more pieces! And no yellow yet!!! Plus, she feels like she could use a casual top to wear with either black or red pants, and maybe a dressy blouse that will look nice with either pants or skirts…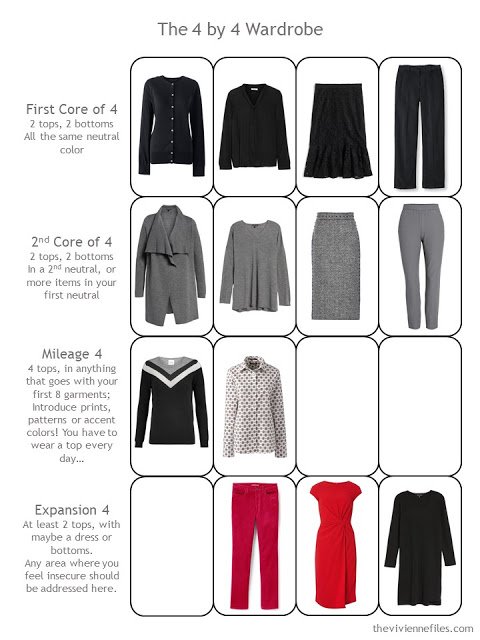 The yellow is TOUGH to find… the very clever tee shirt with red stars delights her, as does the opulence of the sleeves on her new blouse…
Now she looks into her closet and sees a tidy, well-chosen assortment of pieces that will carry her to anything her sweetheart's company can throw at her… (except maybe bumper cars… anything but bumper cars…)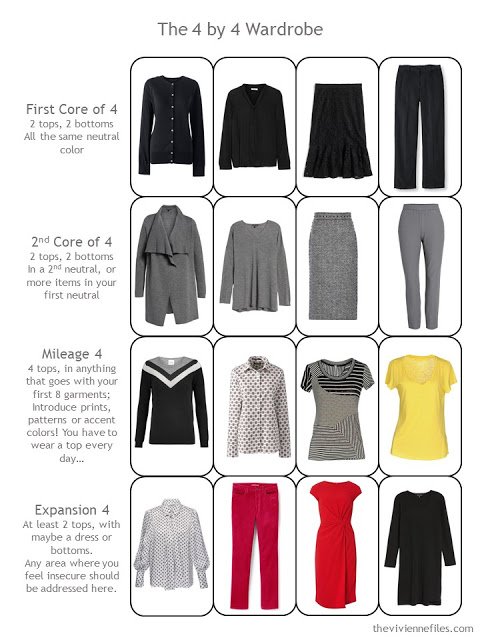 Just to be certain that she's on track, she walks through 10 options for ways to wear these pieces together; there are many more than 10 possibilities, but she wants to have the images in her mind for those last-minute clothes changes: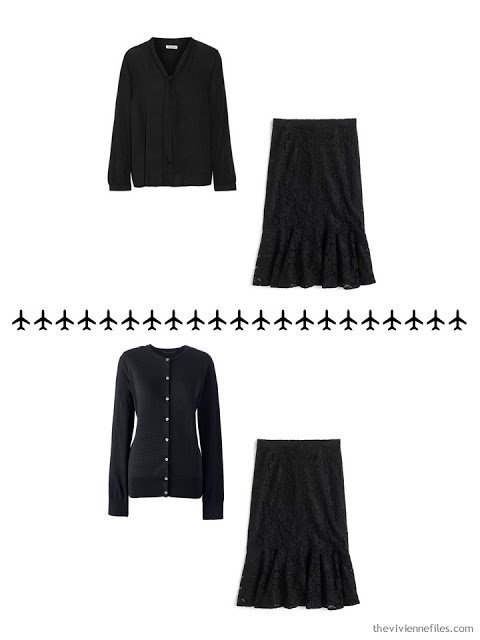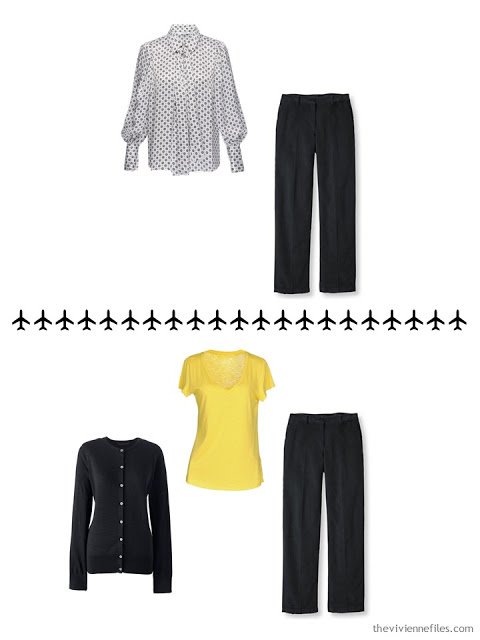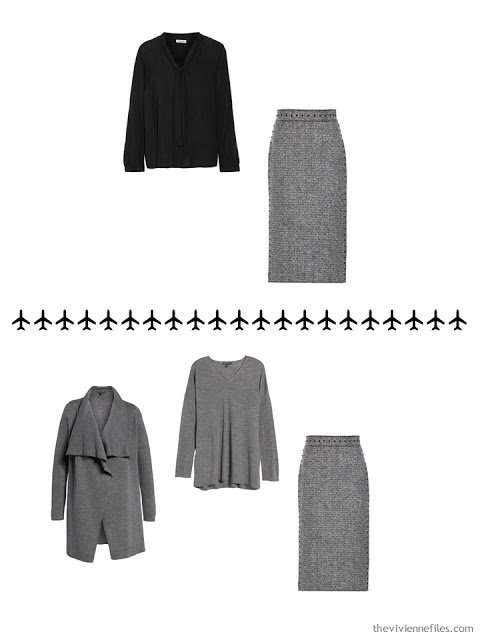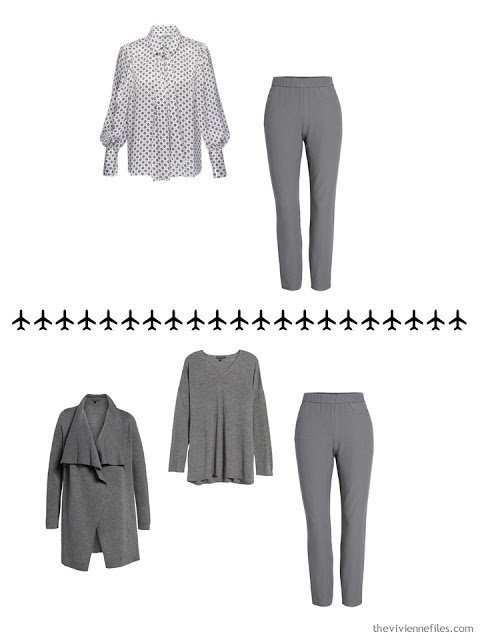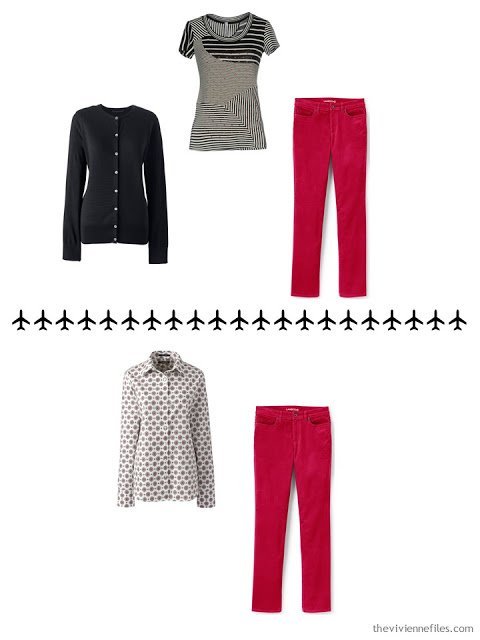 In the course of all of this business-related excitement, she learns (quite by accident) that her sweetheart recently assumed a great deal more responsibility at work – some people just don't share these things because they don't want to brag? I'd be singing it from the rooftops!
love,
Janice
p.s. Of COURSE she's going to need accessories…
p.p.s. I am on my way to Paris, mid-day today, so if I'm not responding to questions, comments and emails it will be because I only have my phone with me for the next 7 days – it's certainly not a lack of interest or affection!