October 11, 2017
One of the interesting things about having fibromyalgia is that I've started to ignore pain. Some days, if I'm going to get anything done, I have to just "man up" and get on with things. (is there such a phrase as "woman up?" I've been known to say that I'm going to "babe up" from time to time…)
However, ignoring pain can get you into a spot of bother. Like when you get back to your apartment and find that one of your socks is full of blood, and that a few of your toes have magically turned into steak tartare…
Third day in Paris, we're donating 2 pairs of shoes, and going shoe shopping! Lucky for me, there's an Arche store just around the corner from where we stayed, and they proved to be exactly what the podiatrist ordered…
Please note that these shoes cost a TON less in France than they cost in the US – I'm not completely insane!
The first day, I had to replace my ballet flats, and so I bought the top shoes. I've wanted cap-toe flats for a while, and the combination of suede, patent and leather was right up my alley… The 2nd day, I went back and picked up the rather Hobbit-like loafers. They look less squishy when you put them on, and they're mad comfortable. The day before we left, I decided to be smart (?) and grab a pair of short boots. The two tones are really more of a contrast between patent and smooth leather, and less of a "man she's wearing silver boots!" kind of look… Overall, a daunting pile of shopping, but my feet are happy, and that's worth a lot!
But that's not all that I bought – I go to Paris with shopping on the brain (and planned in the wallet, thanks to some serious discipline!)
There's a great Uniqlo store in the Marais, on the Rue des Francs Bourgeois – right around the corner from our apartment on the Rue Sevigne. It's an old factory, and you go through the old factory gates to get into the multi-story shop. I always visit, although I don't always buy something.
But this trip – first thing I see are sales staff wearing these wonderful velvet (velour?) cropped pants, and I'm ON THEM! The fabric is soft, the fit is forgiving, the length very much mimics a mid-calf skirt, and I've already worn them a few times; with my velvet-trimmed lace top, tights and ballet flats, they're perfect.
I also wanted a less bulky black down vest, so I bought one here – I got one that's technically made for men, because I like the v-neck. I don't think that the gender police will care, do you?
Another store – really a pair of stores – that I always visit are COS and their sister store & Other Stories. Again, these are the kinds of places where I might not see anything that appeals, or I might walk in and within 1 minute have a couple of pieces in my arms. (that was this trip!) The black and white sweater is a no-brainer for me, and a velvet sweatshirt will probably be lounge-wear, or pajamas…
So that's my shopping, except for a vintage Hermes scarf that I'll tell you about another time – I'm still washing (and washing and WASHING it…) On to the other Paris fun…
Where did we eat? Breakfast almost every day was at our "local" cafe, the Royal Turenne. It wasn't the cheapest breakfast in town, but it was worth it to be able to sit for ages watching everyone bustling about (during Fashion Week, this wholesale neighborhood is fascinating….) And we stopped whenever we were in the mood and had an eclair, or two…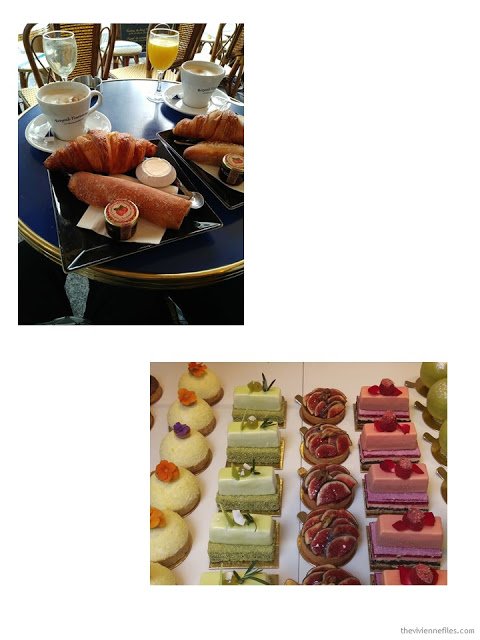 We drank gallons of coffee in a futile effort to get through jet lag… but then we had cocktails every night, which messed up our sleep! Such a terrible problem, eh?
If you're looking for a great cocktail and you're near the Winter Circus, don't miss Pas de Loup. They don't open until 6:30 p.m., and by 6:31, wise people in the neighborhood have a seat on the sidewalk. But head to the back, and chat with the bartenders – they're charming…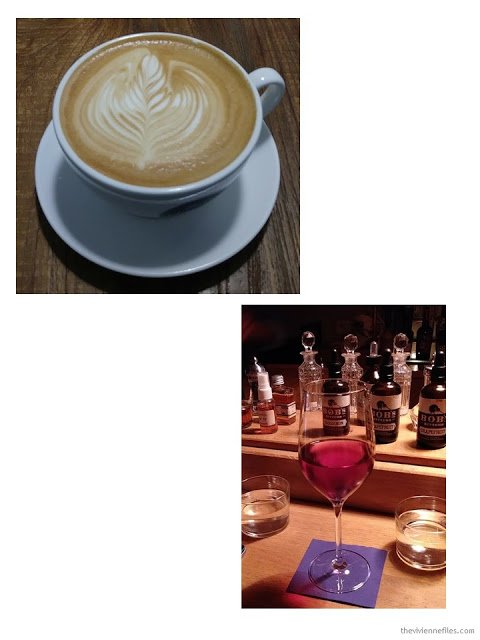 Other restaurants we enjoyed – Cafe des Musees on the Rue de Turenne – we've dined there quite a few times and it's always a pleasure…
If you must have brunch on the weekends, you could certainly do worse than La Favorite, on the Rue de Rivoli. It gets busy, lots of locals, and service is characteristically slow. Well worth whatever wait you have – enjoy watching the neighborhood catch up with each other! The music they play is also worth your while, if you like 80s disco…
Just down the street, on the Rue Francois Miron, is a great little Italian restaurant called Fuxia. Some days I must have pasta, no matter where I am, and this place filled all of my requirements with highest marks. An attractive young staff makes it fun to watch the evening unfold…
For when you're in the mood for a classic French bistro, I still suggest Brasserie Balzar on the Rue des Ecoles – over near the University. Yes, it's part of the Brasserie Lipp chain, but the staff has been there for YEARS, and the food is consistently good. I had the best cod dish I've ever had in my life there… They're amazingly kind and patient with even the most annoying tourists, and if you've been there more than once, they welcome you like a long-lost cousin…
And in case you want to have dessert at home: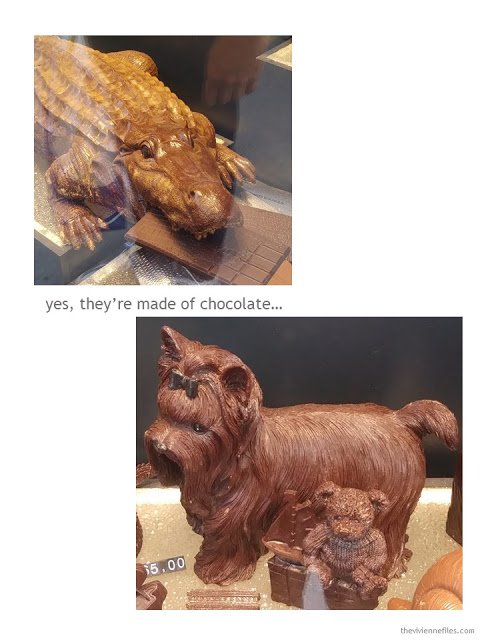 While most people take photographs of the landmarks of the city, I take more… small… pictures! I like the things that are temporary, and put there without decades of planning and authorization: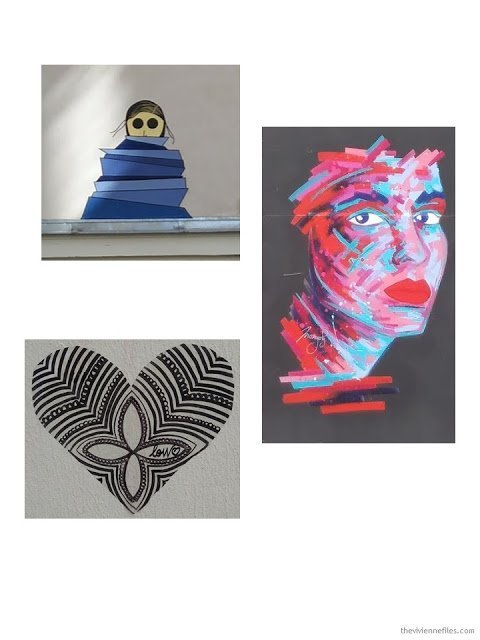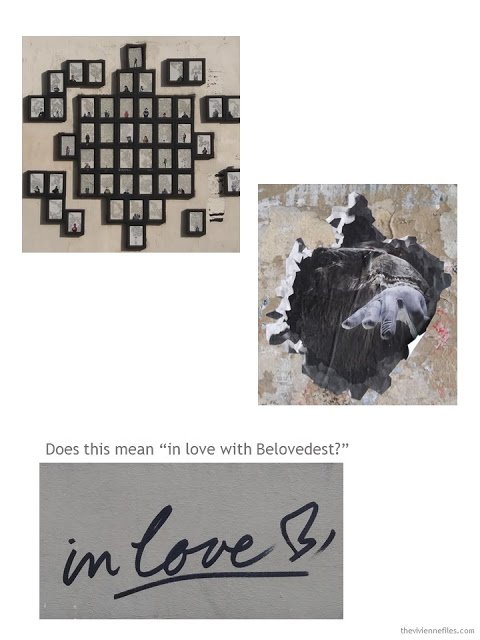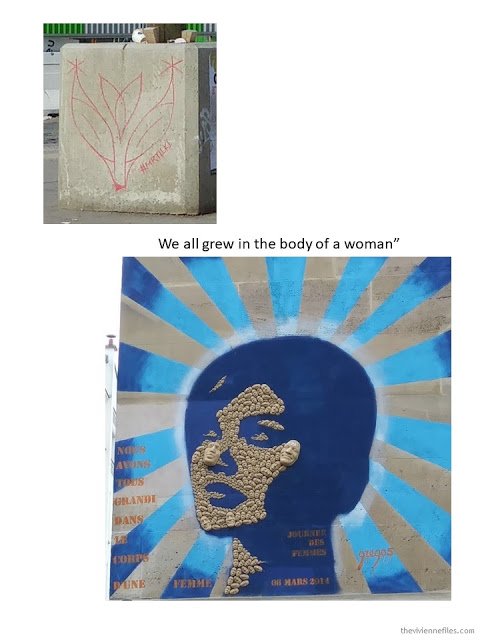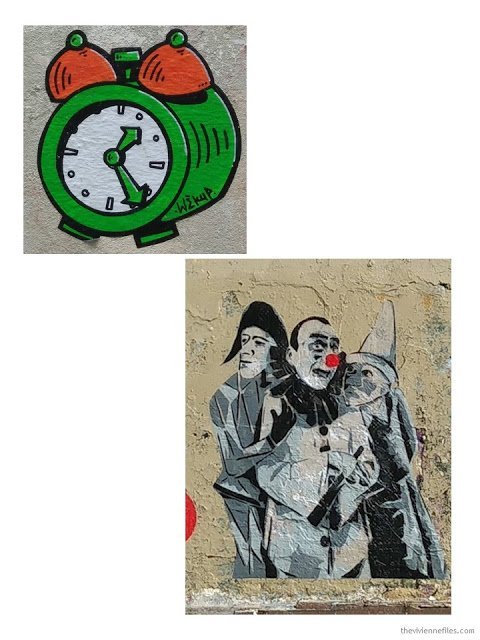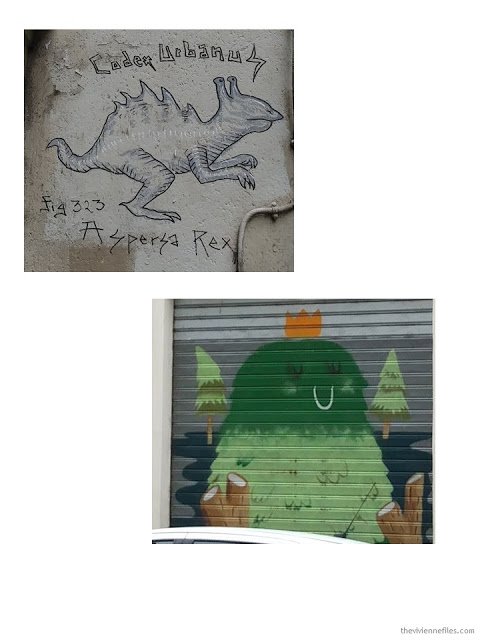 There are always things in Paris that remind you of beauty, and of the possibilities for defining your personal aesthetic and taste. Whether it's a range of colors that suggest that you choose your favorite, or just something that you've never thought of doing, you will always have plenty to admire, and to think about later!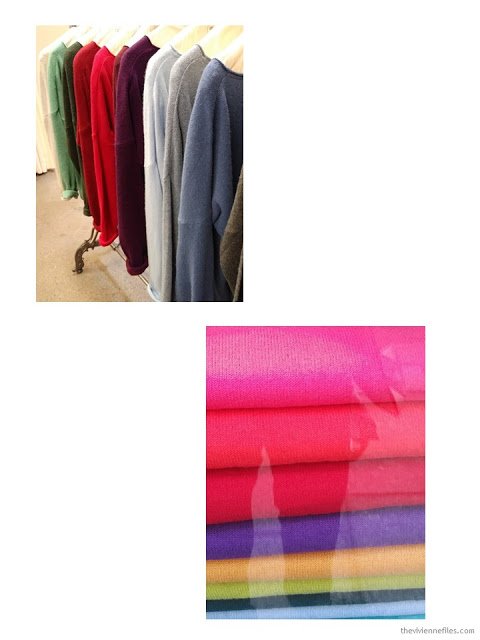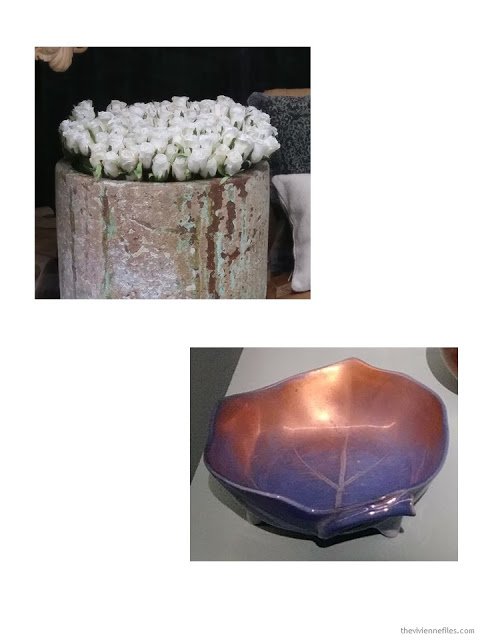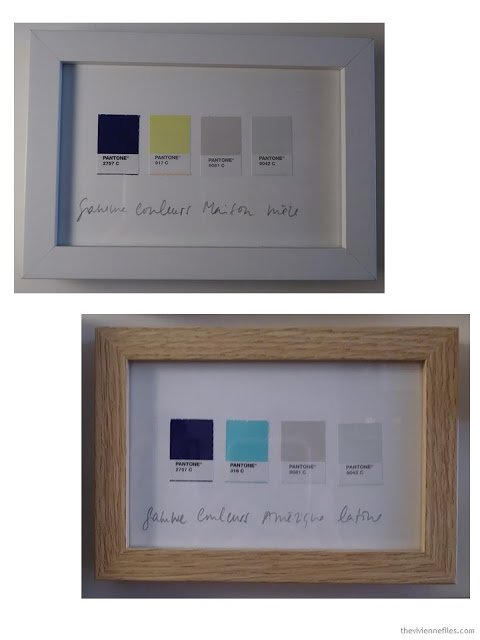 Where did we stay? On the Rue Sevigne, in an Airbnb call "La Sevigne." If you can bear the 3 flights of stairs, it's a gorgeous apartment. Plenty of storage, all of the modern conveniences we needed, and smack in the middle of the Marais neighborhood.
I have to mention the lovely Karina Clarke, who runs www.travellightparis.com. She's not the owner of the apartment, but she functions as the hostess and general super-helper with any questions or concerns. She's available to help plan your trip to Paris, and I think she would do a marvelous job. She's a native English speaker, which can be very helpful… If you don't want to manage everything on your own, and you want to have some things scheduled in advance or just plain handled for you, definitely contact her!
Sigh…. in closing…. I'm homesick for Paris already. There's something in my heart that just responds to the city. I can't explain it – I won't even try. But I will be returning soon, and often, and forever!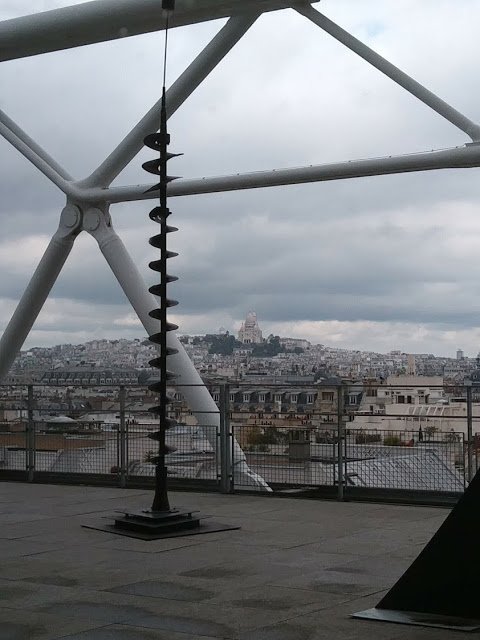 love,
Janice