Arguably, my favorite thing to do in Paris is look at the shop windows! And given my demonstrated fondness for accessories, there can be little surprise in learning that I love to look at scarves and jewelry most of all…
I think that one of the reasons that the Parisienne has such a reputation for chic personal style is the wide range of accessories that are available in Paris. When confronted, from birth, with such a vast number of choices, any person has to begin to clearly define their preferences and inclinations early, and continue to refine that personal style throughout their life. Without a sense of direction and focus, shopping for a simple ring or scarf in Paris can be completely overwhelming!
Many of these photographs are of the windows in a chain of shops called Diwali – yes, the Indian festival of light! These shops carry an amazing range of scarves and inexpensive jewelry, and if you can't find something there that strikes your fancy, you're either dead or REALLY REALLY picky… I find their windows are always delightful to me…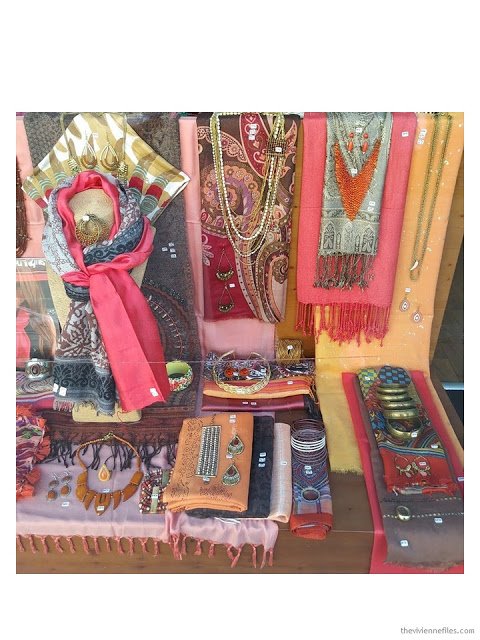 I was tempted to buy ANOTHER bracelet – that top left one sort of called my name… and the bracelet at the bottom right would make a great wardrobe palette, wouldn't it? I'm also endlessly delighted to see that you could find any sort of bug or flower or leaf in a brooch, somewhere in the city. If you must have a pansy brooch, I can find it for you!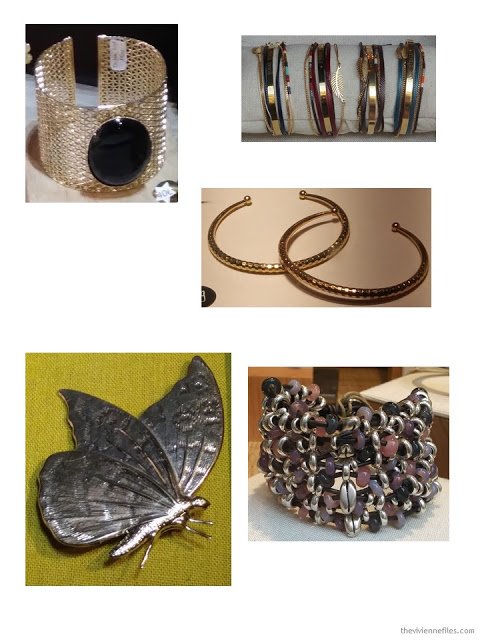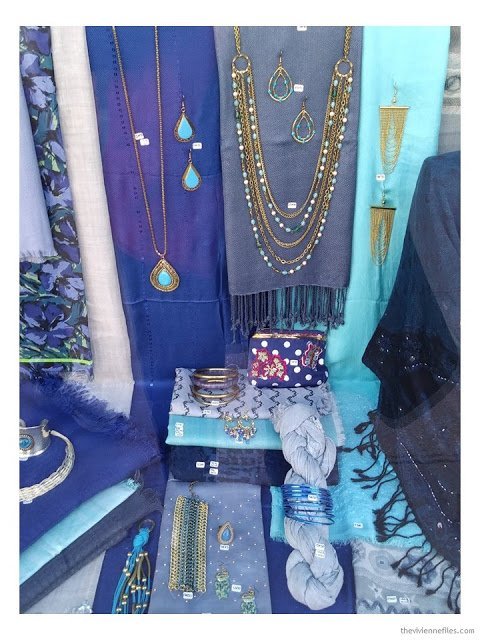 I also looked really long and hard at rings – the bottom middle one with the white and black pearls has my name all over it! But I managed to control myself – mostly because that store was closed the day we saw this ring in the window.
I also admire how plain and simply clever the multi-stone ring is – with the stones arranged in a circle. I'll bet that it's really pretty on someone's hand…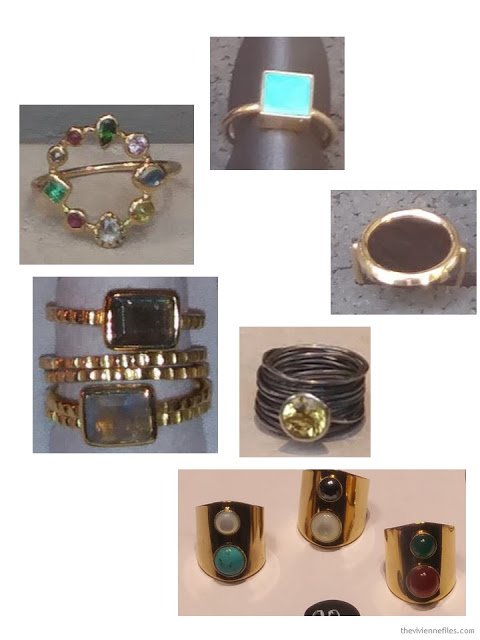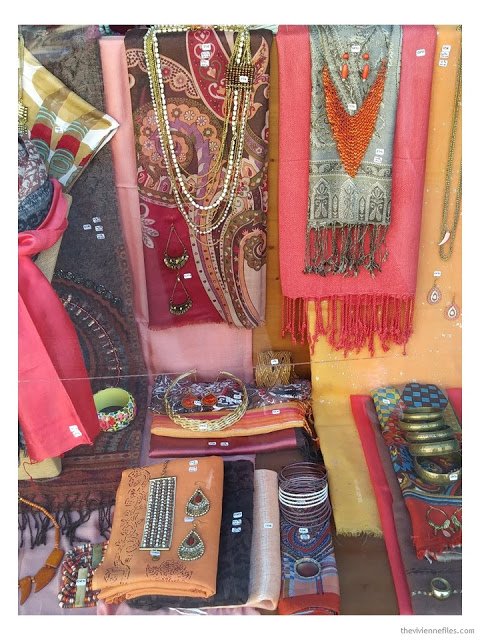 More rings – including a couple of really winsome and charming floral ones…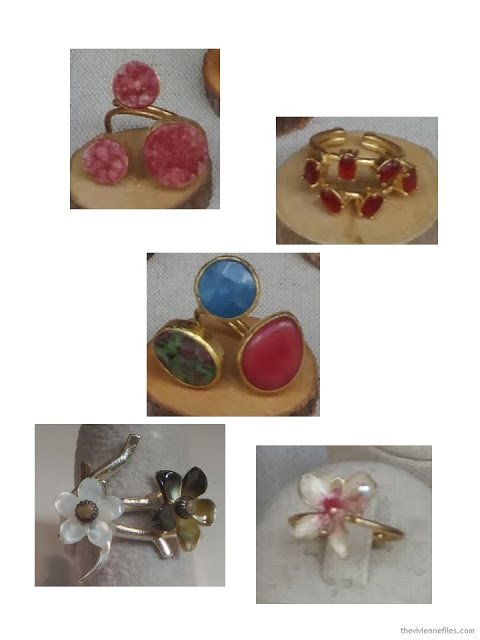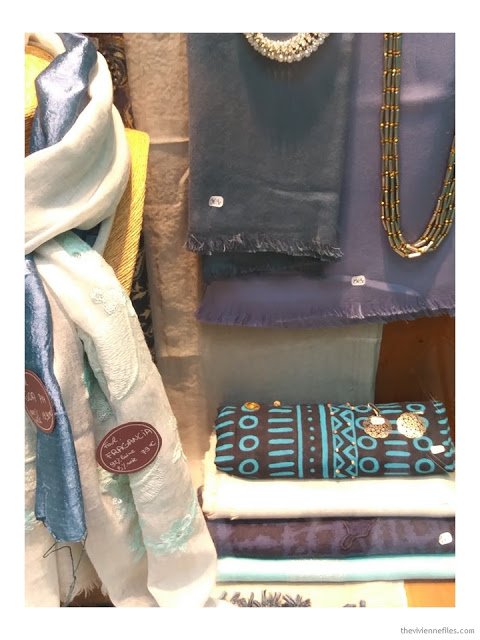 If you were pondering using green and purple (or any other pair of colors!) as accents in your wardrobe, there's a Diwali store window somewhere that will give you some very good ideas!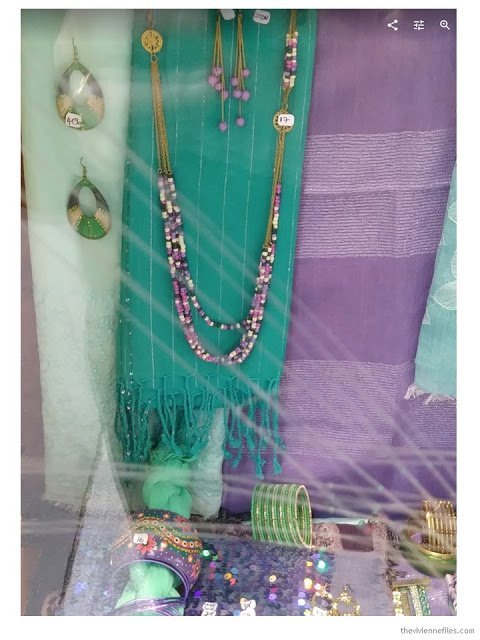 If you're more the type to want a simple gold bracelet, or silver necklace, there's one to be found…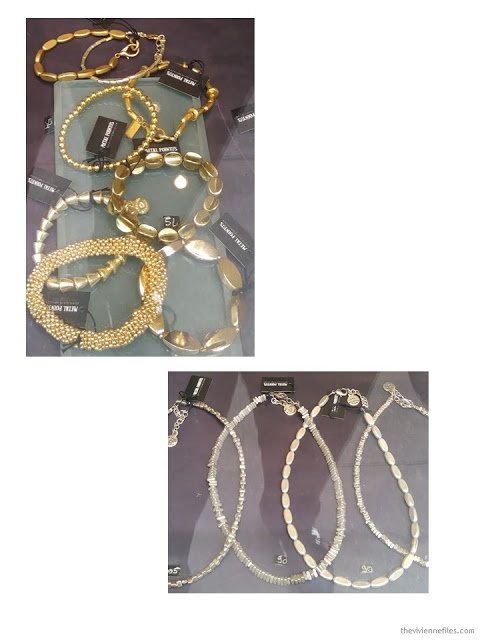 I was really impressed by this creative combination of pink, orange and grey…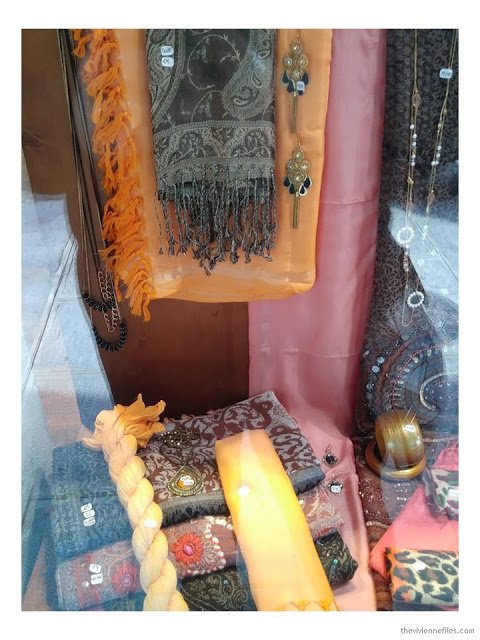 There's always a beautiful "statement" necklace with your name on it, too. If I were a bit taller, I could see the merits in that pearl necklace… but I felt it would be a bit overwhelming on me!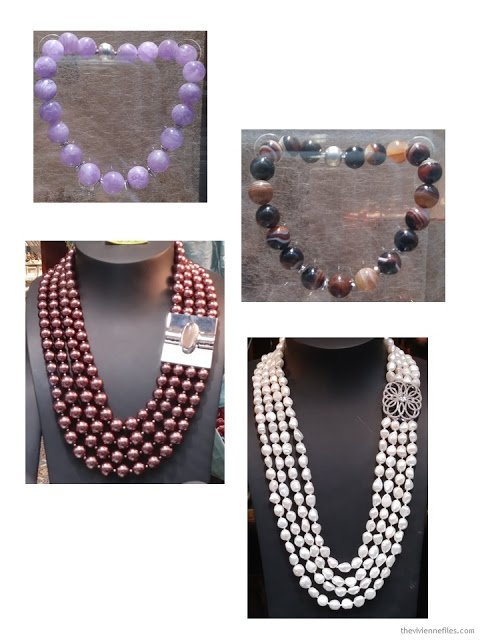 Blue, turquoise, and blush, with gold jewelry… sigh….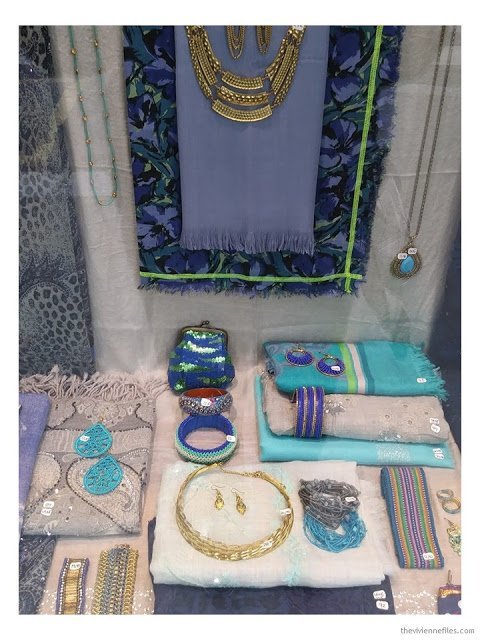 If you are particularly drawn to a specific semi-precious stone, you can find all sorts of pieces to suit. All of these were in the same window, and I suspect that there were a lot more choices inside.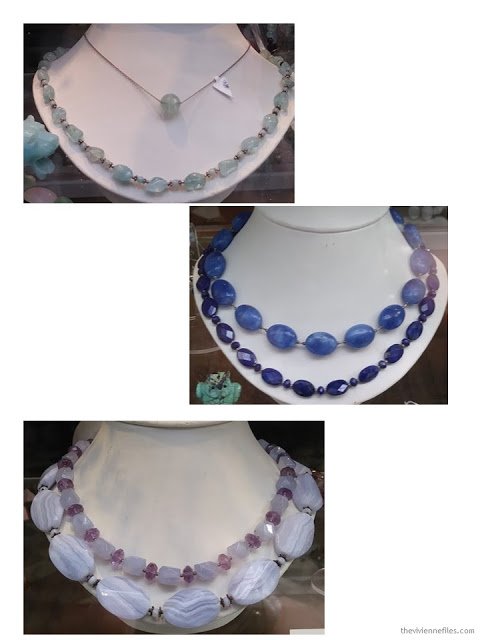 Navy, turquoise and soft grey with silver jewelry – classic and beautiful!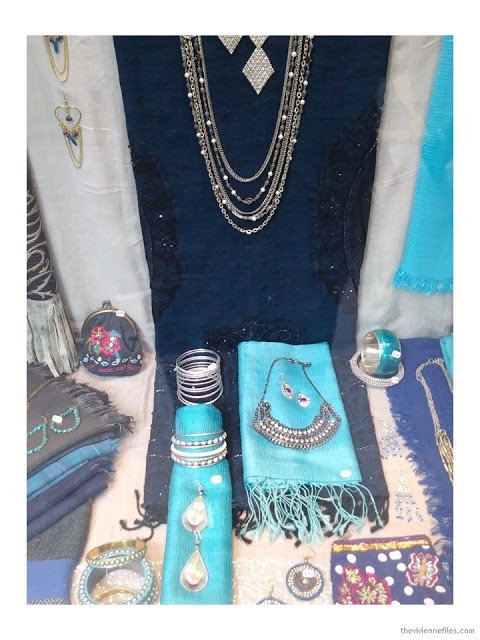 You want a ring? There's so much choice – it's so different from here in Chicago, where you have literally just a handful of the "department store" designers. There ARE other possibilities, but you have to hunt for them; in Paris, they're everywhere…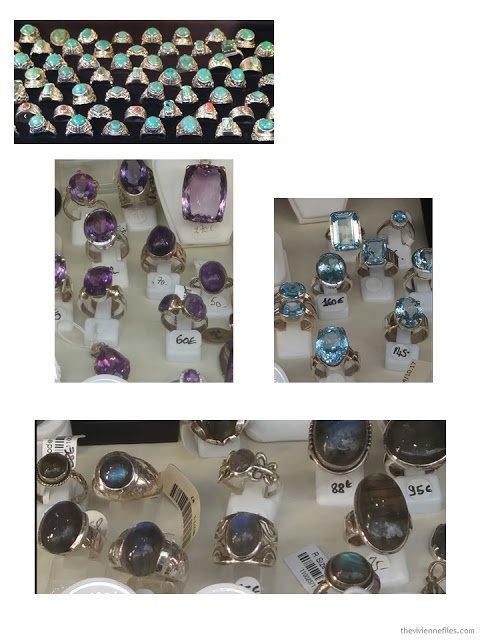 I particularly admired this range of colors – so warm and luscious…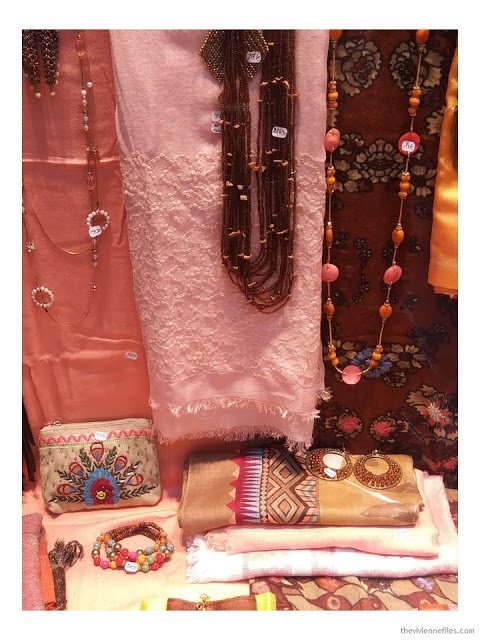 There are lots of designers in Paris, making jewelry in small lots, and in unique designs. If you keep an open mind, and an open eye, you're bound to see something that appeals… I love the pearl necklace with the tiny Cupid arrows…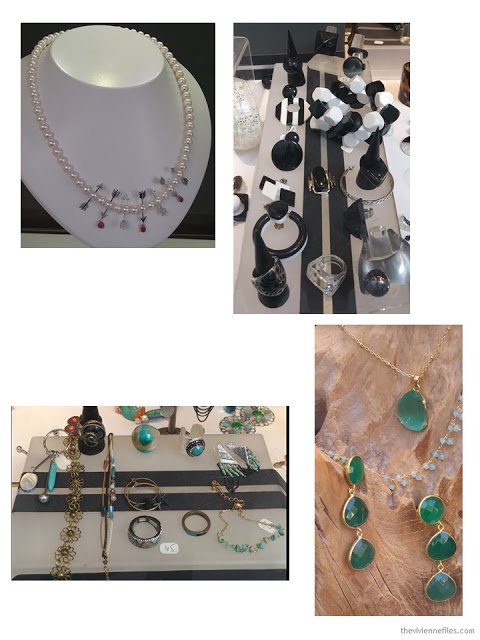 The touch of yellow here was inspired!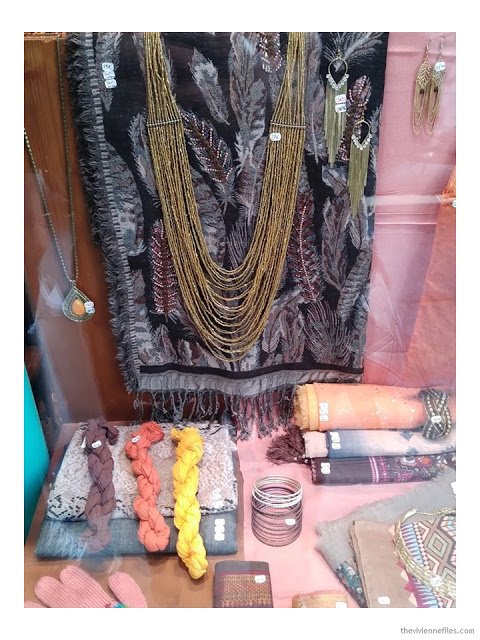 If you prefer to wear really simple clothing, with accessories that do all of the "heavy lifting," Paris is worth a visit. The store that carried the top left geometric necklace had literally dozens of variations on this kind of theme.
And those pearls… sigh…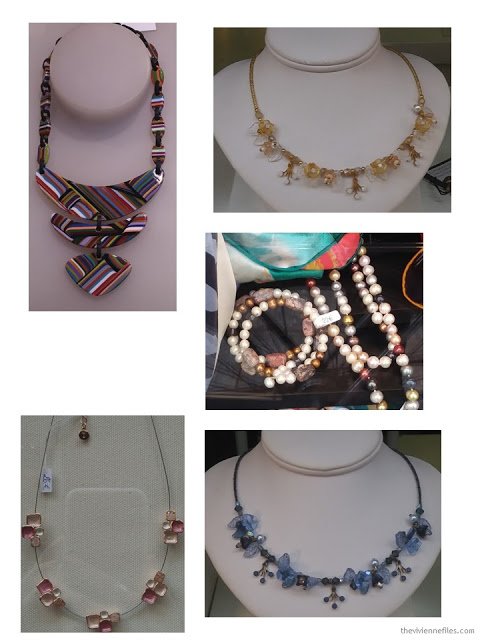 If you struggle to find warmer-toned accessories where you live, Paris will give you some great choices. I know that in Chicago, almost everything is designed to work with black, and you seldom see ONE orange scarf – let alone a window full of them!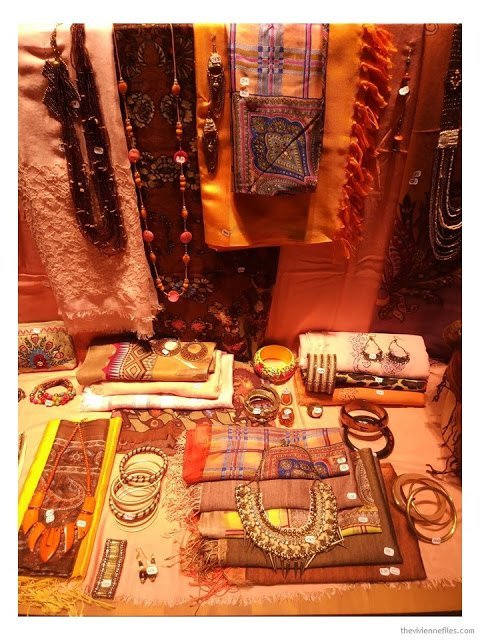 I did do a bit of shopping… I'll share, and I'll wrap up all of the miscellaneous bits and pieces of my observations tomorrow…
love,
Janice