October 12, 2017
I have absolutely NOT forgotten about my desire to figure out a way to have an overall wardrobe plan – something that I think we first discussed back in July?
Theories were posited that one could choose a specific number of each category of each garment, and a certain number of pieces for each season, etc. etc. But it all felt…. forced.
So I'm going back to reality – what is currently in my closet? What have I worn in the last month or so? Maybe I should start with what I actually OWN AND WEAR, and then see if I can make sense of that…
For now, I'm sticking with a target number of 52 – i.e. one piece per week, or 13 per quarter. So right now, I isolated in my closet the last 26 pieces of "non-gym" clothing that I've worn or purchased: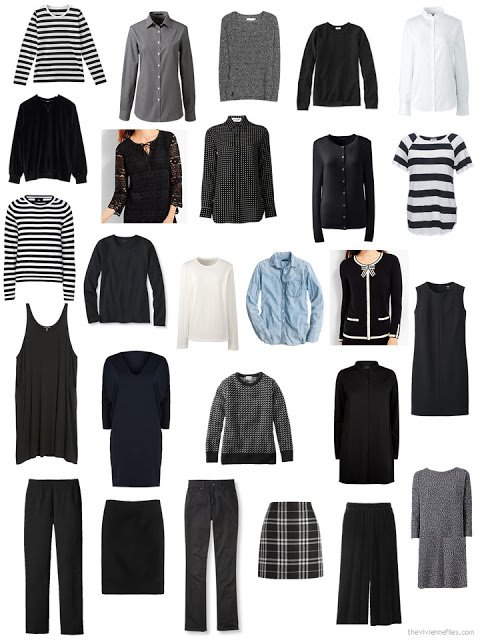 I still want to come up with some sort of a template that can be used for record-keeping and planning. I'm not going to assign categories for anything – I'm just going to record what I have and what I'm wearing, and see what happens…
First up, a 13-piece template with room for some notes. I think that you can "right-click" this and save it if you want to play along…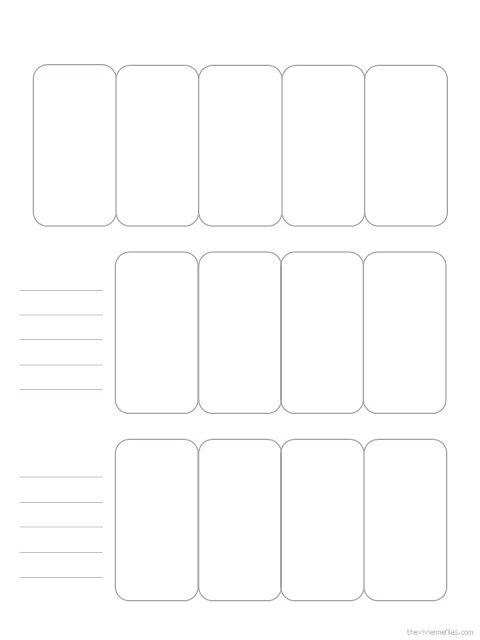 And for those who want to get all 26-pieces of a current wardrobe onto one page, I can do that too!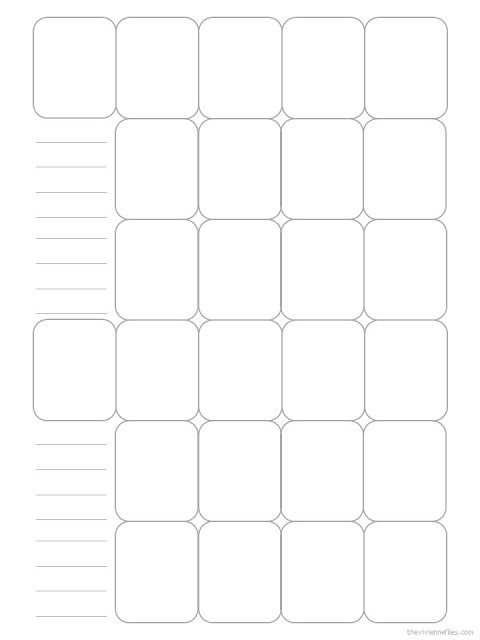 Here's where it starts to make sense – this is basically just my personal version of The Common Wardrobe that I've been suggesting to the entire world for years. These are pieces that will probably be in my active wardrobe for quite a long time, until rendered completely inappropriate by the change of seasons.
This second grouping includes a few rather warm-weather pieces, since we still aren't seeing consistent cool weather here in Chicago (I was out yesterday in sandals…). If I were putting notes on this page, I think it would be clear that the first piece to rotate out of my wardrobe will almost certainly be that short-sleeved tee shirt!
For at least a while I'll have a mad abundance of things to wear: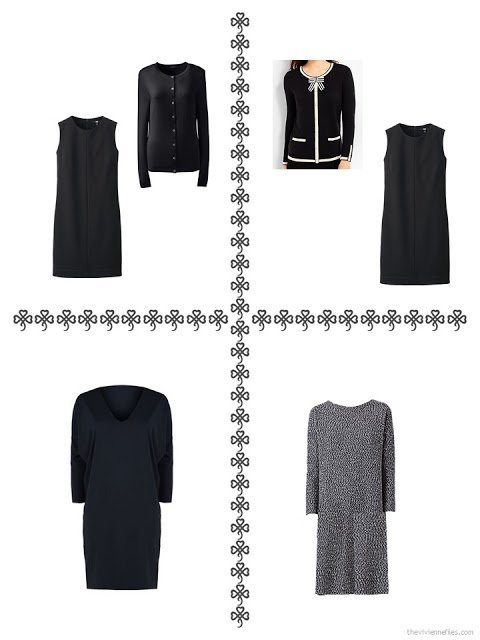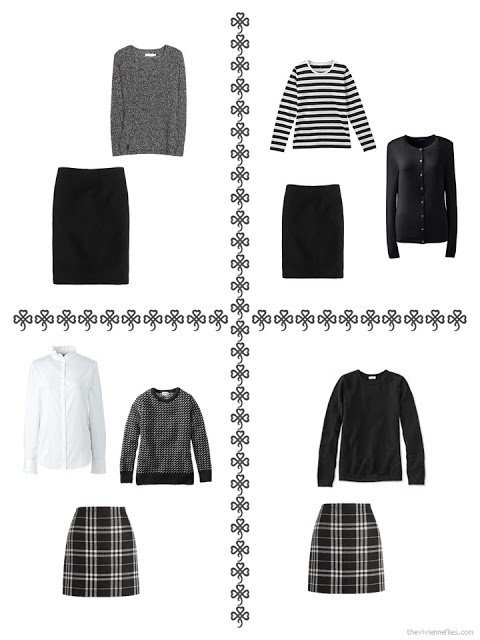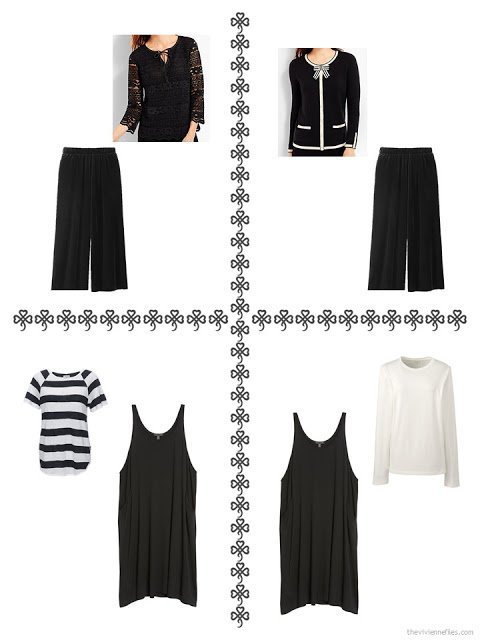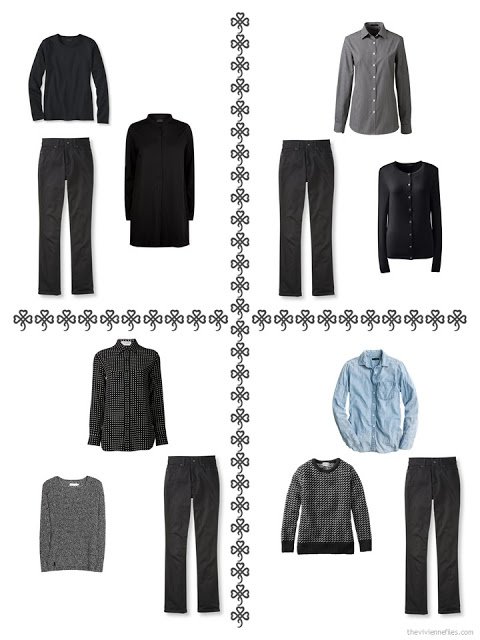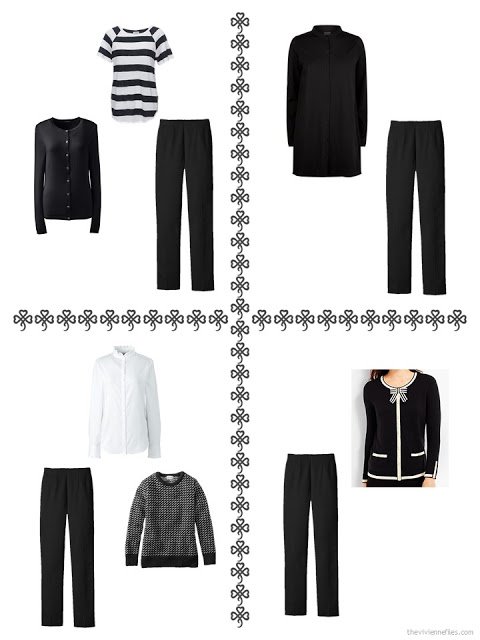 My thinking is this:
Each week, I can (but I don't have to) pull out 1 piece from these 26 pieces that is no longer seasonable, or maybe that's just worn out its welcome. I can then substitute a "new" (aka lurking in my storage) piece of clothing.
This swapping can be done weekly, bi-weekly, or monthly. The goal is to always keep to 26 pieces…
In theory, at the end of 52 weeks, I should have rotated through 52 pieces of clothing. In theory. This would then, by definition, be my 52-piece wardrobe; anything that doesn't get worn in an entire year isn't really necessary, is it?
If I buy something that's "in-season," I have to swap it in immediately. If I can't find a way to wear something within a few days (okay, maybe within 2 weeks), why am I buying it?
This approach is very compatible with other wardrobe plans like Project 333, or the "10 Pieces, 10 Outfits" theme that's often seen on Instagram, if I ever choose to participate in either or both of those.
I'm going to keep track of what gets worn when, and I'll report in with updates – probably once a month – as I swap things in and out. I've been looking for a way to keep the number of items in my closet to a relative minimum, so I'm eager to see if this helps me at all.
Isn't is strange to struggle with abundance? This is supposed to be what everyone dreams of…
love,
Janice