August 23, 2017
Ah, the eclipse was amazing! So was our 14-hour drive home… (a trip which charitably might take 6 hours if you're a slow driver….) If today's post feels a bit incoherent, understand that I got 2 hours of sleep!
After we got back from Ireland last week, our suitcases were laying open on the floor in our apartment for a couple of days – partly because we were tired and just didn't get around to doing all of the laundry immediately, and partly because I'm trying to cultivate a very slow and attentive process for unpacking. I'm doing this so that I can review what I packed (and remember what I forgot!) immediately after the trip, and try to learn something useful for future adventures…
You might remember from my post before I went away that this is what I packed: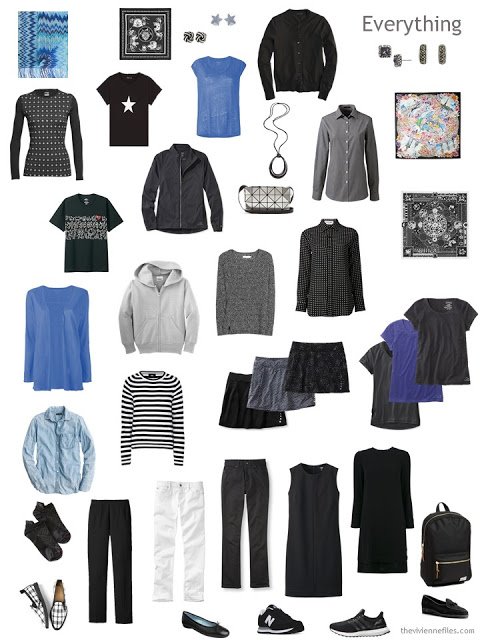 At the time, it felt like quite a lot, and it turned out that I might have easily cut back a few things. Let's walk through the same process that I go through when I get back from a trip….
I'm going take a look at each piece that I packed, and grade it according to this absolutely arbitrary and personal scale: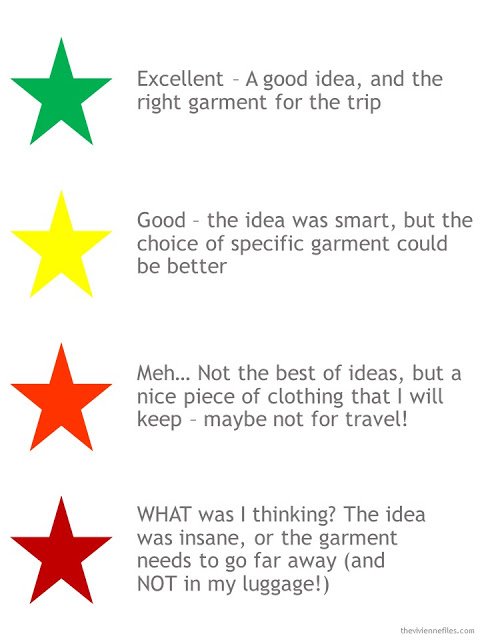 First up, my travel outfit:
I loved this outfit – I felt like it looked good, and I was very comfortable. The only real hesitation that I had here is that I never re-wore my tee shirt. That's partly because I had packed so many clothes that I never needed it again! Had I packed 1 fewer shirt, this tee would have been laundered and worn at least once more…So? More a failure of my plan than anything wrong with the garment itself…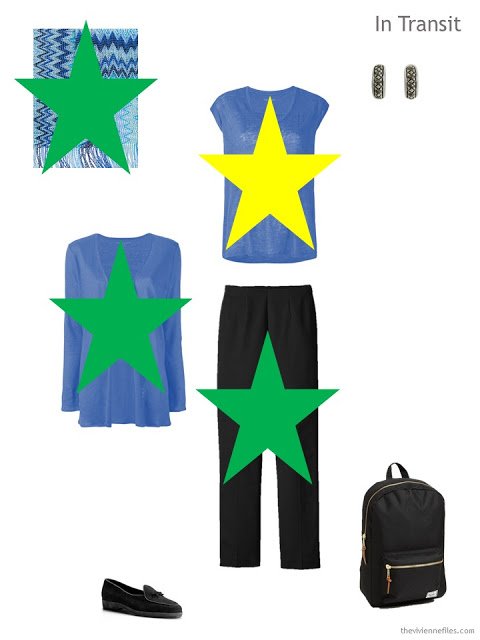 Next up are my clusters, starting with the essential black jeans: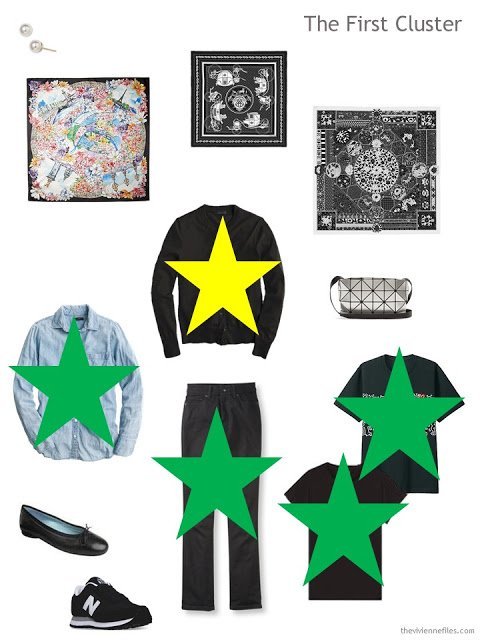 All of this was wonderful – but since it rained so often, I always wore my jacket, and NEVER wore my lovely cardigan. For a less rainy destination, this would have all been perfect…
Then, there was the white jeans cluster:
I pack these 2 black and white shirts for every trip… That's worth remembering if I see other black and white shirts that are as well-made and fit as well…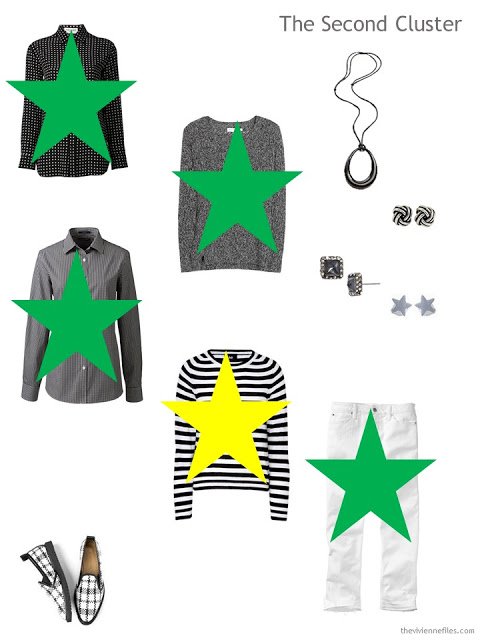 Even though it rained on me with relentless regularity (it is Ireland, after all!), I found that my white jeans were great – a nice break from the black ones. The only real issue that I had with this cluster is that I didn't wear my striped sweater as often as I might have done. It's beautiful – I can't explain what happened…
So far, so good. My intention, when I left Chicago, was to get up in the morning every other day and run down the Quay (pronounced key – don't ask…) before I got dressed for real. However, (a) there was so much construction on the Quay near me that it would have been more of an obstacle course than a run, and (b) my bad knee started behaving petulantly…
Nonetheless, I had packed these pieces:
It's hard to evaluate these pieces, since I didn't wear them as intended…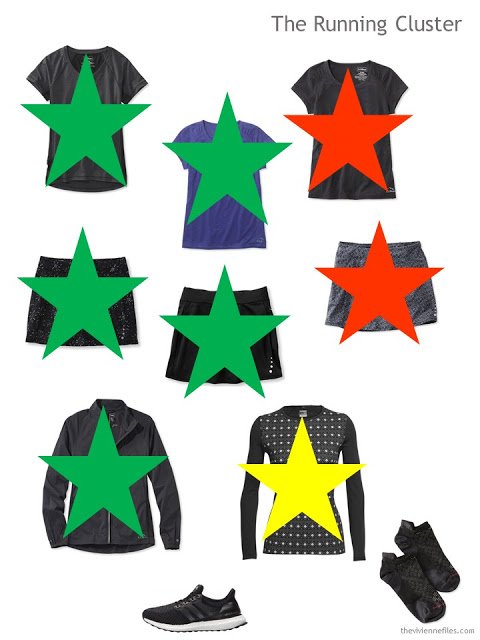 This is the area of packing for which I have the least experience, and you can tell! I should have just planned to hand-wash running gear, and managed with 2 sets. Even though these clothes are relatively lightweight, adding in undergarments bulks up each outfit considerably – running bras are NOT tiny…
And it never got cool enough to wear my wool shirt – but I'd still pack it. One never knows… This shirt is so nice that it wouldn't look out of place under my black cardigan. It has a logo on the sleeve, which irks me, but wouldn't be a deal-breaker in bitter cold. (especially if I had it layered underneath something else!)
Finally, the dresses:
And how I felt at the end: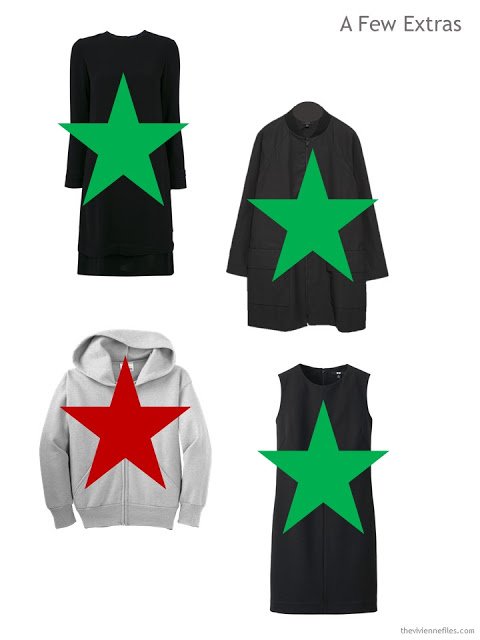 Probably my biggest packing mistake was grabbing the wrong sweatshirt- the one that I ended up packing was MUCH heavier and absolutely unnecessarily warm. I should have pulled this out of the closet a few days before packing, as I had done with everything else. An annoying but ultimately modest error…
But I had an offsetting super-win – my sleeveless dress turned out to be PERFECT to wear over shirts – there was just the right amount of space around the armholes and in the body of the dress. This dress over my denim shirt was a great outfit – an ideal merger of dressy and casual.
In more general terms, I packed too many scarves, but I always pack too many scarves. For me, the phrase "too many scarves" is almost as nonsensical as "too much chocolate." And I didn't wear all of the jewelry that I packed, but I enjoy those small options enough that I wouldn't change that either.
What did I learn? Maybe cut back 1 sweater from this assortment. Definitely trim back the number of workout ensembles I pack. And don't wait until the last minute to take things out of the closet – that's a precarious path!
Does anybody else analyze their packing after they get home?
love,
Janice