May 17, 2017
The scarf says Paris, but your luggage is all tagged TPA – you're going to Tampa to visit friends with a home on the Florida Gulf coast!
They've mentioned the beach, and the boat… (repeatedly…) There's a bit of sightseeing, some serious lounging to be done, and you might take in a baseball game. You'll be dining out at least a few times, too!
Well, you know that it's going to be hot and sunny. You know that it's a relatively casual part of the country, and you know that you don't want to carry a whole ton of stuff with you…. What to do?
Let's start with a color scheme, based on this most lovely scarf:
You know that no matter how warm the weather is, the airport will be freezing cold, and the plane is seldom warm. So you've got real pants, real shoes, and a cardigan, to be warm enough for the overwhelming air-conditioning. Your scarf is a nice bright touch… (and your watch has a wee flower on it – you love flowers…)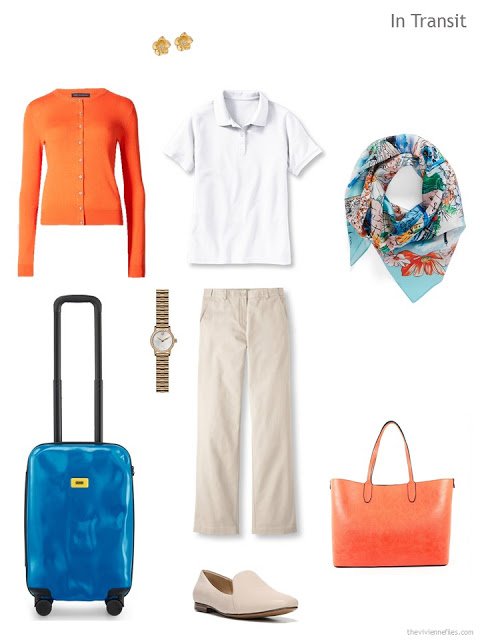 The first thing you're going to really address is swimwear. The time is long past for you to miss the fun at the beach or on the boat because you're self-conscious about wear a swimsuit! You make sure that you have cover-ups, and a nice pair of sandals that are waterproof. Everybody gets to swim, no matter how they look – any other approach to life is absurdly unfair and just plain silly.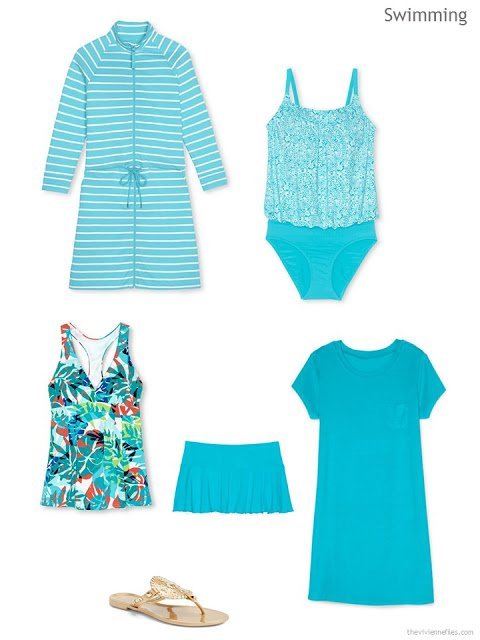 (Yes, all of this swimwear is from 1 place. I'm a big fan of Lands' End swim suits (many of which are available up to size 18), and I particularly love them for carrying LONG SLEEVED swim tops for those of us who need to be well-covered when we're in the water. Highly recommended… )
Once you've got swimming covered, everything else feels really easy!
So next you think about a wee cluster of clothes for leisure activities. Shorts are the most appropriate thing in Florida, but you could easily substitute skirts or capris for the shorts if that feels more comfortable for you. And although it seems like a sweatshirt is the LAST thing you'd need on this trip, always remember that air-conditioning can be so strong as to be uncomfortable. Nothing's worth than shivering through a meal or a movie… You toss a pretty wrap into your bag too, just in case…
Your tops are chosen to offer options – a solid tank will of course go with everything, and is easily layered if the weather changes. A tunic is a fresh change of pace, and a floral top that includes your key accents of blue and orange echoes both your theme and your palette. Shorts in 2 different lengths give you the feeling of variety in your travel wardrobe, too.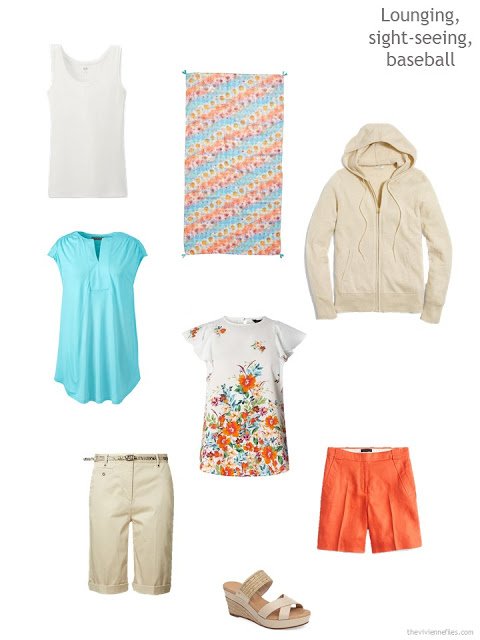 To finish, you want to include a few pieces that could be interpreted as dressy, if in fact you end up going to rather nice restaurants. This skirt can be worn with everything from the tank top to the sweatshirt, and gives them a more feminine feeling without being too frou-frou. And a floral dress with your favorites colors is impossible to resist.
The off-the-shoulder top? You're frankly not sure about it, but you figure it's not a big splurge. Maybe when you're in a new environment, it will feel just right!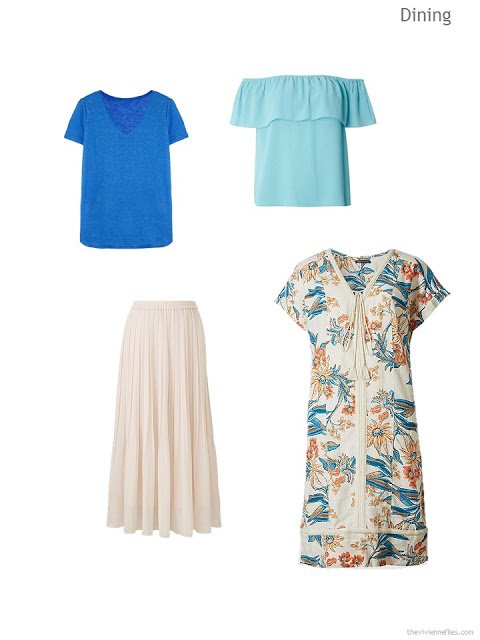 This is what you'll need to pack – this might require luggage to be checked, depending on how much you take with you for personal care products: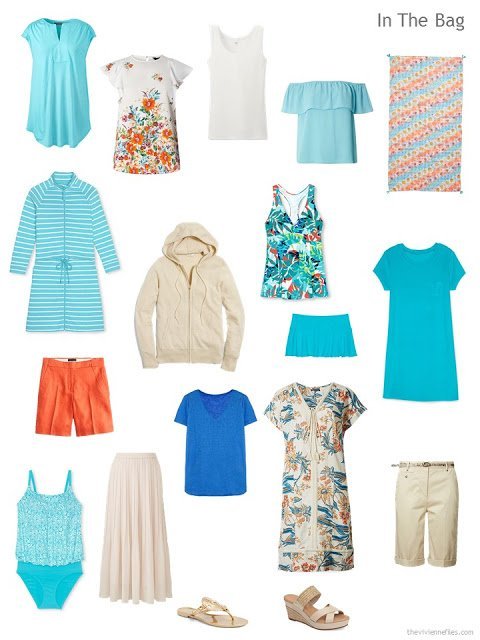 By working your way systematically through the activities that you're anticipating on your trip, you've assembled a very coherent and madly versatile travel capsule wardrobe: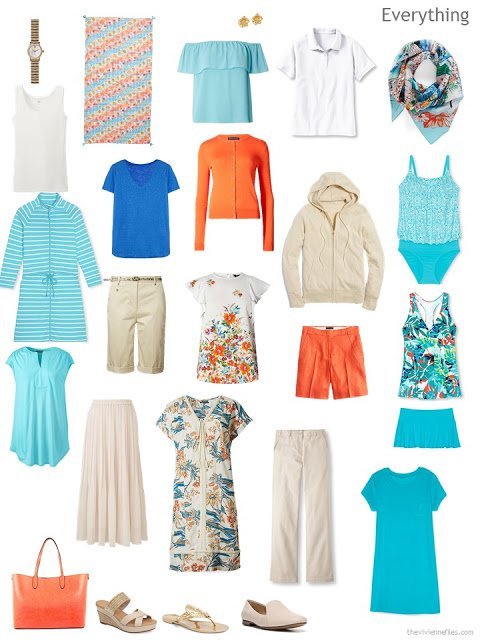 Of course nobody is surprised to see that this wardrobe fits neatly into the "Whatever's Clean" template. It would be possible to put together some outfits that would be a little bit… weird (like the cardigan over the off-the-shoulder top?) but in general terms, it would be difficult to go wrong with these pieces: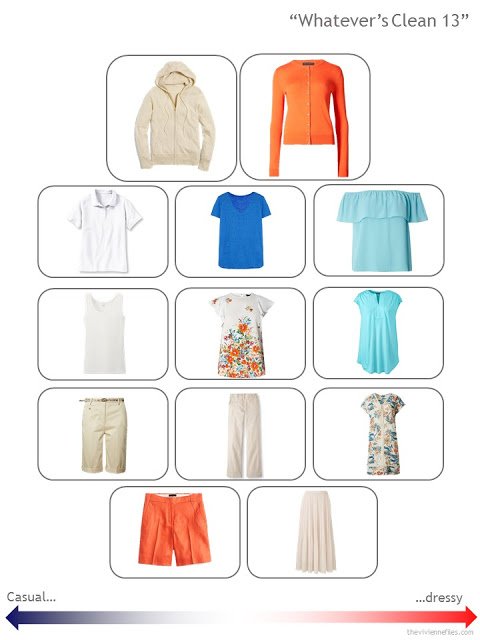 But just to be sure, you mentally arrange a couple of dozen outfits. Even if you completely "chicken out" from wearing the off-the-shoulder top, you're going to have plenty of choices when you get dressed each day. (and don't forget those swim cover-ups; they look an awful lot like dresses or tunics…)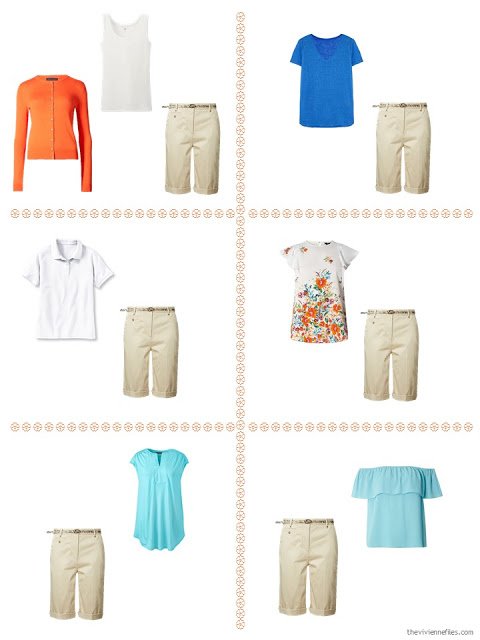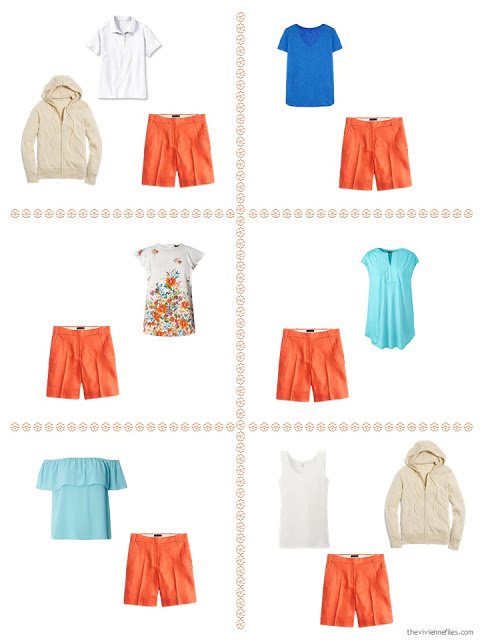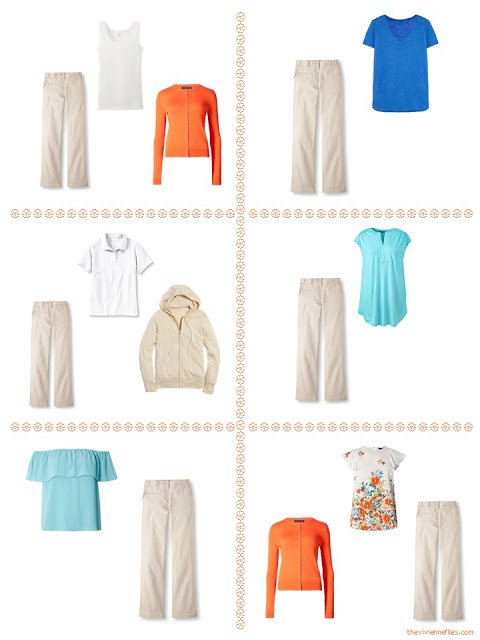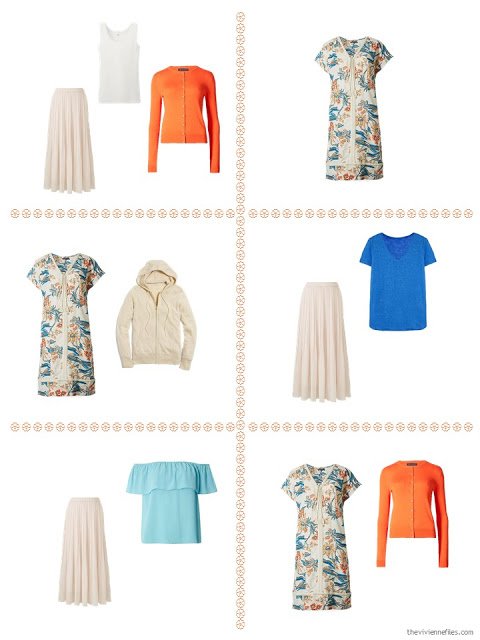 Tomorrow I'm going to choose some accessories for this wardrobe, and then later in the week I'm going to think about what to pack for Ireland! (not for me… not this time…)
love,
Janice