May 16, 2017
I've known the power of a good accessory for DECADES…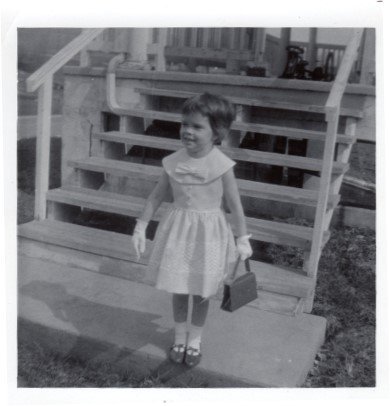 The "foolproof travel wardrobe" that came from the colors and the themes of the Flower Burst scarf by Kathkath was very coherent, but cried out for a few more pieces…
Here's where we started:
This was the wardrobe that we had for our flower lover, when we finished off her "Whatever's Clean 13":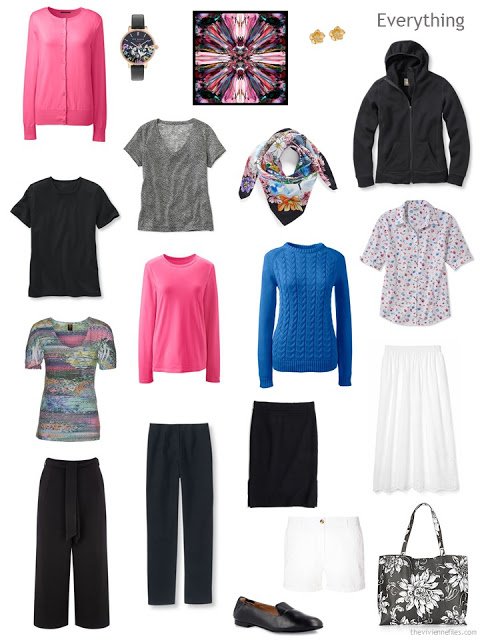 Just for reference, this was the template upon which I was building: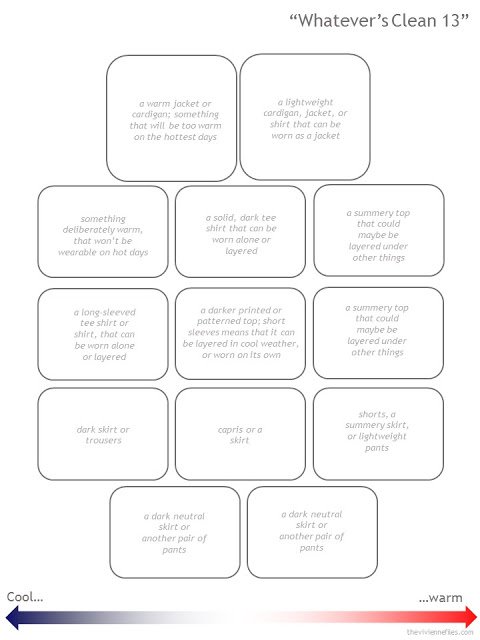 And this is how the clothing fit into the template: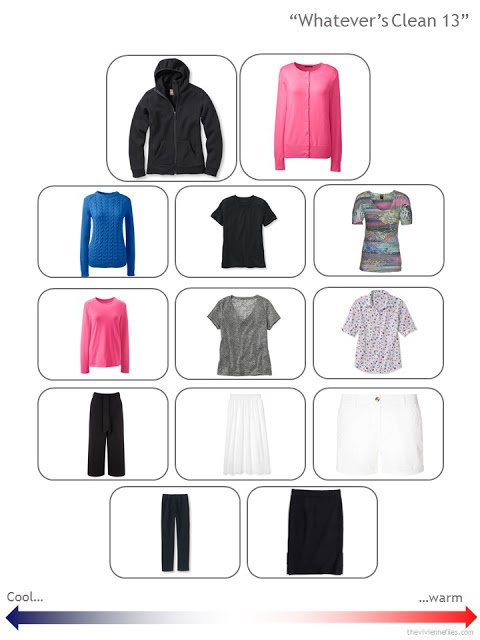 I wanted to find a really methodical, organized way of accessorizing this wardrobe, so I thought that I might work my way through five outfits (one for each of the "bottoms") and make certain that these outfits covered all weather conditions from pretty doggone chilly through to absolutely full-on summer. First up is our cool weather outfit – long pants, a cardigan with a hood, and a tee shirt under it. The only real accessories that needed to be added here were a pair of socks (yes, they could be black, but why not pink?) and a pair of earrings to pick up the accent pink color. One could also choose to find blue socks and jewelry, or the green that's so prominent in this top…
The next outfit is still for relatively cool weather than might warm up – cardigans are meant to shed when necessary! This is the perfect outfit for our core scarf, and I thought a fun handbag (though quite the indulgence…) and a nice pair of flats would finish off this ensemble perfectly.
The weather is getting warmer! This is an outfit that could be accessorized with any kind of jewelry, but I thought that a choice of bracelets (or wear them both – why not?) was a fun option. And espadrilles are classic for summer…
I see the sleeves on the blue sweater pushed up a bit… a small pair of floral earrings are the only thing needed – we have new ballet flats are perfect here. This is a great chance to wear that delicious Paris scarf, and our floral tote is just right…
Hot weather! You've got to have sunglasses – no options! A bracelet that's just like your pink bracelet, only different (I love that phrase "just the same, only different…") and a pair of comfy sandals are all you need to look complete, but not over the top.
Now when you get dressed in your imagination from this travel wardrobe, you've got truly everything you need. Another pair of socks in blue? Heck yes… Toss in some pajamas, and a few swimsuits, and you'd be good to almost anywhere…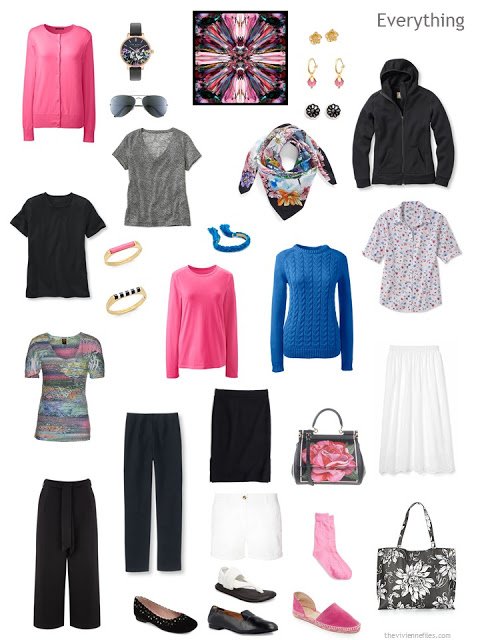 Accessories are the most fun, aren't they?
love,
Janice