May 18, 2017
When we left our happy heroine yesterday, she was packing for a trip to visit friends on the Gulf Coast of Florida. She was using this scarf as her leitmotif – the inspiration around which she was building her travel capsule wardrobe: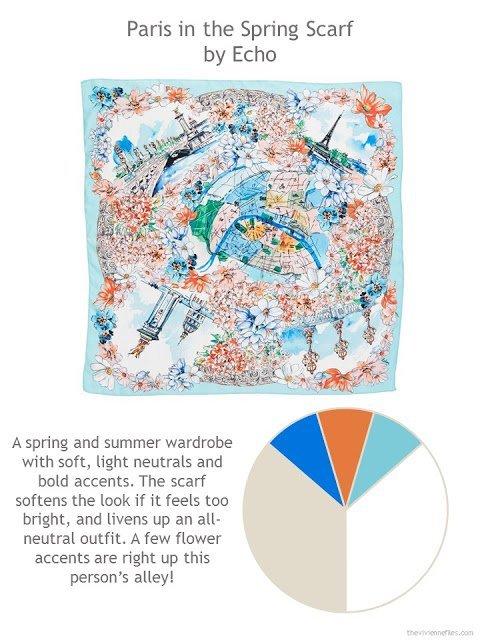 This was what she knew that she would pack – plenty of things for the beach and boat, and enough dressy pieces that she would be fine if dinner turned out to be more formal than she expected: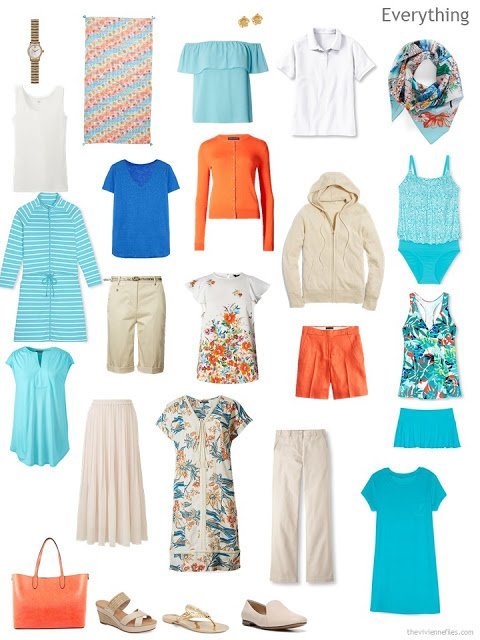 Just for reference, let's remember that she'd planned this wardrobe pretty carefully!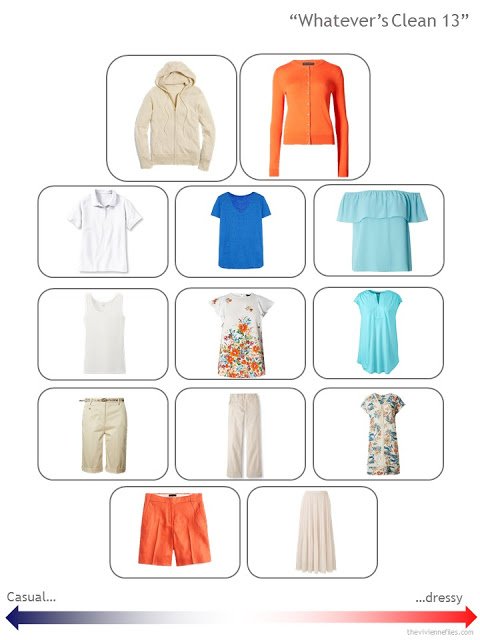 But she knows that she wants to include more accessories – especially more shoes! So she's going to work through a handful of outfits, making certain to include each of her "bottoms" so that her shoe choices will be sufficient.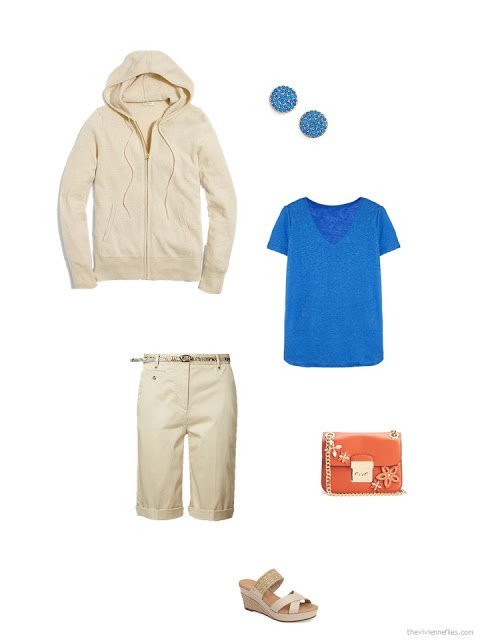 sweatshirt – J. Crew Factory; earrings – Kate Spade New York; blue linen tee – Majestic; tan shorts – Marks & Spencer; bag – MICHAEL Michael Kors; sandals – UGG
Even when her outfits are really simple, she wants to have some fun accessories to pull things together and give her overall look a sense of coherence and intentionality. It's hard to describe, but she knows it when she see it!(yes, her earrings are from Disney…)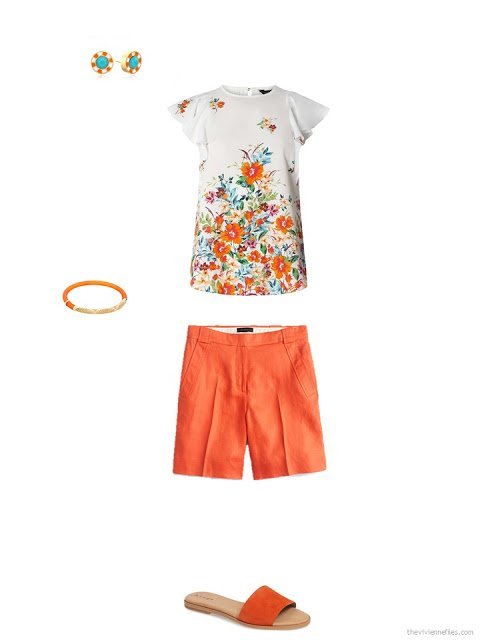 earrings – Disney; floral top – Dorothy Perkins; orange bracelet – Sarah Ho-Sho; orange shorts – J.Crew; sandals – Hinge
She found a wonderful scarf – and it's from Echo too! Sometimes, if you're really smitten with a particular color scheme, it makes sense to look at the same company for a variety of pieces. If you're smitten, maybe a designer from that company was obsessed with those colors!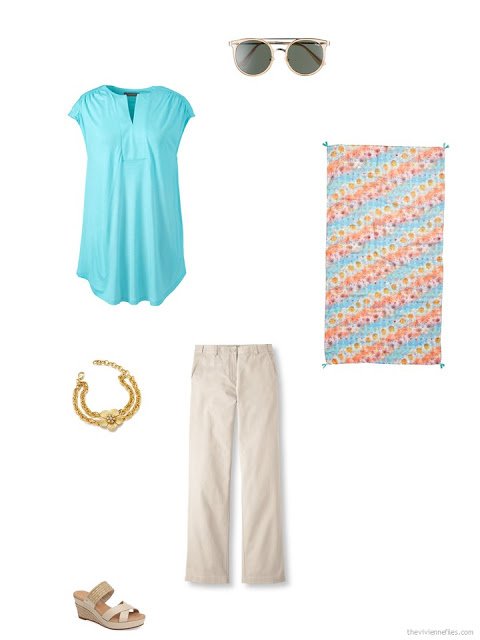 aqua tunic – Lands' End; sunglasses – Quay Australia; bracelet – Erwin Pearl Atelier; pants – L.L.Bean; scarf – Echo; sandals – UGG
She's still not 100% on board with this top, but she's planning to have what she wants and needs to wear with it, just in case. This might be the time when this scarf really earns its keep! And she really loves the way the rhythmic placement of the straps on her sandals echoes the pleats in her skirt…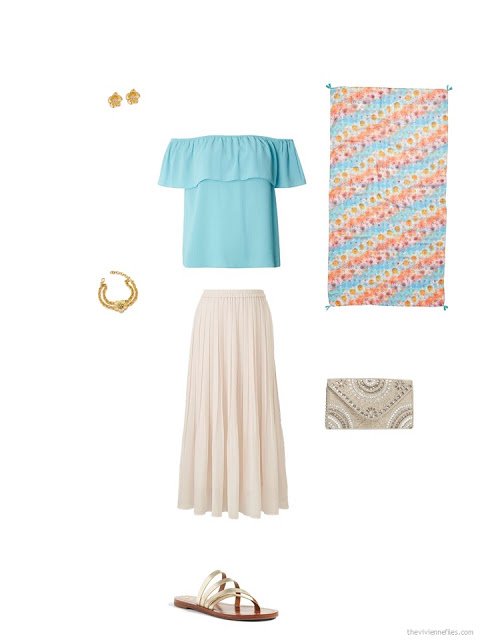 earrings – Vera Bradley; aqua top – Dorothy Perkins; scarf – Echo; bracelet – Erwin Pearl Atelier; chiffon skirt – Uniqlo; sandals – Tory Burch; clutch – Glint
By the time she gets to choosing accessories for her favorite floral dress, she realizes that everything's already covered! It's so nice (and so efficient) to travel with a wardrobe "theme."
This is what her complete wardrobe looks like now – a few more pieces of jewelry, a couple of small bags, and some flat (easy to pack!) sandals. She's ready for just about anything her friends can offer!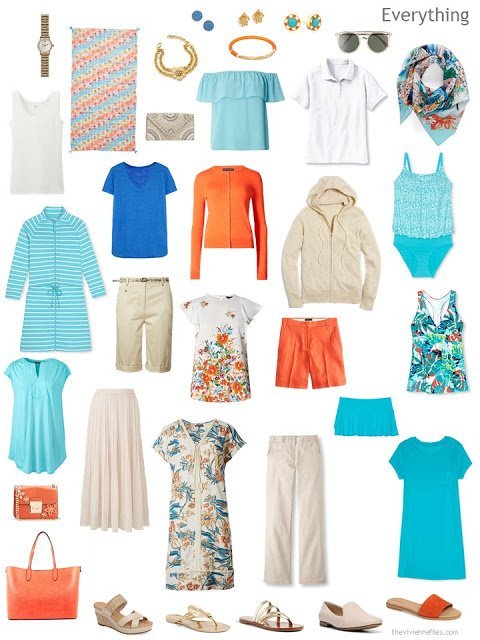 Tomorrow I'm tackling a trip to Ireland…
love,
Janice