May 19, 2017
Ireland? I used to live there! If you're going there, you're in for a treat… but be warned, much of the year it's a somewhat colder treat than you might be expecting…Let's use a beautiful, simple painting to focus our color choices, and just to treat ourselves, eh?
This is NOT going to be a "Whatever's Clean" wardrobe – it would certainly be possible to do it with this color scheme, but I'm going to recklessly include both pink and red pieces here that will not play nicely together. You don't have to have every last little thing matching, so long as you've got the basic neutrals in place…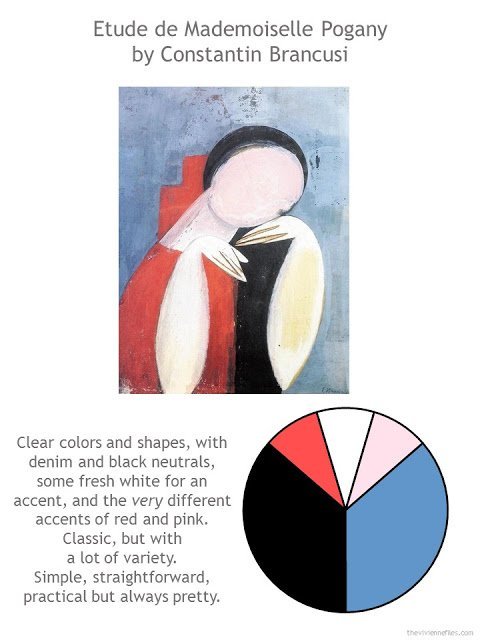 You might feel really foolish leaving a fairly warm place and getting onto an airplane while wearing or carrying a hooded rain jacket, and wearing hiking shoes. But the minute you're on the ground in Ireland, you'll realize that the rainwear is essential (with a hood), and that wearing your hiking shoes was a thousand times easier than trying to pack them!
Long before you leave for Ireland, you will of course be reading a lot, but I also suggest that you listen to RTE radio to get used to their accent, and to catch up on the news and weather. There are a number of different stations to which you can listen – I generally listen to RTE Lyric FM, which is more or less classical music.
Please note that when you get Irish weather and traffic, you get it for the entire country! So you need to learn where the 4 provinces are – most weather will reference the provinces. (they include Northern Ireland as a matter of course, although it is a separate country; if you're traveling to Northern Ireland bear in mind that they use different currency…)
In addition to knowing which province is which, you might want to get a map or be prepared to look up the various coastal landmarks; it's not uncommon to hear that "there are storms from Slyne Head to Malin Head" (aka the west coast up to Northern Ireland.) It's interesting, and you'll be just a little bit less disoriented when you arrive!
Also note that summer is not hot in Ireland – NOTHING is hot in Ireland. Right now, the days there are incredibly long (look at how far north they are!) but they are only seeing high temperatures in the 60's Fahrenheit. Couple that will an absence of central heating, and frequent rain, and you'll be chilly! If you're traveling in June, July or August, you'll see warmer days, but most of the time you can count on cool nights – definitely check the weather before you go, and plan for almost anything. Warm nightclothes will not be regretted…
If you're planning to hike the countryside, pack for that first. You'll definitely want wool socks, waterproof shoes, gloves, and something that can cover your ears or head – it's better to be prepared for that kind of cold than to be an hour from civilization and suddenly be whapped with a change of weather:
Of course all of these clothes can be worn in town, in pubs, in most restaurants, in any sporting venue…For the rest of your sightseeing, I'm dividing the balance of packing into 2 Clusters – one that uses a lot of pink, and one that makes use of denim blue… Packing shorts to wear in Ireland is definitely a gamble – they may never come out of your suitcase. But on the off chance that you get a warm day or two, you'll definitely want to have them! Frankly, when packing for Ireland, if you wear 90% of the clothes that you pack, you're just about perfect; the weather is that unpredictable.
This is the vaguely dressier cluster – if you get theater tickets, for example, you might want to have a skirt with you (although nobody's going to throw you out if you're wearing your nice pants in which you flew over!). The denim shirt can be a real workhorse; it's a jacket over a tee shirt, it can be worn under either sweater, and of course it's a shirt if you wear it alone…
The hiking clothes make this wardrobe rather larger than we normally choose. With the constant threat of rain, it's wise to make certain to have dry clothes available. (and note that if you do laundry, the humidity means that drying clothes takes a while…)
Which reminds me – if you're staying in an apartment, be certain that you know how to run the heat, the hot water heater (which may not run 24 hours a day – many are on timers) and the washer/dryer (which is probably 1 machine for both functions). Electricity is very expensive in Ireland, and you'll be a better guest/renter if you can use it efficiently!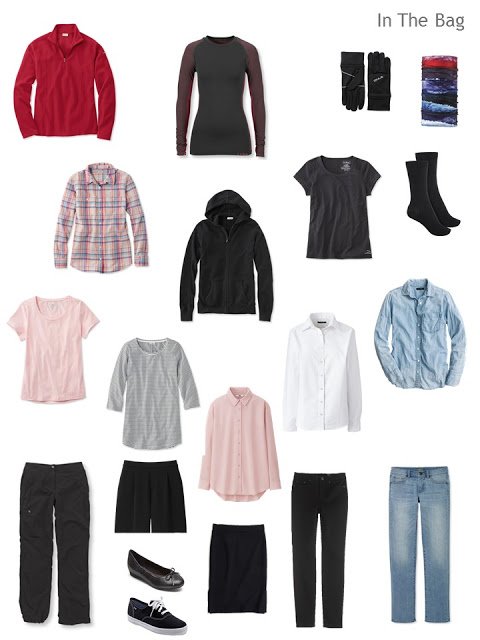 This is a really sort of bifurcated wardrobe – the red and the pink aren't really compatible. But they're two nice options with very different moods! We could also have chosen either the red or the pink as accent colors, if we really were working for maximum interchangeability, but I think we'll be fine this way…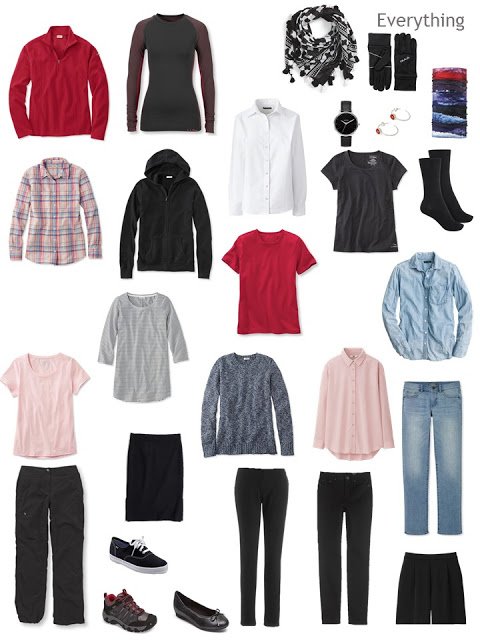 Even with the 2 very different accent colors, this wardrobe offers you lots of options for getting dressed every day: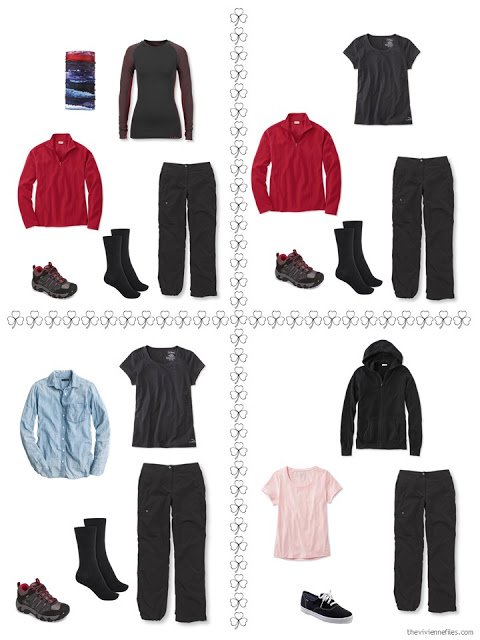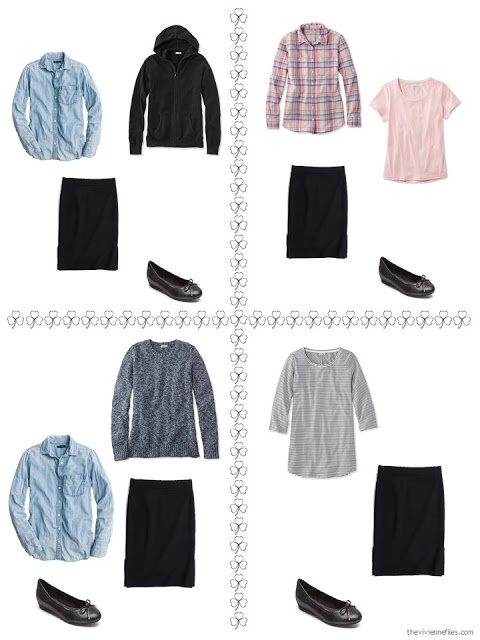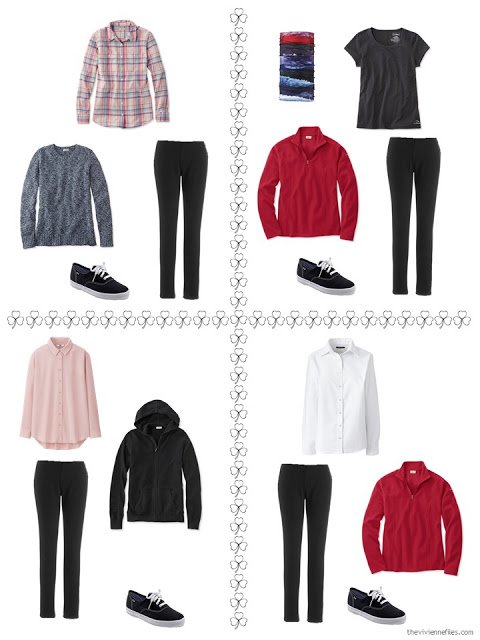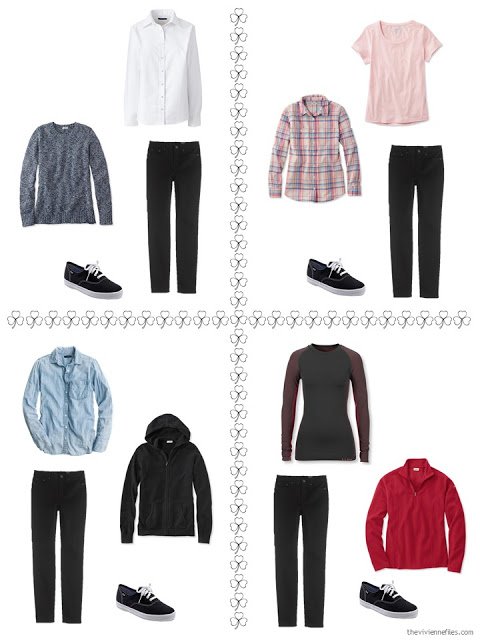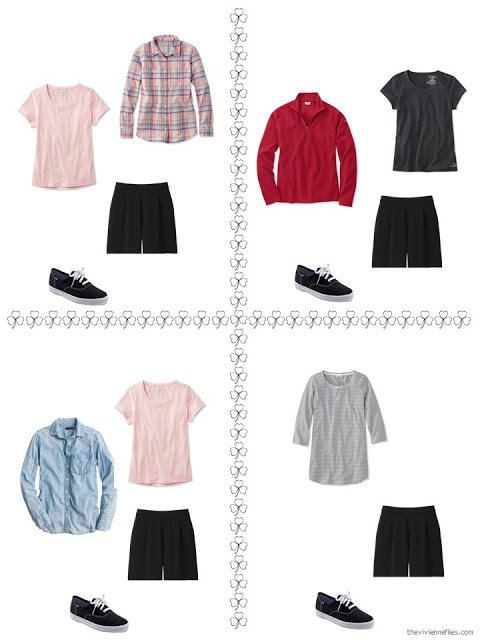 Ireland is so wonderful… I plan to retire there, and that's where I fully intend to draw my last breath in this lifetime!
love,
Janice
p.s. When you walk into a shop, restaurant or pub, someone might very likely say "You're welcome" to you. And your first instinct will be to say "Thank you…" It's all very disconcerting…
p.p.s. If someone asks you if you liked "the crack" in the pub, you are NOT being asked about drugs. "Craic" is the camaraderie, the fun, the conversation and good times…