May 31, 2017
Let's see what happens when we start with navy and beige as our neutrals, and then incorporate two MORE neutrals, in warm hues, to act as accents.
This is the color scheme as I see it; I've made 1 small alteration in that I've given us a range of the accent colors, from lighter to darker, in order to open up the possibilities a bit. These aren't easy colors to find this time of year!
And this wardrobe I'm working with an assumption that we're going to be packing for a more changeable climate – needing both sandals and a sweatshirt, so to speak…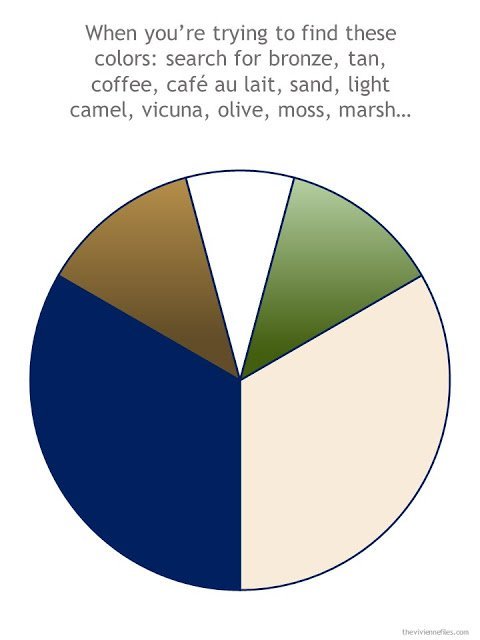 As before, we'll start with six neutral pieces…
Just to keep us mentally organized, let's continue to work with a 13-piece wardrobe template: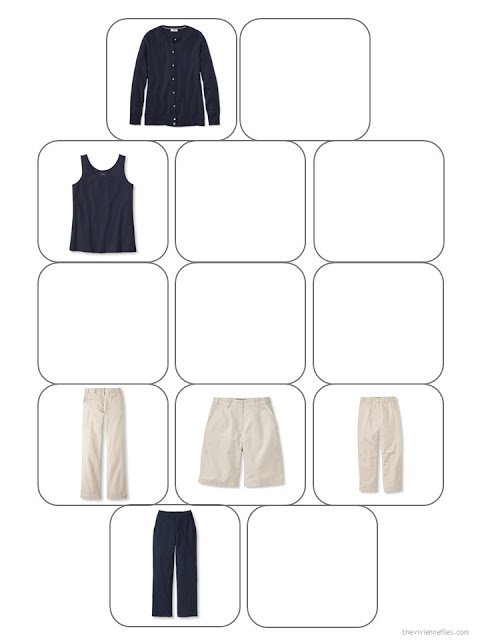 The first accent I've chosen is this camel, vicuna, caramel, tan, warm sand, WHATEVER you want to call it. It's always worth remembering that when clothing is difficult to find in your favorite accent colors, you can always keep your eyes open for accessories. Jewelry tends to be available in almost every color imaginable, and shoes aren't far behind in their range of possibilities.
In the teeth of summer, this green is difficult to find too. (which is strange, because this is the time of year when so much of the world is green!). So I only picked up two garments – one is a shirt that can function as both a shirt in its own right, and as an open shirt over a tee shirt or tank top.
And I couldn't resist the owl earrings….
Oddly enough, I found two different things that worked well as a bridge between a number of the colors in this wardrobe. These are the kinds of serendipitous finds than can really come in handy!
Since this wardrobe is going to be for a bit cooler environment than the first iteration of navy and beige, I thought that a sweatshirt might be useful. And since this heroine already has camel sandals, navy tennies could prove useful.
This is how all of the pieces fit into the 13-piece wardrobe template; I'm not positive, but I think that this is a pretty much "Whatever's Clean" wardrobe. I don't see anything here that would really clash…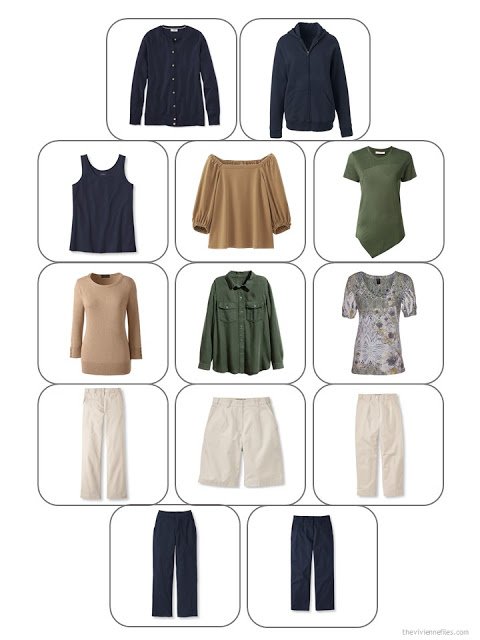 I realized that I forgot the light beige sandals here… But even without them, this is a pretty complete wardrobe. These are really lovely colors!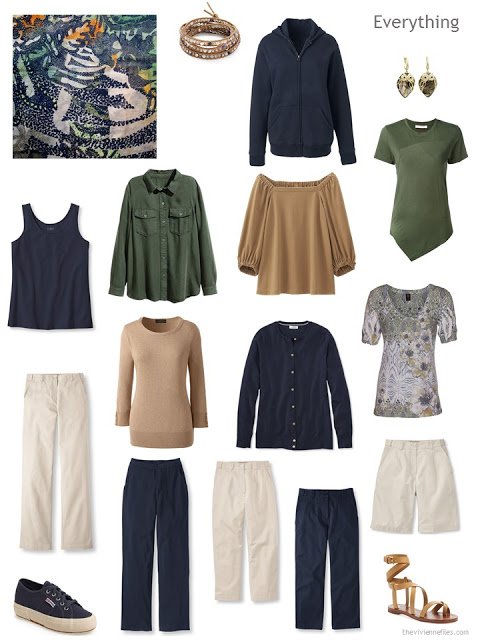 As always, I like to be sure that any wardrobe we share offers plenty of options for ways to get dressed. I feel that this wardrobe would be good from reasonably warm weather through to quite chilly days and evenings.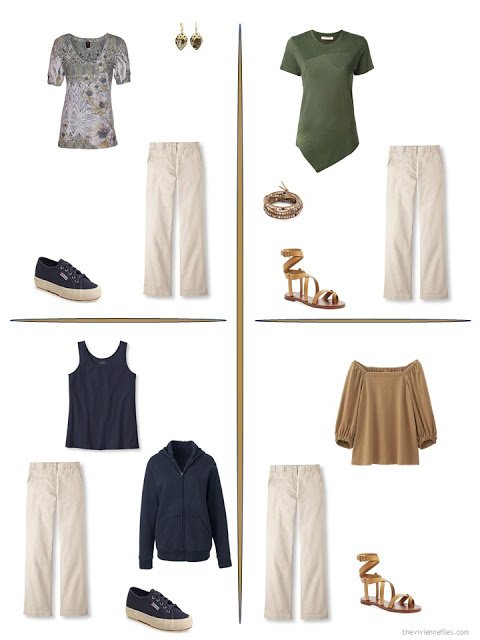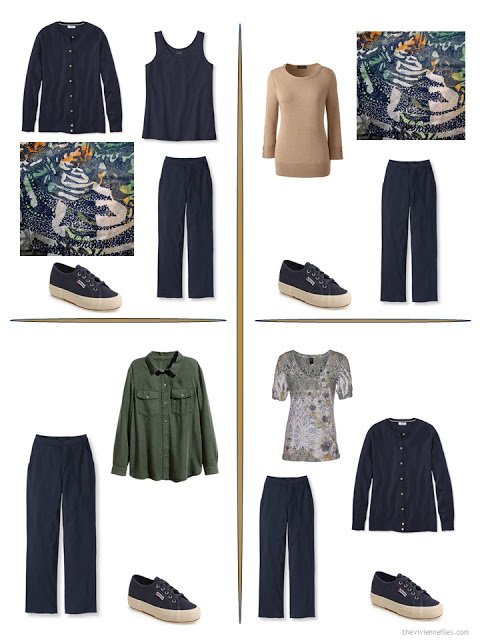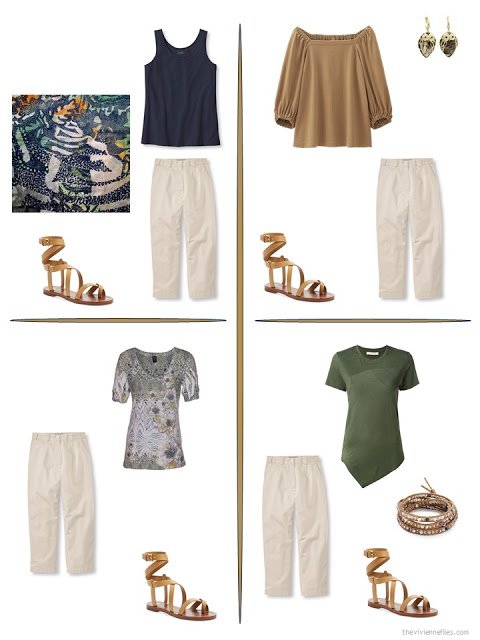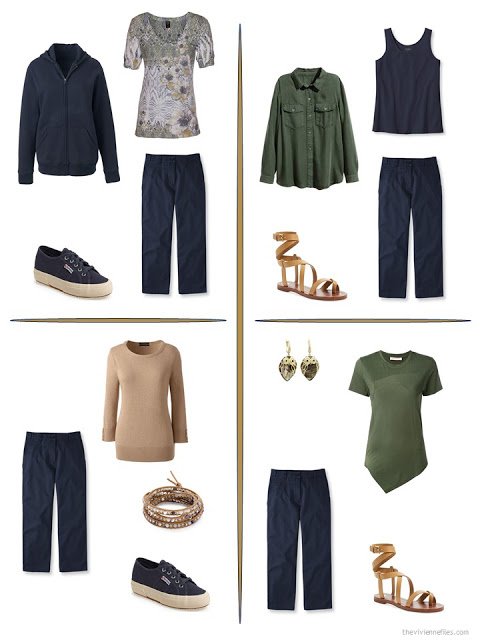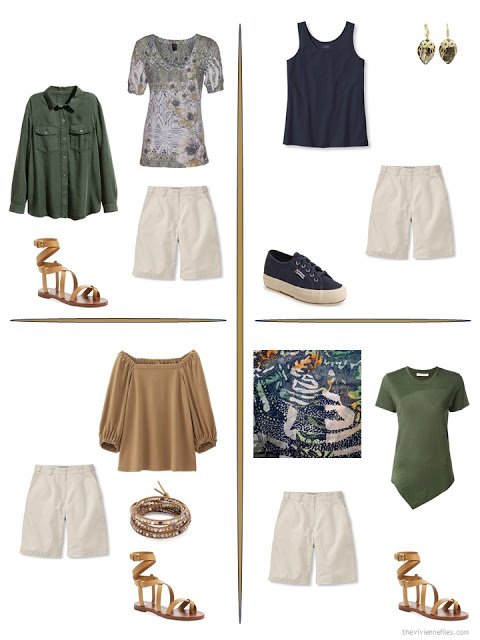 Although this wardrobe share six pieces (i.e. almost half of the wardrobe!) with the one from last Monday, I think it feels very different. It will be interesting to see how other color combinations play out…
love,
Janice