June 1, 2017
Big important notice – the "Six Scarves, Six Wardrobes, over 12 Months" post for June will be here tomorrow! I hope! The Internet in my building (yes my entire building!) has been off and on, as they work on it… Don't they know that we have important blogging to do? Knuckleheads…
In case you haven't seen the earlier versions of the navy and beige summer wardrobes, you can find the one accented with dark camel and moss green here, and the first one with accents of mint and lavender here.
Today's colors just jump off of the screen: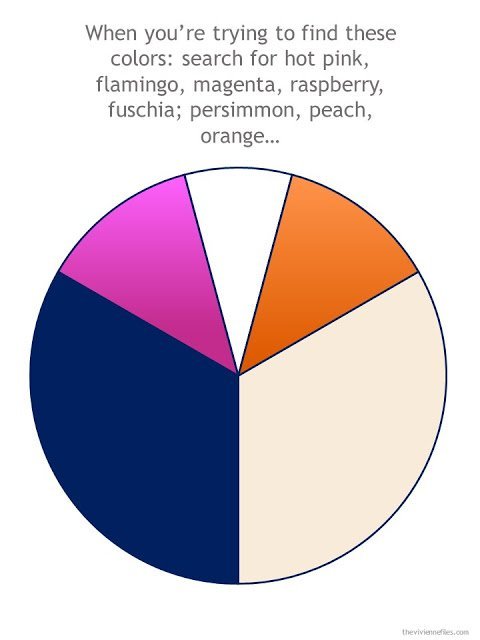 Just for the benefit of those among us who are joining this adventure in progress, this is the neutral starting point – a half-dozen core pieces around which I will try to build a coherent travel capsule wardrobe:
And for my own reference, as much as any else's, I'm always working with a template in mind so that I make certain to cover all of the necessary wardrobe components: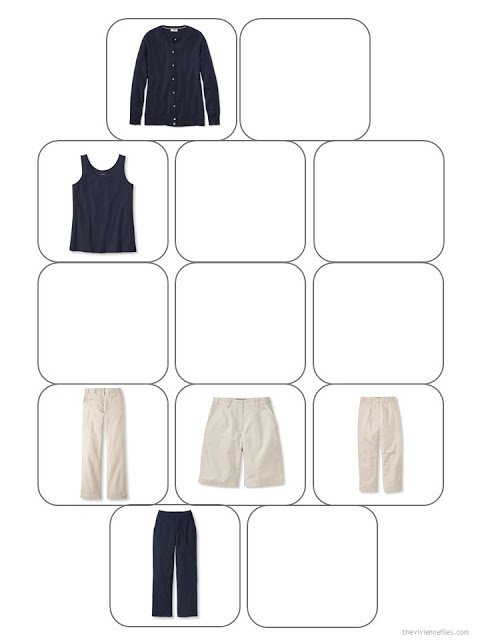 This pink was surprisingly difficult to find, in clothing! It seems that absolutely everyone has jumped onto the "blush" bandwagon, and have thus turned their back on any other shade of pink. How unimaginative… (and a word of caution – some of the clothes that are advertised as being "blush" or something lovely like that actually, in person, look like Calamine lotion, Pepto-Bismol, or something else really disgusting that I'll tell you only after we've had a couple of glasses of champagne…)
Often, when I'm adding an accent color, I try to find a really basic, classically styled top, and then I look for something more relaxed and unstructured, or something with some innovative design elements. Tops like this tank top come in a dozen colors, so your chances of finding a great accent are pretty good. More time is needed to find a beautiful, unique piece… I think this is a good way to approach an accent, but your experience might be very different!
The orange wasn't easy to find either! But I love the idea of buying a couple of pieces that match, but that will easily stand on their own. These are in some sort of athletic fabric that might be idea in the hot weather…
This bracelet could be the kind of thing that you wear constantly for a few months, and the put away for 2 or 3 years. I've found that I do that a lot with jewelry; it's the big thing with every outfit for a while, and then I don't want to see it for at least a year!
These little "tie-like" scarves are everywhere this summer. Hermes makes them – they call them twillies – and they can be very versatile. I thought that this would make a great belt, or a wrapped bracelet, or a bit of dash tied to the handle of a handbag…
The bracelet is simply for fun – Novica carries a lot of beaded bracelets that are really affordable, and look great. If you have a color scheme in mind, they might very well have what you want!
And the tee shirt is completely over the top. Sometimes, I show you insane things just to remind us all that we can treat ourselves and be lavish, if we're in the mood!
To finish up this wardrobe, we should add a couple of pieces in one of the neutral colors. I'm opting for this most excellent tunic, mostly because I really like it, and I can't believe that it's not sold out yet! (there's one in black and white too; I'm very tempted!) And I'm adding navy shorts and tennies, just to give us a little outfit here. This shows that you can build a wardrobe outfit by outfit, if you have a plan!
So this is how the wardrobe looks, within the template. I'm pretty confident this is really close to a "Whatever's Clean" wardrobe – maybe the orange jacket over the pink blouse might be a bit of "mood mixing…"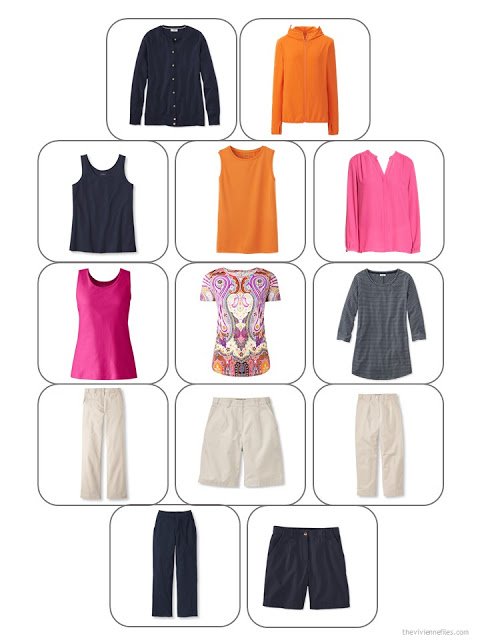 This is always my favorite image, with the accessories… You can already see that you're going to have a wide variety of ensembles here: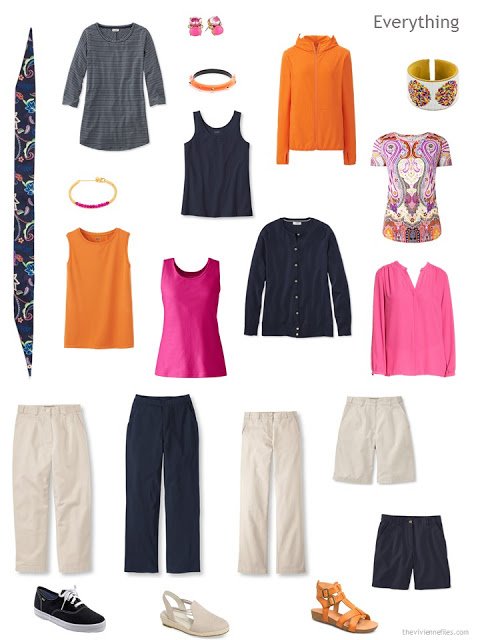 Putting together the outfits is so much fun!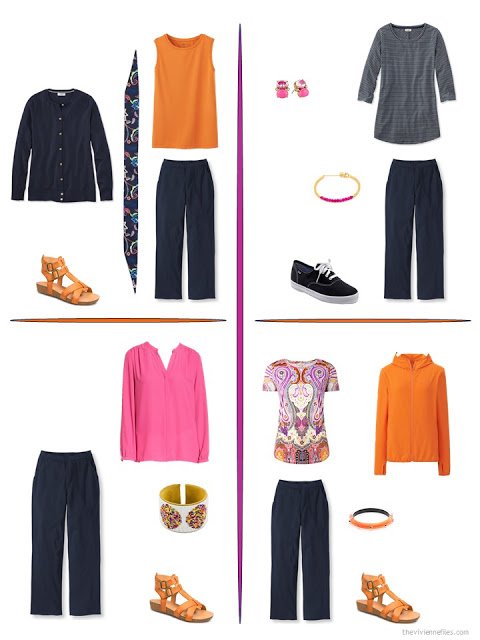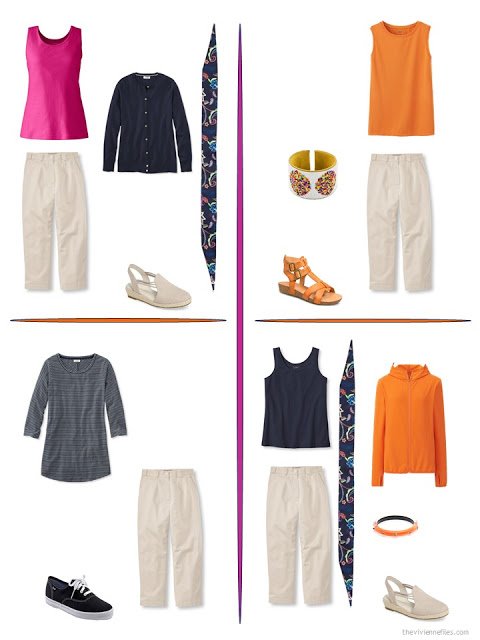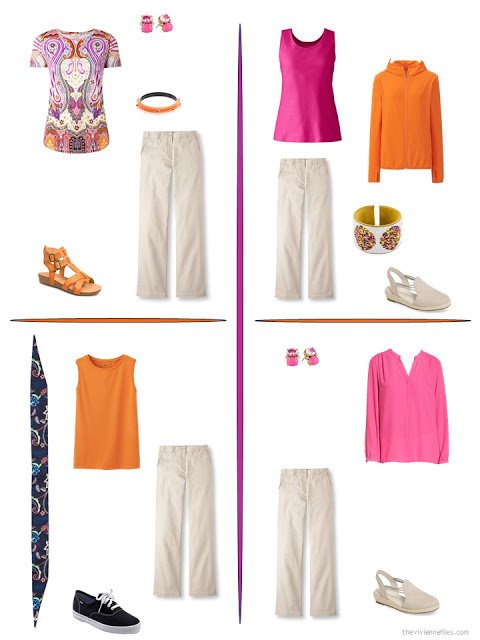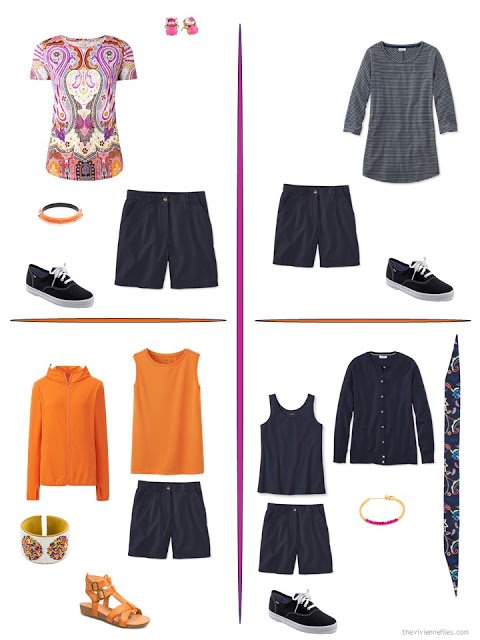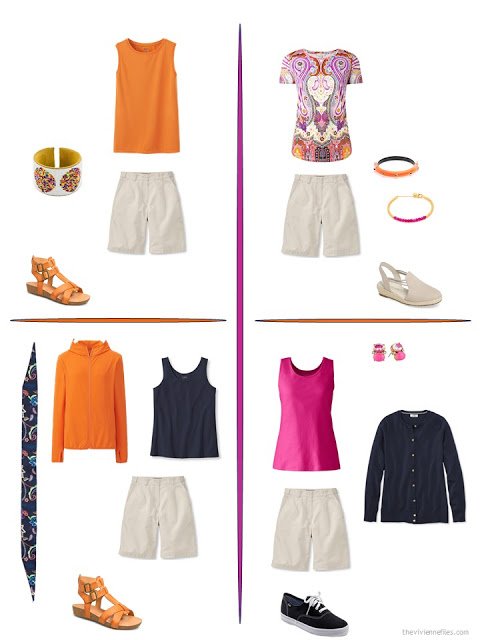 Yet again, changing just over half of the pieces in the wardrobe, and changing out accessories, has completely changed the mood of the wardrobe. This is really proving to be an interesting exercise, isn't it?
love,
Janice
p.s. I discovered a wonderful sunscreen for the face: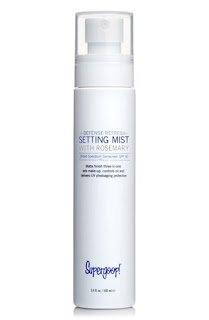 You close your eyes, tuck in your lips, and spritz your face (and neck, and nape!) a half-dozen times. Wait… wait…. you want to let the mist settle, so that you don't get it in your eyes. And you're DONE! No rubbing, no getting goo on your hands, no slippery fingers… Supposedly it sets makeup, but I know next to nothing about makeup. But I wore this Monday when we walked THIRTEEN MILES, and I didn't get sunburned. That's pretty amazing… Plus, it smells good!