April 20, 2017
Such an amazing painting – from such an unusual and compelling point of view!And I've noticed that the central color of the jumper is dark brown on my main computer, but that she is more olive green on my laptop! No wonder we have so much trouble talking about colors – we're not even necessarily seeing the same things…
But since I've found a few nice brown pieces, I thought that I'd stick with my initial impression that she's mostly brown. Maybe I'll re-visit this painting and use olive instead – what do you think?
My only style thoughts were of a strong respect for the sky, space, flying, and birds! But this color scheme could really work for a long time, although it would take a long time to find just the perfect pieces. (as always…)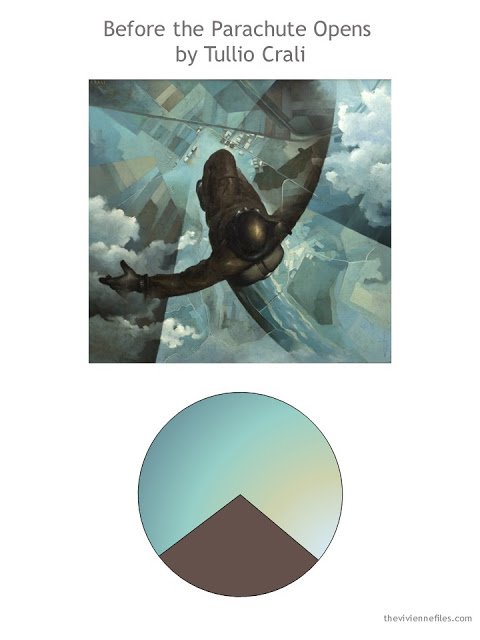 So maybe my heroine is traveling to a flight school? To go bird-watching? To the Smithsonian Museum of Flight in Washington DC?
As always, my travel outfit includes closed-toe shoes; I'm always amazed/concerned when I see people flying in sandals. At a minimum, don't your feet FREEZE? Not to mention the fact that you walked through the security checkpoint in bare feet (major ickiness there!) and if the plane has to be evacuated…. well…
Our heroine is only away for one night – a lovely but not overly dressy evening out, for which she'll change shirt, shoes and jewelry. (note star jewelry – the sky is always on her mind…)
For her return trip, she pays homage to birds with a very avian scarf, and some feather jewelry! (these kinds of obsessions/signature elements don't have to be screamingly obvious; I don't know that anybody would notice these little touches.)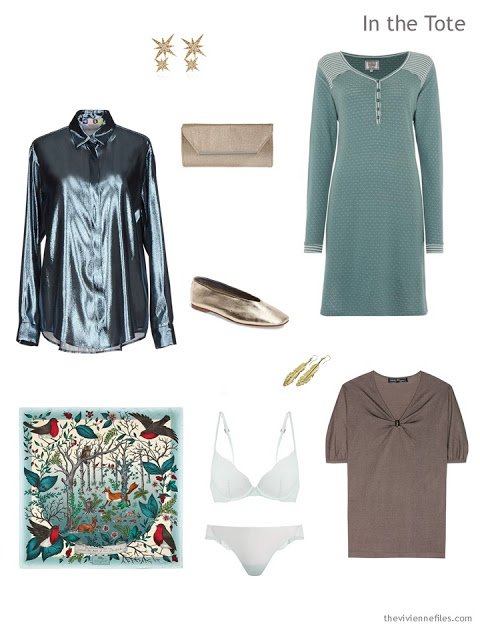 The fabric of her blouse for evening, coupled with some small but sparkly earrings and metallic ballet flats, makes even the most casual of trousers "pass" for the night. Nobody's going to get down and carefully analyze your pants – if they do, give them a little kick. Or two.
Her return trip outfit is pretty monochromatic, so I chose a scarf for her that is both the perfect colors AND that echoes her flying and sky-oriented state of mind. Simple gold feather earrings are all she needs for jewelry.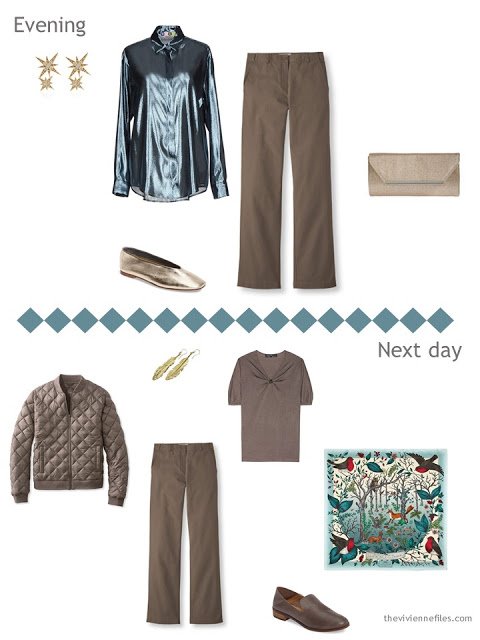 This is everything that she has with her; being stranded would be a bit of an issue, because she's only got that 1 pair of pants. But at least she could mix her accessories around a bit and at least feel a little bit changed…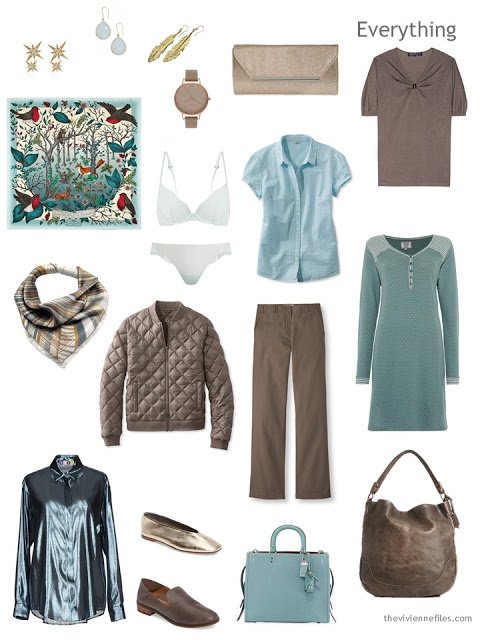 Lest you think that my repeated concerns about being stranded are silly, a friend of mine was just stuck in Berlin for 2 days. Two DIFFERENT hotel accommodations, AND they lost my friend's luggage. Friend is finally back home, but still without the checked bag. Carrying on just makes sense…
love,
Janice
PS – For more tips on traveling light, check out my page all about packing.