April 19, 2017
While I continue to wrestle with a brown Neutral Building Blocks capsule wardrobe, I'm still playing around with the navy and grey wardrobe from earlier this week. I realized that (a) we should take a look at some accessories, and (b) these neutral pieces translate into a WONDERFUL travel wardrobe!Imagine this outfit for almost any kind of travel – in a car, on a train, or flying. Sleeves that can be rolled, a cardigan than can be cuddled, a watch for punctuality, sunglasses for the coolness factor, and a small touch of jewelry to bring focus to your face. Some comfortable shoes and a good tote bag, and you're all set!
The first outfits that I was going to address for accessories were those that used the Neutral Building Blocks as a suit of sorts… With a navy cardigan and skirt, the striped top doesn't need a lot more accessorizing. I thought that earrings would bring a nice bit of "finish" to the overall look. I really wanted to include a pair of simple low-heeled ballet flats and a small navy bag to carry the essentials. While this outfit is a bit dressy, thanks to the skirt, it's still easy to move around because the shoes are great for walking, and the bag doesn't weigh you down!The more casual outfit with pants, tee shirt and jacket seemed more like a tote bag kind of ensemble. I chose one in grey just for variety – it would, of course, be fine to have a navy tote, but when you're working with 2 neutrals you might want to be careful not to go overboard in favor of either color. This scarf is a very inexpensive cotton one, so it's pretty ideal for warmer weather – if it's too hot to wear the scarf, you can always tie it to the handle of the bag!
And these shoes will be really useful in this wardrobe. They can be worn with or without socks, so that means that they're good to wear for most of the year. Since I turned this into a packing wardrobe, the shoes are going to reappear!
Next, we have outfits that use a column of the darker neutral navy, with a lighter grey 2nd layer worn over.The first outfit is very casual – a walk on the beach, sitting on the deck kind of look, so I thought that really casual sandals and a pair of sunglasses would be essential. (You've GOT to have sunglasses, right?) But just to keep things pretty, I tossed in an easy-to-wear bangle bracelet…
The 2nd outfit is a bit dressier – that draped tunic makes things look more feminine. Say you need to go into town to meet with the contractor who's going to re-do the kitchen… You've got a cardigan because you know that the air conditioning might be in overdrive, a really fun braided bracelet to draw attention to your hands, and a somewhat whimsical pair of heart earrings just to prove that you're not stodgy! You wear your ballet flats and carry all of your notes and photographs in your tote bag. Good to go!
I then wanted to look at a couple of outfits that used the same long-sleeved shirt style. For the first outfit, you all decide to go into town for dinner on a chilly evening. You've got your cuddly cardigan, and a touch of jewelry to bring attention to your face and to your conversation. Your loafers are perfect here…It gets sunny the next day, but very breezy, so you pull out your other long-sleeved linen shirt, with shorts and a sweatshirt. While everybody's frolicking around on the canoes, you're going to sit in a lawn chair and polish your nails navy blue! (you're not the boring one in THIS family…) Your ball cap gives you enough shade to be able to watch the family silliness and protects your scalp and face.
These last 2 outfits mix up the pieces with no real pattern…The first outfit is for wandering around in one of the nearby small towns – maybe some grocery shopping. (Keds pack down small!); If you want to sit outdoors, you can get a bit of sun on your arms, but if the afternoon turns chilly, (or if you're lingering in the frozen foods section of the market) you've got a jacket and scarf…
And the last outfit gets you back to work on Tuesday morning, looking like an adult, but still comfortable.
This shows everything that is packed for this mythic long weekend away. It would certainly be easy to do a little bit of judicious editing to make this wardrobe even smaller, but I felt like throwing all caution to the wind for once and packing a wide assortment of things. (maybe some pieces would be left at the cabin until the end of summer?)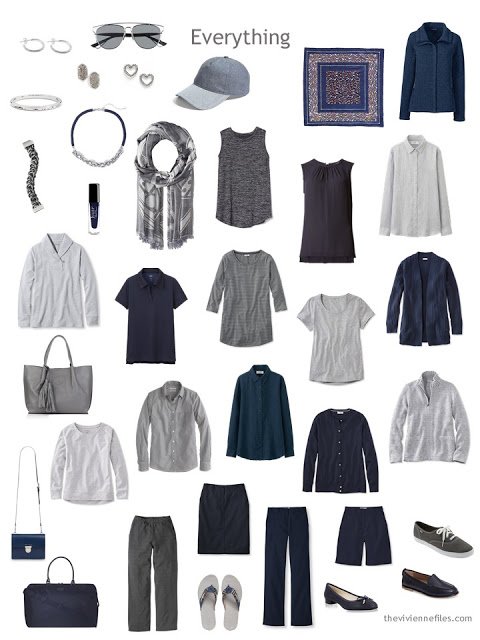 Right in the middle of writing this up, I got a call from someone inviting Belovedest and I to visit their farm in Wisconsin for a weekend; can you tell I had "getaway weekend" on the brain?
love,
Janice
p.s. I've put a new page on The Vivienne Files – "Shopping The Vivienne Files." It's a direct connection to some of my favorite stores, that I search through every day when I'm building our wardrobes. I'm also going to put links to some of my core garments in my personal wardrobe. If you click through these links and make a purchase, it will indeed generate a commission for me – I'm very grateful! If there's anything you'd like to be able to easily access from this page, let me know and I'll put a link…