April 11, 2017
It's apparent that I could do these for a while – I'm going to have to remember to tackle this idea again the the autumn! But for now, I decided to venture into the idea of lavender, confront the controversy surrounding just exactly what color IS coral (well, in many places in the world, coral is turning white…) and then throw in a complete wild-card multi-colored accent based on one of my favorites stones!
And while I'm at it, I thought I would see if I could provide some ideas for those among us who don't want accent-colored shoes, and those who aren't in need of a cardigan!
(Where do you stand on accent shoes? I have very average-sized feet, and wear monochromatic outfits most of the time, but I can NEVER bring myself to put on a pair of accent shoes! I've had a couple of pairs of lovely red shoes, which one would think would be perfect for me, but I find that however much my rational mind says "put on the red shoes!" my instincts reach for black. Does anyone else experience this?)
First up, let's look at lavender. No shoes here – lavender shoes are hard to find, anyway! So an extra piece of jewelry – amethyst earrings are never a bad idea…
I decided to NOT identically match the shades of lavender – they're the same hue, but different intensities… I think it works well!
Just a reminder of the Neutral Building Blocks with which we're working:
It's not surprise that this looks nice, is it?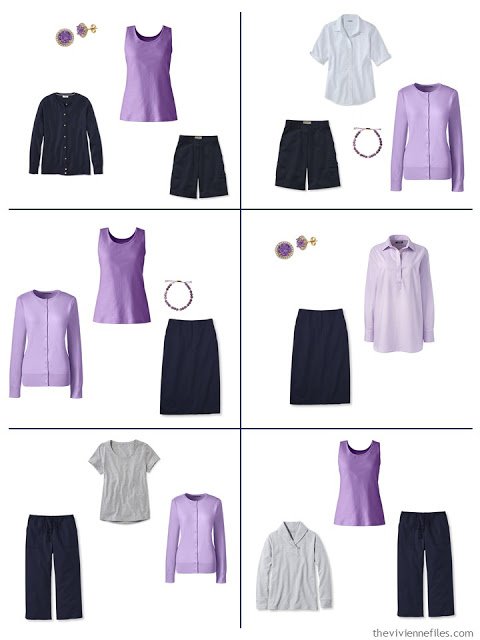 A last look at our olive and khaki Neutral Building Blocks:
Let the conversation begin! Would you wear these? Some I would, some I wouldn't…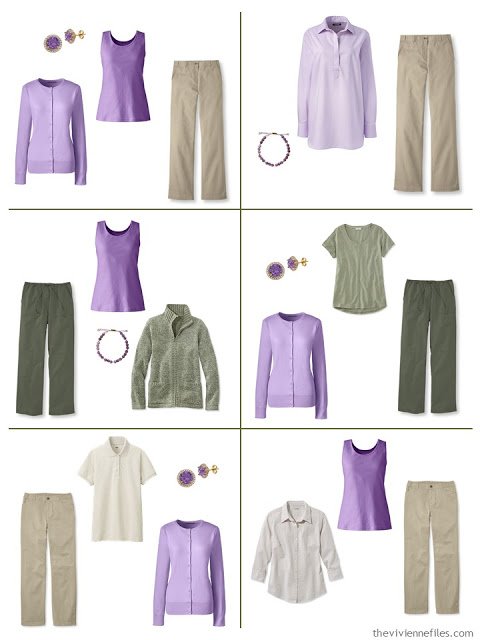 And a last glimpse into my summer wardrobe, essentially! I have a lot more pieces than this, but this is a pretty practical core from which to start…
This looks pretty good, I'd say…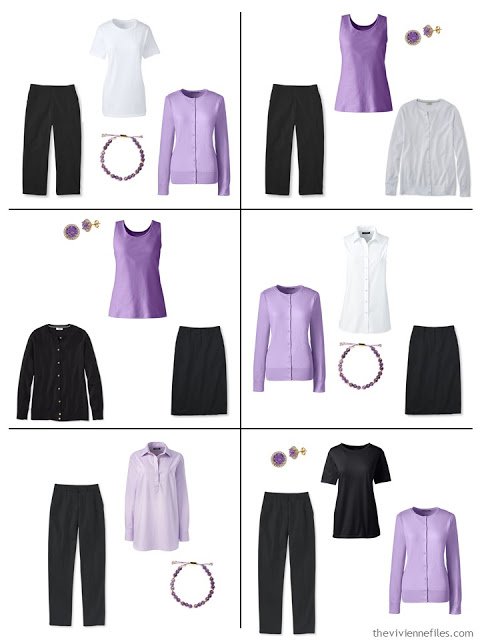 If you go onto the internet and start searching for coral-colored garments, you'll get everything from this shade through to very intense orangish-red. I decided to choose a nice simple pair of flats, and then build around them – if your coral is different from this, the principle remains the same. This selection was made with the woman who doesn't want another sweater in mind (how much fun can you have with a little accent-colored bag, in the warm weather?):
Every time I do an exercise like this I realize again how very versatile navy can be: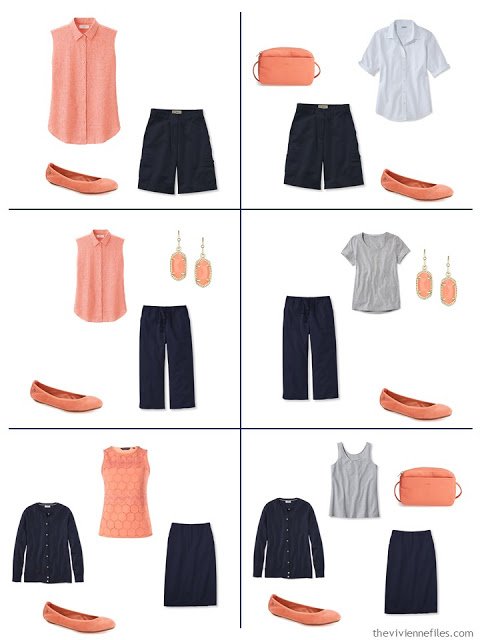 I love this…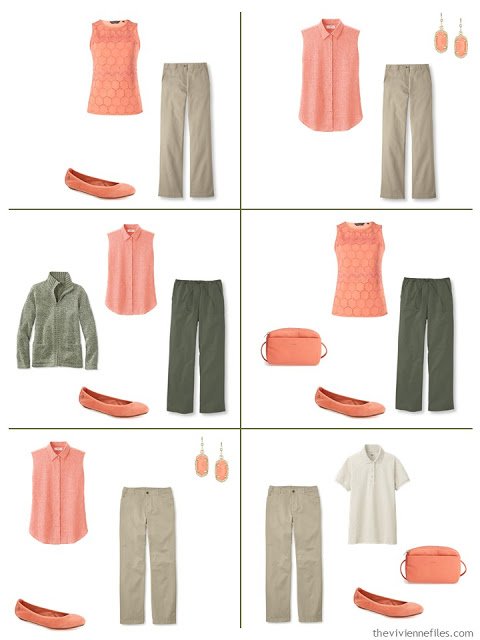 And I could even see myself in these, and I've not worn a warm-toned color since I've been old enough to choose my own clothes!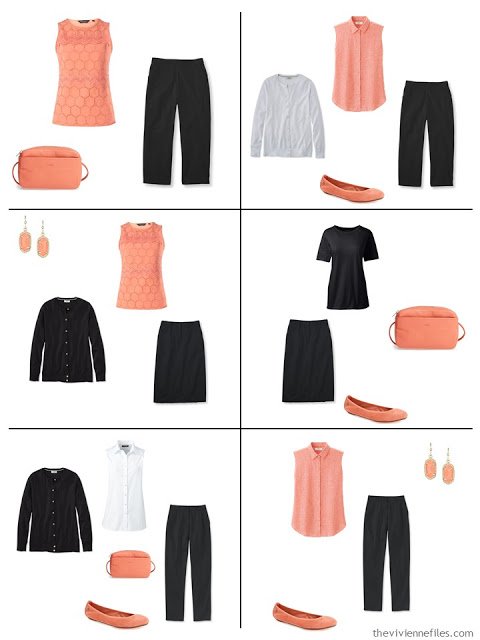 Here's where I decided to go completely off the rails! I love labradorite – the iridescence of the stones, and the lovely colors that show up. So I decided that I would built a French 5-Piece Wardrobe around a piece of jewelry – why not? There are not rules to any of this…
Navy, what a great neutral!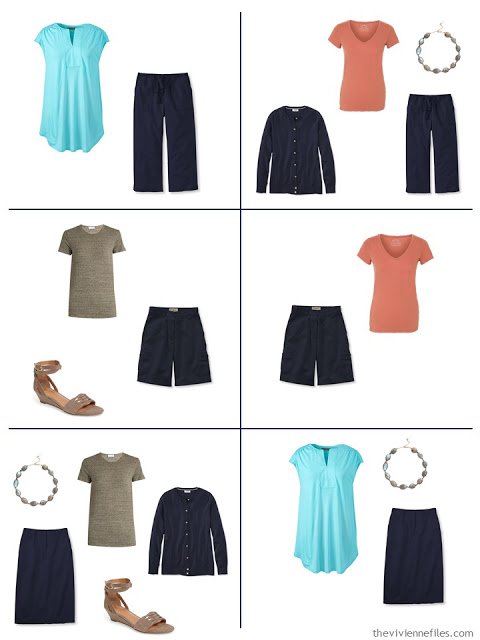 This really appeals to me, too!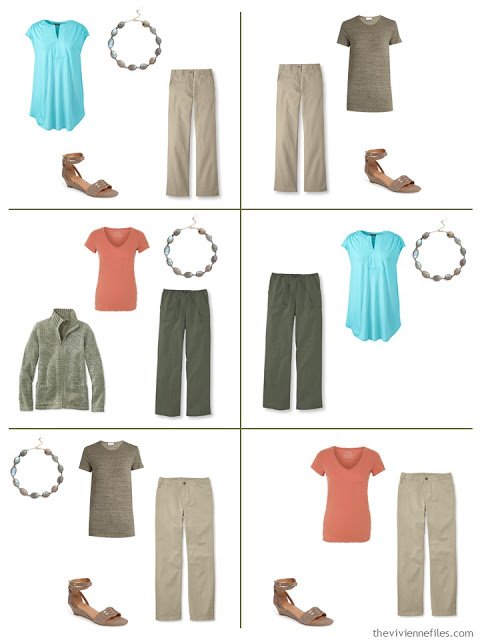 And I find this to be a really nice way to bring warm colors into a black and white wardrobe: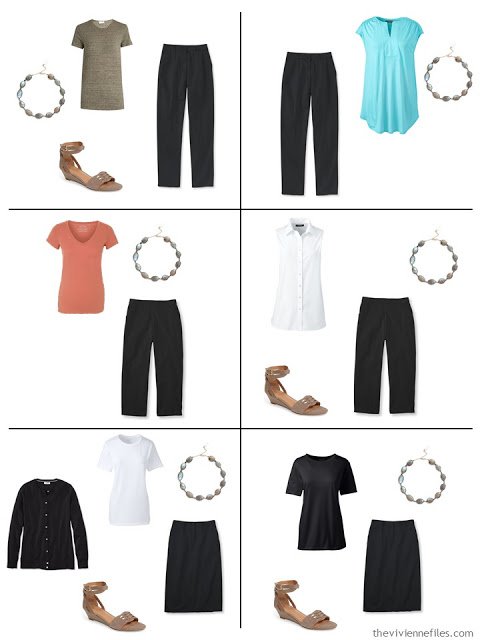 If my posting schedule is erratic in the next few days, please be advised that I may have family obligations that take me away from you all. I'll hurry back, I promise!
love,
Janice
PS – To read all the posts in this series on French 5-Piece Wardrobes for Spring, check out: