March 23, 2017
A normal blogger would wait until this was finished to share it with you, but nobody's ever accused me of being normal!
I freely admit that I think Ted Baker London makes some of the most beautiful scarves, and that they are an excellent starting point for a well-chosen capsule wardrobe. This just screams spring to me… and if you're a pansy person (or you love someone who is) this would be a beautiful "no reason at all" gift:
This beautiful floral is available in such wide-ranging lovelies as ballet flats, bags, 2 swimsuits, a cover-up, cropped trousers and a matching sleeveless top, a blouse, a tee shirt, a couple of skirts, a couple of dresses and of course other shapes and sizes of scarves. I have to admit that a tee shirt in this fabric would be tempting – it's a really easy to wear this beautiful print, without having to be "scarf adept." Or the sleeveless top in hot weather….
At any rate, the colors that we're going to have at our disposal are so lovely!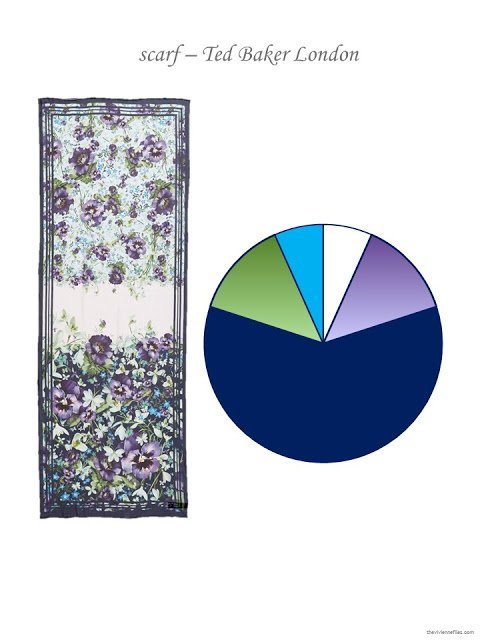 I've only made it through the first four months of the year, on the wardrobe-building front, which is why I hesitated about posting this. But I thought maybe seeing just a few months might give you an opportunity to better "digest" these outfits, rather than having a dozen thrown at you all at one time…
Yes, these outfits are long on basic garments; I don't think that there should be a lot going on in an outfit to distract from (1) the beautiful scarf upon which we're focusing, and most importantly (2) the beautiful woman wearing the clothes!
Yes, a sleeveless dress in February might seem a bit nutty, but I'm thinking of Valentine's Day, and then of a dress that can be worn through the spring and summer. That's the beauty of the matching cardigan – it makes the dress wearable, and then gives you that bit of flirt factor if the restaurant, theater or other venue is warm…
I love cropped pants and ballet flats for spring; my legs really almost never get cold! (and yes, the earrings and necklace match; you don't ever have to wear them at the same time!)
This is what you have for clothing, so far; this would be a great long-weekend springtime travel capsule wardrobe: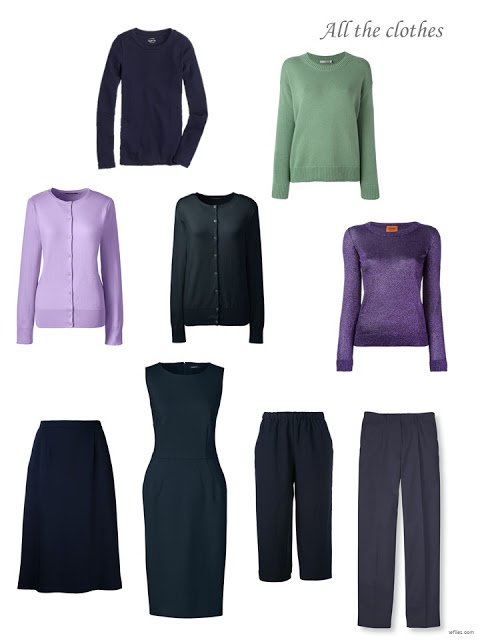 And knowing that I'm going to be building substantially on this start in the next day, we can see where I am for a good core of neutrals, with a decent percentage of accents. This will of course "flesh-out" beautifully as the outfits are added…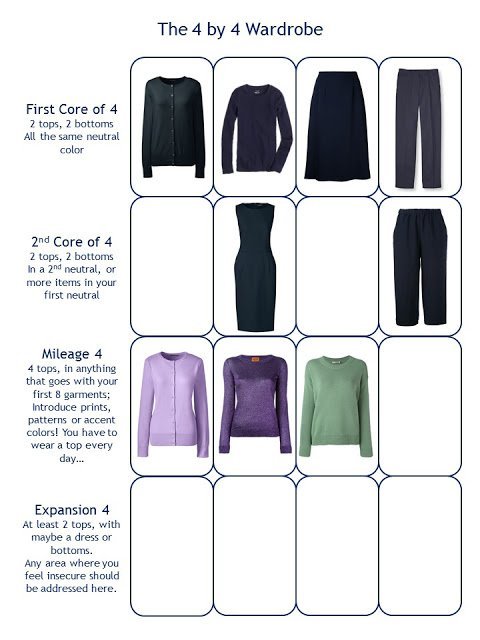 Sorry for the miniature post today, but I've had a very difficult time getting myself moving; some days I just plain need rest, and my body will NOT be denied.
But I'm always thinking of you,
with love,
Janice