March 22, 2017
Someone asked me what this wardrobe would look like with ONLY ivory and black pieces, incorporating prints and patterns as the accents. And someone else asked what I would do if I were choosing how to build on the original 9 Neutral Building Blocks. So I thought I'd incorporate both ideas into one post – a last look at those 9 ivory and black pieces!
First off – these are the pieces that I would add, if I were going to build on the neutrals. It would be really easy to just get seven striped garments! But I always love a good marled sweater, the mitered skirt is a fun way to slim one's hips, and then there's that Keith Haring tee shirt that I like so much…
And just for reference, the original nine wardrobe Neutral Building Blocks:
Imagine a trip – something around 2 weeks or so – and this 4×4 Wardrobe is what I'm packing:
Of course, let's not forget that I have the 12 outfits (at least) that can be pulled together just using the original 9 solid-color garments: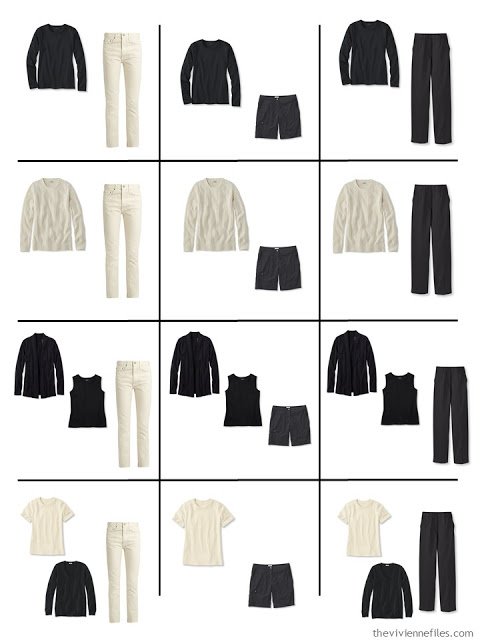 This first outfit looks like something I might wear to travel (maybe black pants instead of recklessly dangerous ivory?), and then the 2nd outfit might be what I'd switch into for hanging out in the hotel, or dashing off somewhere, if the weather's nice enough:
I'd be certain to have one top that was soft, somewhat lightweight, and a little bit draped, just to be relaxed and a bit feminine.
While the marled sweater isn't exactly a solid color, it's such a subtle mix of colors that it's really easy to wear with more overtly "printed" garments.
Wearing the striped shirt with the striped skirt might be really risky, but having the solid v-neck sweater over the shirt keeps the actual "contact point" of the 2 fabrics from being visible, and limits the amount of shirt showing to just the collar and maybe a bit of the cuffs. I wouldn't be at all self-conscious about the mix of stripes, when limited in this way!
And I own the Hershel backpack – I'm loving it. It's surprisingly roomy, but doesn't feel bulky at all when I carry it. Sort of a Harry Potter-ish kind of a bag…
The silk scarf is small, and would tuck into the collar of the shirt easily. While it's a print, I think it will work well with the shirt, since the shirt stripe is subtle. I'd have to have them in hand to be absolutely positive…
It would be fascinating to try on this skirt and see just HOW those mitered stripes flatter… Normally, I would travel with a solid black skirt, but having something like this might be fun – it's not as if you're under contract to wear madly different outfits every day that you're traveling!
The pattern on these pants is so small that you needn't worry about them being unflattering – unlike some huge hibiscus pattern sprawled across your… body…
And yes, at this point you've seen all of the accessories before; having a theme for everything that you're packing means that a lot of things can work multiple shifts! And while I love this cardigan, the week that I buy a Lanvin sweater will be that week that has 7 Wednesdays in it…
This is how everything looks, all pulled together for packing. I have to admit that I'd prune out at least 1 or 2 bags, and probably a pair of shoes. But I think that with some judicious folding and organizing, I could easily pack all of the clothes, jewelry and scarves with no trouble!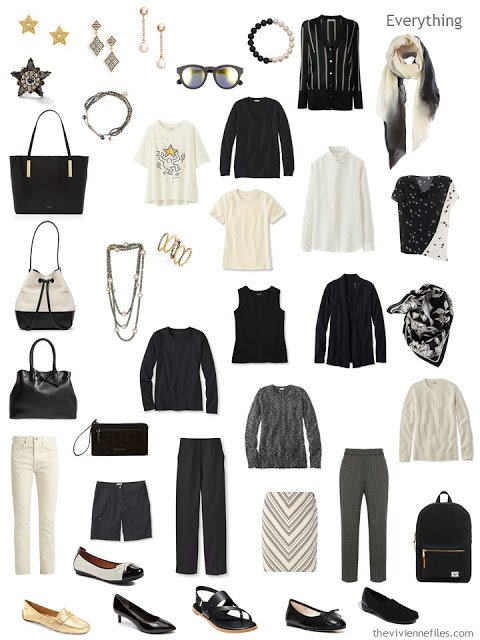 I'm going to take another look at 4 paintings, with the same neutral colors at the core, next week or the week after. I might miss a post tomorrow, because I've got something large-ish that I'm working on, and I might not have the stamina to finish it in 1 day. If I'm missing tomorrow, I apologize in advance!
love,
Janice
For more on Personalizing a Neutral Capsule Wardrobe, please read: