March 2, 2017
Monday I put together a wee wardrobe based on a most beautiful scarf, and today I'm going to add some accessories. Given my incredible fondness for numbers, I early on realized that the overall number of items here was going to be very close to 33, so I specifically aimed at that number…
First, let's refresh our collective memory of the scarf, and the colors we were using:
In case you didn't see this on Monday – the scarf is also available with a cream background in place of the black. Did you need more temptation? And this design/pattern is also available in other sized scarves, as well as some lovely bags!
And these were the pieces of clothing that I chose; there are 18 pieces here, so I'm going to gradually add 15 accessories to get us to our target 33 pieces: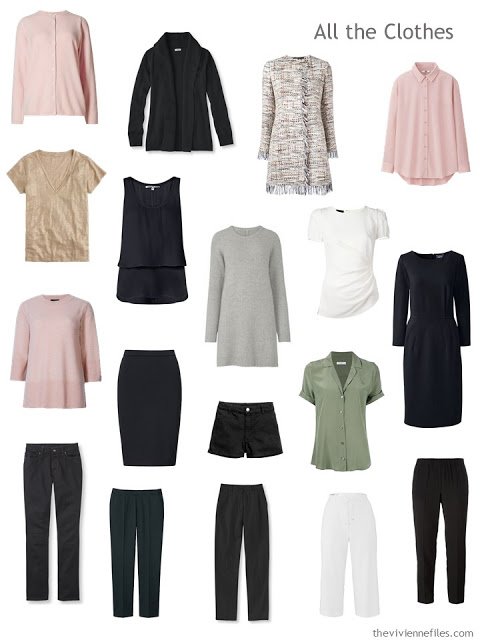 For no good reason, I'm starting with the most dressy ensemble, rather than working from casual to dressy, as I did on Monday. There's no rule about how to do this – just start where you want. For many of us, I would imagine it would make the most sense to start with the outfits that will be worn most often.
These earrings are extravagant, but could easily become a family heirloom… If you don't own 50 pairs of earrings, you can focus on having just a few very lovely, perfect pairs!
One of the beauties of this scarf is that it permits us to wear both silver and gold jewelry…
Yes, you absolutely could manage with only one scarf, if that's your preference. But having an option – especially a scarf of a different shape, and thus different ways to tie – is not a bad idea!
This outfit cried out for something a bit dressy – even over the top. I think the brooch accomplishes that quite well! (and that bag's pretty perfect, eh? but it's from the same designer as the scarf, so we can't be really surprised…)
I love the idea of blush pink loafers with this wardrobe, but the very first thing I would do with these shoes would be take them to the cobbler to have to sole edges blackened! The stuff is called "edge dressing," and it would make these shoes absolutely perfect with this wardrobe… (and for what it's worth, these loafers come in twenty-seven colors…)
It would be really tempting to have either silver or gold flats here, but I really wanted to keep to 33 total pieces, so I used the black flats again here. I would wear this without a second thought about the black shoes, but I'm curious to know if any of you find them too dark?
I KNEW that I would include either a backpack or a tote… seeing this tote made the choice easy!
This is such a simple outfit – I sort of envision the scarf worn as a belt? – that I felt comfortable going all-out for a great pair of earrings.
This is all of the accessories – assembled. This would be a great wardrobe to pack if your destinations were going to present you with a wide variety of weather conditions and levels of dressiness: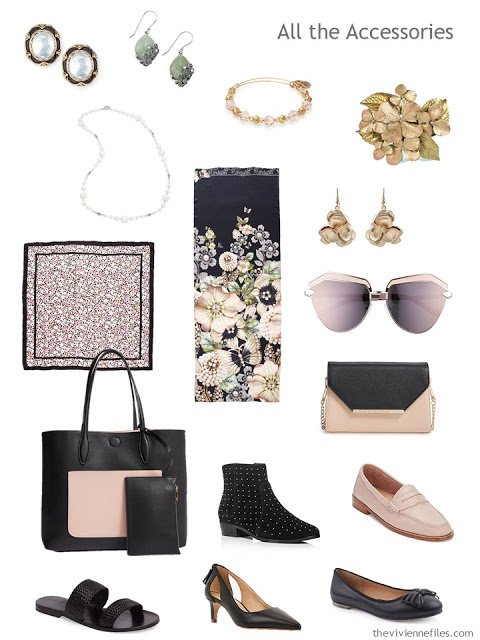 And here's how the Project 333 turned out… The template is a work in progress, and could easily be changed around to reflect more clothing, or clothing chosen in a different way. It just really suits my tidy brain to see everything on one page…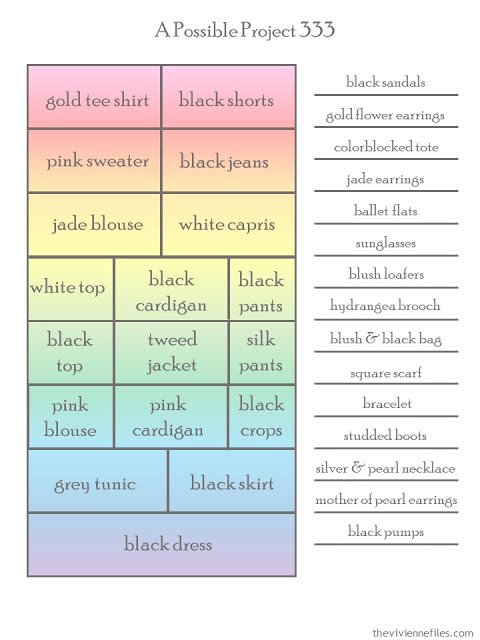 I've had another question about starting a wardrobe with a scarf, so I think I'm going to revisit this entire project with a completely different color scheme – navy, camel, grey and white…
love,
Janice
PS – Don't know about Project 333 or need a refresher? Check out my resource page on Project 333 to learn more.