March 3, 2017
People often ask me where I get ideas for blog posts – they should see my inbox! I get the most wonderful emails, with the most interesting questions… (if it takes me days and DAYS to respond, please don't be offended or insulted – I love to hear from you!)
Many of us start to feel like we need to migrate away from black, and toward grey or navy. One among you found a lovely scarf – vintage! – to help focus this wardrobe shift, and asked me for a few ideas. What fun!
First off – buying "luxury" scarves second-hand is just plain smart. You can find them on Ebay (which can be dicey, because they don't do anything to police against fakes), Tradesy, 1st Dibs, Etsy, The RealReal, Malleries, and its-all-goode.com. among others. If you have any concerns about authenticity of Hermes scarves, feel free to email me a link ([email protected]) and I can weigh in. But there are LOTS of other brands available, including Missoni, Etro, Ferragamo, Cartier, Tiffany (yes, they both make scarves!), Bulgari, Pucci, Chanel etc. etc…. It requires some patience, and some focus, and you might have to compromise on a wee spot or snag, but you just might be able to find something unbelievably beautiful for a price you could only have imagined. (let's be serious – all of my Hermes scarves did NOT come from the boutique…)
Our friend found this lovely scarf at Tradesy.com: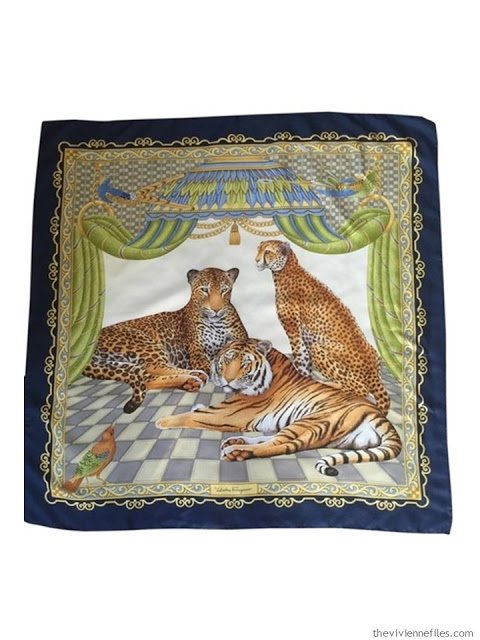 Here's where some real intelligence came into play – her preferred accent colors are forest and wine, but she was able to see PAST the other colors in this scarf and focus on the core neutrals she's planning with – navy, dark grey, camel and white. No scarf has to go with every piece of clothing in your wardrobe, and you don't have to use EVERY color in a scarf in order to wear it and love it to pieces… (that would be so restrictive that you'd never be able to get dressed!)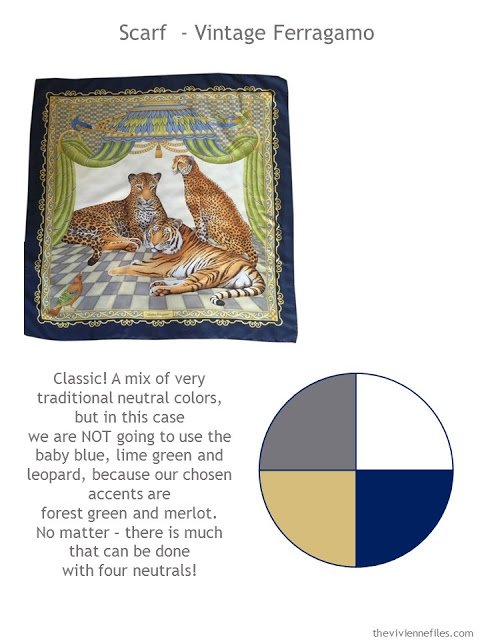 I don't know if I've ever actually said this or written this before, but it is entirely possible to build a functional and lovely wardrobe without ANY accent colors…. especially if you are working with four core neutrals that are as versatile as these! Every possible combination of these colors works beautifully…
In order to give this new color scheme enough options, I'm going to pull together a Four by Four Wardrobe, in a new way – I'm going to "buy" outfits that bring all of the essential pieces together. While these ensembles might seem pretty monochromatic and plain, once we put some accessories on them I think they'll work well. We shall see on Monday, eh?
Dark grey is very difficult to find this time of year – it's apparently considered an autumn and winter color, which is a crying shame. Patience is key to finding what you want – don't let someone sell you something that isn't in your plan!
I'm trying to cover a wide range of dressiness with this wardrobe! And I have to mention that, for anyone incorporating navy into their wardrobe, a navy blazer is a garment worth considering… it's classic, flattering, and madly versatile. J.Crew offers navy blazers in linen, stretch cotton Super 120s wool (a menswear grade fabric) and stretch wool (right now). They also have a navy and white "puckered gingham," which among my people might have been called seersucker? Hmmm….
And how nice is this piped shirt? And it's no-iron… I can personally attest to the wonderfulness of these shirts, AND they come in a wide variety of sizes! (petite shirts = shorter sleeves + enough "torso" space)
For what it's worth, the blazer and pants also come in both Petite and Tall sizes. Now if we could JUST get people to include some Womens sizes, the world would be a better place, in a small but important way!
Camel was the color we were targeting, but this time of year, a warm khaki or tan is MUCH easier to find. When the seasons roll around and you're able to find wool (or cashmere….. mmmm….), true camel can be introduced.
At this point, we have 14 garments, so I just looked for two more tops that included a couple of the colors in our color palette. I know that there are a lot of stripes in this capsule wardrobe at this point, but when you're trying to find 16 garments in 8 hours, you have to compromise; stripes are the easiest way to find "multi-colored" garments! In real life, you would have the time to look around at some length for a lovely neutral floral, or a paisley, or maybe a unique geometric pattern. Once you have your color scheme in your mind, you'll be able to pick our "your" pieces a mile away!
I have a hunch that this is going to prove to be pretty versatile: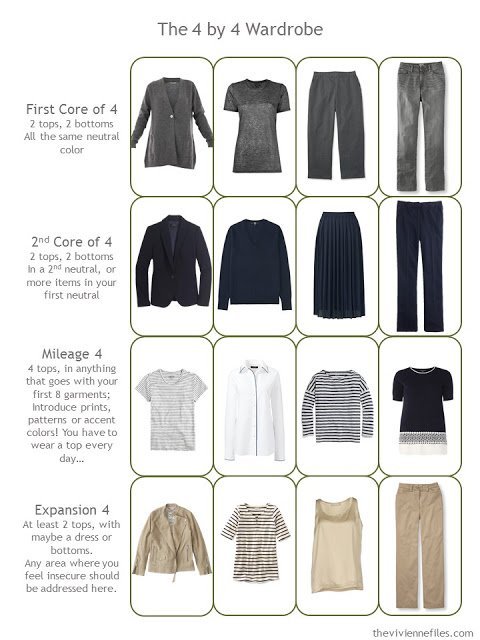 But as I am wont to do, let's test-drive this wee wardrobe!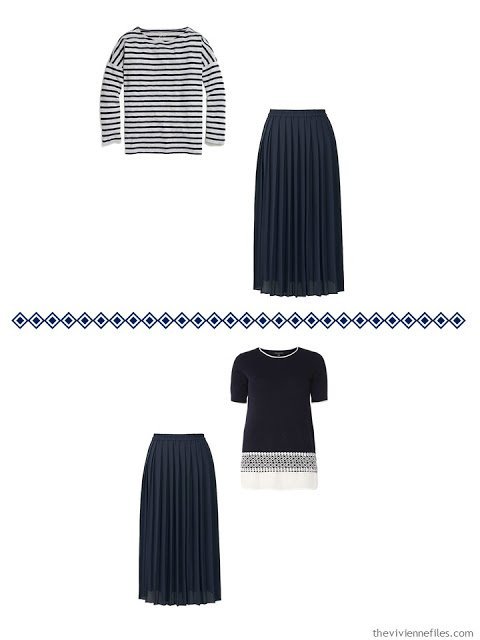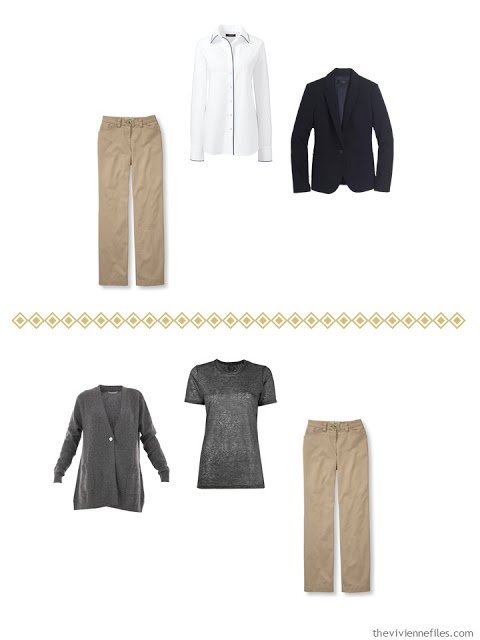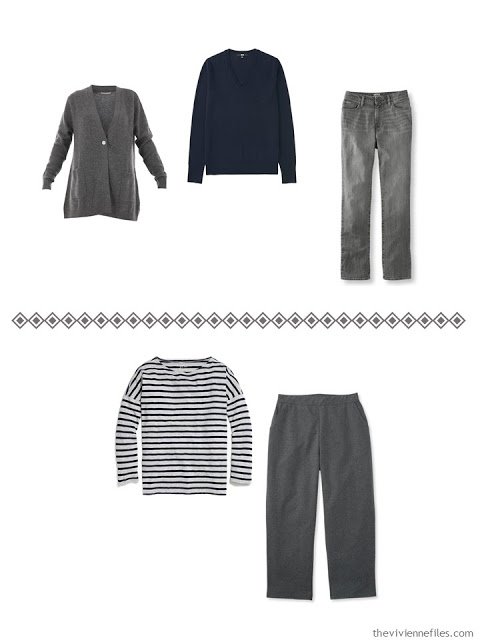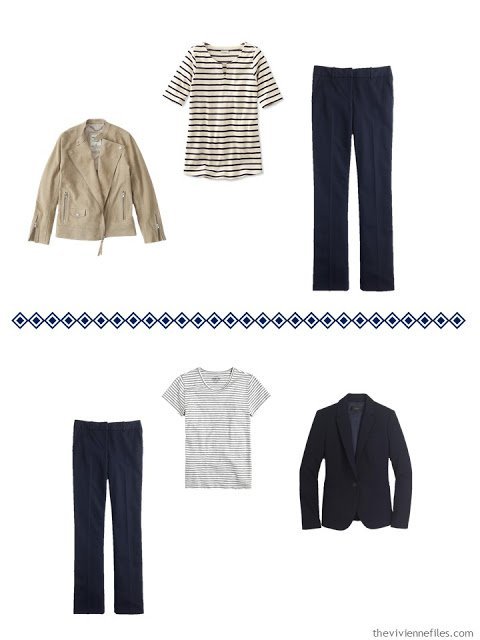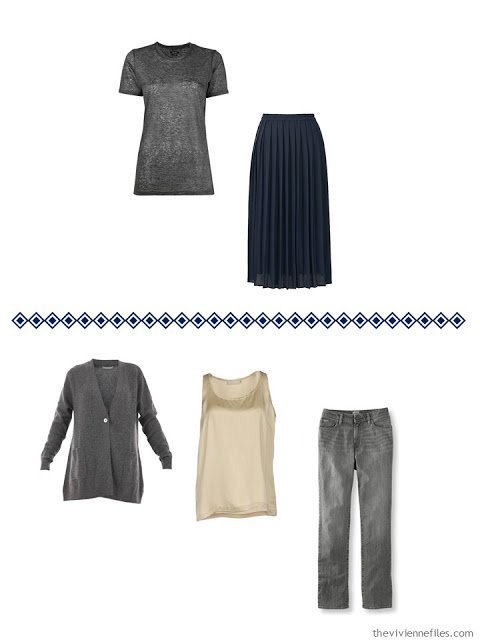 That gives us sixteen outfits from sixteen pieces of clothing – a pretty good rate of return, I'd say! And I'm thinking that the presence of all of those warm tobacco/whiskey-colored kitties on our inspiration scarf might suggest some brown leather accessories…. hmmm….
love,
Janice