March 6, 2017
Oh, how I love accessories! As much as it's important, and nice, to have good-quality, classic clothes, it's really the accessories that make outfits distinctively yours…
Let's briefly flash back to look at the scarf from which we're working; note that I've slightly changed the color wheel to reflect the focus that I'm going to put on brown leather accessories! I do these in PowerPoint, which gives you nearly infinite flexibility in the number of colors you include, the proportion of each color, the nuanced shade of each color, as well as the ability to change the borders (both color and width) at will. I don't think that PowerPoint was ever intended for this purpose, but it works really well!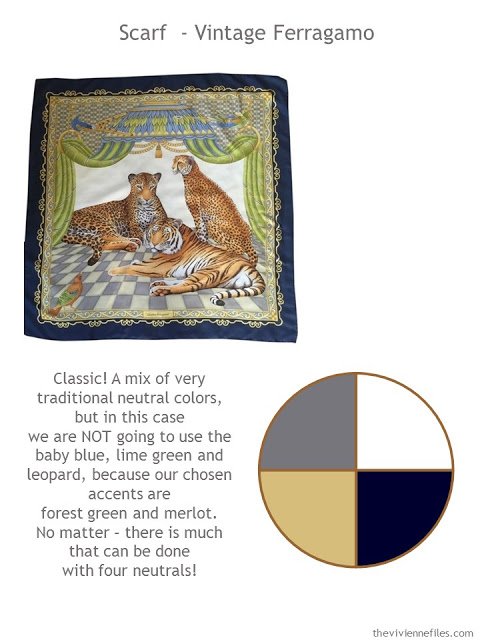 The lace trim on this top is an echo of the filigreed border around the "cat portrait" in the scarf, so I thought that a little bit more lacy quality, in a bracelet, wouldn't go amiss. And if you find the tobacco brown accessories uncomfortable, you could always switch to black or navy. Navy can be more difficult to find, which I think might be why you almost never see a man wearing navy shoes with a navy suit!
For those in the early stages of introducing warmer-toned leather accessories into their wardrobe, Longchamp bags are worth considering. They all have that warm brown handle and closure, and they come in a rainbow of colors.
And is this scarf perfect for this wardrobe, or WHAT?
You may really only need 1 belt in your wardrobe, so there's no reason not to make it a wonderful one! And I love the strong geometrics of the brooch… a good brooch can be amazingly useful, and there's no piece of jewelry that's easier to wear.
You know, if you count carefully, you'll see that I made a whopping mistake on Friday, and that this Four by Four wardrobe actually has SEVENTEEN pieces of clothing! These shorts never made it to the grid…
Ah, proof that The Vivienne Files is a one-woman operation, and that the woman in question isn't perfect! Thank heavens nobody much expects me to be flawless…
But anyway – wouldn't this be a glorious outfit for sitting under the umbrella on the deck by the lake on a hot day? Sipping a cool beverage, lifting the hair off of the back of your neck when I breeze comes by? Dozing, just a little behind your sunglasses?
Another really perfect scarf for this wardrobe – I got super-lucky… I could wear an outfit like this for days…
You might not want to wear both the bracelet and necklace… or you might! Different people have very different comfort levels with things like this, and it's very important to recognize and respect the things that you love versus those that give you an inner feeling of unsettled posturing, or costume-wearing. You don't have to take anyone's advice, if it makes you feel like you aren't being your true self – but you know that!
I looked and LOOKED at necklaces with brown leather and silver metal bits, but just didn't see one that suited me, so I thought that it was worth pointing out that there's no law against wearing gold against a dark pewter metallic top. No law at all…
Now I'm re-using earlier accessories, just to show that they're versatile and can be used across the range of this wardrobe: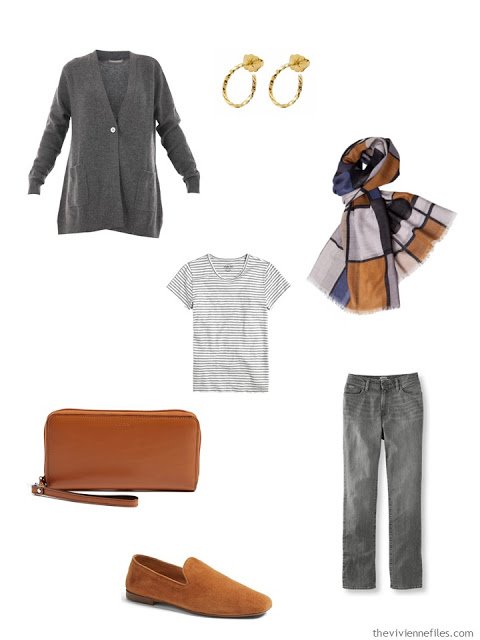 cardigan – Hemisphere; tee – J. Crew Factory; jeans – L.L.Bean
Why yes indeed, there is NOT a pair of shorts here! Only I could take 3 times 5, add 2, and get sixteen…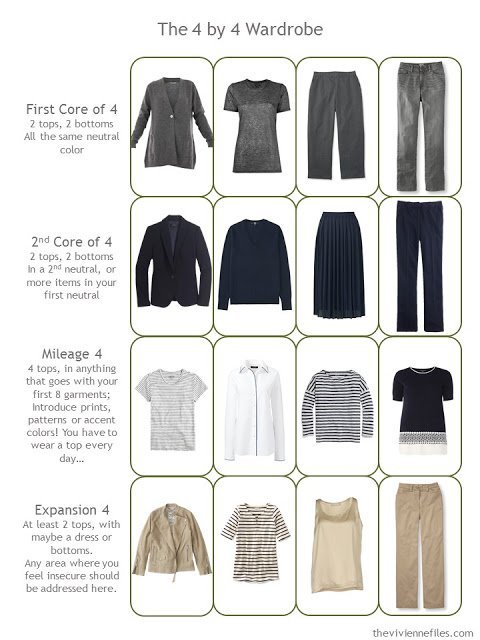 Aren't these lovely together?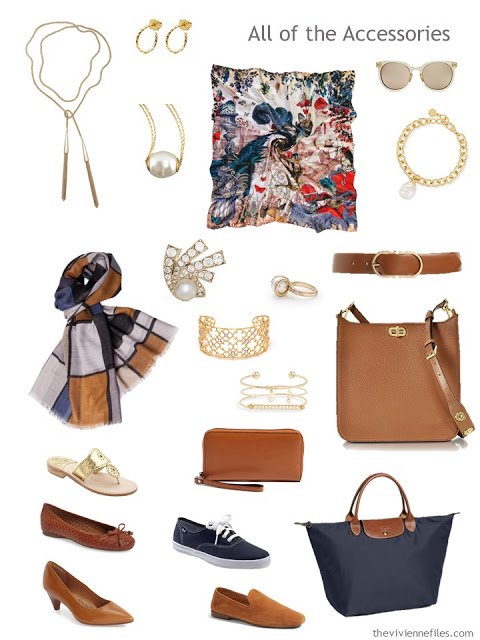 The rest of the outfits follow, now with accessories, to show that you really could pull together a lot of different looks from this relatively small collection of pieces: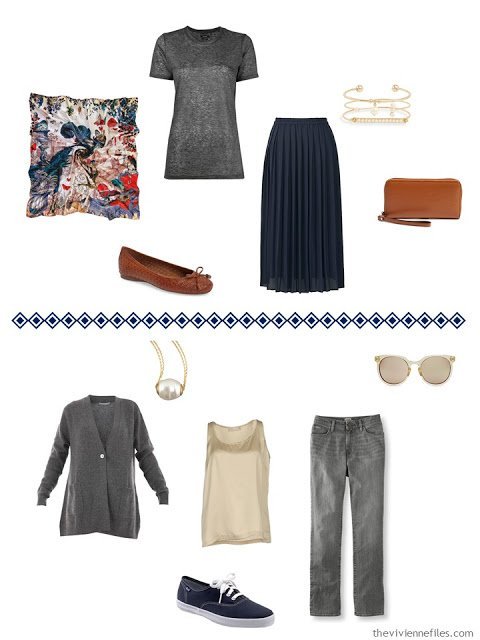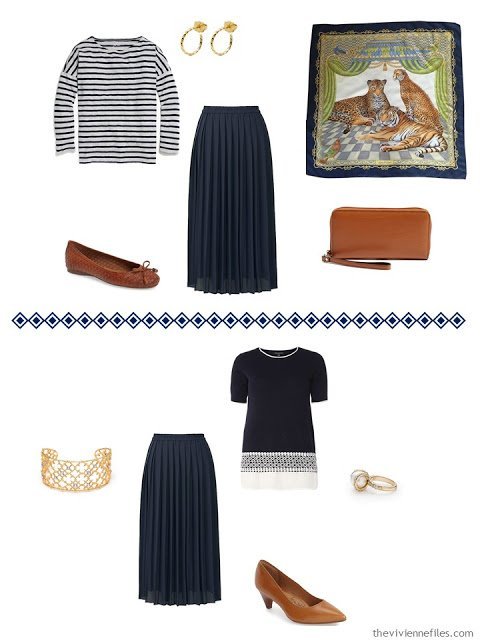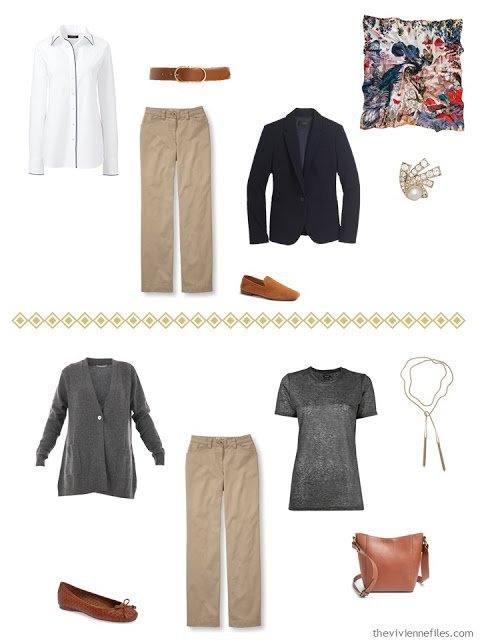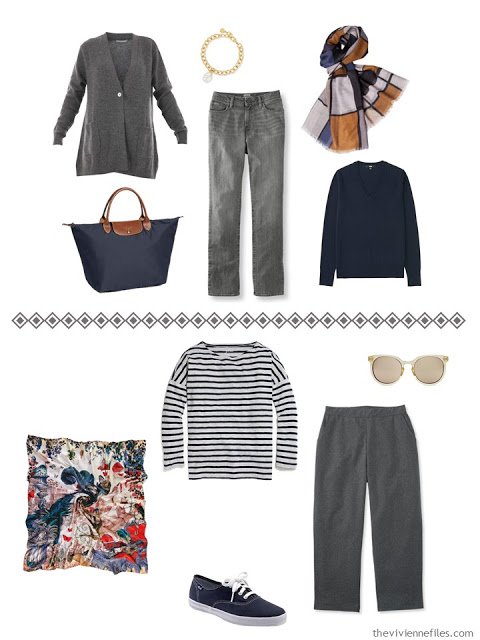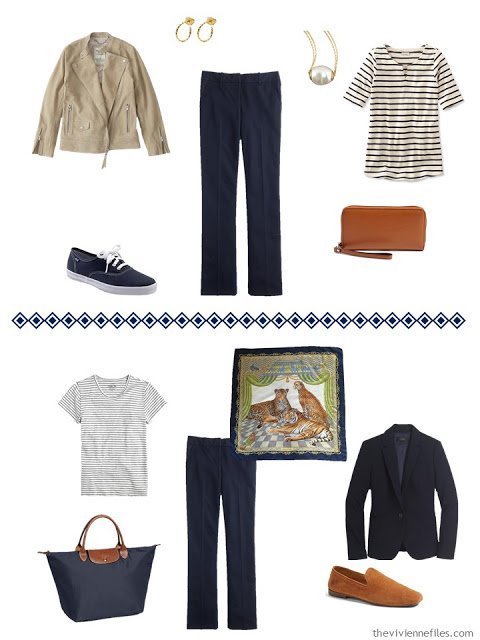 Tomorrow, I'm going to try to tackle the question of how one whittles down the masses of a normal wardrobe into a coherent capsule wardrobe. I have two different ideas about how to approach this, so it (I hope!!!) should be interesting…
love,
Janice