How DO you clean out closets? Hold things in your hand and see if they spark joy? With all the respect in the world to Marie Kondo, I'm NEVER going to feel joy from a black tee shirt, but having a handful of them is really important to being well dressed, in my life. So I keep looking…
(in all fairness, when you're talking about decorative or sentimental objects, her method is perfect…)
I've got a couple of ideas – let's try these out.
First, let's start with a fairly normal wardrobe. I think this is 50 pieces; I just wandered about the Uniqlo site and chose pieces without any real pattern or plan:
Let's get 2 things clear right from the beginning:
There's not one single thing wrong with any of these clothes, and they could all be worn, happily and beautifully, by the owner. This isn't about finding "bad" clothes!
You've got to WANT to accomplish something – your own personal something – when you plunge into this process. If you're currently perfectly happy with your wardrobe as it is, don't do this; there's nothing to be gained!
I'm thinking of this approach as The Color Method, because the very first thing I think needs to be done is that all of the garments get sorted out by color, and then to isolate the neutral colors here. In this wardrobe, I have this: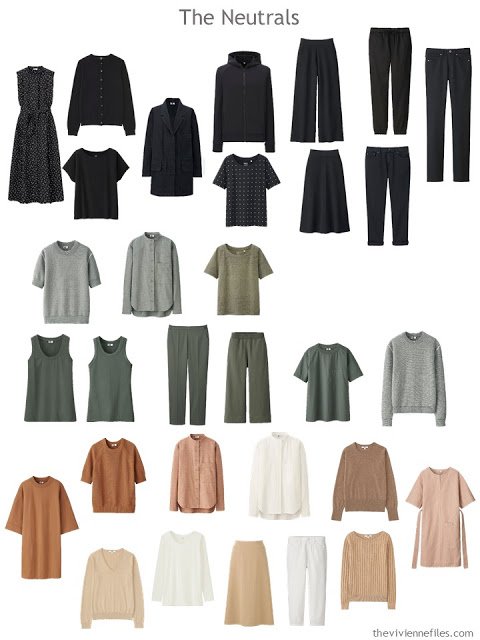 I'm struck by a few things, right away:
There's a LOT of olive green here, which suggests that the imaginary owner of this wardrobe is really drawn to that color,
There are TWO duplicate (sort of) garments – two olive tank tops with just the slightest fabric and styling difference, and both long- and short-sleeved versions of a marled olive and white sweater. Duplicate just scream some sort of attachment…
The range of shades of rust to camel is wide, and again indicates that these colors often catch our heroine's eye.
Black is very well represented, especially in "bottoms." Lots of us are culturally conditioned to keep darker colors on the bottom, so black could be a true affinity, or just an easy default choice.
Just sorting clothes out this way makes it possible to create a versatile Four by Four Wardrobe; sometimes a little organizing is all the further you need to go!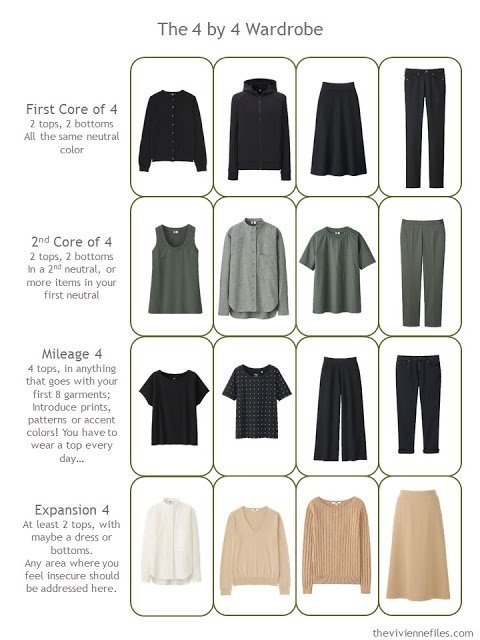 Pulling the 16 pieces out for the above wardrobe leaves us with a lot more neutral garments. It would be possible to make the case that maybe another pair of black pants is excessive, but they're drawstring waist with a gathered ankle, so it's not like they're exactly like anything else she owns…
In fact, I'd even hang onto the duplicate olive tank top! The only piece here that I feel is really out of place is that very "warm" olive printed tee shirt. This looks, to me, like something that was picked up on impulse – because it's olive, one of her favorite colors! – but that turned out to be the wrong shade. Things like this need to go BACK to the store pronto. We all do it, we should all learn to just suck it up and admit our mistakes!
So, at this stage, I'd suggest keeping all but one of these pieces: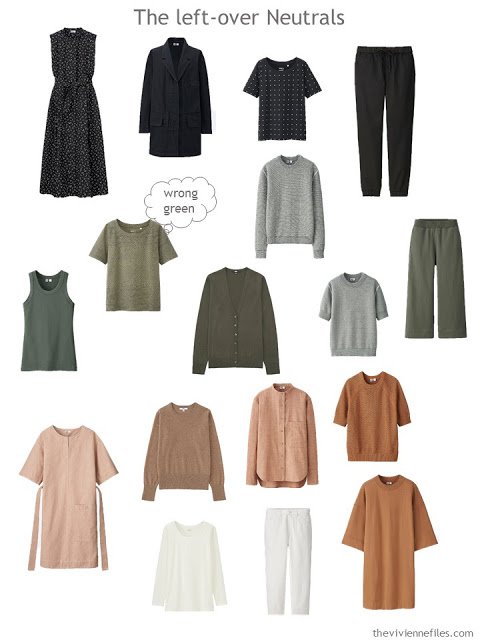 NOW: the hard part! What accent colors are we going to use?
At first glance, one would think that this woman clearly favors cooler accent colors, because they madly outnumber the warmer garments. But I'd like to offer an alternative explanation – she buys them because they outnumber warmer-hued garments about 10 to 1 in most stores, and she keeps TRYING to wear what everyone else wears.
Also, the five warmer garments include pieces that could almost be considered neutrals – the cardigan is light olive, the sleeveless top and dress are both just really intense shades of rust…
And finally, the cooler pieces don't feel like there's a plan or system there – one pink thing, one turquoise thing, a pretty blue sweater, a pretty red sweater… but you can't even put an outfit together from these things…
So for these reasons, I'm going to swing this wardrobe to warm accent colors. If this step feels difficult for you, just take the cool garments and store them. If you start to feel homesick for them, they're still about.
One caveat – I would definitely keep blue jeans, because they're pretty much neutral in our culture, and I would keep the grey tee shirt to wear with black, or with the very greyed olive pieces…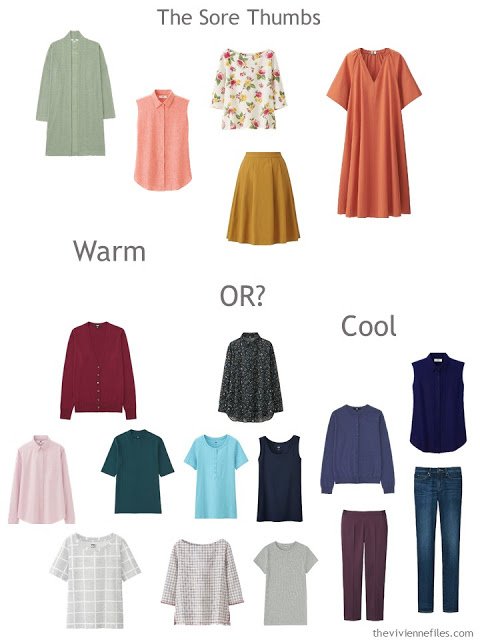 If you're really on the fence about what accent pieces to keep in the "active" part of your wardrobe, put together shell outfits from your neutral garments, and then test-drive any accent piece that's under consideration with each of the neutrals. Here's a couple of examples: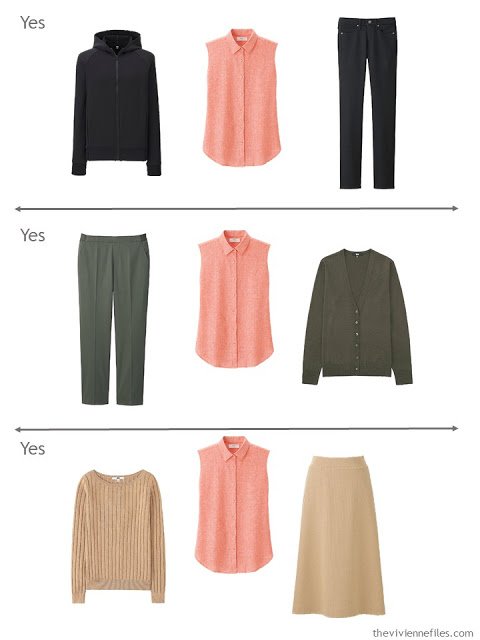 Camel pants seem like an obvious "soon" purchase, don't they?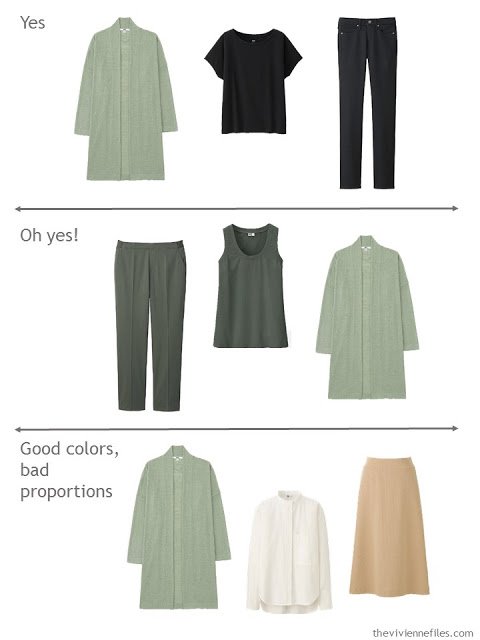 So, after we've put the cooler accent pieces into storage, we're left with this wardrobe. With the exception of the blue jeans, this all blends together nicely.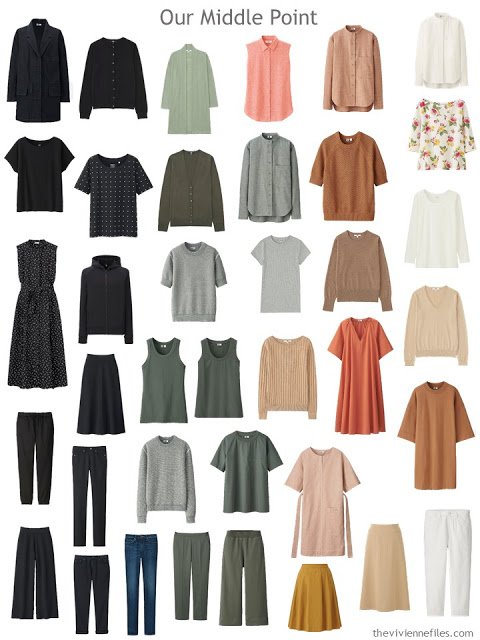 Now, let's extract a wardrobe for the upcoming season. Remember that your tops should outnumber your bottoms 2 or 3 to 1: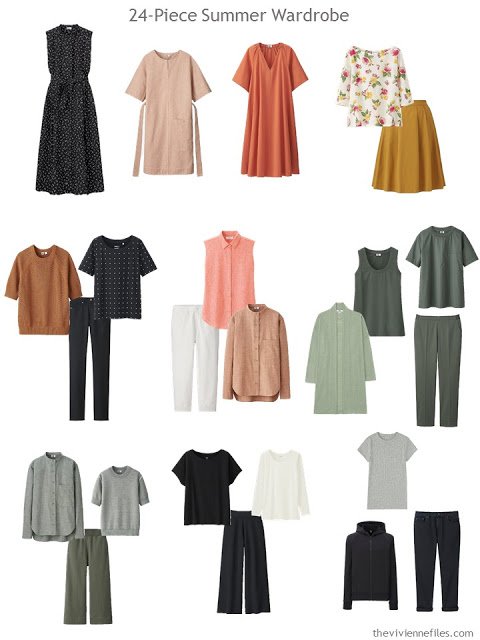 Everything else can be stored for a while; realistically, I'd probably keep the blue jeans in my closet too…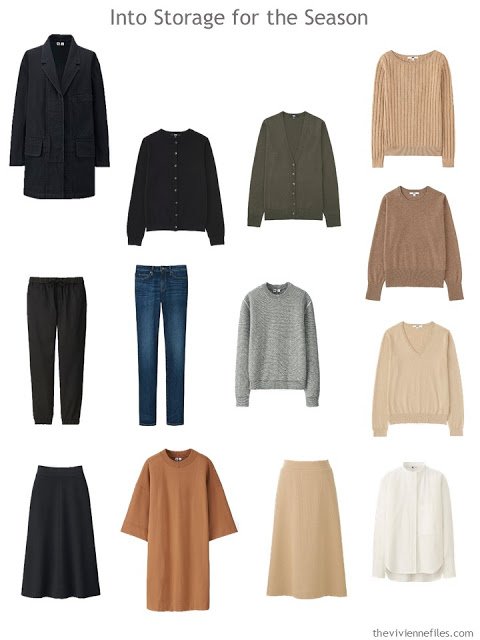 So, after this exercise, the 50-piece starter wardrobe now has only 24 (or 26, if you keep the jeans and the duplicate olive tank) pieces in your closet. It's got at least 15 or 20 outfits…
I know, this is somewhat overwhelming! I'm going to look at this wardrobe again tomorrow, with a different spin about how to approach the process, if this didn't feel comfortable for you. And I can always do this again if you'd like…
love,
Janice
PS – For more in the "Cleaning Out Your Closet" series, please check out: