Oh my… I know this woman, metaphorically speaking. She shops on payday. She buys pretty things. She loves what she buys, but never knows quite what to wear…. And this is what she sees when she opens her closet door:
She has a favorite store, which is a great place to buy a pretty accent piece… but she's never found a real personal style, in all of the very nice clothes that she owns…
So let's start her off by pulling out all of her neutral garments. She's actually not particularly opposed to the idea of neutral colors; she has black, denim, olive, white, ivory, pearl grey AND taupe in her closet. But note that it would be difficult, if not impossible to build a simple Four by Four wardrobe here. She has enough black pieces, but the black jacket's not really neutral. Maybe the white pieces would work as one of the neutrals… But there's nothing here that really gives us insight into a wardrobe plan for her.
I have a hunch that she is more comfortable wearing prints and patterns below the waist – maybe someone who's short-waisted and slightly heavier on top?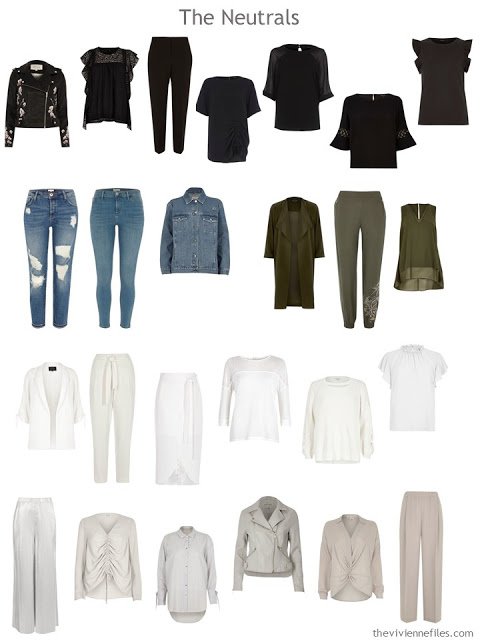 Accent colors might be where we can start to get a clue…. There seems to be a strong attraction to pieces that are truly pretty – floral, in soft blush and peach colors, and draping fabrics. Straying into the wrong shades, like mauve, is a problem. So is being tempted by bright prints that include her soft colors, but which give an overall impression too harsh for her.
The red blouse? Christmas, or St. Valentine's Day, I'd bet… The striped sweater? Was on sale, and has blush stripes in it, but doesn't actually GO with anything she already owns… The white floral pants might hang around for a while, in order to get some use out of the white shirts she already owns.
So let's make a first pass through here, and get rid of (1) mauve, (2) bright prints, (3) impulse or 1-occasion purchases, and (4) torn jeans. I just hate torn jeans; if you don't mind them, you can certainly keep them!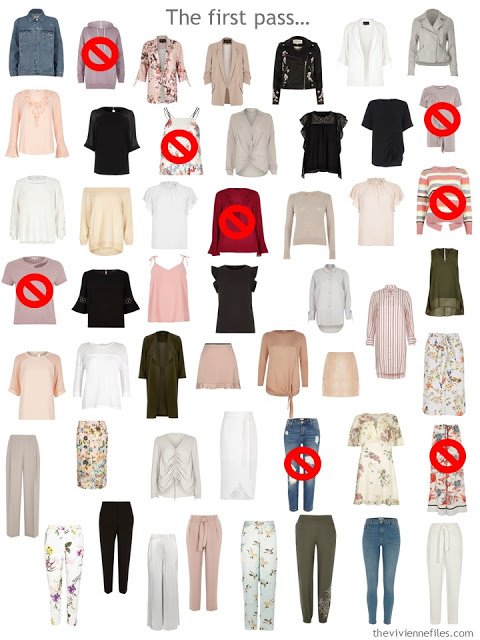 Just removing those few pieces gives this wardrobe a more coherent overall look, and pulls out some distractions…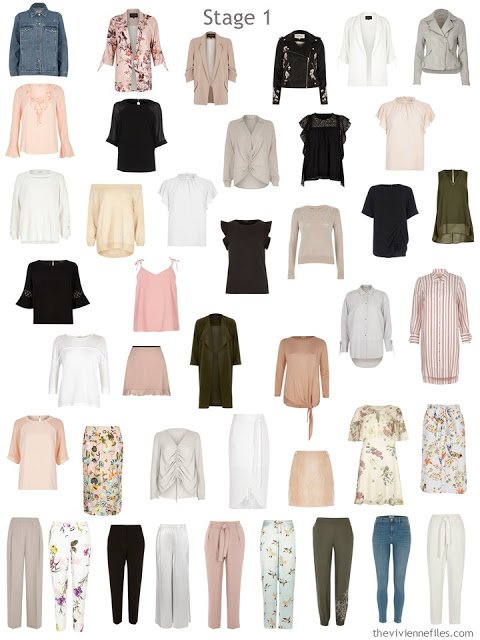 Maybe this is as far as she can push this project for now – where do we leave her? Can she pull together enough outfits to be able to function in the world?
Absolutely! You could easily make it through the warm weather with these ensembles at your disposal: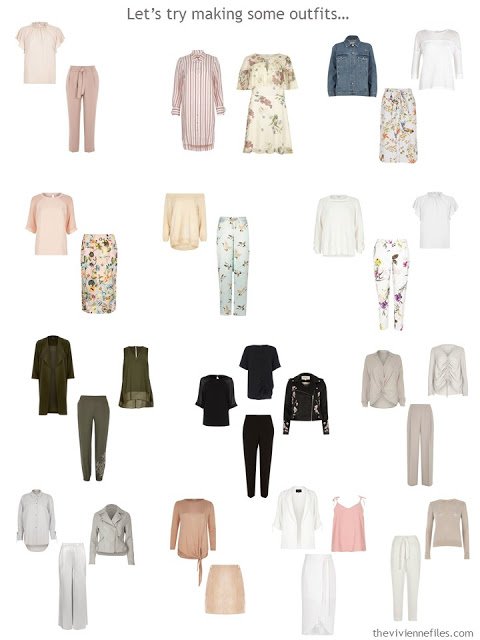 There were 7 garments left over after I pulled together these outfits. THESE are items that really need to be considered at some length… At some time in her life, our heroine really liked these things enough to buy them, but now they're difficult to incorporate into her daily life.
My hunch is that black blouses are super-impulse purchases, for times when she has a date or event in her future. If she had greater attachment to/affection for the pieces already in her closet, she could save that money!
The blush? Her favorite color, it seems, but she doesn't shop with swatches or paint chips or whatever, so she buys pieces that don't "work."
The camel blazer is an oasis of sanity! And the blue jeans are something that we're all "supposed" to own, but which in her case should be a different color.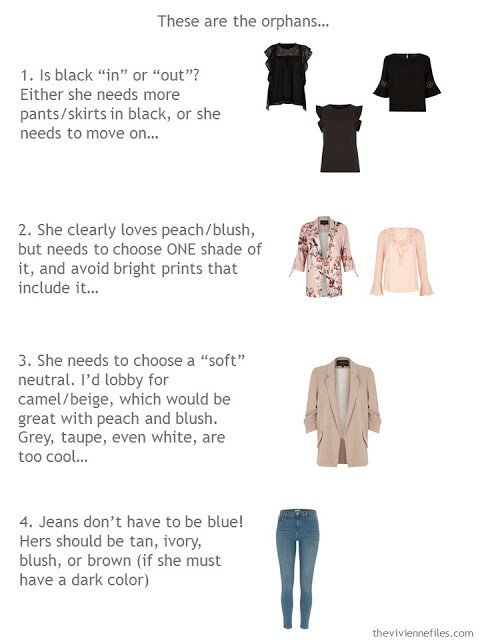 So let's hang onto that camel blazer, and the jeans (for now), but get rid of those extra black pieces, and that bright floral blazer… While the ruffly blouse isn't her "best" shade of peach, it will probably work fine as a second top with her floral skirts, and thus might be worth keeping for a while.
It's important that you don't leave yourself without ANYTHING to wear! And short-term compromises like keeping blue jeans (rather than tan), or working with a less than perfect shade of your accent color, aren't the end of your sartorial life…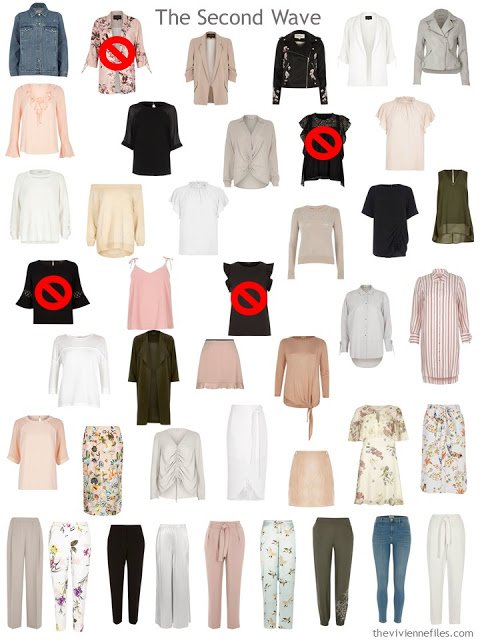 This wardrobe's starting to look pretty good!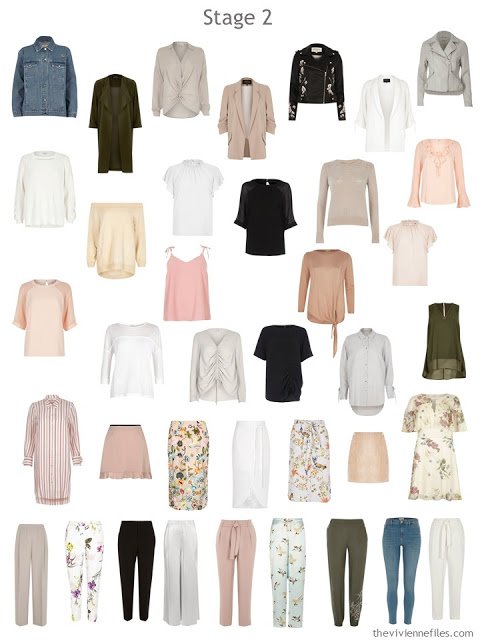 Now, it's time to plan for the future. The WORST thing to do would be to do all of this work cleaning out an over-stuffed, unworkable closet, and then to repeat the errors that created the situation in the first place!
In a nutshell, she needs a color scheme – especially to choose a neutral color or two. I think olive might be worth considering as a secondary neutral, or prominent accent color, if only so that she can have some darker-colored clothes occasionally!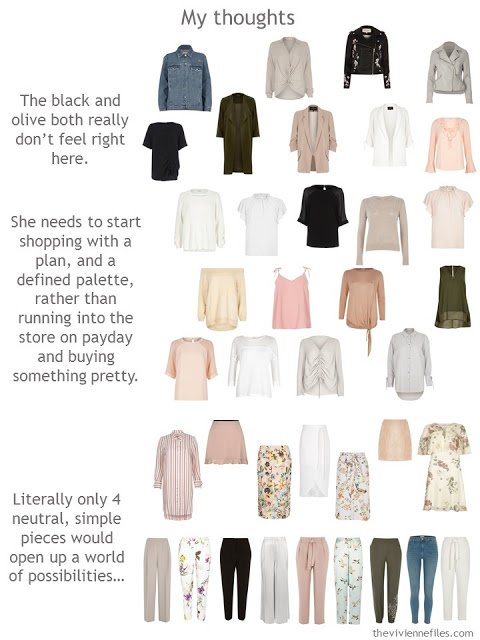 This is my advice for her: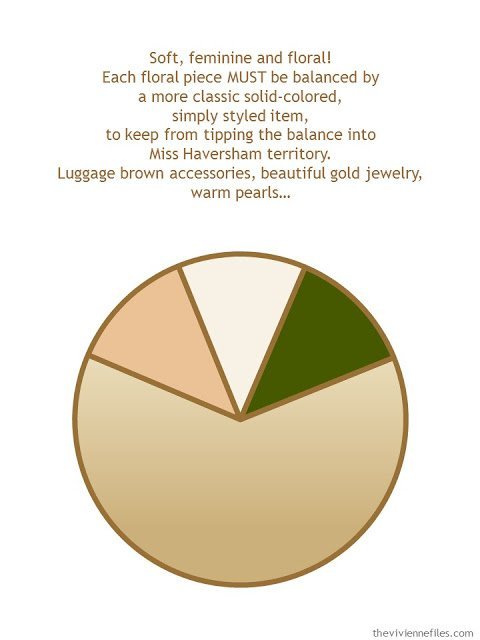 THIS is the hardest part! She really NEEDS some plain, simple, classic, neutral garments in order to be able to wear her pretty floral pieces as much as she wants. This is always the difficult part of building a wardrobe, but it's also the most essential: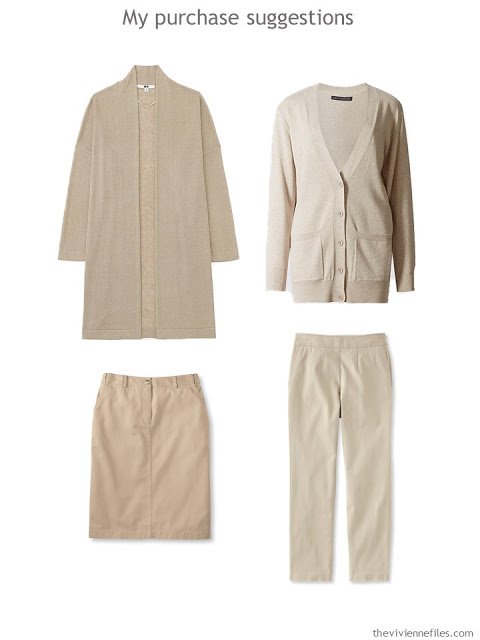 After the addition of these four pieces, you can see that the overall wardrobe takes on a more neutral, less "blush-y" look.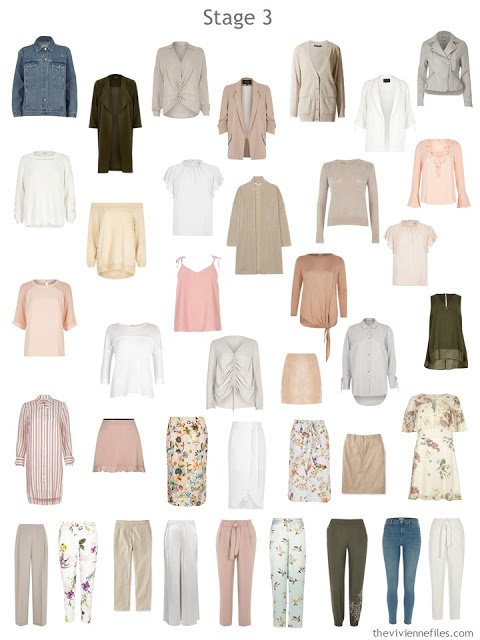 This wardrobe is definitely a work in progress – I would suggest that the next step, when cooler weather clothes appear in stores, might be the addition of a Core of Four in olive. (while those olive pants she currently owns might be cute as heck, having flowers embroidered on the ankle can really limit the versatility of them…) Or maybe another 4 pieces in a darker, truer camel…
But for the warm weather months, she's in a good place, and will have time to think, to save money, and to grow accustomed to living with a smaller wardrobe. If she wants to pack, she's well-situated to assemble a four by four capsule wardrobe pretty quickly: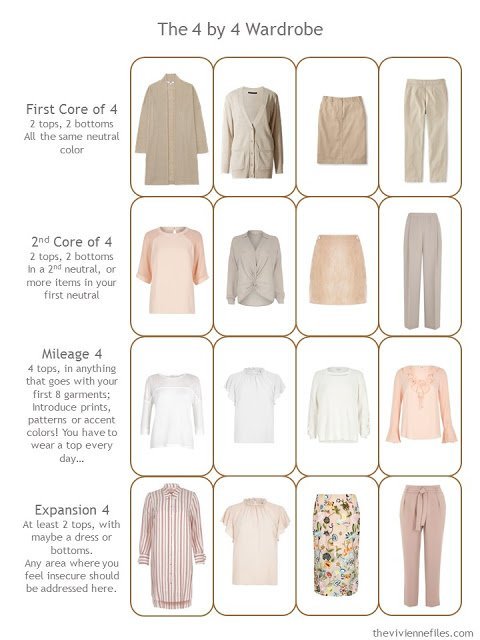 Discipline around impulse shopping might be her biggest problem! Maybe focusing on accessories? Or setting a very firm money limit on what she can spend? Or not buying anything that she can't wear at least 3 different ways? There are a lot of ways to structure a disciplined approach to shopping, but if she isn't committed to it, it won't work….
love,
Janice
PS – Further reading suggestions: