This is the same wardrobe with which we worked yesterday; today we're going to take a different approach to getting rid of the excess and whittling down to the good stuff!
Today, we're arranging everything by function. This is a really helpful way to "self-diagnose" a common shopping pitfall – always buying the same kind of garment. I personally have a mad fondness for dresses, and for sweaters. Dresses aren't a terrible problem, because (so long as you have the appropriate shoes and other accessories) a dress is a pretty much free-standing ensemble. But too many black sweaters? BIG BIG BIG waste of money… even if the sweaters are (each and every one of them!) very beautiful…This heroine has a ratio of tops to bottoms that is at the absolute limit of how high you should (in my opinion) go – 2:1. Bottoms are less memorable, and thus are generally considered to be the piece that you can wear more frequently without getting bored. And especially if we're talking about jeans or khakis, they're much better made than most other garments, and thus are going to last longer and hold up to more activity.
Tops are easy to over-shop – they're worn near your face so your imagination is more likely to be carried away by how pretty the item is, and by extension how pretty YOU will be when you wear it. Most of us know our size with very little problem, and so you don't have to try things on (this makes on-line impulse purchasing VERY easy…). Many people are more… in-shape… above the waist, too, so that little insecurity doesn't have to be addressed by these purchases either. In a nutshell, you can really go extravagantly overboard with blouses, tee shirts, shirts and sweaters…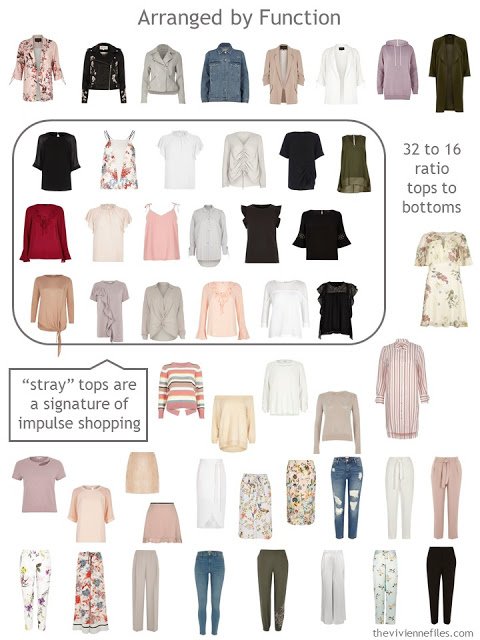 So let's do a little bit of math to figure out where we're going to have to cull. I'm going to stick with her current 2:1 ratio, because it makes sense in a blouse-heavy wardrobe, but I'm going to push this wardrobe down to 30 pieces. I just feel like there's a lot of extra "stuff" here, and that some real clarity might be gained by being a little bit energetic in the editing process.
Here's how the numbers work: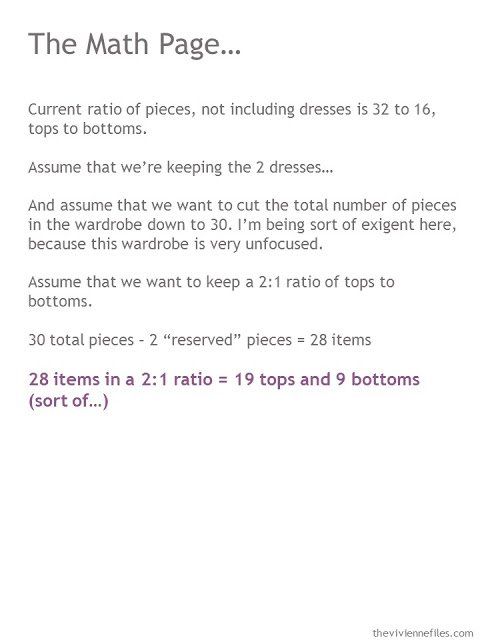 This is where she finds herself: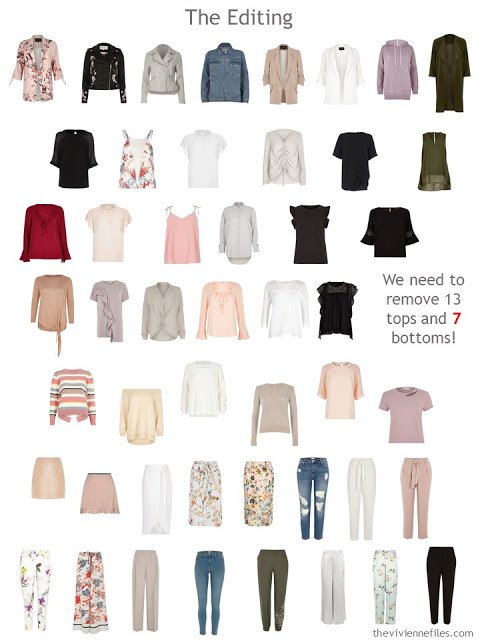 As before, when you don't really know what else to do, test-driving each garment is always a reasonable way to figure out what's most flexible and versatile. (of course, if something doesn't fit well, isn't in good condition, or you just don't like it, it shouldn't even make it THIS far – it should be in the first bag out the door…)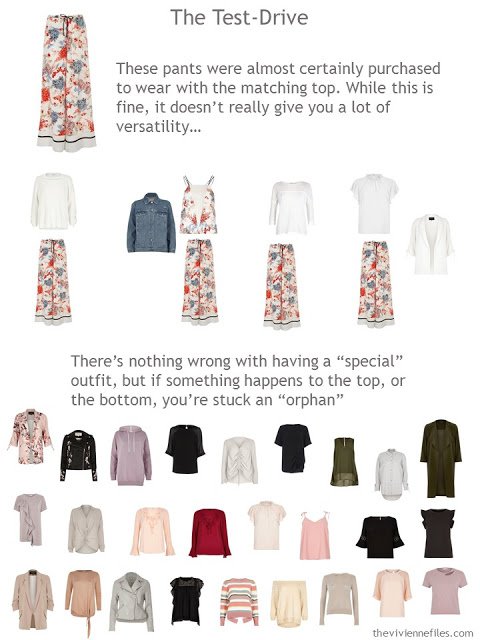 You can clearly see that she has a few items that were impulse purchases, and that don't really need to be in her wardrobe. The decision-making moment, when you admit that something was a mistake, can be surprisingly difficult. But the relief that you feel when you've finally moved that piece out of your closet and it's no longer hanging there, guilt-tripping you, is priceless…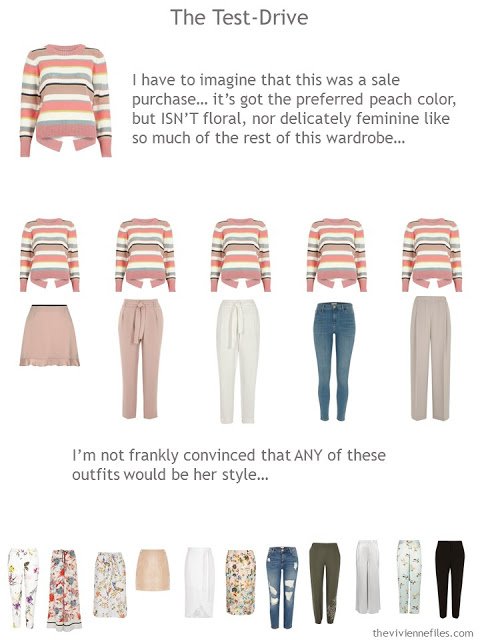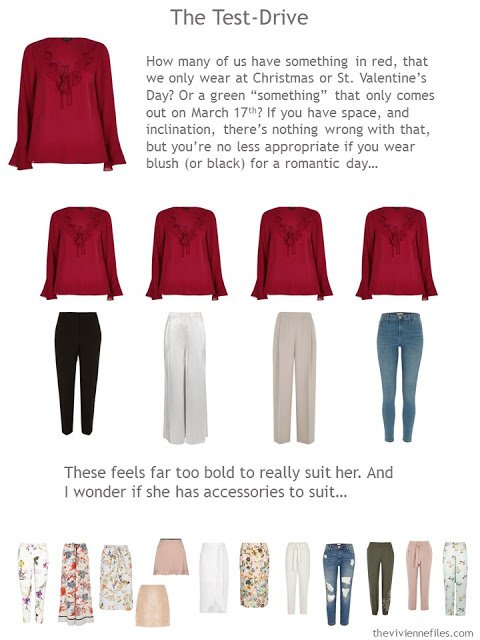 This looks like a daunting number of pieces to pull out, doesn't it?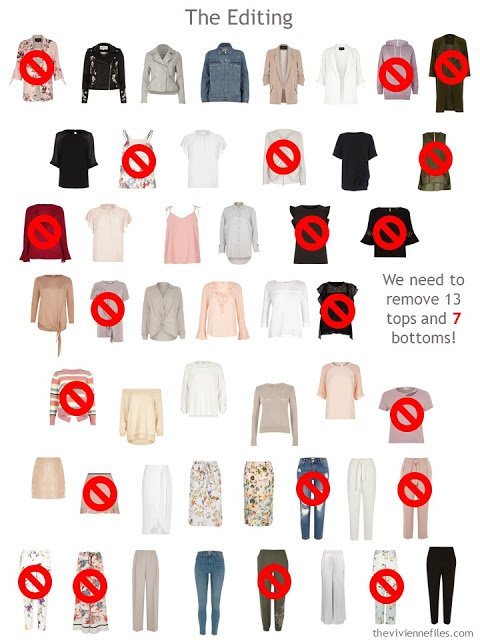 But this already looks SO MUCH better…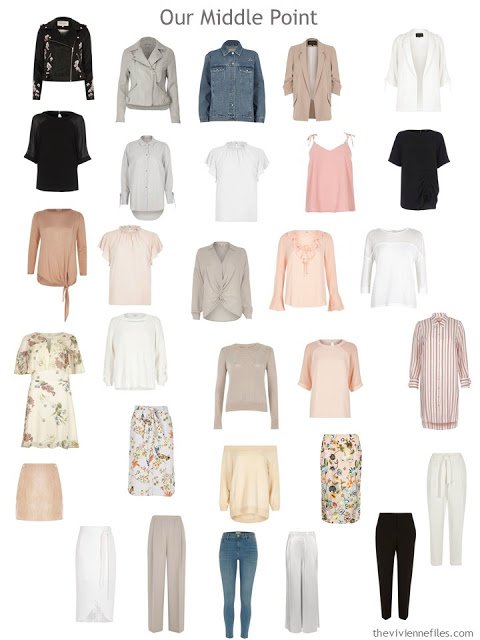 Arranged by color, this wardrobe already is showing the direction in which our heroine should be moving – warm, soft, muted, feminine, floral…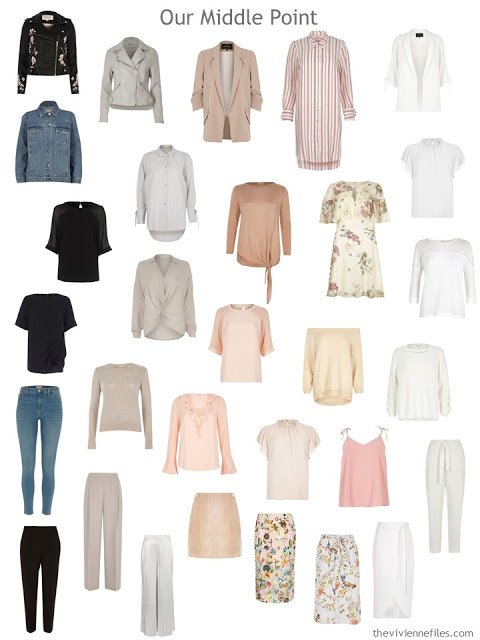 But have we left her completely undressed? Actually, she still can put together a 24-piece summer capsule wardrobe with at least a dozen different outfits – more than enough for almost anyone.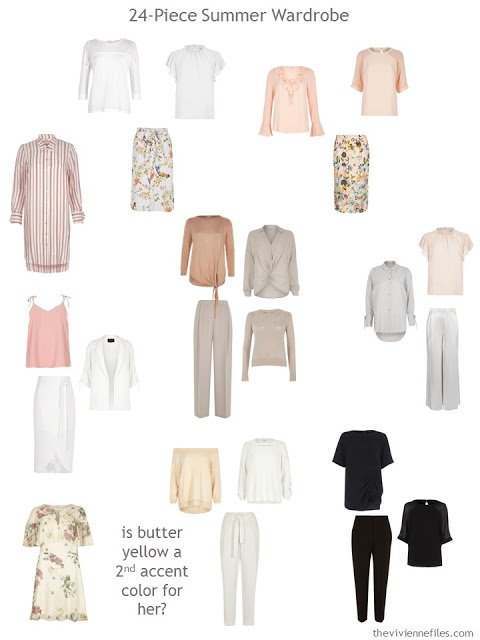 And there are only six pieces that aren't in this warm-weather capsule wardrobe – this could easily hang in the back of the closet, and maybe be incorporated into her outfits from time to time.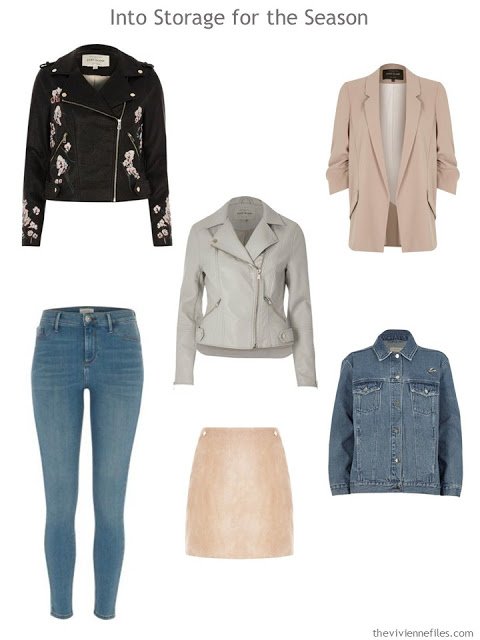 But the pieces that don't go into a current outfit are worth considering – there might be something that we can glean about her future wardrobe direction from these things: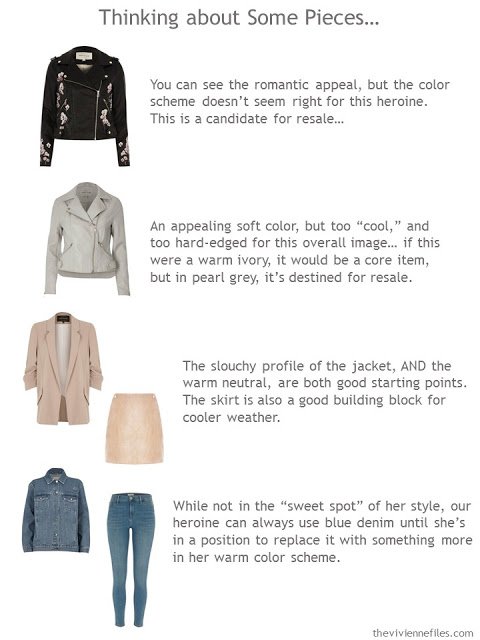 And she's not completely at a loss for packing and travel either; while this isn't the Four by Four Wardrobe of anybody's dreams, it's certainly functional, and provides an abundance of outfit options for most occasions. (My kingdom for a pair of shorts and a simple tee shirt though, right?)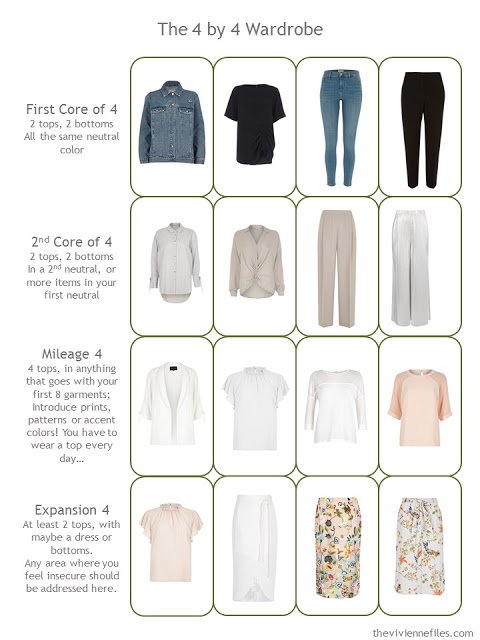 What a fascinating process this is proving to be! Maybe one last version, next week or the week after? What do you think?
love,
Janice
p.s. I'm NEVER upset by criticism – my only thought might be that I had let you all down. But if I can learn from you, I will, and if I can write better posts to help you more, I want to learn how!
p.p.s. It occurred to me last night – one of the reasons that I edit the wardrobes in the particular way that I do is because (as much as I try to choose a random assortment of things with which to begin) I chose the starter wardrobe, so somewhere in my cluttered storage area of a brain, I must have had some idea or preconception about how I would approach things. That, pretty much by definition, means that I'm going to edit the wardrobe in a certain way. Thus, it's even MORE important than ever that you all chime in with your thoughts, observations, suggested changes, and criticisms. The more points of view we can share about how best to edit our wardrobes, the more we will ALL benefit.
More love,
J