February 23, 2017
From now on, I'm going to try to write the "birthstone" post a few days before the beginning of the corresponding month – in case you have a gift to find. (and yes, gifts to yourself are legitimate gifts!)
This turned out to be a much more difficult blog post than I expected. Normally, the first thing I would do is Google the word "aquamarine" and see how the color is "defined," i.e. how you arrange your RGB settings to get that color. (RGB is Red Green Blue – numerical settings that you can combine to get any color of the rainbow…) Then I'd change the word "Aquamarine" on each page to that shade of blue, as well as change the wee diamonds in the page dividers to that hue.
Well, THAT was interesting. It turns out that there are a wide range of opinions around the color, from light jade, through to a pretty true green, and then turquoise, fading into something that looks just about like a light water-blue topaz-ish color…
So, that makes blogging a little bit more challenging, but it gives the person who wants to wear aquamarines a delightful variety of options! When you bear in mind that clear stones can be faceted, while milky or opaque stones can be polished, you have even more ways to wear your March birthstone!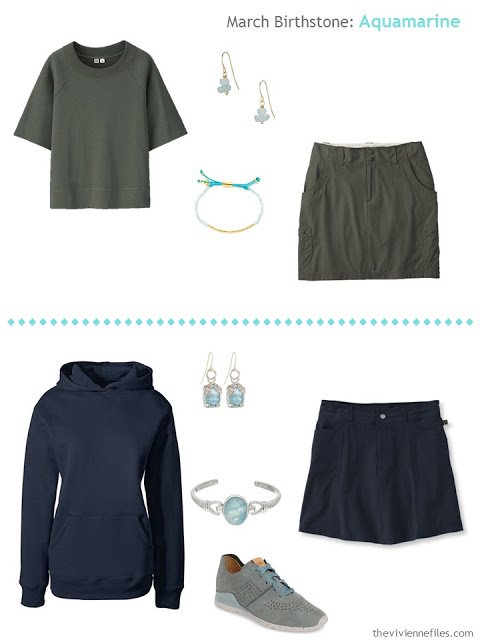 Sweatshirt – Uniqlo; earrings – Nancy Nelson; skort – L.L.Bean; bracelet – Gorjana; Sweatshirt– Lands' End; earrings – Jude Frances; bracelet – QVC; shoes – UGG; skort – L.L.Bean
Here we have some of the really green-ish stones, then moving into some that are distinctly blue.And I felt like looking at sweatshirts, because I'm discovering (in my mid 50's…) that a comfy sweatshirt can be a hard-working part of a casual wardrobe. And there's no reason that your casual wardrobe can't be color-coordinated and beautifully accessorized, right?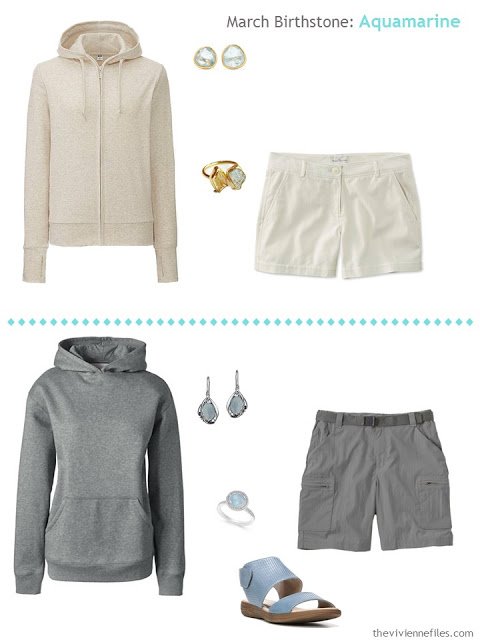 Sweatshirt – Uniqlo; earrings – Pippa Small; ring – Boho Gypsy; shorts – L.L.Bean; Sweatshirt – Lands' End; earrings – Hagit Gorali; ring – Thomas Sabo; shorts – L.L.Bean; sandals – Naturalizer
I love my short-sleeved sweatshirt…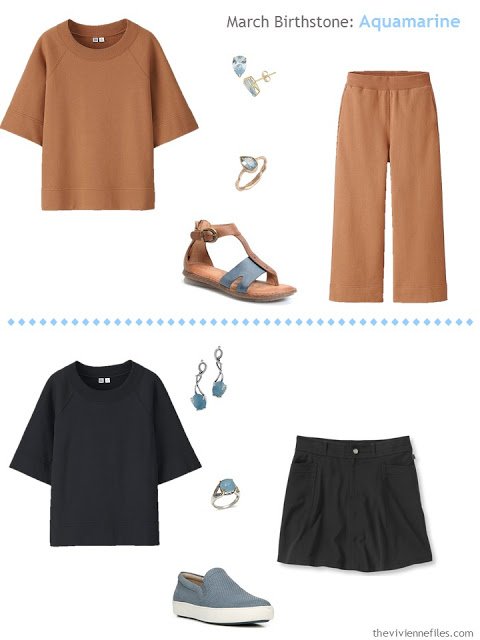 Sweatshirt – Uniqlo; earrings – Kohl's; ring – By Emily; sweatpants – Uniqlo; sandals – Børn; Sweatshirt – Uniqlo; earrings – QVC; ring – HSN; shoes – Naturalizer; skort – L.L.Bean
I switched out the dresses, but kept to the general idea of a beautiful piece of jewelry and a lovely scarf. Add a pair of comfortable, pretty shoes, and you're dressed!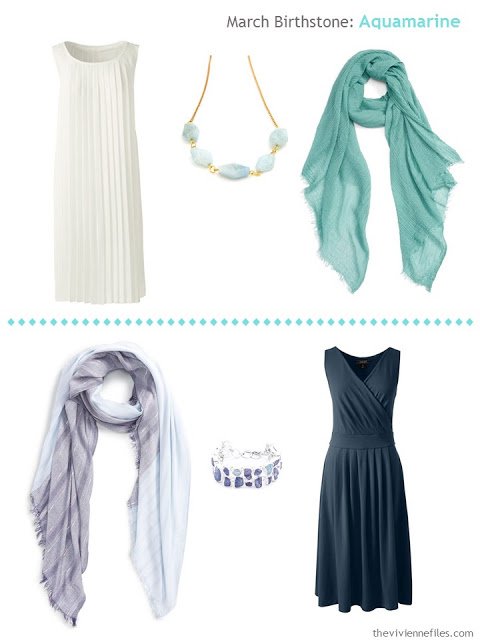 Dress – Lands' End; necklace – Salome; scarf – Hinge; Scarf – BP.; bracelet – Poppy Jewelry; dress – Lands'End
The most interesting part of writing this post, for me, was to see that there were aquamarines that appear to be pink! (And this is NOT an expensive piece of jewelry, by any stretch of the imagination!)The 2nd necklace here uses the aquamarines as an accent with other materials – yet another possibility when you're looking at your birthstone. Maybe you'll find a piece that combines your birthstone with that of one of your favorite people…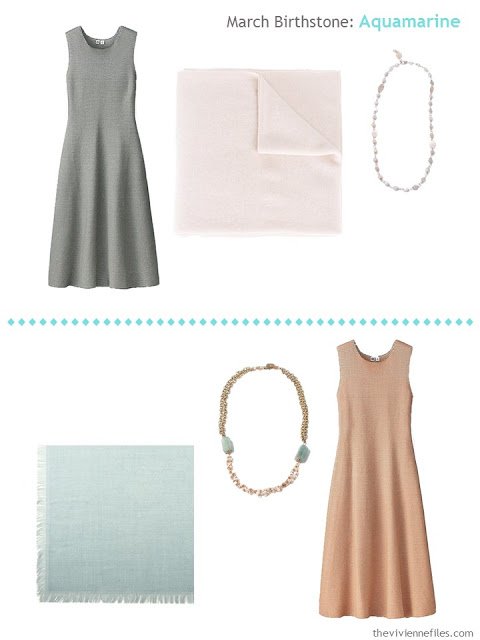 dress – Uniqlo; scarf – Le Kasha; necklace – Cowgirl Chile Co. Jewelry; scarf – Gucci; necklace – Cowgirl Chile Co. Jewelry; dress – Uniqlo
This beige dress looks so comfortable… sigh….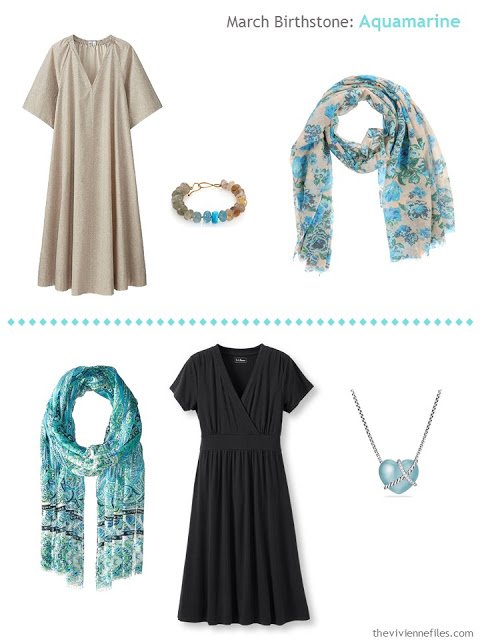 Dress – Uniqlo; bracelet – Lena Skadegard; scarf – Pyaar; scarf – Echo; dress – L.L.Bean; necklace – David Yurman
You can see here on this page the variety of shades of light blue possible when we talk of aquamarine. All of these things just scream SPRING to me; it might be a bit too soon, but it's wise to be prepared!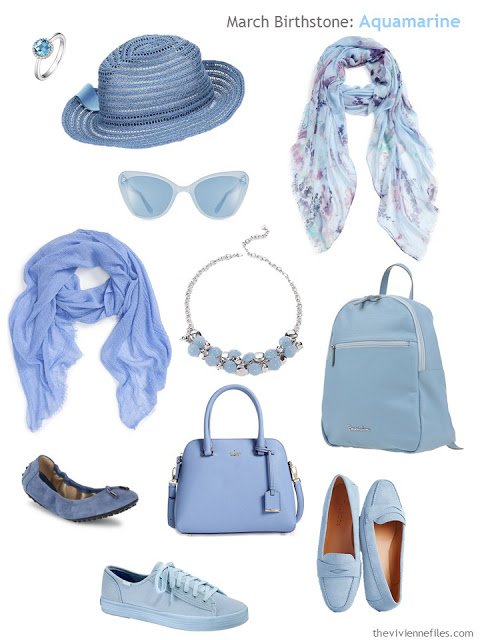 Ring – Lafonn; hat – Emporio Armani; floral scarf – Nordstrom; sunglasses – Prism; solid scarf – Hinge; necklace – Talbots; handbag – Kate Spade New York; backpack – Braccialini; ballet flats – Tod's; athletic shoes – Keds; loafers – Talbots
love,
Janice
More from the Birthstone Series: