February 22, 2017
You asked, and it was a really intelligent question – can I use denim in place of olive green, in a wardrobe from The Vivienne Files?
Heck yes! Neutral colors can be interchanged, especially in casual wardrobes in which rigorous color matching isn't terribly important. Let's recreate a recent wardrobe and make this substitution, to see how it works out.
First up – remember this amazing painting by Salvador Dali? I've changed the associated color palette to include the denim that we want: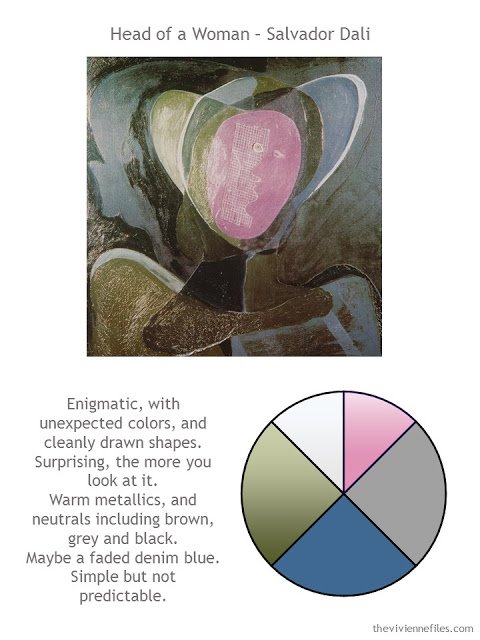 I'm starting from the same point as before – a solid core of grey garments:
The first difference is immediate – instead of the olive tee shirt from before, I found a shirt that feels very denim-ish!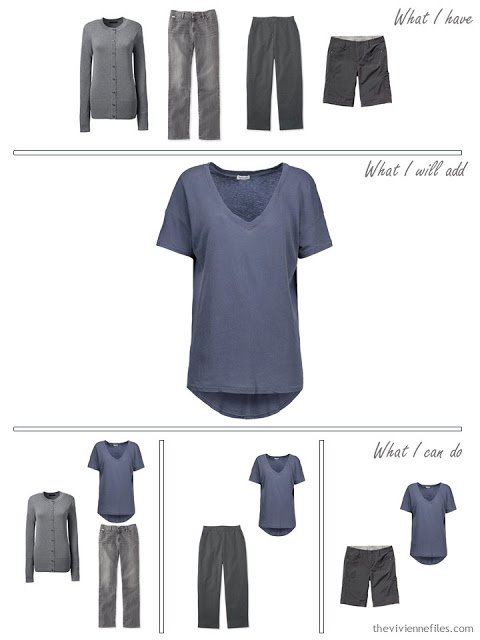 Tee – Splendid
From here, things look very familiar for a few steps: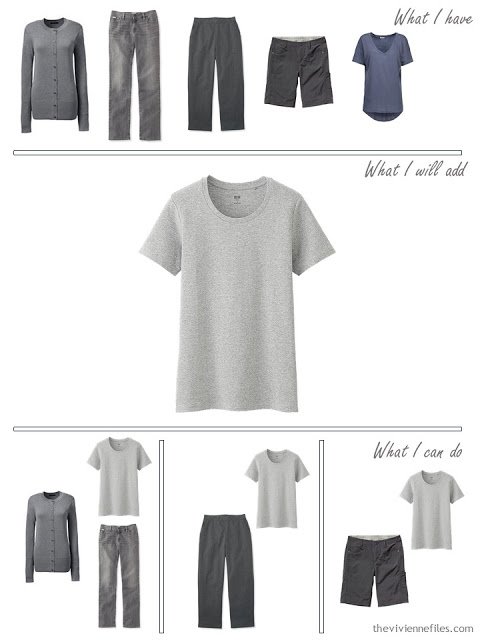 tee shirt – Uniqlo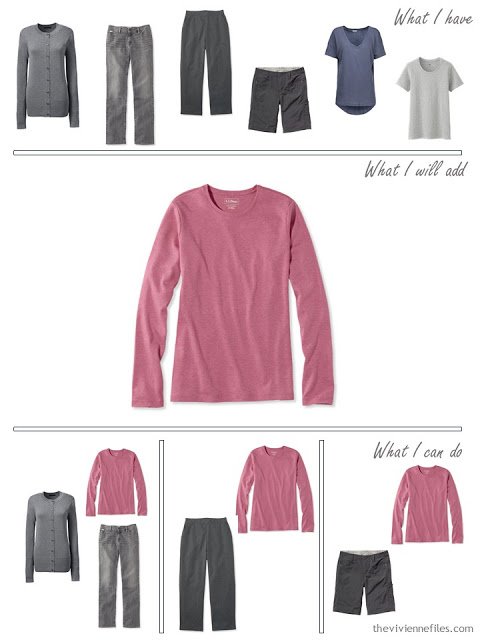 tee shirt – L.L.Bean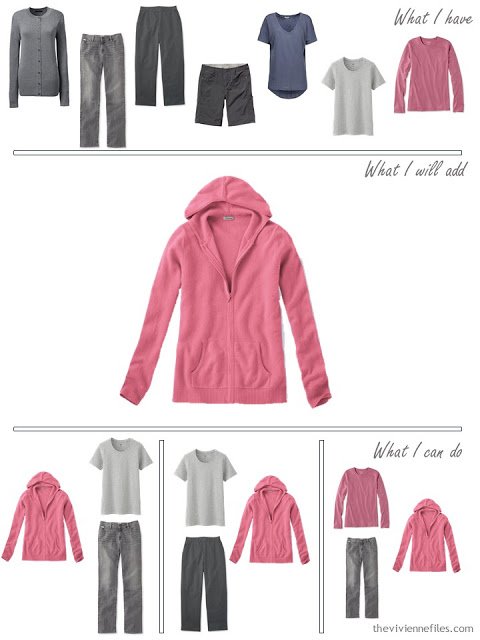 sweater – L.L.Bean
Already, you can see that the row of "What I Have" across the top looks really coherent and visually "comfortable" with the denim blue. Adding jeans doesn't alter that comfort level…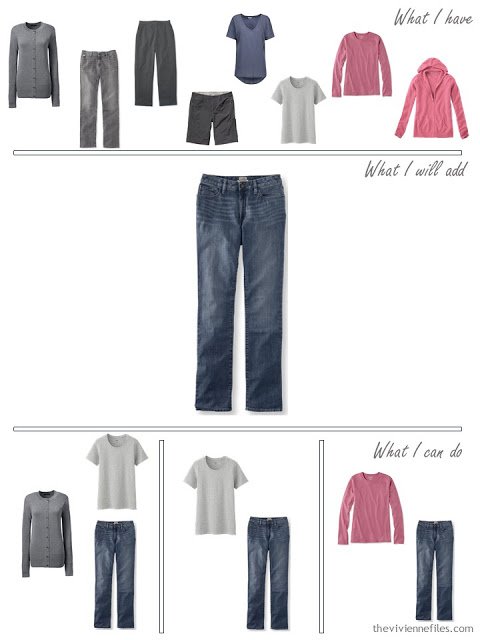 Jeans – L.L.Bean
This is a great shirt, but OH MY GOODNESS, it needs to be washed. Repeatedly. While I completely abhor distressed jeans (I'll tear my own clothes, thank you very much…), I would like to see this shirt look just a tiny bit more softened and faded. I'm sure that we're all qualified to take care of that on our own, eh?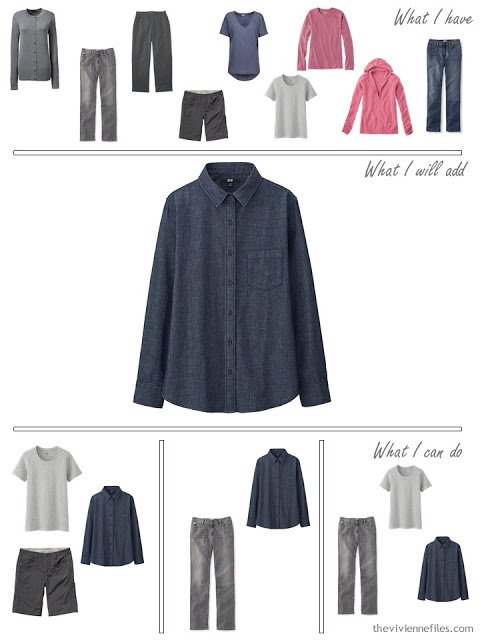 Shirt – Uniqlo
A slightly different tee shirt here, more a cool color palette than the somewhat warm-ish one from before: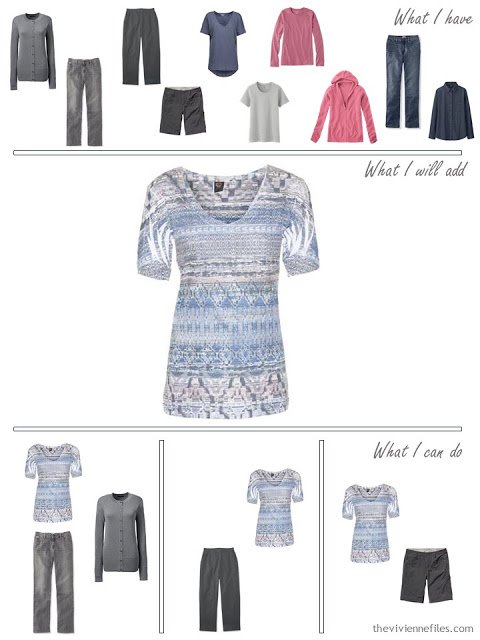 tee shirt – Ojai
Denim shorts can be tricky – I like the softer fabric here, and the drawstring. It keeps these from looking like our 1970s-era cut-offs…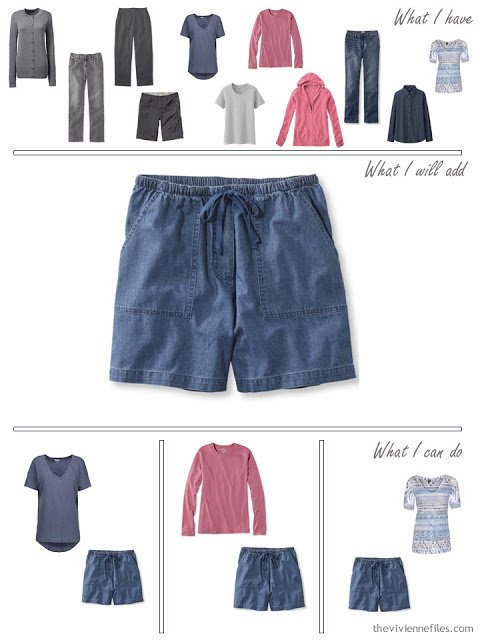 Shorts – L.L.Bean
I debated about replacing this tee shirt, because it still has echoes of olive in it, but I ultimately didn't want to abandon it, because it includes that pink that matches the sweater so very well…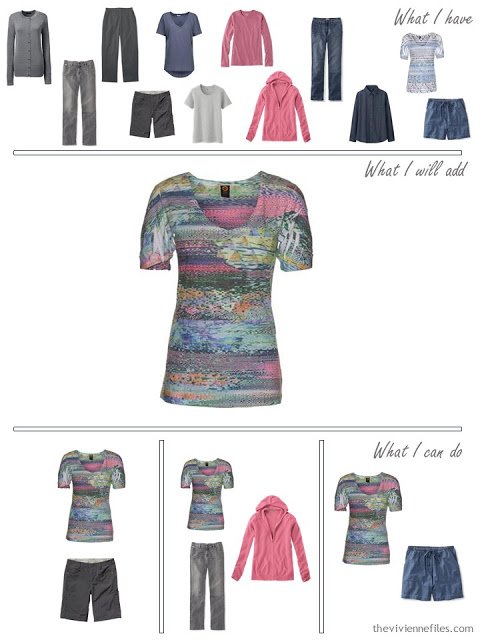 tee shirt – Ojai
As always, if you detest skirts, get another pair of jeans, or a pair of cropped jeans, or capri jeans, or whatever other clever name them devise. Pedal pushers? Clam diggers?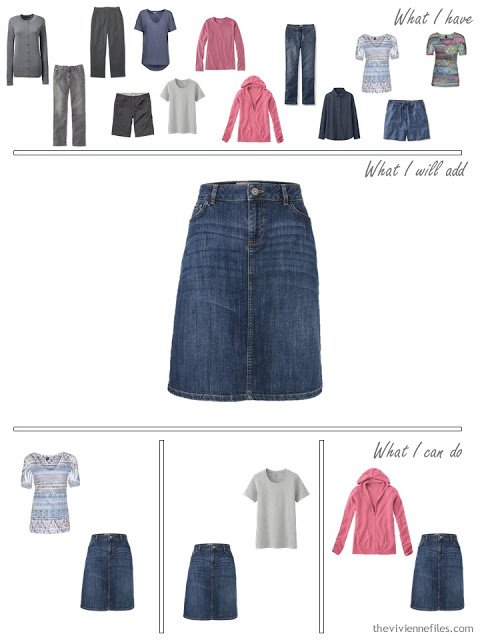 Skirt – Fat Face
Everything else remains the same…
tank – Uniqlo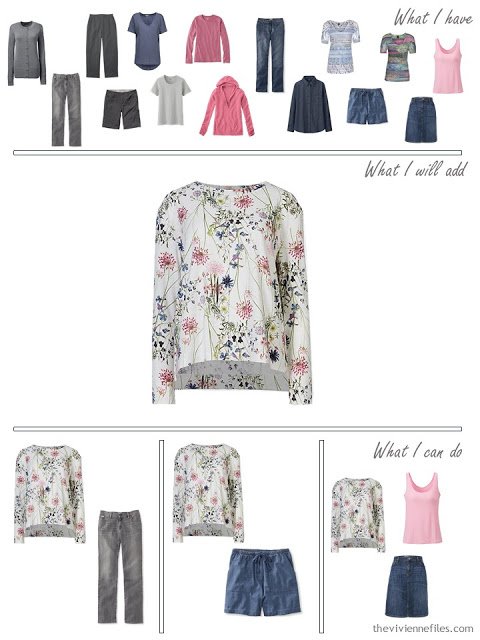 sweatshirt – M&S Collection
So I changed 6 of the 16 garments, and the overall wardrobe impression is VERY different. One of the real beauties of denim is that our eyes are trained to see it as an all-purpose neutral, and thus it feels like it goes with everything. I don't like to match the denim pieces, because that ends up looking… awkward, to me. But this wardrobe has literally dozens of outfit possibilities…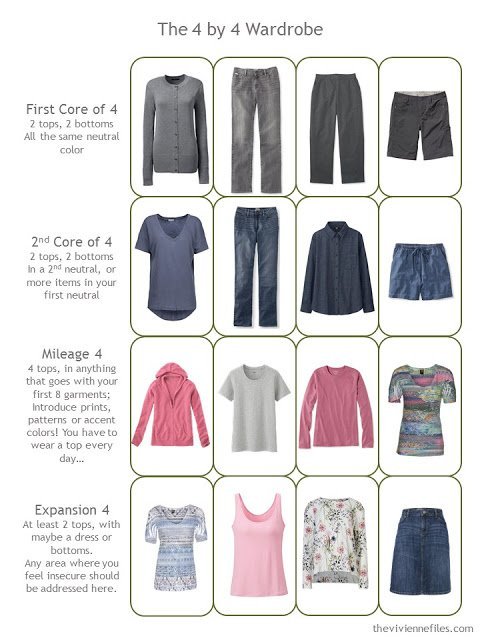 Do you want me to go back through the grey and olive accessories and change things our for denim? I never mind looking at tons of accessories!
love,
Janice
More from the Salvador Dali, "Head of a Woman" series: