Yes, we're playing catch-up here; the idea of writing about birthstones wasn't sent to me until late in January, so I missed writing about garnets during "their" month. And going forward, I'm going to write about each stone a few weeks before it is "in season," so that if you're inclined to get something in anticipation of a birthday, you'll have a chance to plan ahead some.
Since this posts follows so quickly on the heels of the post about the February amethysts, I stuck with the same garments (for the most part) and just found new and lovely accessories!
One of the fun things about garnets is the range of shades of red available – everything from a pretty bright "true" red through to a deep maroon or burgundy shade. That makes it easier for you to find garnets that suit you perfectly.
And if you're planning to visit Prague, be warned – Garnet jewelry is everywhere there, and maddeningly tempting! The only time I ever visited, I was so overwhelmed that I ended up leaving with no purchases. It's worthwhile to have a few ideas about what you want before you travel; I was utterly unprepared…
Yes, this is the same bracelet – one with silver, one with gold. I love having that kind of option!
If you're going to be really active, you can still wear a pair of earrings, and maybe a ring (if your hands aren't going to be involved, or if you're wearing gloves of some sort…)
One of the best things about wearing athletic apparel is that the colors are always ALL OVER THE MAP, and it doesn't matter. Even if you're going out for a 10 mile run, you can still wear your garnet earrings and ring… just to glance down at from time to time, and smile…
Yes, you've seen these dresses before, but they're very versatile, and lend themselves to any accessory color I can find…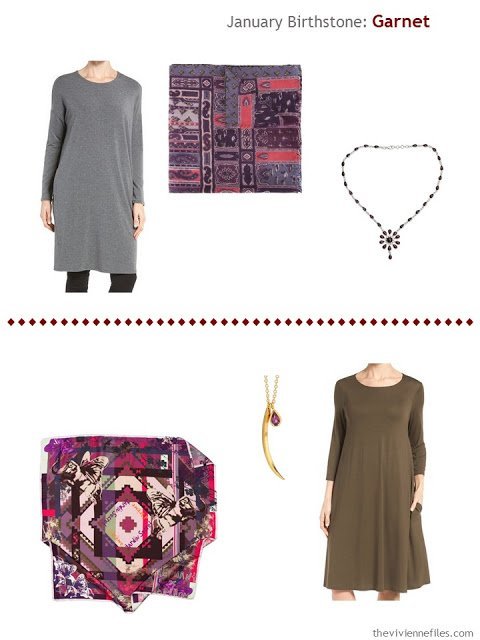 If you want to carry over the garnet color scheme into other areas of your wardrobe – beyond just jewelry – there are a mountain of options! I'm particularly smitten with the idea of a velvet baseball cap – the tomboy in me will never die…
I'll get to the March birthstone later this week; I should have enough time to find a few new outfits, too.love,
Janice
More from the Birthstone Series: