February 20, 2017
Someone sent me a link to this beauty… What excellent colors!
This bag includes a bunch of the classic neutral colors – beige, white, shades of rust into dark brown, maybe some black? I'm deliberately NOT including any sort of style guidelines here because I think that this is a case in which a wide variety of personal styles could accommodate this bag.
I'm going to focus pretty much on warm-weather attire here, but imagine for cooler weather – a navy winter coat with camel trousers… a navy wool skirt with an ivory sweater and brown riding boots…. mmm….
This is sort of a styling free for all – I just let my imagination wander toward whatever outfits I would like to wear, or that would be fun for travel. I'm including one long-sleeved dress, just because it's really beautiful, and for an early spring event it could be a perfect choice.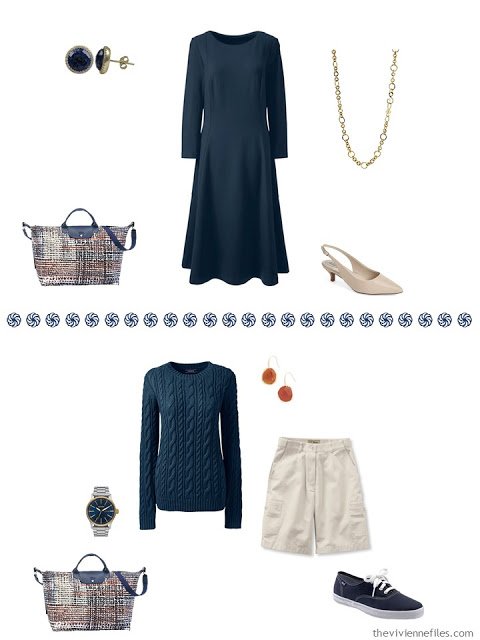 Lapis earrings – Gemma Collection; bag – Longchamp; dress – Lands' End; necklace – Stephanie Kantis; sling-backs – Trotters; Watch – Nixon; sweater – Lands' End; earrings – Nordstrom; shorts – L.L.Bean; shoes – Keds
For me, warm weather cries out for some tee shirts…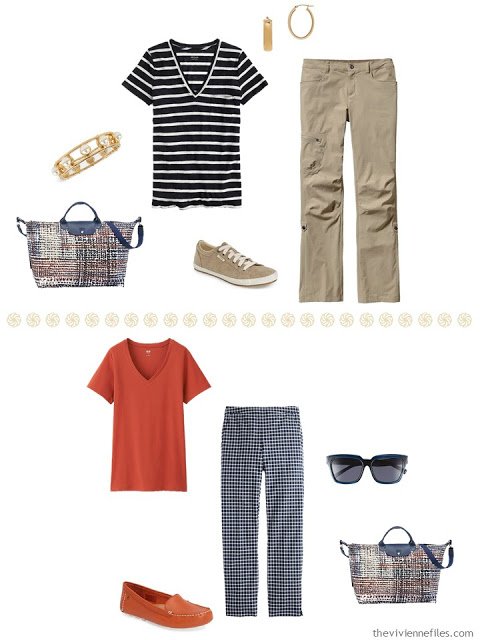 Bracelet– M. Haskell; bag – Longchamp; tee – J. Crew; sneakers – Taos; earrings – Lord & Taylor; pants – Patagonia; Tee – Uniqlo; loafers – Ugg; pants – J.Crew; Sunglasses – Le Specs
This dress would be so nice on a really hot day, when you had to look dressed up, but didn't really want to put too much effort into it: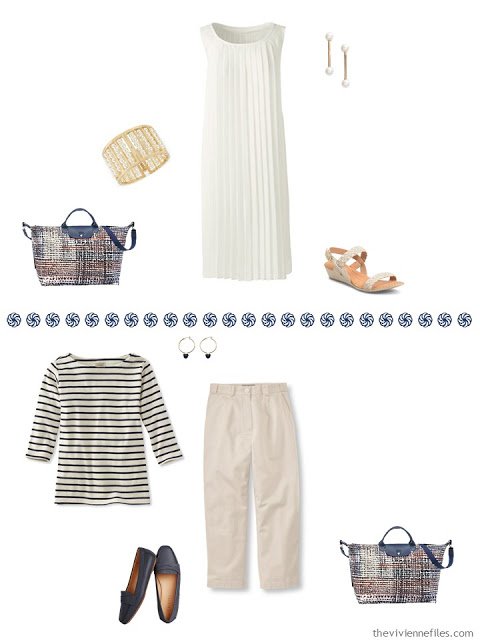 Bracelet – M. Haskell; bag – Longchamp; dress – Lands' End; earrings – Poppy Finch; sandals – Børn; Striped top – L.L.Bean; earrings – Ann Taylor; loafers – Talbots;
cropped pants – L.L.Bean
I know that many of you aren't crazy about wearing skirts, so you can easily substitute dark navy jeans for the denim skirt, and maybe navy seersucker pants for the skirt – but I thought the skirt was classic summer attire…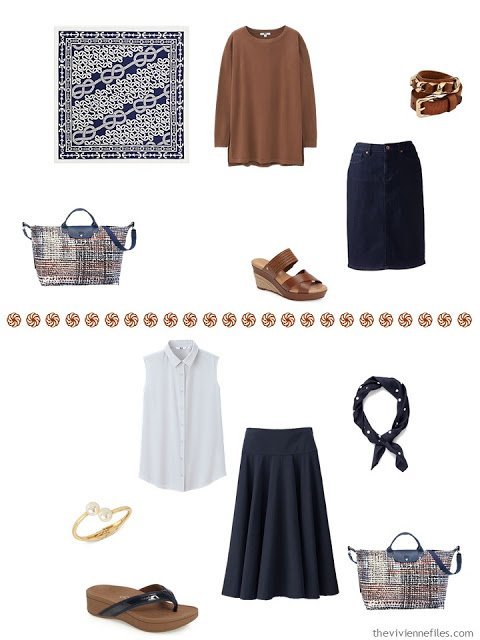 Scarf – Talbots; tunic – Uniqlo; sandals – UGG; denim skirt – Lands' End; bracelet – Riccardo Forconi; shirt – Uniqlo; bracelet – M. Haskell; sandals – Vionic; skirt – Uniqlo; scarf – J. Crew; bag – Longchamp
Even though I assembled these outfits without really referring back and forth among them, when I aggregate all of the various pieces, it comes together in a pretty nice travel or capsule wardrobe! I would of course have to include a navy cardigan, but that's just me…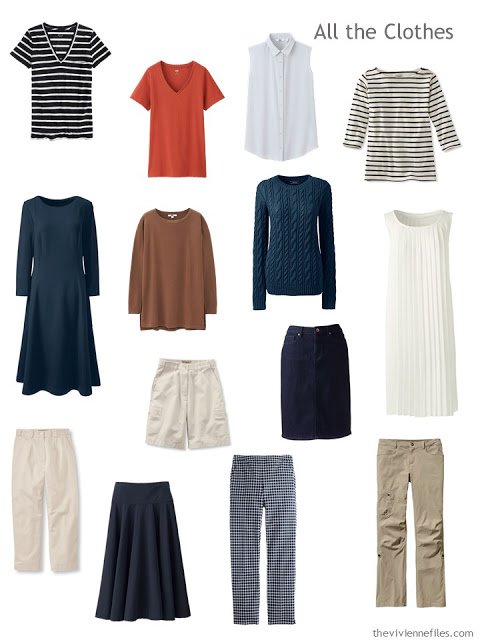 If you were sincerely going to use this capsule for travel, you might want to whittle down on the shoes a little bit – or maybe, since the wardrobe is pretty compact, you could just go mad and take all of the shoes with you! (sometimes, you just have to go a bit crazy…)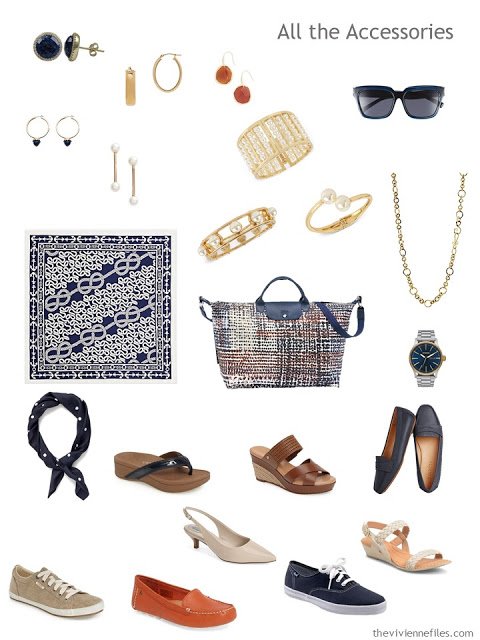 These 14 pieces of clothing, and wee pile of accessories, go together in a LOT of different ways – here are 8 more ensembles taken from these pieces. This would see you through a lot of vacation trips pretty beautifully, I'd say!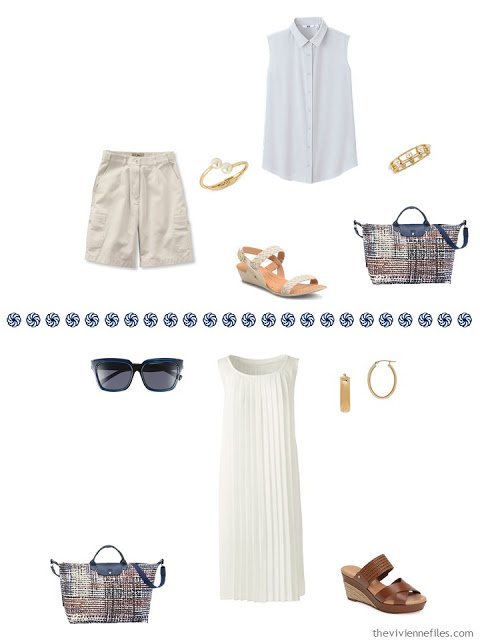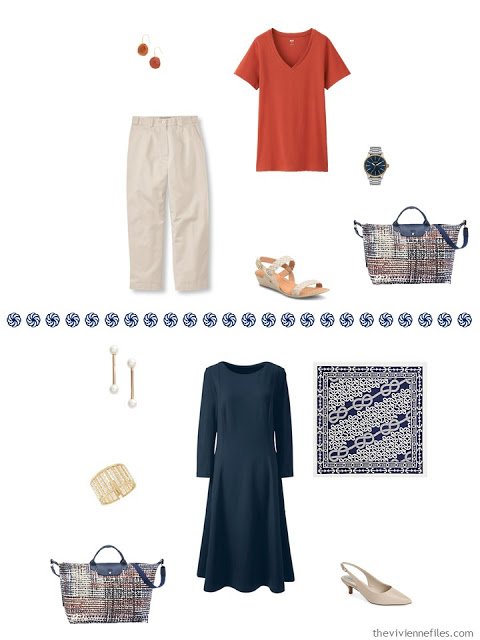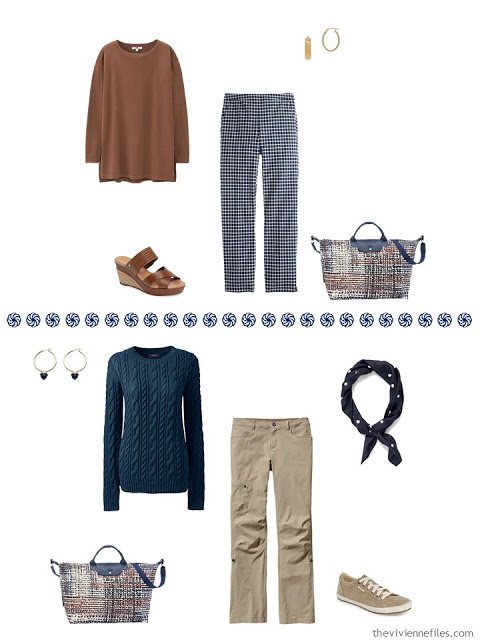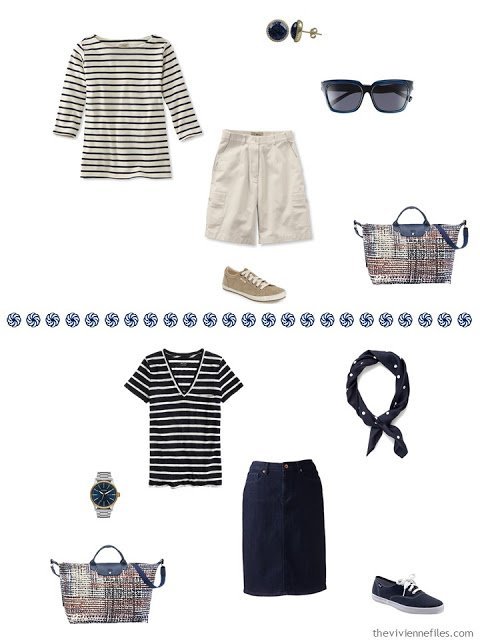 I particularly like the idea of the very last outfit – the striped tee with the dotted kerchief, the classic tennies and a denim skirt. Quintessential summertime…
love,
Janice