January 3, 2017
Yes, it's true, and it's long overdue; I'm taking a year off from shopping! I've begun to feel just a bit too much like this: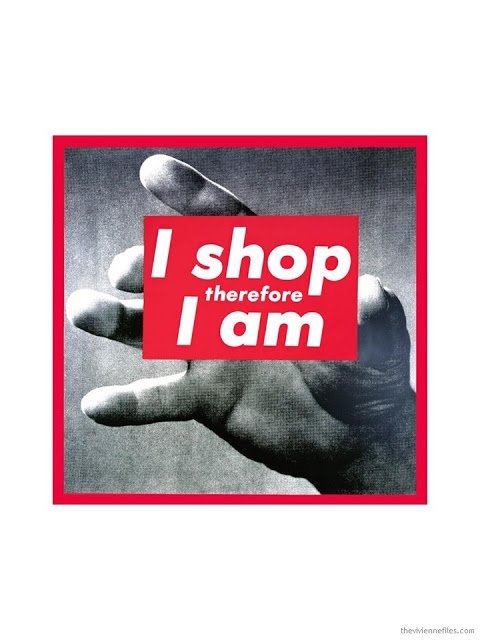 Untitled (I Shop Therefore I Am)
by Barbara Kruger
(By shopping, I'm including clothes, jewelry, and all accessories.) It's become apparent that I have a lot more clothes than I need, especially when considering my current life. It's not uncommon for me to spend at least 2 days a week in gym clothes – I'll wake up and put them on immediately, but then won't actually GET to the gym until mid- to late-afternoon. By the time I've finished working out and cooling down, (at least in the winter) it's time for me to shower and put on my pajamas! I could get dressed, but sometimes it's after 6 p.m., and if I'm not leaving the apartment, it just seems silly…
My closets are more than full…
It's a really opportune time to build up a robust and very liquid emergency fund…
I want to do some more traveling…
and I already have a trip planned for NEXT WEEK (Ireland!!)…
So I need to rein in some spending, and clothing seems a logical place to start!
What's my plan?
I'm going to start each month with a core of building block garments that I will use as my base: (these are pretty good approximations of what I own; I've tried to link to the item that I would purchase if I were in need of a replacement)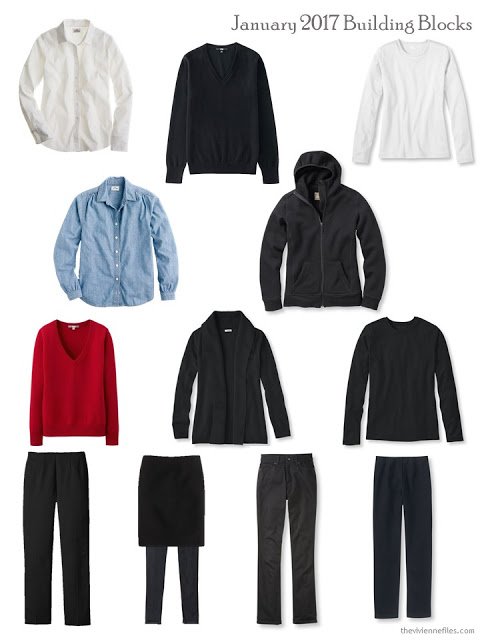 shirt – Lands' End; v-neck sweater – Uniqlo; white tee – L.L.Bean;
Chambray shirt – J. Crew; hooded sweater – L.L.Bean;
Sweater – Halogen; cardigan – L.L.Bean; black tee – L.L.Bean;
Cords – NYDJ; skirted leggings – Eileen Fisher;
jeans – NYDJ; trousers – Eddie Bauer
And then I will target a handful of clothes that I want to try to wear frequently during the month in question. This month's selections were made with my upcoming visit to Dublin in mind: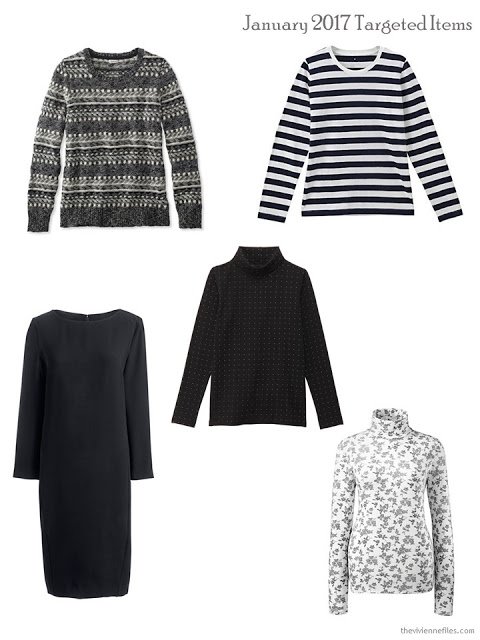 Sweater – L.L.Bean; striped tee – Muji; Dotted turtleneck – Muji;
dress – Lands' End; floral turtleneck – Lands' End
My dress is from J.Jill, and is years old, but I'm definitely packing it, in case a lovely dinner throws itself at us… And it appears that both my floral turtleneck and dotted turtleneck are sold out… sigh…
Just for illustrative purposes, and to jog my mind some mornings this month, I've pictured some ways that these pieces can be worn together, along with some of my accessories. I've linked to the accessories whenever I can find them, or something very similar:
I've got four potential areas where I'm giving myself permission to cheat:
I get to spend gift cards that I receive,
I can replace anything honesty and legitimately essential that falls to pieces – running shoes are going to fall under this category,
Tee shirts and other garments that come from 5K's or half-marathons don't qualify as clothing purchased; in many cases, if I could talk them out of giving me the tee shirt, I'd be happier! and
If I'm invited to anything truly over-the-top formal, I get to buy something. I'm more likely to win a Nobel Prize than I am to be invited to something excessively dressy, but I reserve the right to go hog-wild if such a thing would happen!
I'm sure that some people have done this just by accident, and that others have undertaken the project deliberately; have you? How did it work out for you?
love,
Janice
p.s. I was really undecided about this until just a couple of days ago, when I received an email ad asking if I was "pouting because I didn't receive that designer bag that I really wanted for Christmas?" I was appalled…
p.p.s. Read about how I used the above guidelines while I packed for my trip to Ireland.
More from my 2017 Year Without Shopping Series: