October 13, 2016
This capsule wardrobe is starting to look pretty coherent! (Step 1 is here, Step 2 is here, and Step 3 is here)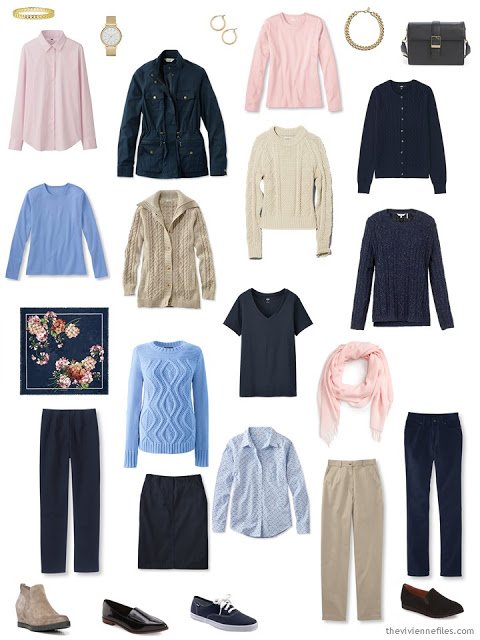 After one has lived with the above wardrobe for a while, it might be time to buy an entire outfit, all at one time! Or it would also make sense to buy 3 pieces that aren't necessarily intended to worn together, but all of which are useful and integrated additions to the existing wardrobe.
Sticking with the idea that our heroine lead a pretty casual life, I thought that a pair of shorts would be handy for her. Another really pretty cabled sweater in one of her accent colors is an obvious choice, and a simple white shirt is never a bad idea…
Almost any color scheme that I use for a wardrobe for more than 2 or 3 days will include some variation of white – ivory, bone, cream, that sort of thing. These are the tops that you reach for when everything feels overwhelming, and a little bit of simplicity and clarity is important. They are always appropriate (unless you're finger-painting with your closest friends!), and they go with everything, so it makes getting dressed quite simple.
For me, this is a great outfit; I wear shorts until late October… (the thermostat in my feet and legs doesn't work!)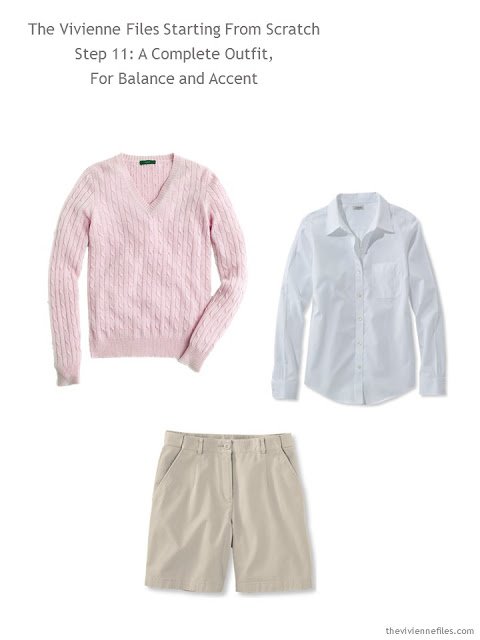 Sweater – J.Crew; oxford – L.L.Bean; shorts – L.L.Bean
Okay, in the last step, one might easily have included a 2nd pair of khaki pants, or a khaki skirt… How about a pair of pants in a navy and tan tweed? or plaid? If you can find garments that combine your 2 neutrals, they're well worth considering, because they give you a lot of options. But don't just automatically grab them because they fulfill that 1 criteria; it's got to be something flattering, that you love, too…
Hot on the heels of a pair of shorts – a coat and boots!
I looked and looked for a navy and khaki scarf that I really liked, but they were all very… dark, and somewhat mannish, for this wardrobe. (in other wardrobes, a man's scarf is a beautiful thing..) And I don't know why, but I really wanted to see how a khaki coat would look here; it's such a nice, light break from all of the dark clothes that one seeks in the winter!
So I scared up a cozy beige coat long enough to cover even the longest cardigan in this wardrobe, and then found a softly-colored scarf that includes a touch of navy!
And boots. Make sure you can walk in them, please! Make sure they cover your entire foot – this is not the time for open toes and/or heels… Be certain to ensure that you have a bit of breathing room around your calves – you don't want them skin-tight, and you might want to layer tights AND socks here… (these boots come in wide calf…)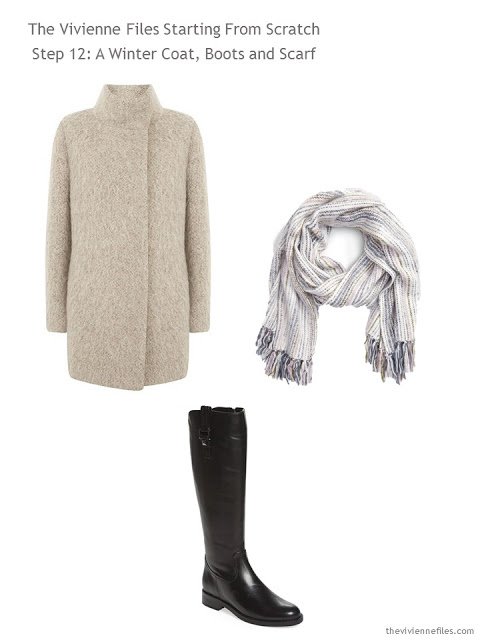 Coat – Mint Velvet; scarf– Treasure & Bond; boots – Blondo
Ahhhh…. my favorite things! It's about time we beef up this woman's jewelry a little bit! For these choices, I've stuck with two prevailing themes – the rope/twisted/cable idea that we see in her sweaters, and also the motif of floral things. If you don't wear brooches, ever, give it a thought, but you're not compelled to! In fact, you really could mix up these jewelry pieces any way you prefer, so long as you don't neglect the whole idea of jewelry. Just a small pair of earrings can make a great deal of difference in your appearance. Look around at the people you see for a few days, and evaluate how much you notice jewelry, and adjust your purchases and wearing preferences accordingly.
Apropos the handbag: since her winter coat is khaki, I thought that a bag in the same shade would blend nicely and look harmonious. Conventional wisdom would suggest that she match her boots, and that's not at all wrong; her smaller handbag is black. But with 2 neutrals in a wardrobe, you also have 2 choices for those investment leather goods like bags and shoes; I'm just taking advantage of that possibility…
If you're looking for "knot" earrings, Lord & Taylor has a few dozen styles…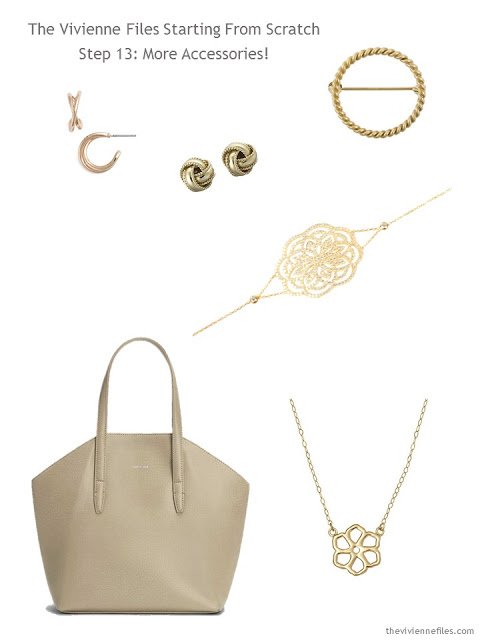 X-earrings – Nordstrom; knot earrings – Lord & Taylor; brooch – Felicious; bracelet – latelita London; bag – Matt & Nat; necklace – Lord & Taylor
This next stage is one that it's easy to neglect, but let's not take for granted that we can look like slobs when we're at home! Our loved ones deserve our very best…
Here, I chose solid bottoms and printed tops, in florals of course! This opens the possibility of wearing both tops with both bottoms (although the tunic with shorts could be a little bit weird…).
This is also a pretty handy thing to remember if you prefer to bring the attention toward your face, and away from the area below your waist. Conversely, if you're top-heavy and like to diminish the contours of your torso, get some flowered shorts and a pair of printed or patterned pants, and wear them with solid tee shirts or other tops…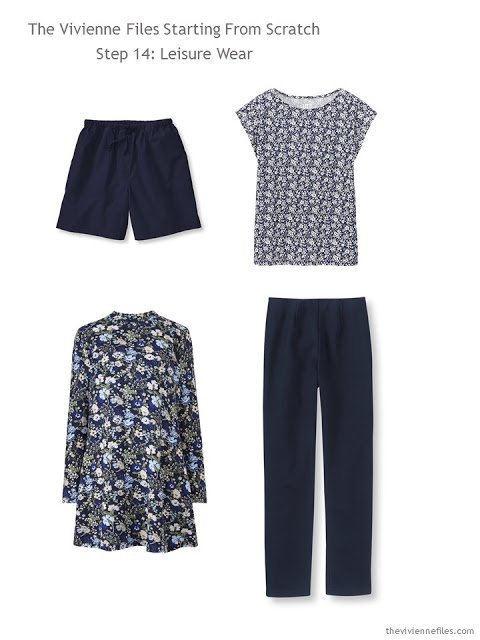 Shorts – L.L.Bean; tee – Uniqlo; tunic – Simply Be; pants – L.L.Bean
There's still NO dress in this wardrobe! And you know, if you're simply not a dress person, don't worry about it; there's no regulation requiring every woman in the world to own a dress…
In that case, you'd want to think about substituting in a really nice blouse or shirt to wear with your dressiest navy pants. The level of formality of this top should reflect the most formal occasion you can imagine attending. Don't rule out the possibility of having to meet with a lawyer, accountant, or government official at some point in your life; be prepared for the best/worst, and you'll have 1 fewer thing to cause you to worry.
I was looking for a really simple khaki dress, to no avail. Then I thought that a plain navy sheath would be good, but then I saw THIS… It's dressy but not fussy, and since the pattern is color on color, you could still get away with wearing a striped cardigan. (or the solid navy cardigan, for really serious stuff…)
Ideally, one would have the patience to wait for a navy and khaki cardigan. But sometimes, you have to do the very best you can with what's currently available; this cardigan will still look fine with khaki pants or shorts, and is a true timeless classic…
The sandals? Dressy enough for the dress, but also simple enough to wear with shorts. If you remember to keep these things in mind when you're shopping, you only need 1 pair of sandals, rather than 2, and you can thus buy MUCH nicer ones!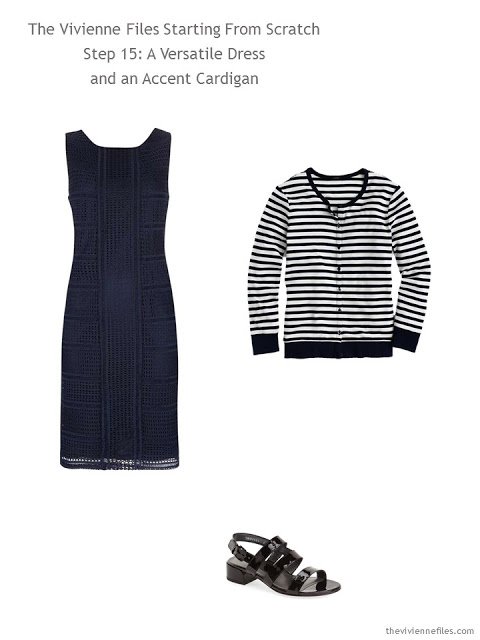 Dress – Wallis; cardigan – J.Crew; sandals – Stuart Weitzman
So here's where we are: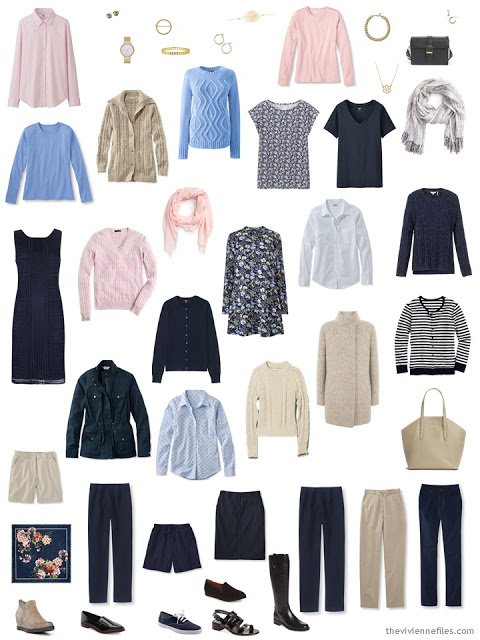 Tomorrow's the final day with this wardrobe! We're going to do a little bit of analyzing, buy a couple more pieces to finish things off, and then double-check where we are with a nod to the idea of the Whatever's Clean Wardrobe, as well as the Four by Four Wardrobe concept.
love,
Janice
For more in this Starting from Scratch series, check out the following articles:
p.s. would it be overkill if I do this again in a few weeks, after vacation? Maybe a different color scheme and level of dressiness? Your comments will help me decide, as always.
p.p.s. – for more inspiration, check out the Starting from Scratch or Common Capsule Wardrobe pages.