At this point in our starting from scratch capsule wardrobe series, you're in a pretty good position for travel; it wouldn't be impossible to be away for a week with this collection. Toss in a white shirt and white tee shirt, and you would only need to do minimal laundry!
Our next step is to start filling in shirts and sweaters, so it's time to take a quick look at what we currently have. This would be an obvious place to pull in a beige shirt, sweater, or blouse if that holds any appeal. But I'm thinking that my imaginary protagonist is more interested in pretty accent colors, so I've chosen these: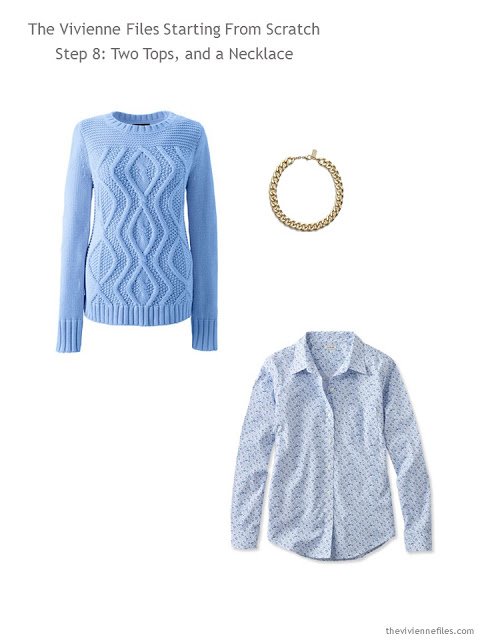 Yes, the necklace is in a very similar vein to her bracelet – they're called curb chains, and I don't know why. Her sweater has those favorite cable patterns, and her new cotton shirt is floral! It's all her, but it all works with everything she already owns…
She takes a deep breath, and waits a few days, or a few weeks, to move on to the next step. If you're shopping in your closet for this wardrobe, you can move straight on, but if you're actually shopping with money for these things, take your time. Be deliberate. Be cautious. Be CERTAIN…
Next up is an outfit for dressy things; your definition of dressy can alter the nature of these additions! Our heroine doesn't do a lot of really dressy things, but a simple skirt, with tights and flats, could get a lot of use in life. And of course the minute you put on tights, you've ramped up the dressiness factor of things a ton!
I could easily have chosen a solid navy sweater here, and it would have worked perfectly. But I thought that a little bit of "marling" in the sweater would bring some lightness to this outfit without sacrificing any of the strong vertical line of 2 matching garments. And if you put a white shirt under this sweater, it's going to be perfect…
And note that these flats could be worn with pants, too… A thin pair of socks would make that work just fine!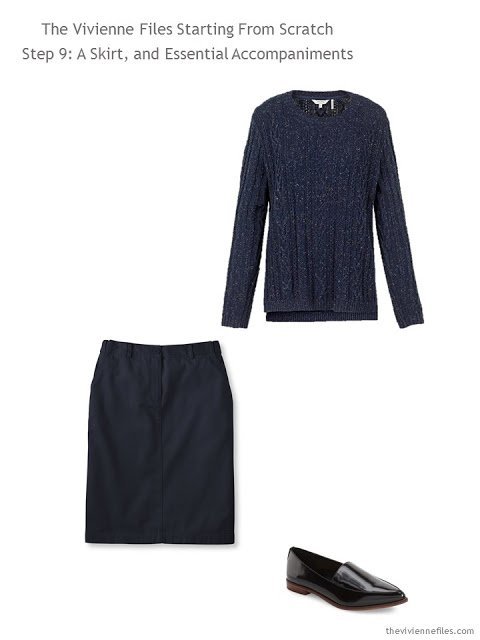 For most of us, it's pretty safe to assume that if we need outerwear, we already own it! But for our protagonist, it's getting to be the time to ensure that she has a jacket that really looks like it's a part of this wardrobe. Nothing can thrown your look out of whack faster than having to wear a jacket that just plain clashes with the rest of what you're wearing; thinking about color for your winter coats, and various jackets, is pretty important…
Again, this might be the point in time at which you match the khaki pants to a top of some ilk. I'm not exactly matching – but this sweater is a classic in this particular "natural" color, and it blends beautifully with khaki. That missing khaki shirt could be worn under this sweater when the temperatures really drop and another layer is necessary…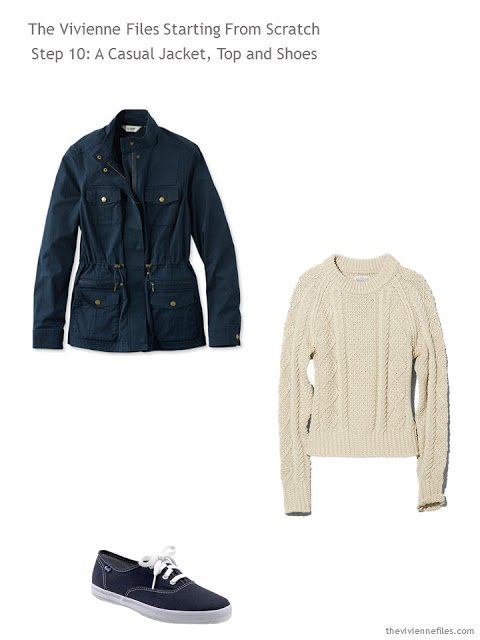 Yes, the Keds are navy. Our mythical shopper has a pretty casual life, and navy canvas shoes will be worn a LOT!
This is the entire wardrobe, at this stage. This would be the easiest thing in the world to toss into a suitcase; you'd have whatever you needed for moderate autumn or spring temperatures, and you'd be appropriate at all but the most formal or casual activities.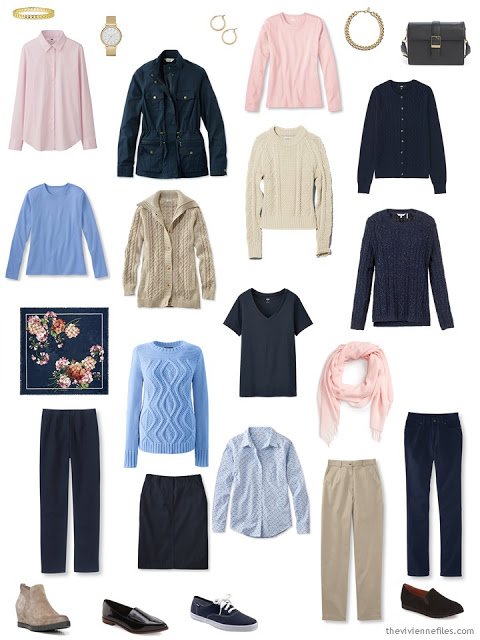 Tomorrow: shorts, a winter coat, and more accessories!
love,
Janice
For more in this Starting from Scratch series, check out the following articles:
PS – for more inspiration, check out the Starting from Scratch or Common Capsule Wardrobe pages.