Yesterday we left this capsule wardrobe with five (very carefully chosen) garments, and eight possible ways to wear them. It's about time for some accessories!
This is the stage at which your personality and preference can really begin to show. For this imaginary wardrobe builder, I've decided that she has two really strong "themes" that she likes: Cables (like those on sweaters, or in twisted and rope-like jewelry textures), and Flowers. These preferences will be more and more apparent as we move forward, but it's good to starting establishing these personal style signatures as soon as possible.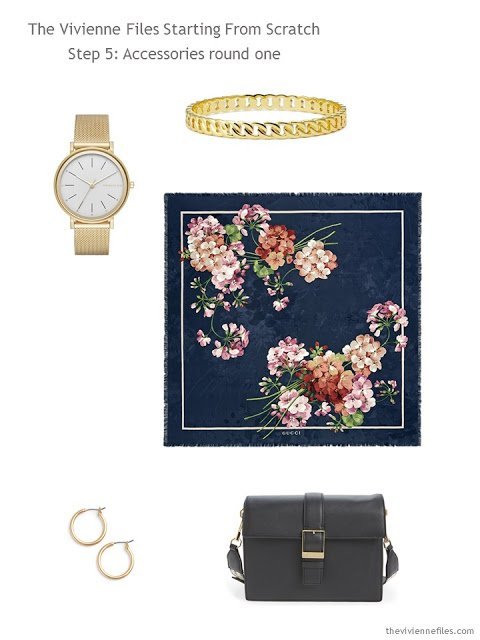 earrings – Nordstrom; bag – Louise et Cie
Everything is very simple, with a gorgeous scarf to accent all of the navy and pink that she's going to own!
At this point, this budding wardrobe has only two tops (and the cardigan, which can be worn as a top); it's about time we choose a couple more. This is an easy way to make the choice – find something that you love, like a well-made tee shirt, and try to get it in two of your accent colors! This simplifies the whole question of making sure that necklines are flattering, and that the collars of various garments work together. (fewer variations means fewer combinations, which means fewer headaches!)
And I'm becoming, more and more, a fan of a solid, accent-colored scarf. When I saw how well this one matched for color, I was sold. (this scarf comes in TWENTY-EIGHT colors, just in case you're looking…)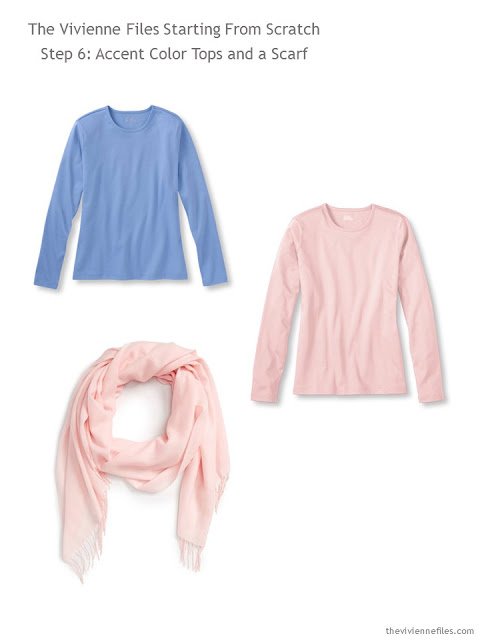 At this step, it's easy to look at our wardrobe and realize that we don't have anything, at ALL, in our 2nd neutral! Buying these 3 pieces together accomplishes a few of handy things:
you can be careful about choosing the two "soft goods" pieces so that they are a close match or nice blend, and
if you're carrying those 2 pieces with you, it will simplify finding shoes that look right with them, and
these 3 pieces can drop right into your existing wardrobe and go to work – all of the tops that you current have in this wardrobe can be added to the 3 pieces below and you're fully-dressed!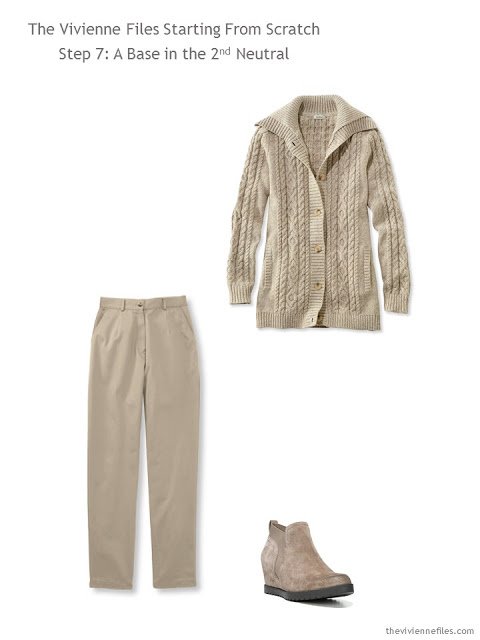 boots – Naturalizer
Let's stop and access where we are. Nine pieces of clothes, and over two dozen possible ways to wear them. Some of the outfits aren't optimal, in terms of proportion, but you wouldn't have rocks thrown at you for wearing any of these ensembles: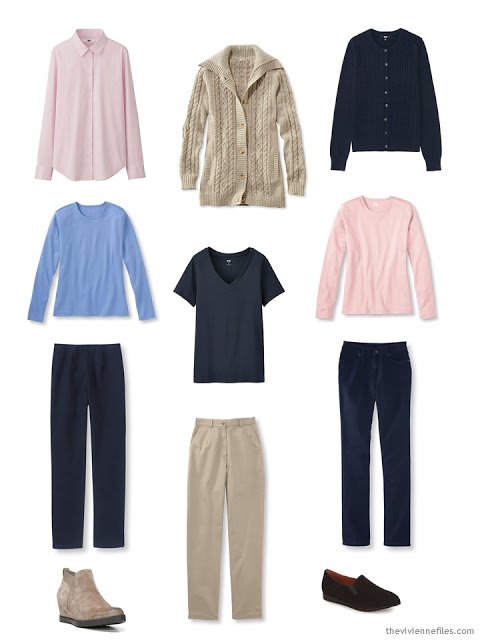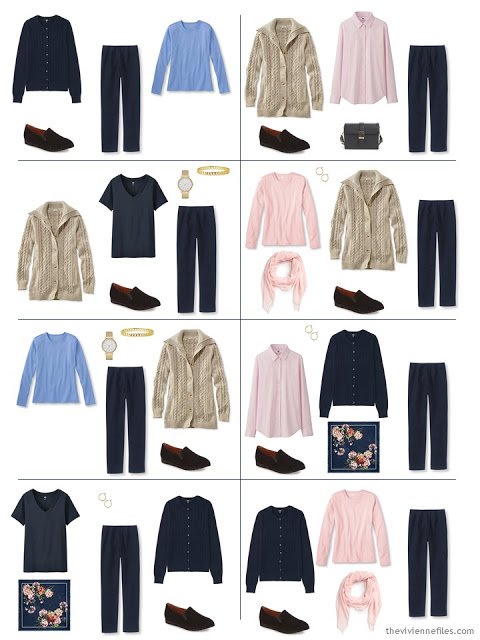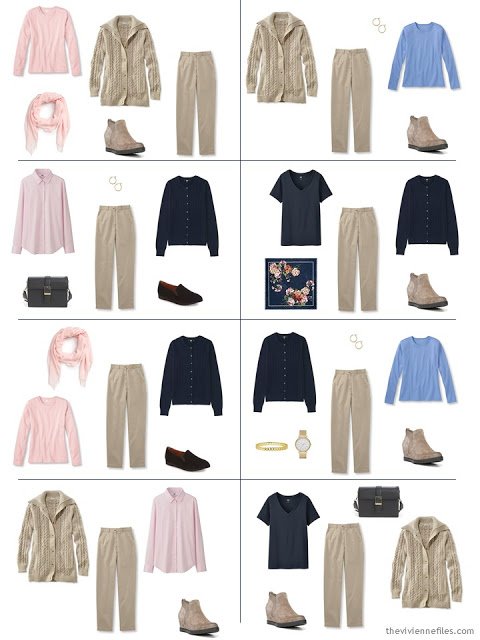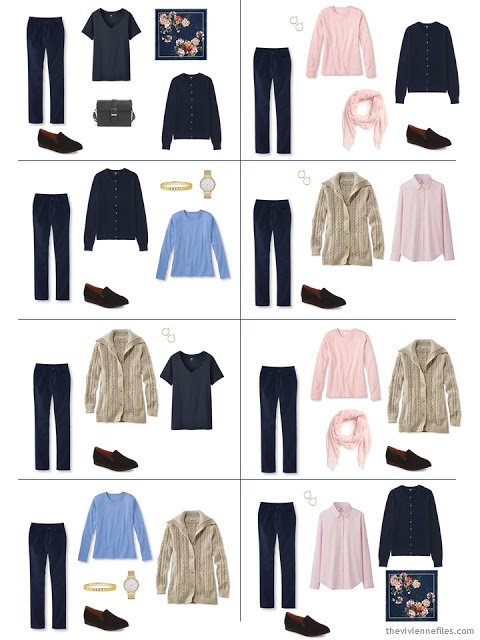 But let's assess where we are, in a larger sense. If you're doing this at home, this is the time to stop, really STOP, and look at what you have. Do you love it? Does it make you happy to see it in your closet? Can you look at YOUR 24+ possible outfits and envision wearing them without hesitation?
It IS possible to get this far into a wardrobe plan and realize that you've gone off the rails. Sometimes, enthusiasm for a color scheme will mislead you. It might be taking the advice of someone (color counselor, career advisor, etc.) and realizing that the advice doesn't apply to you!
I can speak personally to this – when I finished graduate school, I made a BIG investment in navy, grey and burgundy work clothes; it was what I was told I should wear, and I was young and inexperienced. My wee heart cried out for black and red… After a few months I realized that the wardrobe was wrong, and moreover, my entire line of work wasn't going to suit me!
Listen to your heart. Give yourself a break and make sure that you're on the right path…
love,
Janice
For more in this Starting from Scratch series, check out the following articles:
PS – for more inspiration, check out the Starting from Scratch or Common Capsule Wardrobe pages.