October 10, 2016
Ever since I did the first Starting From Scratch Capsule Wardrobe series, I've received questions about why I chose the steps that I did, how did I figure out color schemes – well, anything that could be questioned, was questioned!
Which is good. You should always make sure that anyone giving you advice can explain themselves, and that what they're telling you makes sense. In the US right now, this is being brought home to us every day…
So let's walk through another capsule wardrobe, a couple of steps a day, and see if I can answer some of your questions!
First up, color scheme. If you don't really worry about any other step of the process, THIS is the one that deserves your thought. There's no rule about how many (or how few) colors you should include, so you have to really think what's going to make you happy…
Are you like me, and can live for a long time with just black, white and red? (or 3 colors of your choice)
Might you be happy with infinite shades of grey, and nothing else? Maybe you've got a bunch of really serious silver jewelry that deserves a subtle background…
Can you get by easily with just one neutral, but you need 4 or 5 accent colors?
In the absence of any strict guidelines, I've chosen, for this example, to include 2 neutrals: navy and khaki. The dressier items will be navy – things like a skirt or dress, which more casual things like shorts will be khaki. For accent colors, I went with the 2 "Colors of the Year" for this year – basically pink and light blue. Both accents look good with both neutrals, so that makes versatility much easier. And then I'm throwing in pure white for things like a cotton shirt and a couple of tee shirts. Everybody on the planet doesn't HAVE to include a light neutral color for tops, but I think that most of us find these pieces pretty useful.
It looks like this: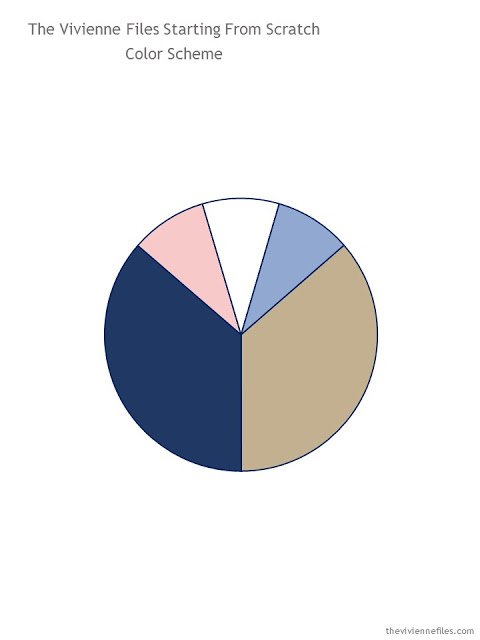 If you want to make your own color wheel, get thee to PowerPoint, and learn about Charts. (I personally would have called it a graph, but nobody asked me!) You can choose whatever relative values you want, color them any color of the rainbow, literally, and just play around until you're happy. And THEN you can put PowerPoint skills on your resume too!
What color do you use first? Well… my thinking is generally to start with the darkest neutral you are including. It's usually going to be the more formal of the neutrals, as well as the one that is best for travel or any occasion where getting dirty might be an issue. In this particular case, if you are iron-clad sure that you'll wear khaki pants more often than navy, start there!
So first things first – PANTS.
This was surprisingly controversial; lots of people (LOTS of people) were miffed that I didn't start with the perfect pair of jeans…
Personally, I think a pair of simple pants are more versatile. It depends entirely on what you do in your life; you might find that you needs jeans more. But I think that a good, plain, uncluttered, classically-cut, perfectly fitting pair of pants can be worn every other day forever and always look right.
Right now, I'm hearings lots of good things about ponte knit pants – basically really heavy knit pants that hold their shape well. I don't yet have a pair, but if I were in the market for them, I'd start with J.Jill, or maybe look at Eileen Fisher knit pants. My current favorite go-to pants are from Eddie Bauer; I know they're going to discontinue these, and I'm going to be a sad little blogger…
And I'd always be willing to try pants from L.L.Bean. I'd try anything from them, frankly. It won't always work, but that's why you ALWAYS make sure that you have a big roll of packing tape close at hand. Why horse around with trying things on in stores when you can mail-order, and then try on in the leisurely confines of your own home? Repacking clothes to send back isn't any more taxing than trying to find parking at the mall…
So I'm starting with a very classic pair of cotton/lycra knit pants – no ornaments, no embroidered pockets, no studs, nor grommets…
And SHOES. You could look for navy shoes, but they much more uncommon… Men wear black shoes with navy, and women should do the same. The range of choices will be much wider, you won't have to worry about "matching navies," and it will be easier to coordinate your shoes with other leather goods as you build your wardrobe.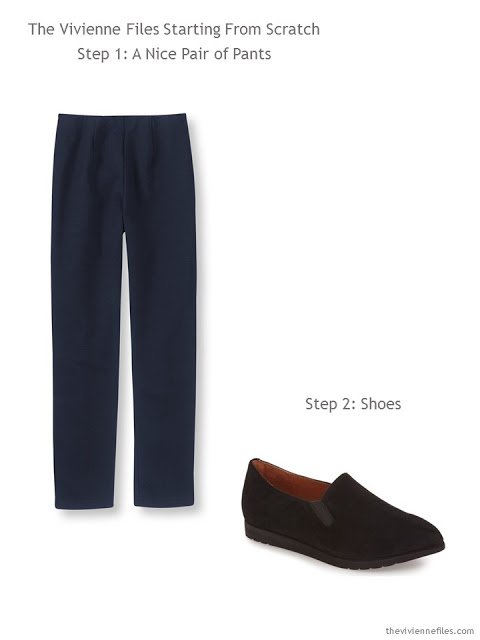 When you're looking for shoes, it's worth keeping in mind that you might want to wear these shoes with a skirt or dress at some point (opaque tights are a given!). A shoe like the ones shown above can work well with a skirt in a very casual outfit. This kind of planning ahead will make the things that you buy more versatile.
Now, let's start dressing the top half! I'm a big believer in the idea of a "suit-like" look around which you can build outfits, so a navy cardigan (or blazer?) is an easy next step. Your cardigan should be relatively simple in style, and if at all possible it should button up enough to cover all of your… parts…. that should be covered. This makes it possible to wear your cardigan on its own as a crew-neck or v-neck sweater. Again, versatility…
And maybe the only thing I like more than suit look is the idea of a solid column of color, upon which you can put virtually any 2nd layer. So I'm opting for a navy tee shirt at this point.
Yes, this isn't stunningly fun. These garments aren't fascinating, nor memorable. They're not supposed to be – these are building blocks. If you have these kinds of pieces, the snazzier items that you add later will be MUCH more easily worn.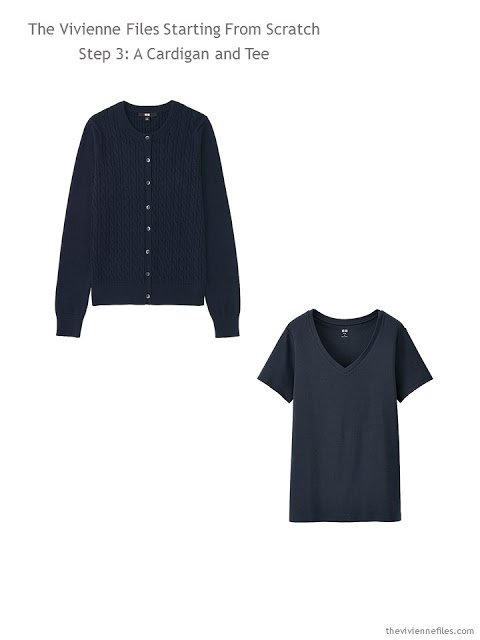 Cardigan – Uniqlo; tee shirt – Uniqlo
Finally, jeans.
These should, again, be as simple and as classic as you can possibly manage. Not for this wardrobe is the torn, the bespangled, the cut-out in strategic places, the bizarre pointy studs…
And I guess it makes sense that if these are dark wash, they'll give you that long vertical line, when worn with navy.
I also introduced a shirt in this step – if you absolutely, positively do NOT wear button-front shirts, you could bring in another tee shirt or pull-over top at this stage. But I strongly encourage you to search around for shirts; lots of companies are making nice shirts that are sized for better fit for a variety of bodies. I personally have tremendous luck with Lands' End shirts in Petite sizes – sleeves that aren't too long, with a torso that's not too tight.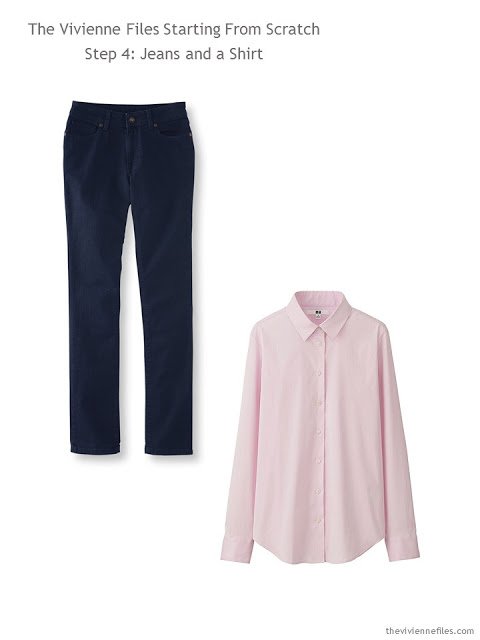 Let's assess where we are: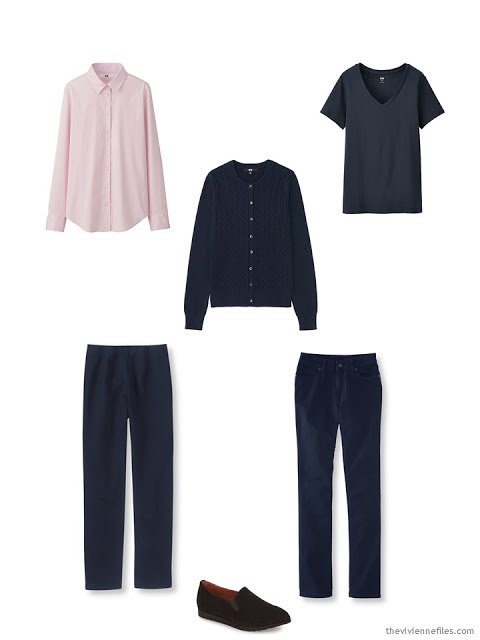 shirt– Uniqlo; cardigan – Uniqlo; tee shirt – Uniqlo;
This feels painfully meager, but in fact you're already well on your way to having choices – you've got 8 ensembles already! Not bad from 5 pieces of clothing…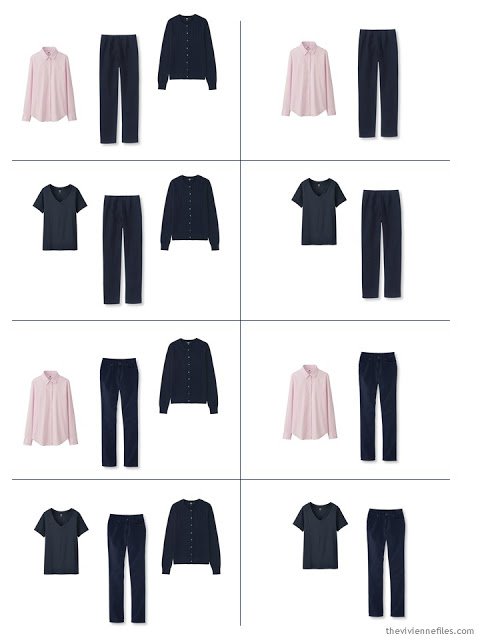 Tomorrow, some accessories, a few more tops, and a foray into the 2nd neutral.
love,
Janice
For more in this Starting from Scratch series, check out the following articles:
PS – for more inspiration, check out the Starting from Scratch or Common Capsule Wardrobe pages.