Frankly, at this point in proceedings, you could easily stop building your capsule wardrobe, and be just fine!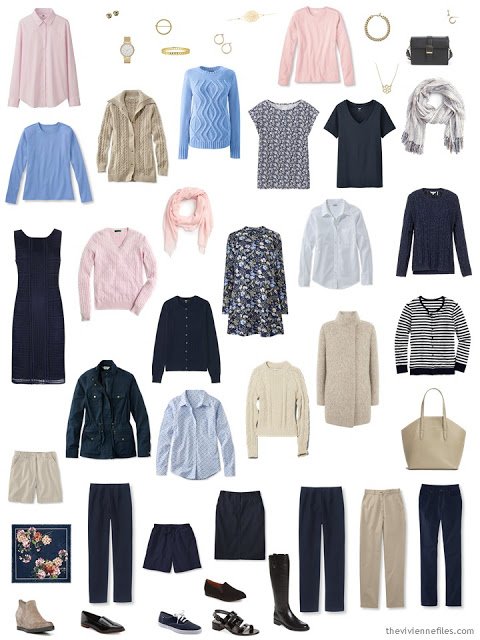 But it's always reasonable to stop and evaluate where you are with your wardrobe – are there things that you still need? Items that might make OTHER items more versatile, or get them used more frequently? Are you sure you're ready for whatever events might come up in the future?
The answers to these questions will be different for each of us, but they are worth asking…
The biggest lack of balance that I can see is that I'm "navy-heavy" here. This often happens – it's normal that either you simply like one of your neutrals more than the other, or that it's much more readily available, or that you want to have a solid core of items that all go together. It's not a disaster – it's just something to be aware of, in the future…
Those fun transition pieces that include both of your neutrals are always worth watching for, although they still have to be something that you'll love – not just something that will bridge the two colors. That's NOT enough…
And of course, you can always add in more tops in any of the 5 colors. This wardrobe could certainly use a simple khaki shirt (this one from Lands' End would be perfect). More white tee shirts? More pink and blue? Yes and Yes. If you see a pink and blue plaid flannel shirt, grab it!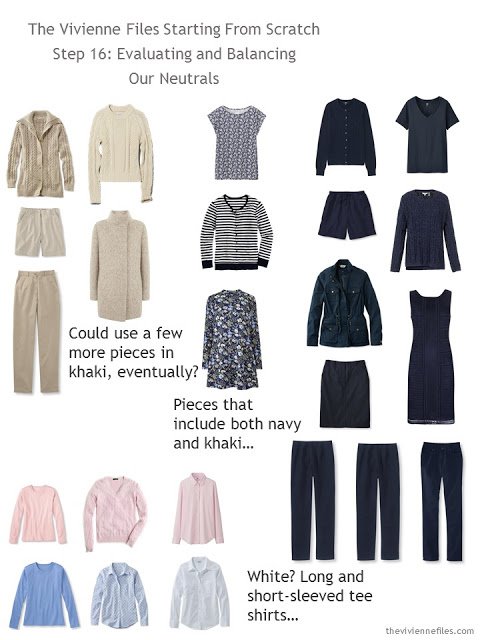 To get us up to 24 garments (not counting the coats), I found 2 more "tops" that will be perfect here: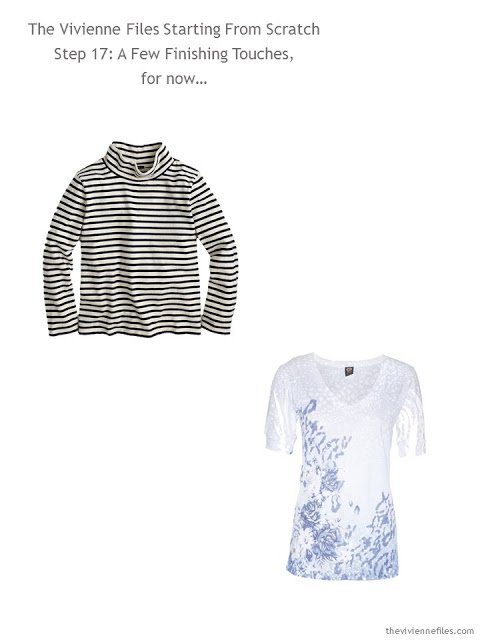 The "finished" wardrobe. In reality, we all know that no wardrobe is every finished, because our lives change, our bodies change, and our clothes (eventually) wear out!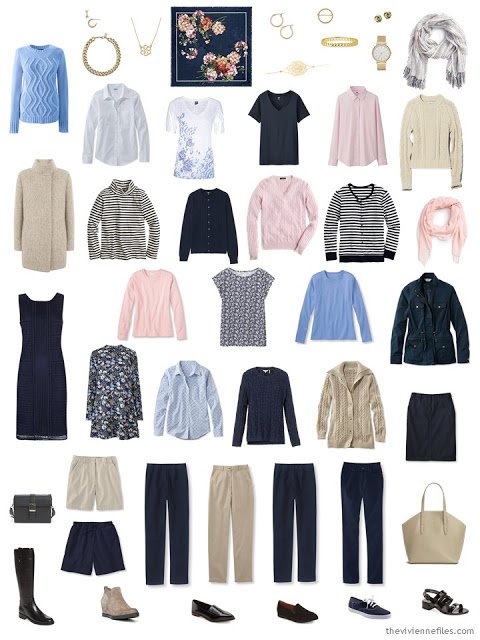 So how does this wardrobe compare to other wardrobe planning ideas that I've posited in the past? Well, I was able to pull together a "Whatever's Clean 13" wardrobe out of the navy pieces pretty easily. This is the kind of wardrobe that you want when you are traveling and you don't know what's going to greet you at your destination; you don't have to be obsessive about your clothes when you know that they'll all go together!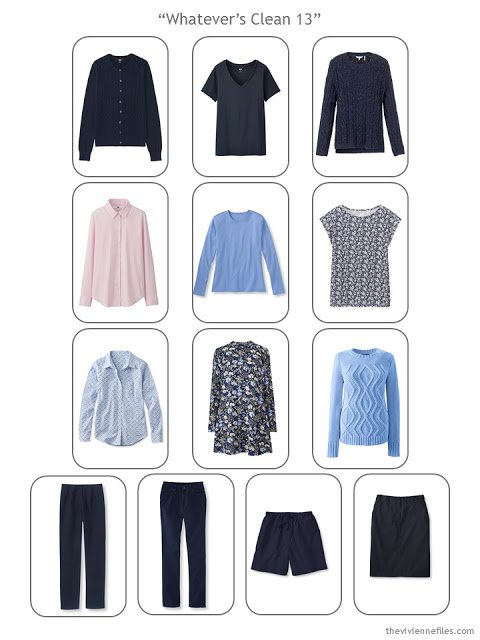 And this is also very compatible with with the ideas of the 4 by 4 Wardrobe. I made sure early on to have the Cores of 4 in each neutral, so from there it was pretty simple.
So which wardrobe planning tool to use? Whatever feels most comfortable for you; if you want to start small, start with Whatever's Clean 13, and then build on that when you're ready. If you like the structure and template of the 4 by 4 Wardrobe, you can begin there by building one "Four" at a time.
There are no right answers. Just have a plan, and be patient with yourself. It's only clothing, after all…
love,
Janice
For more in this Starting from Scratch series, check out the following articles:
p.s. I'm leaving for Italy TODAY! But have no fear, for the next 2 weeks, I have blog posts prepared and schedule to arrive at the normal time. All are based on 2 scarves, and all are "Tote-Bag Travel" i.e. one night doing something WONDERFUL…
I hope you enjoy them! Please note that I won't be able to fix broken links, and that because these were prepared in advance, some items might be sold out. I apologize in advance for anything that's gone awry in the next 2 weeks.
p.p.s. – Follow me on Instagram – viviennefiles is my "handle" there… photos of Italy…. mmm….
p.p.p.s. – for more inspiration, check out the Starting from Scratch or Common Capsule Wardrobe pages.