July 19, 2016
Ah, let's add some accessories to yesterday's black and beige travel capsule wardrobe, shall we?Remember, we started with this outfit, to which we MUST add shoes. There aren't a lot of wardrobe essentials in the world, but shoes, when traveling, might qualify:
And I always like earrings for travel – they can be out of your way, but still add a nice touch of ornamentation to your outfit, and draw some attention to your smiling face.
Oh yes, and a scarf can be very handy if you're going to be on an airplane or train which might be freezing cold!
Some people never wear watches, and many of us wear some sort of step-measurement device. But I think watches look really nice, so I think that they deserve to at least be considered…
Bracelets are often forgotten in the potential array of jewelry, and I think that's a pity – you'd be surprised how very often someone will notice your bracelet, if you remember to wear it!
We could discuss how many pair of shoes you want to pack until the cows come home, but I think we can easily agree that you need at least 1 pair of VERY comfortable shoes. And if you can find a pair that combines your 2 neutral colors, all the better!
A tote bag might be something to carry onto the plane (or whatever), or it could be something that you flatten down into your suitcase to have available for when you're walking about on your travels. Nothing makes you look LESS like a tourist than carrying a shopping bag of fresh produce… (you just have to be staying in an apartment, in order to make this work!)
I personally REALLY like to have at least a couple of pair of earrings with me – they're light, they're small, and they make me at least FEEL different when I'm wearing the same core of clothing day after day. Here, I tried to find earrings with a touch of black in them to unify them with the clothes.
Don't forget – with a monochromatic wardrobe, you can include scarves in any pattern/color that's compatible with your neutrals! While these scarves aren't going to work particularly well with this blouse, they would be idea with any of the solid garments. There's no reason you couldn't pack all of them, if you wanted to go a bit overboard…
Maybe you can fit a pair of dressy shoes into your bag? Nothing feels prettier, but do consider what will make your feet happy; travel tends to do mean things to feet…
With simple, uncluttered clothes, a necklace can have a lot of impact. It's another one of those things that takes up no space at all, but can really change the appearance of an outfit. Make certain that you've figured out a way to pack necklaces so that they don't tangle; nothing is more maddening than trying to untie a wee bit of chain when you're running later for dinner!
And you must have sunglasses. Always. No matter what time of year…
A small, pretty bag could be used during the day, and then also in the evening as a sort of clutch purse. If you choose one that's relatively understated but nicely made, it will fit in anywhere.
A 4th pair of shoes might be complete overkill for many of us, but I would always try to find a place to tuck a pair of ballet flats. I find them VERY comfortable, and after a long day I would welcome a chance to slip them on with my dress, or one of my skirts.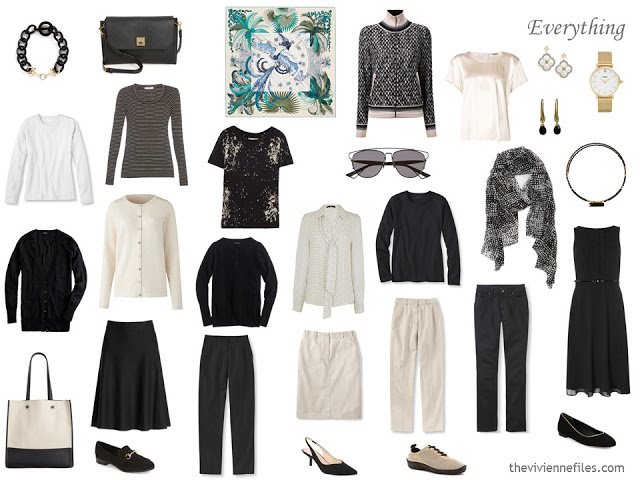 I think that the collected wardrobe shown above could take you to almost anything that travel threw into your path, don't you? And I find the strongly neutral palette very restful… These are good days for restful!
love,
Janice