July 18, 2016
It seems that there are some among us who are struggling to pull together what they want to pack. This isn't particularly surprising – travel is stressful enough, and the unknown factors of weather and activities can throw almost anyone into a small panic. So I'm going to approach the "1 Piece at a Time" idea with the thought that we're packing a suitcase, rather than assembling a capsule wardrobe.
Let's assume that you know what you want to wear for traveling – you've got a gloriously beautiful cardigan that MUST go with you:
Based on this outfit, it will be really easy to work with a core of black neutrals, and then add in some beige, too. There's enough white in the cardigan to make white shirts or blouses an option, too. While this might be a subdued for a long-term wardrobe, for a trip it might be a calming option to make getting dressed easier!
After I arrive at my destination, I always want to get into my hotel room for JUST a minute or two – wash my face, brush my teeth, reapply sunscreen, and maybe change my shirt for something a bit fresher and brighter. Here's where a nice white tee shirt would be useful:
Traveling with black pants to me automatically screams "get a black cardigan or jacket in here!" This gives you a nice sort of casual suit-ish look under which you can wear pretty much any top you pack (or buy…).
Now that you've got a few tops in hand, it's time to grab another pair of pants. While many people refuse to travel with light-color pants, I think that a pair of light khakis break up this non-stop black pretty nicely. But I always have laundry done when I'm on vacation – it's part of how I treat myself and give myself a break!
For this step, I would start looking about to see if I had anything that included both of my neutral colors. These kinds of "bridge" garments are very versatile, and bring some pattern or texture into a fairly simple wardrobe.
Right now, when you look at the strip of clothing across the top, it still looks pretty dark, so I think it's about time to include a cardigan or jacket in the light neutral. Please note here that you don't have to match these colors exactly – it's enough that they're in the same family and that they look harmonious together.
For me, no suitcase is complete without a pair of jeans! If you aren't a jeans person, this could be an opportunity to include another pair of pants in a slightly different style, or a casual skirt.
Time for more print or pattern – these (along with accessories) are the things that will keep you from getting bored with a travel wardrobe.
You could easily travel with just what's already been included! But now is the time to take a hard look at everything you've assembled and ensure that you're going to be prepared for all of the activities that you anticipate. In this particular example, I'm thinking that this woman might be going out for a lovely dinner, or to a concert. That means we should look for a couple of dressy-ish things. Not over the top sequins and glitter; just something feminine and pretty.
A skirt gives you lots of more dressed-up options!
And a simple silk top in one of the neutral colors can be layered under cardigans or worn on its own…
This is another one of those "wardrobe essentials" that I like to pack – a v-neck sweater can be sort of dressy/flirty when worn alone, but completely warm and useful for layering.
Now, when we look at the strip of clothing on the top of the page, it's clear that we're going to need another pair of pants, or another skirt. I chose a beige skirt for variety, but another pair of pants, or jeans, would also serve the same purpose.
Now, this wardrobe is REALLY pretty complete, so I'm tossing in a pretty dress just for the heck of it! It IS a vacation – looking lovely, and sparking a bit of romance, or admiration, is always fun!
If you're feeling nervous about your choices, you can always lay them out in a "4 by 4 Wardrobe" arrangement, to see if it all looks coherent. I'm not positive, but I think there are at least 50 outfits possible from these 16 pieces. Even if something is completely destroyed somewhere along the line, this wardrobe would still be sufficient for almost anything, short of welding, or a royal ball.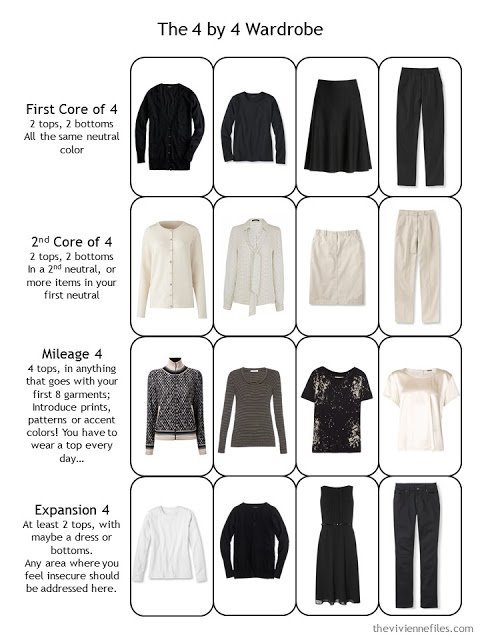 Tomorrow, the accessories! That's where the fun REALLY starts…
love,
Janice