May 6, 2016
This was difficult…. It's hard enough to find wintery clothes this time of year, even though the weather is still decidedly cool. But when you try to find clothing in warm colors, with decent photographs, that don't cost the absolute EARTH to buy… well, it explains a lot of the weirdness that I exhibit from time to time…But I persisted, and I'm pleased with these results. And I realized a couple of very important things, for those who wish to wear these VERY difficult to find colors:
Work with the idea of colors that blend rather than those that match identically. Cousins, rather than identical twins, of the clothing family. This will save you a lot of headaches, while at the same time giving you the opportunity to explore quite a bit of the richness inherent in these shades.
Keep your eyes open CONSTANTLY; these pieces can come from the most unexpected places, and at times that you aren't even really looking. Cultivate your eye to be always aware of possibilities.
Carry with you at all times some sort of reference item – a photograph, collection of embroidery thread, piece of fabric – that will help you ensure that your choices are within the family of colors that you desire. What looks good at first glance might not really work, when placed in the vicinity of your reference piece.
Only purchase things that can be returned. Getting things home to find that they're not going to work is an inconvenience; if you can't return them, it's wasted money!
Consider mail ordering pieces that have potential. That way they're right in your home for a test-run! Returning to many stores now is free – the only real cost is a bit of packing tape, and a few minutes of your time. That's still a LOT less investment than going to a mall.
All those things said, let's see what I found!
First up, this scarf was submitted to me for a wardrobe MONTHS ago, and the difficulty in finding items caused me to keep pushing it back down the list. These wardrobes have to be built pretty much over a 2-day period, or items that I find will sell out; this means that I can't peck away at a project over a period of weeks or months…
But what a scarf it is!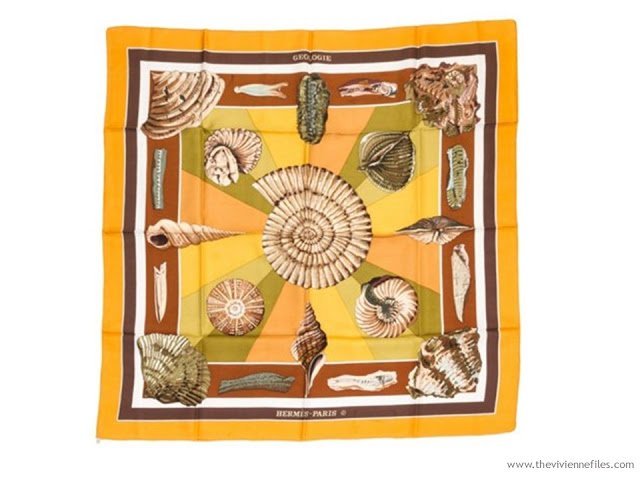 Scarf – Hermès Geologie – no longer available
In keeping with my suggestion about blending colors rather than trying to match them, I'm offering up gradients of color in our scheme: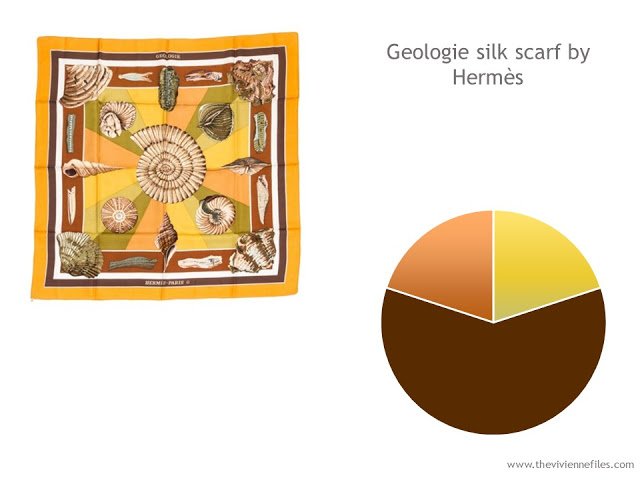 This was one of the few times that I actually found a matching tee shirt and trousers!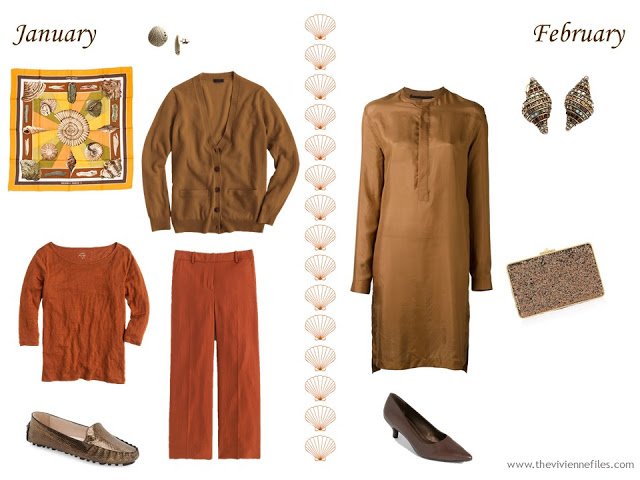 Scarf – Hermes; tee – J. Crew; loafers – Cole Haan; earrings – A.B.S. by Allen Schwartz; cardigan – J. Crew; pants – J. Crew; dress – Haider Ackermann; shell earrings – Heidi Daus; clutch bag – Henri Bendel; shoes – Trotters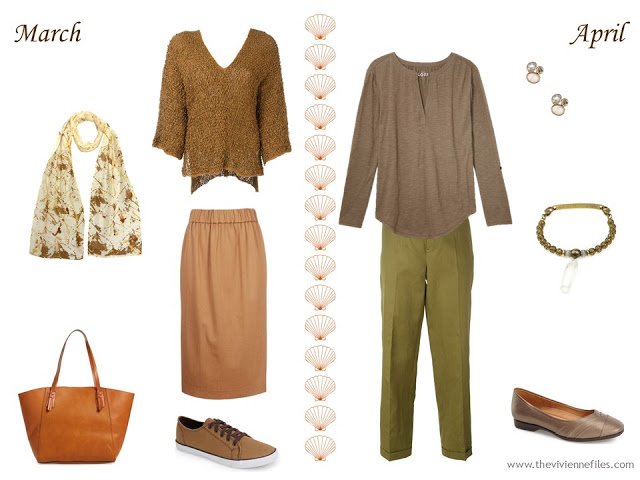 Scarf – Textiles One; tote – Sole Society; sweater – Alberta Ferretti; skirt – En Route; sneakers – Woolrich; top – Loft; pants – Sofie D'hoore; earrings – Judith Jack; bracelet – Lenny and Eva; flats – Naturalizer
WHAT a pretty colored dress…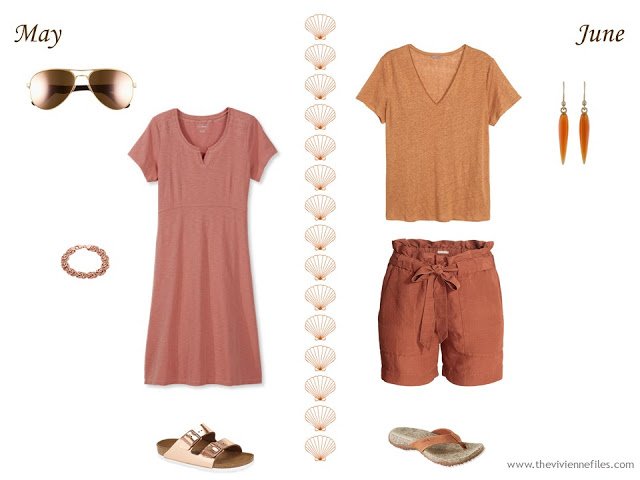 Sunglasses – Ray-Ban; bracelet – Tiara; dress – L.L.Bean; sandals – Birkenstock; tee – H and M; shorts – H&M; earrings – Ted Muehling; sandals – L.L.Bean
Don't forget about the inherent utility of a hooded sweatshirt; even in the dead of summer, there can be cool days and evenings…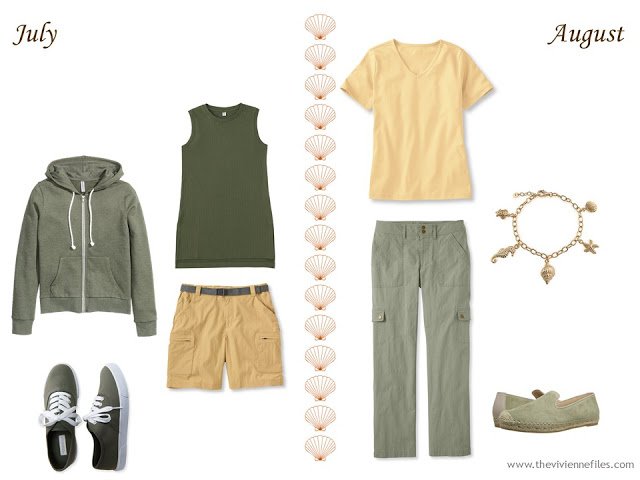 Sweatshirt – H and M; sleeveless top – Uniqlo; shorts – L.L.Bean; sneakers – Aeropostale; tee – L.L.Bean; pants – L.L.Bean; charm bracelet – Bling Jewelry; espadrilles – Gabor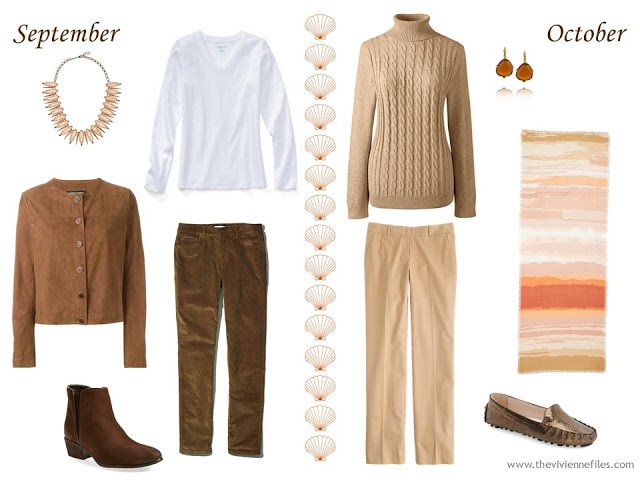 Necklace – Kendra Scott; suede jacket – Vanessa Seward; boots – Steve Madden; tee shirt – Lands' End; cords – L.L.Bean; turtleneck – Lands' End; pants – J. Crew; earrings – Kenneth Jay Lane;
scarf – Nordstrom; loafers – Cole Haan
Yes, this wardrobe only includes 2 skirts, but this skirt is a pretty major statement garment! I'd be wearing this to the grocery store, if it were mine…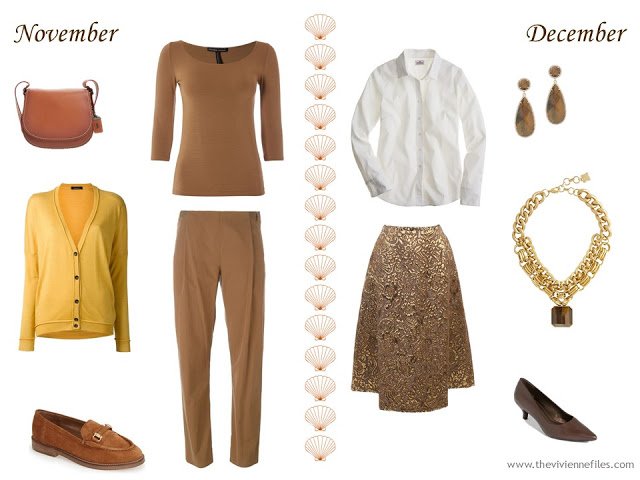 bag – Coach 1941; cardigan – Roberto Collina; tee – Sarah Pacini; pants – Stephan Schneider; loafers – Topshop; shirt – Lands' End; skirt – Baum und Pferdgarten; earrings – Susan Hanover; necklace – BCBGMaxAzria; pumps – Trotters
While it felt like the individual outfits were all over the map, once all the clothes are assembled together, you can see that there are all kinds of combinations possible: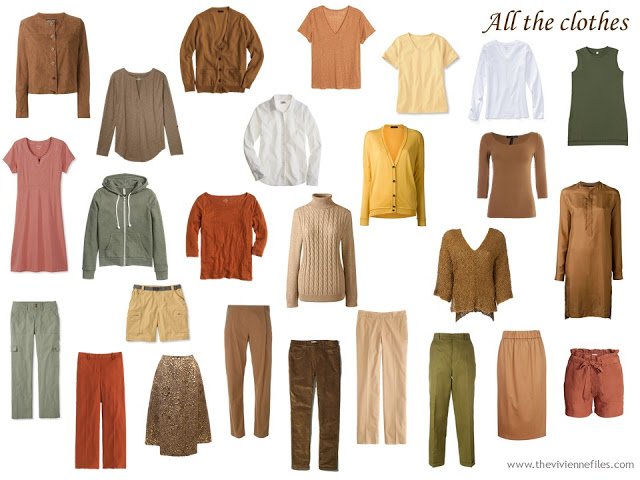 And the accessories deliver a clear color message: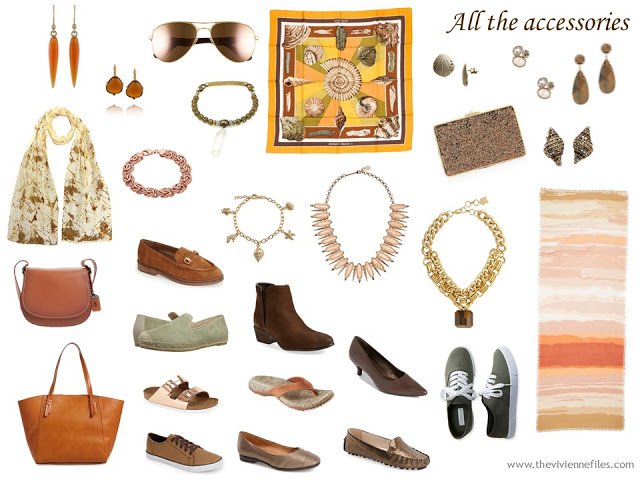 Do you among us who love warm colors struggle to find things that really suit your desires?
love,
Janice